Creators

thrive

here.
Kickstarter creators pursue bold ideas on their own terms — and make an impact on the world, too.
Read their stories
Mary Lambert's Bold
The Grammy-nominated singer-songwriter is back on Kickstarter with an EP celebrating radical self-acceptance — be one of the first to hear it.
View Project
NOVA: Beyond the Elements
Inspire audiences to fall in love with science by supporting a new special from the longest-running science program on American TV.
View Project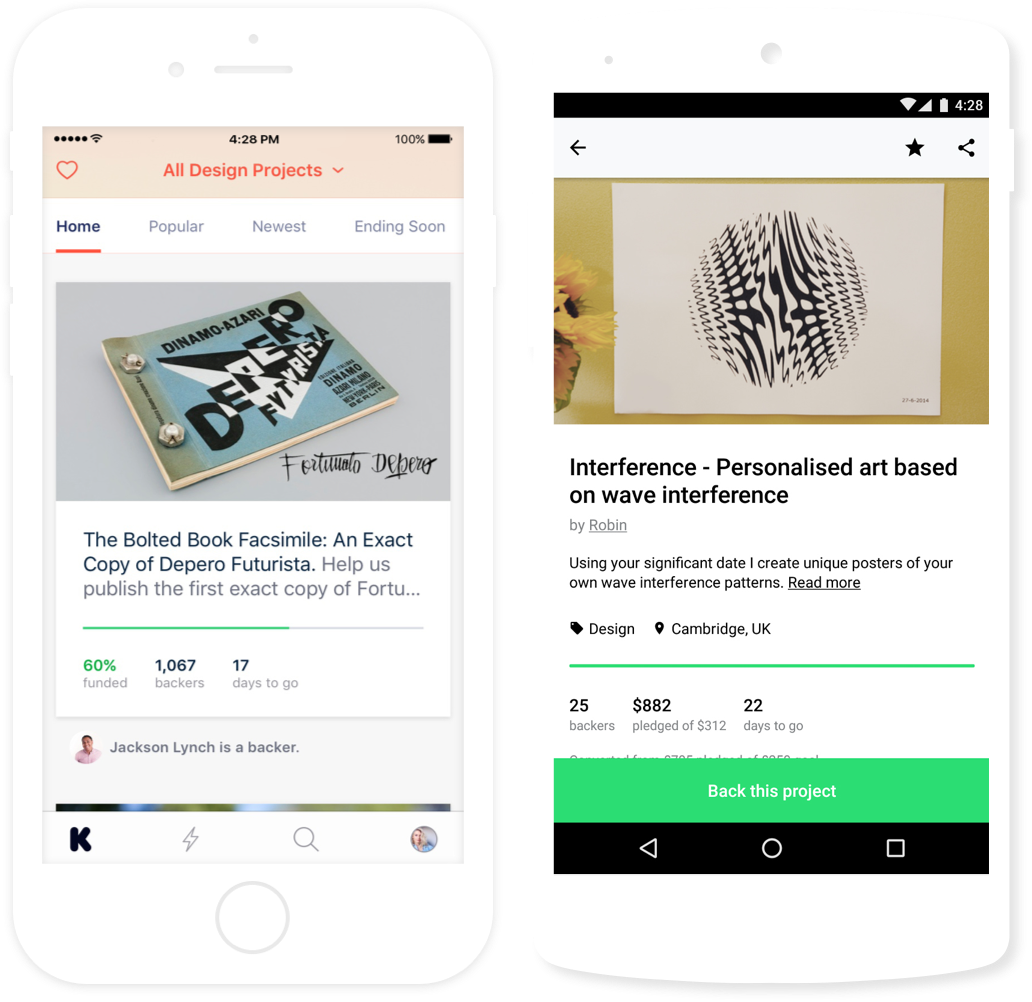 Bring new ideas to life, anywhere.
Explore creative projects and help bring bold new ideas into the world with the Kickstarter app.
Have an idea?
You're in good company.
Over 100,000 creators have had their creative projects funded on Kickstarter
Publish your book
10,561 successfully funded Publishing projects
Choreograph your moves
24,714 successfully funded Dance projects
Record your album
24,714 successfully funded Music projects
Start your periodical
467 successfully funded Periodical projects
Design your zine
130 successfully funded Zine projects
Build your bot
5,323 successfully funded Technology projects
Finance your film
22,165 successfully funded Film & Video projects
Open your food truck
5,411 successfully funded Food projects
Produce your play
6,077 successfully funded Theater projects
Write a Childrens Book
1,931 successfully funded Childrens Book projects
Screen-print your posters
8,341 successfully funded Design projects
Perform stand-up
679 successfully funded Comedy projects
Test new recipes
5,411 successfully funded Food projects
Film your music video
24,714 successfully funded Music projects
Create your masterpiece
9,941 successfully funded Art projects
Photograph your city
2,979 successfully funded Photography projects
Debut release from Hip Hop artist, Climate Warrior, Xiuhtezcatl of Earth Guardians. Bringing the movement to the masses through music.
Our first foray into the world of publishing- A zine highlighting some of the best contemporary analog photography out there.
Celebrating and sharing values we hold dear in the District of Wonders by highlighting new and diverse voices from around the world.
We want to put Lisa Frank's iconic artwork on our high quality & cruelty-free makeup! Help bring this collab to life!
Two astrophotographers use the historic 129 year old Great Lick Refractor to capture the cosmos using modern day techniques
Bringing even more adventures of Emma, Warrick and the gang to print! Contains Intermission 2, chapters 11-15, and various extras.
Upcoming live streams from creators across the community.
Where projects come from
Each and every Kickstarter project is the independent creation of someone like you.
Want to know more about how projects happen, or start your own?
Learn more