Creators

thrive

here.
Kickstarter creators pursue bold ideas on their own terms — and make an impact on the world, too.
Read their stories
Mary Lambert's Bold
The Grammy-nominated singer-songwriter is back on Kickstarter with an EP celebrating radical self-acceptance — be one of the first to hear it.
View Project
Sites Unseen
Join this public art initiative to transform downtown San Francisco's public spaces into bright destinations for discourse, innovation, and discovery.
View Project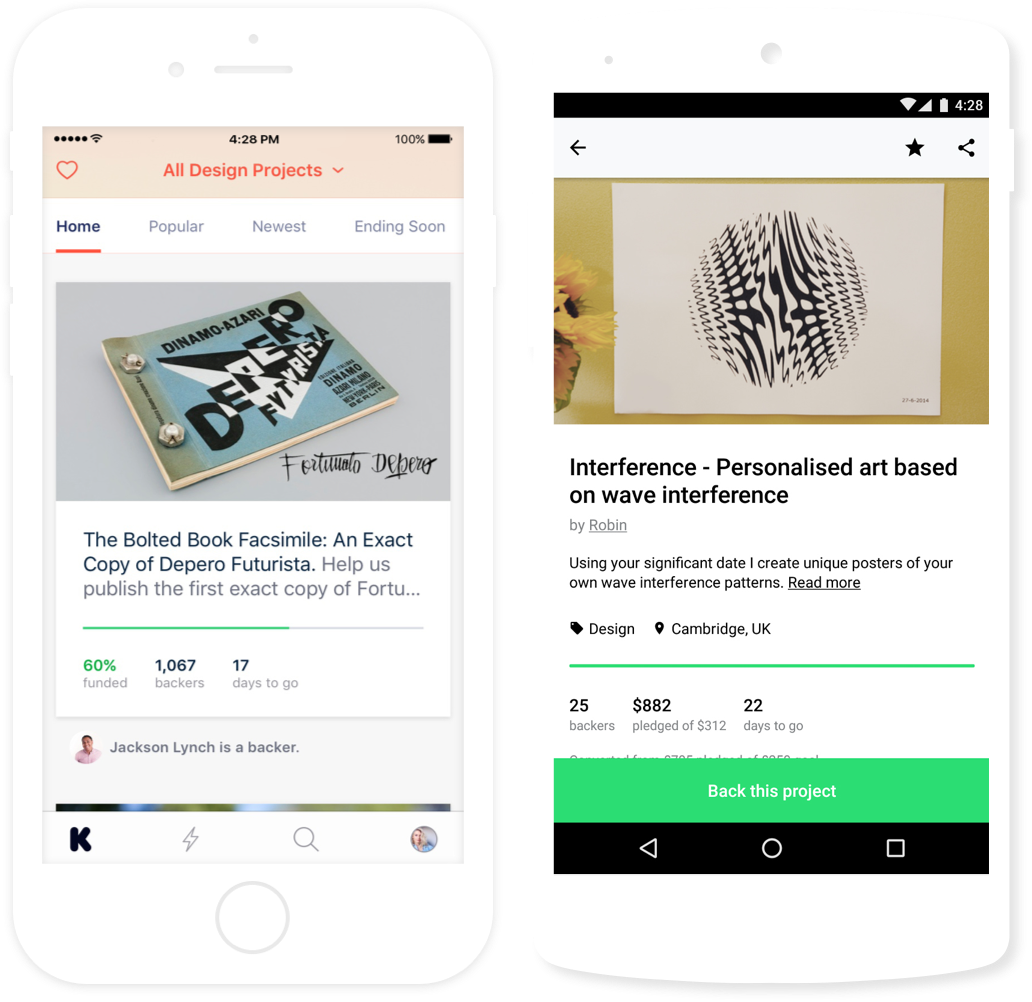 Bring new ideas to life, anywhere.
Explore creative projects and help bring bold new ideas into the world with the Kickstarter app.
Have an idea?
You're in good company.
Over 100,000 creators have had their creative projects funded on Kickstarter
Start your periodical
467 successfully funded Periodical projects
Build your bot
5,323 successfully funded Technology projects
Publish your book
10,561 successfully funded Publishing projects
Choreograph your moves
24,714 successfully funded Dance projects
Open your food truck
5,411 successfully funded Food projects
Design your zine
130 successfully funded Zine projects
Record your album
24,714 successfully funded Music projects
Finance your film
22,165 successfully funded Film & Video projects
Test new recipes
5,411 successfully funded Food projects
Photograph your city
2,979 successfully funded Photography projects
Film your music video
24,714 successfully funded Music projects
Write a Childrens Book
1,931 successfully funded Childrens Book projects
Screen-print your posters
8,341 successfully funded Design projects
Produce your play
6,077 successfully funded Theater projects
Perform stand-up
679 successfully funded Comedy projects
Create your masterpiece
9,941 successfully funded Art projects
Singer/Songwriter Radney Foster is releasing a book of short fiction, a companion piece to his new CD. Be one of the first to read it!
A revolutionary handwriting instruction method artfully woven into a relaxing, adult coloring book.
A photo project where deserted cities are shot in one single night. Empty New York, Rome, Paris and London in one Hardcover book
Breathtaking artbook based on Norse mythology, by award-winning illustrator, Milivoj Ćeran
Bringing even more adventures of Emma, Warrick and the gang to print! Contains Intermission 2, chapters 11-15, and various extras.
We want to put Lisa Frank's iconic artwork on our high quality & cruelty-free makeup! Help bring this collab to life!
Upcoming live streams from creators across the community.
Where projects come from
Each and every Kickstarter project is the independent creation of someone like you.
Want to know more about how projects happen, or start your own?
Learn more