Talk & Listen Back to Your Favorite Websites
VoiceSee is a ground-breaking, patented technology that enables your smartphone to follow spoken commands to search the web, organize the results and read aloud the passages you choose.

VoiceSee is ideal for those who are visually impaired or have other physical disabilities, have difficulty reading or just prefer the spoken to the written word. It's the perfect solution when typing or touching on a smartphone or tablet and reading the screen are not doable.
Hi Kickstarter! My name is Daniel Ben-Ezri, founder and chief innovator at YiZRi LLC, based in Burlington Vermont. I am passionate about engineering solutions that make a difference in people's lives. After a successful career with IBM as a software engineer, I've spent the last few years working with various voice technologies to create what I consider to be game-changing applications for smartphones and tablets.
THOSE WHO TRY IT, LOVE IT
Here is what Dr. Stanley Greenberg, a former director for the Vermont Association for the Blind and Visually Impaired says about VoiceSee:

"I would love to have this application. . . . It would make the internet much easier to navigate considering how many websites are marginally accessible and some are not accessible at all."
Danielle Gould from Food+Tech Connect writes:
"...Culinary Pal - recently caught my attention... highlight digital home cooking tool trends worth keeping an eye on."
And Christopher McMillan from CEEK Technology says:

"I love seeing innovative products like this for the Blind and Visually impaired. The Federal Government will be very interested in this for its work force in time and also our disabled veterans!"
To read about what the media say about VoiceSee, go to USA Today, The Wall Street Journal's MarketWatch, Science 2.0 or just Google "The World's First Hands-free and Eyes-free Web Navigation Platform".
WHY YOUR BACKING IS SO IMPORTANT
So far, we have beta versions of three apps for android smartphones:
Culinary Pal, which searches for recipes on m.allrecipes.com, lets you choose the one you like, lists the ingredients and reads the preparation and cooking or baking instructions.
News Pal, which searches the digital versions of The New York Times and The Wall Street Journal and then, following your spoken commands, reads the articles you choose.
Wiki Pal, which searches for Wikipedia entries and reads the results.
The funds raised on Kickstarter will enable us to:
Complete beta testing of the first three apps and expand their capabilities.
Develop next generation mobile apps.
Bring VoiceSee to market by the end of the year.
Create versions of all apps for iPhones and iPads.
TRY VOICESEE FOR YOURSELF
If you have an android smartphone, you can download the beta versions of Culinary Pal, News Pal and Wiki Pal from the following sites:
https://play.google.com/store/apps/details?id=com.yizri.voculinary
https://play.google.com/store/apps/details?id=com.yizri.vonews
https://play.google.com/store/apps/details?id=com.yizri.vowiki
HERE'S HOW VOICESEE WORKS
We've chosen Culinary Pal to demonstrate how VoiceSee works.
All recipe instructions are delivered to you handsfree and eyesfree via voice responses.
Sadie, the voice of VoiceSee, will guide you through the preparation process so you don't have to touch the smartphone with your hands… that may have just touched raw chicken or been through the flour dredge process.

Today I want to make Chicken Parmigiana. Here is what to do:
I open my Culinary Pal app and verbally request Chicken Parmigiana recipes.
Culinary Pal tells me there are 805 recipes on AllRecipes.com and gives me the top 10 most highly rated.
Once I've selected the recipe I want, I ask Culinary Pal to tell me the prep time, cook time and other information about my recipe.
When prompted for the Ingredients list, I just say "Yes" and step through each ingredient at my own pace by saying "Go". VoiceSee automatically enters "Sesame mode" which ignores any noise or command (other than "Go"), until commanded "Open Sesame":
Now that my ingredients are ready, I will do the same ("Yes", "Go", "Open Sesame") for the preparation directions. If I'm going to make some noise while VoiceSee is waiting for my command, I just say: "Please wait". VoiceSee will start listening again when I say "Open Sesame".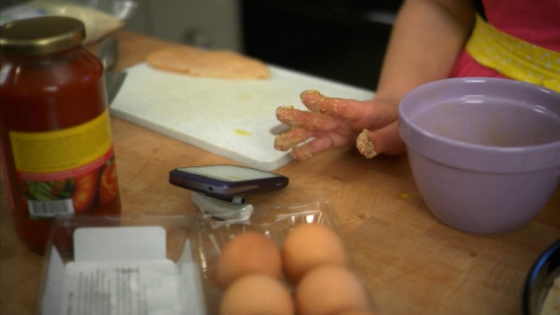 Culinary Pal is simple to use and because the recipes are read to you at your own pace, it lets you focus on the joy of cooking and your phone or tablet stays clean.
BUSINESS MODEL
VoiceSee and its apps will be available to the public through affordable membership subscription, not sale. We chose this model because of the dynamic nature of VoiceSee's technology and services. A subscription-based revenue stream will best ensure our ability to provide 24/7 maintenance for VoiceSee users and to constantly monitor the ever-evolving changes in the websites we feature.
In addition, we offer our services to companies, educational institutions and other website owners who want to improve their site's accessibility to all throughout the day, thereby increasing the number of visitors and visits to their website. We can deliver this in two forms, per our client's preference: A plugin to one of our existing app -- or an independent app. The independent app option lets our client choose whether to offer it for free (possibly inserting ads, like being done in radio stations) or follow our membership model.
We also plan to release an SDK with a well documented API, licensed at an affordable cost for developers who are interested in helping accelerate optimized web coverage. VoiceSee already has a fallback mode for any website, but the true VoiceSee power and usefulness is fully realized with our patent-pending plugin.
VOICESEE'S BRIGHT FUTURE

We plan to introduce the following new functions, enhancements and products:
iPhone/iPad app
Windows version
Sadie override. The ability to interrupt Sadie's speech and jump directly to your desired option
Improved pronunciation
Support for multiple languages
Greater flexibility for user preferences and customization
Power user mode (shorter prompts)
The ability to function seamlessly even when Internet connection is briefly disrupted.
Support for online learning classrooms (e.g. sites based on blackboard or moodle)
Many more supported websites (yes, this includes Facebook!)
Lots & lots of improvements and new features based on your feedback.
FAQ
Siri is neither hands-free nor eyes-free. With Apple's Siri you have to keep pressing the button to be heard... VoiceSee, on the other hand, prompts you and waits for your response automagically.

Also, Siri's response isn't always via voice. Siri will often respond with a list or some other small font text that you have to squint in order to read. VoiceSee always responds by talking to you (and if you haven't installed Loquendo TTS Susan yet, you should, because the effect is astounding. It's like a real person conversing with you.

Lastly, try using Siri to read you an entire recipe, at your own pace... It doesn't even come close to the VoiceSee experience.

Currently, only Android applications are implemented. The iPhone images are presented for illustration purposes: If the project gets funded, we will develop an iPhone/iPad version.

Thanks for an excellent question. The answer is absolutely positive: The more funding we get for this project, the faster we will be able to recruit the talent needed to take VoiceSee to the next level. For example, since our technology roadmap includes supporting additional languages, it is obvious that we will need professionals who master the supported languages at mother-tongue level. We will also need to continue parallel development on the most popular platforms (Android, iPhone/iPad and Windows).

It is too early to talk about an IPO, simply because investors see value in a company only after a significant number of users and/or sales has been demonstrated. Word is only beginning to get out... but the direction is clear: Our web navigation platform is what's going to make Android watches (or iPhone watches, if Apple releases one) truly useful and popular.

Our first beta release for the iPhone is estimated to take about six months from the time we get sufficient funding for this project. We are aiming for iPhone version 4 (or newer) and iPad 2 (or newer), contingent upon Apple's supported API.

We anticipate this will be a gradual process. We can deliver additional sites support within weeks of receiving funding, but prioritizing which will be implemented first is dependent on user's feedback and whether the website owners contract us to get ahead in the queue.

Yes, we will be releasing frequent updates to News Pal, based on community demand.

You can already use VoiceSee with UK English, using the default speech engine that comes with Android (Pico), or IVONA™ Amy. We will be awaiting a UK text-to-speech engine from Loquendo™. Regardless, we will be releasing frequent updates to polish VoiceSee's UK English support.

Yes. Multiple language support is in our technology roadmap.

The main enabler behind VoiceSee is our patent-pending contextual conversion method and platform. We also utilize current state of the art speech recognition (e.g. Google Voice Search) and commercially available text-to-speech engines.

VoiceSee is an exciting new technology that relies on a reliable Internet connection, cloud based services such as Google Voice Search and most importantly stability for the supported websites. If the format of the website changes, VoiceSee may fall back into the default "unsupported mode" and while we can very quickly deliver an update to catch up with the change, there may be a short period of time in which the site in question will function in "unsupported mode".
50
Backers
$2,835

pledged of $100,000 goal
Funding Unsuccessful This project reached the deadline without achieving its funding goal on June 21, 2012.
Funding period
May 22, 2012 - Jun 21, 2012 (30 days)
Pledge $10 or more

5 backers

Arigato! ありがとう We appreciate your confidence in the exciting future of VoiceSee. For your pledge your name will materialize handsfree and voicefree on our official VoiceSee personalized contributor list. Sadie will do everything possible to pronounce your name correctly! (please let us know how you pronounce your name).

Estimated delivery: Aug 2012

Pledge $25 or more

4 backers

Dhanyavaad! धन्यवाद! Represent your early support of VoiceSee™ by wearing our branded American Apparel® T-Shirt.

Estimated delivery: Aug 2012

Pledge $50 or more

10 backers

Gràzie! Start using our products in early release stages. You'll receive a six-month membership to Culinary Pal on your smartphone. Estimated Delivery: Android -- Immediately (beta). iPhone 4, iPad2 and up -- 4th Quarter 2012 (beta). Membership starts as soon as Culinary Pal goes out of beta.

Estimated delivery: Dec 2012

Pledge $100 or more

6 backers

Shukran! شكرا You are preordering a one-year membership to Culinary Pal, News Pal and Wiki Pal for your smartphone. Estimated Delivery: Android -- Immediately (beta). iPhone 4, iPad2 and up -- 4th Quarter 2012 (beta). Membership starts as soon as Culinary Pal goes out of beta.

Estimated delivery: Dec 2012

Pledge $250 or more

2 backers

Toda! תודה You are preordering a two -year membership to Culinary Pal, News Pal and Wiki Pal for your smartphone. Estimated Delivery: Android -- Immediately (beta). iPhone 4, iPad2 and up -- 4th Quarter 2012 (beta). Membership starts as soon as Culinary Pal goes out of beta.

Estimated delivery: Dec 2012

Pledge $500 or more

0 backers Limited (5 of 5 left)

Muchas Gracias! You'll be on the cutting edge of innovation with a lifetime membership to Culinary Pal , News Pal and Wiki Pal for your smartphone. You will also receive one of five limited edition custom-designed Culinary Pal chef's aprons. Estimated Delivery: Android -- Immediately (beta). iPhone 4, iPad2 and up -- 4th Quarter 2012 (beta). Membership starts as soon as Culinary Pal goes out of beta. Aprons will be available two months after consultation on size.

Estimated delivery: Dec 2012

Pledge $1,000 or more

0 backers

Merci Beaucoup! All of your blogging subscribers will experience your landing page handsfree and eyesfree with VoiceSee narration (if they download the VoiceSee app custom made for your site). You will also receive a lifetime membership to any current or future VoiceSee products. Estimated Delivery: Android -- Immediately (beta). iPhone 4, iPad2 and up -- 4th Quarter 2012 (beta). Membership starts as soon as Culinary Pal goes out of beta.

Estimated delivery: Dec 2012

Pledge $5,000 or more

0 backers

Efharistó! Ευχαριστώ Thanks for your confidence in a game changing handsfree and eyesfree web navigation mobile app. Join the VoiceSee revolution! We'll include you in high level product planning. Help us create our technology roadmap -- tell us what will make a difference... help us set priorities. Be a part of the solution!

Estimated delivery: Dec 2012

Pledge $10,000 or more

0 backers

Thank You! Imagine using your watch like Dick Tracy. When tested and ready for release, an Android watch running VoiceSee will be on its way… We'll also include you in high level discussions relevant to company direction. Your voice will be heard!

Estimated delivery: Dec 2012
View in Video Mode