Where the drawn swords of the rising sun meet the tagged walls of the concrete jungle, Yancha Digs gives you samurai skate culture.
What is Yancha Digs?
Yancha Digs is a start up skateboard/clothing company which mashes up skate, street, and samurai style and drops it all on t-shirts and skate decks.  Yancha is the Japanese term for naughty or mischievous, and in our case, refers to being who we are as tattooed, skateboarding, anarchist, immigrant punk artists, without caring what others think of us.Digs is American slang for the clothes we wear or the place we live.Yancha Digs brings the drawn swords of the Land of the Rising Sun to the tagged walls of the concrete jungle.Nippon represent.Sendai stand up.Yancha's the truth.
Check our catalog pages: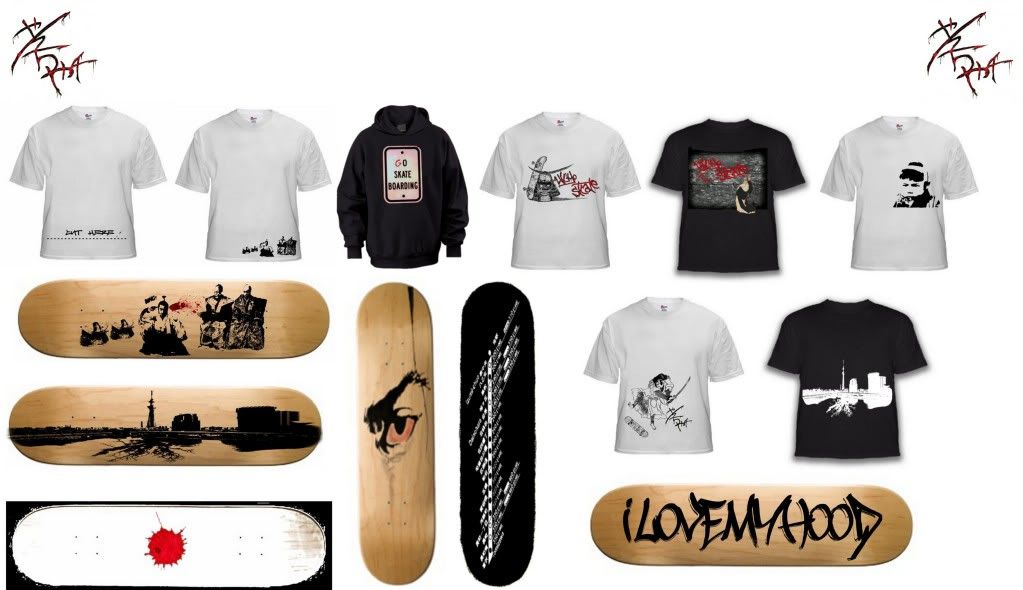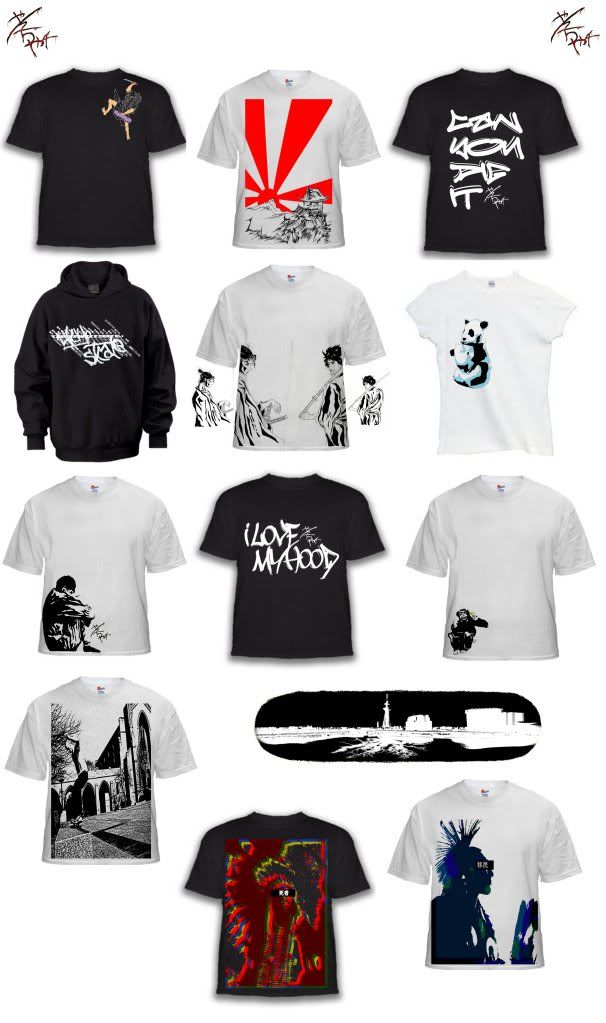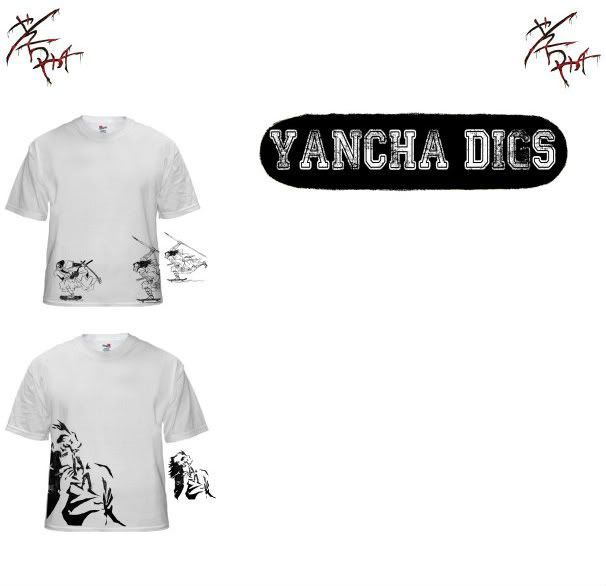 Where is Yancha Digs?
Yancha Digs is based in Sendai, Japan.

Who are Yancha Digs?
Nino is an American ex-pat artist with a profound interest in the history of the Japanese samurai who lives in Sendai, making his living teaching English to Japanese from all walks of life.  Nino designs and creates the graphic work that make up Yancha's portfolio.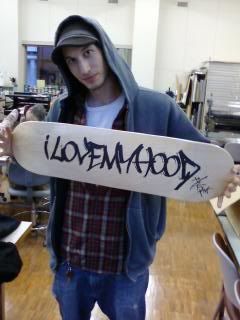 Malcolm (real name Makoto), a vegetable vendor by day and anarchist artist imbued with the American frontier spirit and interest in underground American culture by night, is the chief of production, sales, and handles the business end of Yancha Digs.
Rewards from Yancha Digs?
We realize the great opportunity that Kickstarter offers. Hopefully, with the generosity of the Kickstarter community we can help make our dream project a reality, though we of course can't let said generosity go unrewarded. As rewards for the Kickstarter contributors, we offer merchandise made by our own two hands and even some original art we use for skate deck designs. Contributors at the $25 dollar mark will receive a handmade "Hardflip Graffiti" design t-shirt.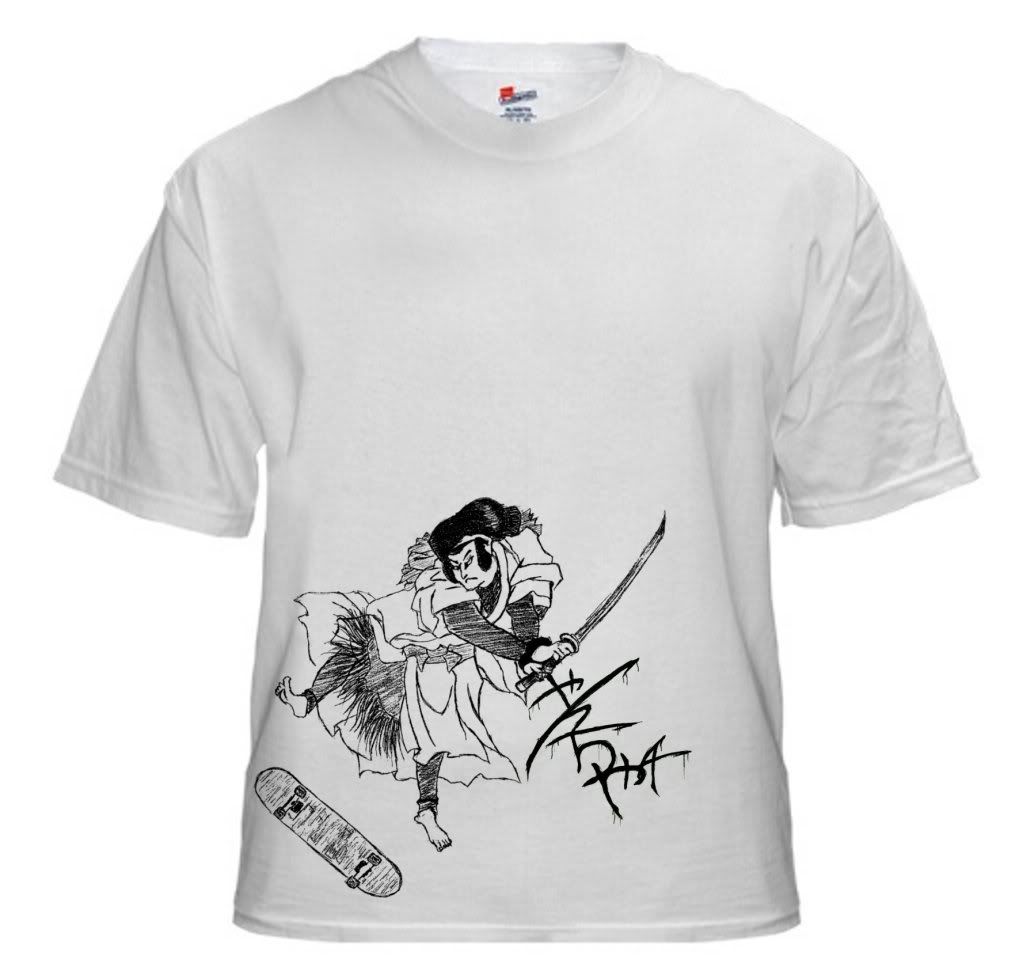 A $50 dollar contribution gets you a black "Go Skateboarding" design hoodie.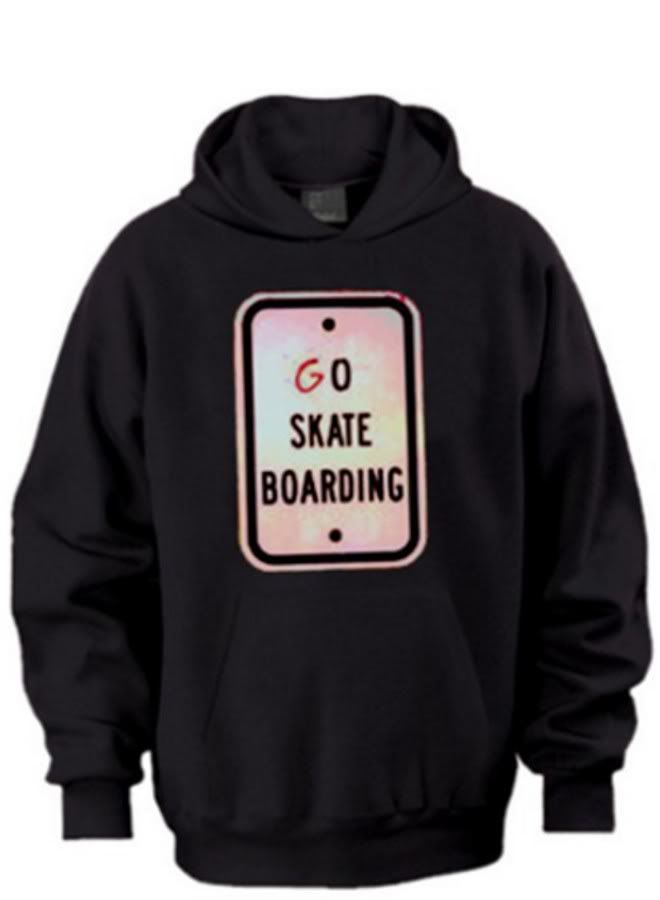 Those who contribute $75 dollars will get a custom "I Love My Hood" design 7.75 Yancha Digs skate deck signed by myself and Malcolm.

Lastly, those of you generous enough to help us out with $100 dollars can get a signed original piece of artwork used for the designs of one of our skate decks.
Why is Yancha Digs?
First of all, we, Yancha Digs, must apologize that the video does not address all the questions you might have expected we would, as they're written in the description for what is the expected from a kickstarter video. We made the video in the summer before deciding to make a Kickstarter project (We didn't know about Kickstarter until recently). But we decided still to upload it for the time being until a new video is made as a way to at least get to know us and see some of our t-shirt/hoodie designs. It's currently winter in Sendai, so filming a good amount of skateboarding this time of year is pretty difficult due to the weather, but once it gets warmer and not all covered in snow then we'll have something new for everyone to see. Please bear with us and read more about us in this description where we hope to address all of the above concerns. As we say in Japanese, "Yoroshiku Onegaishimasu!"
As much of the world remembers, on March 11, 2011, eastern Japan was struck by a 9.0 magnitude earthquake and its resulting tsunami that took over 15,000 lives, with 3000 still missing, and thousands more damaged, wounded, or who lost everything they had. As residents of Sendai (and Iwanuma respectively) both before and after the earthquake, we want to help revive this local suffering economy by starting a business that embraces both Japanese and American underground cultures (interests that Yancha Digs founders share) in which local residents can take pride. We would also like to say THANK YOU to the international community which came to the aid of the Japanese (and non Japanese) people living in the Tohoku area. Thanks to your efforts, many were saved and the road to restoration continues to this day.
The story of this project starts on March 11, 2011, when the Great East Japan Earthquake struck Sendai and its surrounding areas. Malcolm and myself spent much of that time together, stranded at our English conversation school with no electricity, food, or water. Needless to say, people come together in times of crisis, and that's similarly what happened to Malcolm and I's friendship. In the aftermath of the quake and tsunami, LOTS of things occurred that I shall refrain from narrating in the interest of the readers out there, but after things settled down (though even now heavily damaged areas are still pretty bad), Malcolm and I saw only grief stricken people in a devastated area. With the Kickstarter community's help, Yancha Digs hopes to start a business that can help a struggling local economy by providing jobs (if we are able to grow enough in size), an injection of money into other local businesses that can help us further our goal, and a new local underground style that belongs to skateboarders of not only Sendai, but all over Japan. With all of your help we can make this community great again and hopefully put Sendai on the map for something positive that can give people pride! 
The main goal of our project is to establish ourselves as a new local business. This means that we aim to have our skateboards and clothing brand sold in shops through Sendai (and hopefully the surrounding Tohoku area). Another natural goal would be to set up our own Yancha Digs store in which customers would be able to buy our goods directly from us. Before we can set up our own Yancha Digs shop, however, we must first raise money by selling our goods through other stores. Currently, Malcolm and I both have separate full time jobs (myself an English conversation teacher, and Malcolm a vegetable vendor), and we do our best in our free time to make this project a reality. The hope is to become a popular enough business such that this may become our new full time business. Our strategy going forward will be to create products we feel reflect ourselves and our interests in underground culture to be sold in local skate shops (though they're few and far between) throughout Sendai to build a name for ourselves with hopes of starting our own store. Specifically, funds provided by the Kickstarter community shall be used to purchase materials for creating our skateboards/clothing brand, advertisement to promote our brand, and to expand our business with shops that will sell our goods.
We currently create our merchandise using silk screening techniques at the Sendai Museum of Art that provides us with a working space and the necessary tools (though the screens, inks, clothes, skate decks, and all other raw materials are on Yancha Digs' coin). When we started the project, we merely sold to friends directly when they wanted to buy a t-shirt from us, but we have since expanded to having our goods sold at Go Straight skate shop in downtown Sendai and Extreme Snow/Skate Shop in nearby Ayashi, Japan. Our relationship with these companies is new, however, and we would like to do what we can to foster it and promote business for them in this local economy, as well as for ourselves. We hope that by making Yancha Digs a popular brand in the area, these other local companies that carry Yancha Digs brand can profit as well. This is another goal for Malcolm and I that we would use Kickstarter funds for: fostering a relationship with other local businesses to promote both our own brand and the business of the shop selling our brand.
As we approach the one year anniversary of the March 11 earthquake, I am filled with all sorts of thoughts which I shall again respectfully decline further elaboration for the sake of myself and the reader's own time. One year later, this community still has not fully recovered, but we would like to do what we can to help. Malcolm and I went through a lot together since that time, and we hope to continue to go through this together as well. This is why we feel that March 11 would be a fitting deadline to get this project off the ground. Malcolm and I are both passionate in what we do and we continue to learn and strive to be better for the sake of our friends, family, and community. We would like to thank the kickstarter community for your willingness to help us achieve our goal, and for helping to rebuild the hopes and pride of people who have seen nothing but hardship in the past year.
Much love,
The Yancha Digs crew
all designs the copyright and property of Yancha Digs, 2012.
FAQ
Have a question? If the info above doesn't help, you can ask the project creator directly.
26
Backers
$1,064

pledged of $700 goal
Funding period
Feb 1, 2012 - Mar 11, 2012
Pledge $25 or more

10 backers

Custom made Yancha Digs "Hardflip Graffiti" Tee Shirt

Estimated delivery: Mar 2012

Pledge $50 or more

4 backers

Custom made Yancha Digs "Go Skateboarding" Black Hoodie

Estimated delivery: Mar 2012

Pledge $75 or more

1 backer

Handmade Yancha Digs "I Love My Hood" 7.75" signed skateboard deck (grip tape included)

Estimated delivery: Mar 2012

Pledge $100 or more

4 backers

Original skateboard deck design artwork signed by artist

Estimated delivery: Mar 2012
View in Video Mode