The Bruises are recording a new full length record! Let the virtual courtship begin.
12/5 update - Holy cow!  After 11 days we reached our initial Kickstarter goal for our new album!!! This was the bare minimum we needed to move forward with our recording plans. We still have lots of time left to Kickstart it up, and the more funds we raise, the better the album we can make! So, if you've been thinking about contributing but wonder if we still need your help--the answer is YES!  :)
A big thank you to our backers so far--you are all amazing and your generosity and passion for our band has completely touched our hearts.  And we promise to return the favor with a kick-ass album :)  We love you!
Our campaign:
Well hello. We're The Bruises from San Francisco. We're here to win your hearts!  Whether you're a loyal fan that has followed us through the years or this is your first time, we're excited to welcome you to the Kickstarter Campaign for our 3rd full length album.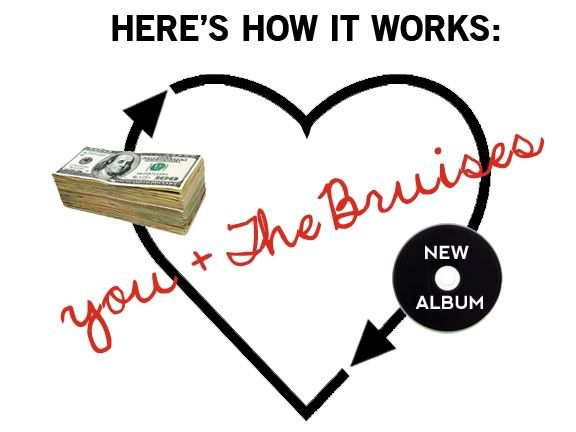 A bit about us: we are Aja Blue, Jen Black, Clayton Vorheis, and Tamara Waite.  Aja and Jen have been playing as The Bruises for over 10 years. Clayton and Tamara have been in the band about a year, and this will be the debut album with this complete lineup.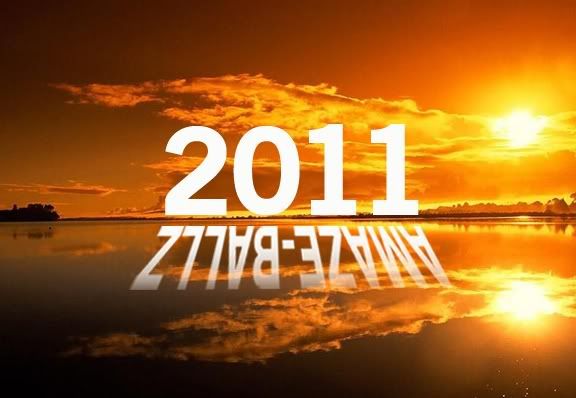 2011 has been an amazing ride for us! We released a 5-song EP in early spring, played a gajillion shows, toured in 5 states, got to open for some of our heroes and even made it to the National Finals of a pretty cool contest.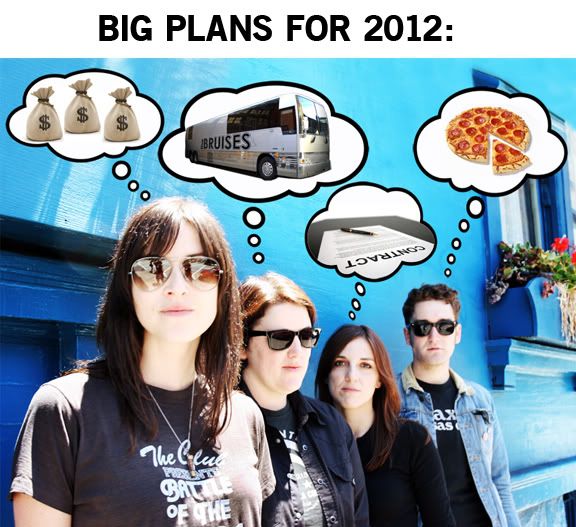 But seriously....The Bruises don't have a record contract, a record label, a fancy manager, a tour bus, roadies or even dancers. What we DO have is a crazy slew of new songs and a ridiculous amount of passion to record them and deliver them to YOU in early 2012!

In preparation for this effort, we've saved all the proceeds from shows, merch, and the contest this year. We are about halfway there! And now we're relying on you, our amazing (and might we add incredibly beautiful/handsome) supporters to help us make it a reality.  The $3,000 we hope to raise will go directly to the recording and production of a new full-length CD. Specifically, it will be used for:
Studio Time:  This can range from around $350/day for a more basic studio to $600/day or even more for a place with more bells and whistles.  Recording drums alone will probably take us 3 days, so....it adds up quickly!


Mixing:  Mixing can be one of the more intensive parts of the process. To have all the tracks blended perfectly, we will need to spend a bare minimum of $200/song.


Mastering:  Around $1000 for the album.  This is where our record gets the final touches before its release, making it more loud and sexy and wonderful than anything you can even imagine!


CD Manufacturing:  Yep, last but not least there's the CD art, printing, and packaging.
Of course, if we happen to EXCEED our goal, the extra funds could go toward promotion, a music video, touring, possibly even a vinyl release. YEAH!!!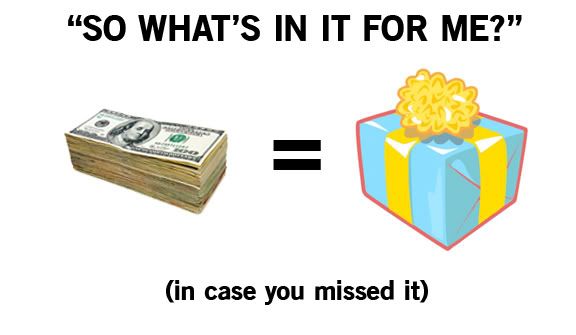 Don't worry love, we're not all talk and no action.  As a THANK YOU for your incredible support, we have put together some AWESOME reward packages JUST FOR YOU!  Exclusive Bruises merchandise, one-of-a-kind opportunities, and of course the chance to get the new CD before it's released!  That's them over there on the right.
So what are you waiting for?  Let's fall in love!
XO
The Bruises
(Aja, Jen, Clayton, and Tamara)
FAQ
Have a question? If the info above doesn't help, you can ask the project creator directly.
79
Backers
$5,096

pledged of $3,000 goal
Funding period
Nov 18, 2011 - Dec 18, 2011 (30 days)
First created

·

0 backed

Has not connected Facebook

Website: thebruises.com
Pledge $5 or more

4 backers

THE SHY INTRODUCTION: A digital download of the first single from the new record, plus exclusive updates here on Kickstarter.

Estimated delivery: Mar 2012

Pledge $10 or more

9 backers

THE CRUSH: A digital download of the entire album a week before the official release date, plus exclusive updates here on Kickstarter.

Estimated delivery: Mar 2012

Pledge $25 or more

28 backers

THE FIRST DATE: A signed physical copy of the CD, plus THE CRUSH. Whoa....this is getting serious....

Estimated delivery: Mar 2012

Pledge $35 or more

5 backers

THE LOVE LETTER: You get THE FIRST DATE, plus a specially designed thank you card from the band, with a personal message inside just for you.

Estimated delivery: Mar 2012

Pledge $50 or more

6 backers

EXCLUSIVITY: A special Kickstarter-exclusive Bruises T-shirt, plus THE LOVE LETTER. Think of this t-shirt as a promise ring, only better fitting and cuter.

Estimated delivery: Mar 2012

Pledge $75 or more

3 backers

THE BOOK OF LOVE: Who wrote it? We did. Just for you. A limited edition album companion booklet that goes far beyond the realm of liner notes.....designed by the band, it will include lyrics, photos, and stories behind the songs. All this plus EXCLUSIVITY. So sweet.

Estimated delivery: Apr 2012

Pledge $100 or more

5 backers

PDA (Public Display of Affection): You're amazing, we love you, and we want everyone to know about it. Therefore, we are putting your name and praises in the liner notes of the new CD. For your devotion, you'll also be receiving THE BOOK OF LOVE.

Estimated delivery: Mar 2012

Pledge $125 or more

5 backers

THE MIX TAPE: Remember when you were younger and you would totally make a mix tape for that special someone you were pretty sure you wanted to go steady with? Heck, we still do that. And we wanna make one for you. This level includes a custom-made, just-for-you mix CD from the band. Shoot, it may even feature some acoustic tracks and previously unreleased rarities from the Bruises vault. This plus PDA.

Estimated delivery: Mar 2012

Pledge $175 or more

1 backer Limited (4 of 5 left)

THE DINNER DATE: Literally. The band would like to take you out for dinner! We pick the restaurant, but don't worry, it won't be fast food. We wanna impress you, remember? This option is for Bay-Area only backers, for obvious reasons. :) And it comes with loads of clever conversation and PDA....but not while we're eating.

Estimated delivery: Mar 2012

Pledge $200 or more

1 backer All gone!

THE HEARTBEAT: Does your heart go pitter patter for the sweet thunder of drums? Then we have just the thing for you--a signed Ludwig 24" custom Bruises logo bass drum head used in the recording of the album, not to mention 20+ shows this year. BOOM!!! This plus PDA and a high five from Tamara.

Estimated delivery: Mar 2012

Pledge $300 or more

2 backers Limited (6 of 8 left)

YOU CAN TELL EVERYBODY THIS IS YOUR SONG: We hope you don't mind that we put down in words....how wonderful life is now that we made this new album. No, really. The Bruises will write a special song just for you about a topic of your choosing. And then we will record it in Garageband and send it to you. And you will also get major PDA!

Estimated delivery: Apr 2012

Pledge $500 or more

0 backers Limited (3 of 3 left)

LET'S SPEND THE NIGHT TOGETHER: Mick Jagger, we couldn't agree more. For one night, the Bruises are all yours for a private performance. You provide the venue, we will provide the rock (or soft rock if we need to go unplugged). Bay Area backers only, please. This plus PDA!

Estimated delivery: Mar 2012

Pledge $501 or more

0 backers Limited (1 of 1 left)

MEET THE PARENTS: Um, so this might be a little awkward, but since this is the level right after SPEND THE NIGHT, we're going to need you to meet our parents, or at least, one of them. That's right, not only will you get THE MIX TAPE, but you will get a 10-minute Skype session with a bona fide Bruises parent, where you can ask them anything you want. It may not be sexy, but it's important if we want this relationship to last.

Estimated delivery: Mar 2012

Pledge $1,000 or more

0 backers Limited (3 of 3 left)

SHACKIN' UP: Money can't buy you love, but in this case, it will definitely get you a day in the studio with the Bruises. You'll have to find your own transportation and lodging if you are from out of town, but once you're here, you'll get to hang out and watch us record a whole day's worth of the new record. Also, we'll feed you whatever it is we are eating that day, so expect a healthy portion of pizza or Chinese. And at the end of the day, we'll send you home with a signed guitar used for the recording. HOTT DAMN! All this plus PDA.

Estimated delivery: Jan 2012
View in Video Mode