Twin Godkillers from the future are trapped in the year 2011 and must fight through Heaven and Hell to get back home.

In the 23rd century, scientists at Seculyr Technologies (SecTech) discover the existence of spirit worlds and their supernatural inhabitants. Wanting to dominate all spiritual beings, scientists develop an enslavement process called Corporealization.  Corporealization is the process in which gods and spirits are captured, stripped of their powers, and given a physical body. This brings into being an inferior race of slaves called Seculites.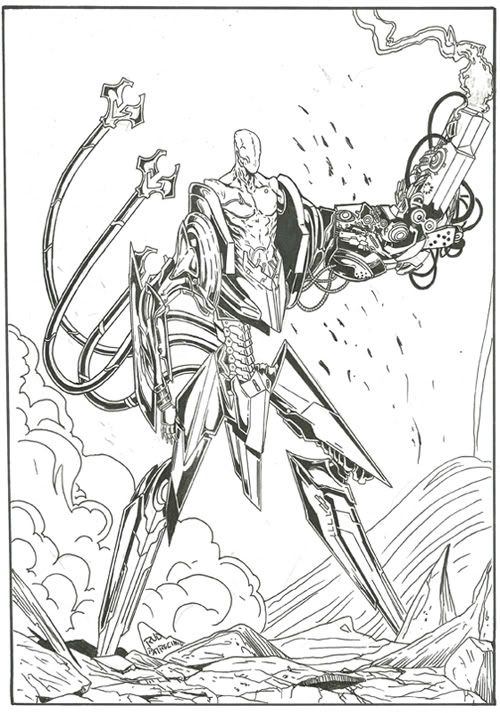 A Primal Seculite
The sudden rise of Seculite slaves within the human population had many fearing the possibility of a revolt. This fear lead to the invention of a doomsday weapon capable of striking fear into the Seculite community. That weapon: Deicide Technology.
Deicide Technology began with a corps of anti-Seculite enforcement officers codenamed "Deciders." Deciders are an implacable and unforgiving law-unto-themselves in the Seculite communities.
Identical twins Devah and Decoda are Deciders. Never having a childhood, experiencing love, or living a life outside the Deciders Corps, they've existed only for the purpose of hunting rogue Seculites.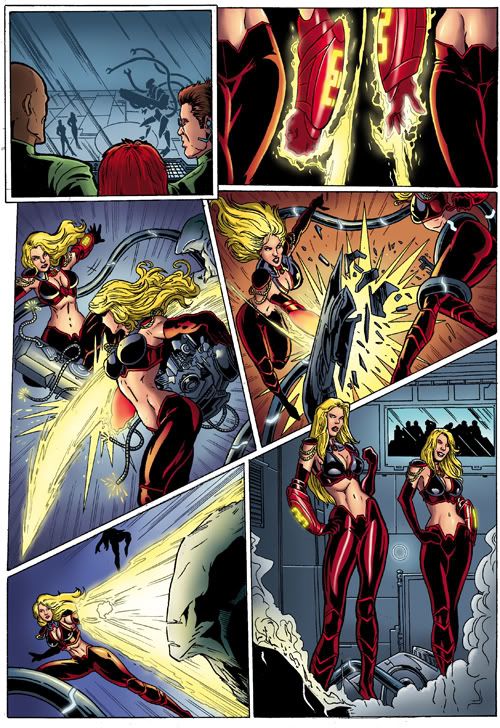 While pursuing a minor rogue imp called a "Viryx", the twins are unexpectedly drawn through a GiGo (Get In Get Out) rift and sent back to the year 2011.
Trapped in a primitive era without any means of getting home; the twins find themselves in a situation unlike any they could ever have imagined. They'll have to grow up fast while they fight for their lives…and find a destiny no one ever expected.
--------------------------------------------------------------------------------------------------------------
Hi and thanks for visiting my Kickstarter page! What you've just read is a summary for my comic book called The Deciders. I've spent the last two years developing this story and now I need your help bringing it to life.
What I'm Doing
I'm trying to raise the money needed to get the first issue of The Deciders produced and published. I've written the script but I must hire an artistic team (which I already have in place) to produce it.
Why I'm Doing This
Ever since I was a little girl, I've dreamed of creating my own comic book and now I have an opportunity to make that dream come true but I can't do it without your help.
In 2009, I was able to scrape together enough money to publish a preview edition of The Deciders but couldn't get the remaining funds needed to complete it. I was heartbroken and had just about given up on my dream until I heard about Kickstarter. So here I am, pumped up and excited once again about The Deciders!
FAQs
Where does the money go to?

Seeing as I'm only a writer (I can barely draw a stick figure) the money will be used to hire an artistic team. These guys are industry pros with at least 20 years under their belts and they don't work for free. (Trust me, I already tried...) Working on my comic book will be:
Steve Scott (penciler) - Steve Scott is a renowned comic book professional, known for his work on Razor (London Knights), Indiana Jones (Dark Horse), X-Men (Marvel Comics) and most recently Batman issue #710 (DC Comics). Check out his Facebook Page to find out more about him and his work!

Karl Waller (inker) - Karl Waller produced interior illustrations for many Dungeons & Dragons books and Dragon magazine from 1988 to 1998. Karl has also worked in the comic book industry,including illustrating the prequel comic book X-Men the Movie: Wolverine.

Michael Watkins (colorist) - Michael Watkins is the founder and owner of Highburn Studios. He's been in the comic industry for years working as a colorist illustrator, and writer.His credits include: Indiana Jones (Dark Horse), Outlaw Territory (Image Comics), Sonic The Hedgehog (Archie Comics), The Dark Knight (Warner Bros.), and BloodRayne (Digital Webbing).
Jaymes Reed (letterer) - Jaymes Reed is a professional freelance comic book letterer and currently runs www.Digital-CAPS.com, his online home for digital comic book lettering. He works for many small press studios at this time, most notable Bluewater Productions where he currently letters The Mis-Adventures of Adam West, Fame, Female Force, Orbit & numerous mini series.
It also covers the cost of publishing and the fees taken by Kickstarter and Amazon. In a nutshell, all the money goes towards the production of The Deciders issue #1.
What do I get if I make a pledge?
Every pledge gets a reward but the more you pledge the bigger the reward! The rewards are listed on the right hand side of my Kickstarter page. Also everyone who pledges has access to this project's updates.
When will I receive my incentive?
Once my goal is met I will begin contacting the backers to get their relevant information (i.e. shirt sizes, photos for likeness references, etc.) Remember, the incentives can only happen if my goal is met.
If I don't live in the U.S. can I still pledge?
Absolutely! No matter where you are in the world, you can still pledge!
Can I gift an incentive?
You bet'cha! But first you'll need to go through the normal process of making the donation in your name.For billing purposes it must be in your name.After the deadline I will contact you through Kickstarter. (It will be forwarded to the email address you provided) Please reply with the person's information who is to receive the reward.I will make sure they are the person who receives the reward.
Can I increase my pledge once it's been made?
YES! Once you donate to my campaign, you may want to change your incentive reward to a different one, or increase your pledge amount. To do so, go to Kickstarter and sign in. If you go to my campaign page, the green "Back This Project" button has been replaced with a blue "Manage Your Donation" button. Click it and you can enter a new amount, or choose a new incentive.
Can you exceed the goal?
Yes! How amazing would that be?! Exceeding my goal will allow me to put additional content in the book or print variant covers. Plus I'll be able to offer more rewards and one-of-a-kind goodies.
Do you really have an identical twin?
Yes I do. Her name is Crystal and she is two minutes older than me.

Rewards
A sneak peek at some of the rewards...
THE POSTERS
THE T-SHIRTS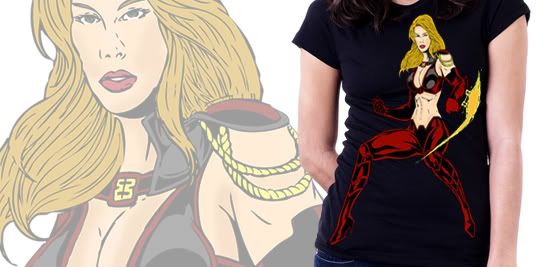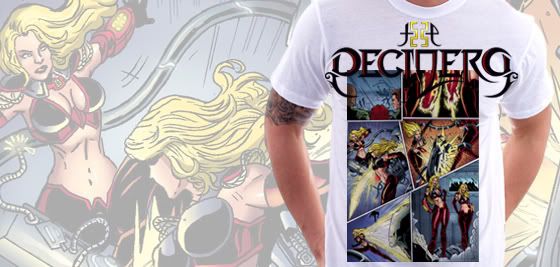 If you have any other questions please feel free to send me a message! Thanks everyone for your support! Together, I know we can make this happen!
FAQ
Have a question? If the info above doesn't help, you can ask the project creator directly.
93
Backers
$10,746

pledged of $10,000 goal
Funding period
Jun 25, 2011 - Aug 9, 2011
Pledge $1 or more

7 backers

Instant good karma because you helped a young woman fulfill a lifelong dream!

Pledge $5 or more

3 backers

A personalized "Thank You" e-card designed with love & thanks by me!

Pledge $10 or more

21 backers

A digitally-delivered PDF copy of "The Deciders" issue #1, plus the personalized e-card.

Pledge $25 or more

30 backers

Signed copy of "The Deciders" issue #1 plus your name in the acknowledgments. (INTERNATIONAL backers please add $10 for S&H)

Pledge $55 or more

10 backers

A beautiful 11 x 17in poster of Devah and Decoda drawn by Kevin Stokes, a signed copy of "The Deciders" issue #1 and your name in the acknowledgments. (INTERNATIONAL backers please add $10 for S&H)

Pledge $150 or more

2 backers

A gorgeous 11 x 17in pin-up poster of Devah and Decoda commissioned by Dagger at Farlow Studios and colored by Omi Remalante Jr. You also get a signed copy of "The Deciders" issue #1 and your name in the acknowledgments.(INTERNATIONAL backers please add $10 for S&H)

Pledge $250 or more

3 backers

Choose one from out of the three different Deciders t-shirts featuring characters from the book. You also get the two posters, a signed copy of "The Deciders" issue #1 and your name in the acknowledgments. (INTERNATIONAL backers please add $10 for S&H)

Pledge $500 or more

0 backers

A cozy 20min Skype session with me! We can talk about geeky things, my writing, or just talk about whatever is on your mind! You also get the t-shirt of your choice, both posters, a signed copy of "The Deciders" issue #1, and your name in the acknowledgments.(INTERNATIONAL backers please add $10 for S&H)

Pledge $500 or more

1 backer Limited (1 of 2 left)

Own an original piece of artwork from "The Deciders" issue #1! This will be a one-of-a-kind page used in the production of the 1st issue. You will also receive a copy of "The Deciders: Introductory Issue" (I have very few of these left and won't be printing anymore. So grab one while you can!). Plus the t-shirt of your choice, both posters, a signed copy of "The Deciders" issue #1, and your name in the acknowledgments.

Pledge $1,000 or more

3 backers All gone!

YOU'RE A HERO! You'll get to appear in the 1st issue of "The Deciders"! It might only be a supporting role but it's definitely something to brag about. (Steve Scott is an amazing artist so you can be sure that the character will look just like you) You will also receive a copy of "The Deciders: Introductory Issue", the t-shirt of your choice, both posters, a signed copy of "The Deciders" issue #1...which you'll be in, and your name in the acknowledgments. (INTERNATIONAL backers please add $10 for S&H)
View in Video Mode