Innovative Mouse Pad with Therapeutic Wrist Rest. Sheepskin provides ultra-soft, warm and breathable wrist support.
INNOVATIVE MOUSE PAD with THERAPEUTIC WRIST REST
The GoSmart RestPad is a new kind of mouse pad with a sheep skin wrist rest designed to give you soothing comfort and ultimate pressure relief while you use your computer.

WHAT PEOPLE HAVE TO SAY ABOUT IT
We know full well how wonderful the GoSmart RestPad is, but wanted to get other people's opinions so we headed out to the the world famous Promenade of Santa Monica. Watch the video to see what folks had to say about it!
OUR STORY
My brother Jae and I have both gone through painful phases of carpal tunnel and repetitive motion stress injuries associated with working long hours on the computer, so comfort and proper workstation ergonomics has become very important to us.  We each tried a number of different mouse pads and wrist rests over the years to help alleviate the stress to our wrists and arms but were never quite satisfied with the gel or foam options because they were still too hard. So, we created a mouse pad using sheep skin as the wrist rest and the result is AMAZING!

SOOTHING COMFORT BENEFITS
The genuine sheep skin is incredibly soft, warm and breathable so it actually feels soothing and therapeutic when you use it.  Sheep skin also provides the ultimate in pressure relief which we showed by using tactile sensors that measure the contact pressures underneath the wrist.
Ultimate Pressure Relief (watch test footage in the video)
Ultra-Soft, Warm and Breathable
Soothing and Therapeutic Comfort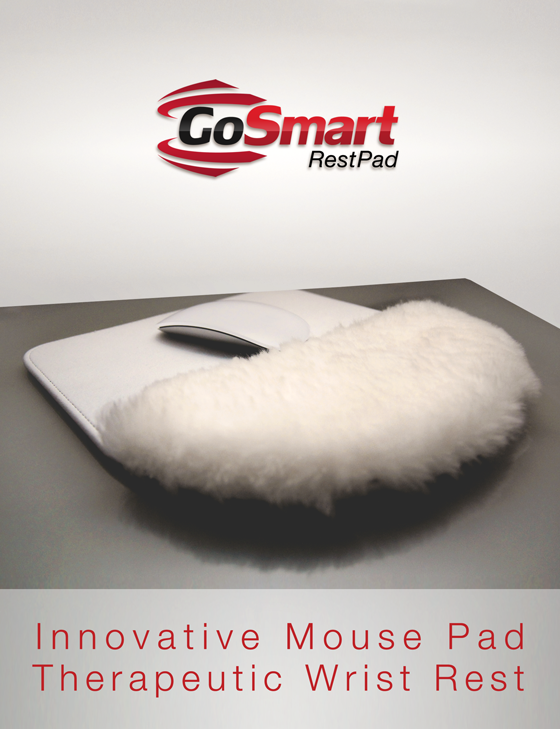 SCIENTIFIC VALIDATION
Jae wanted to make sure what we felt and thought were true and quantifiable so we placed a tactile sensor underneath the wrist to measure the contact pressure between the wrist and various support surfaces such as a hard desk, memory foam, gel pad, and sheep skin.  The test subject rotated the wrist while using only the natural weight of the arm to apply the pressure. The results clearly showed the sheep skin to be the best material to relieve contact pressures.
LARGE AND STABLE DESIGN
We made the mouse pad large and wide to match the screen aspect ratio of currently popular monitor displays. The wrist wrest area is also larger and rounded to maximize user comfort.  Other features include a rigid construction so you always have a flat and stable area to maneuver the mouse.  Finally, we included a high friction rubber base so the mouse pad stays put and doesn't slide around.
Soothing 100% natural sheep skin
Large, wide format mouse pad area to match your screen
Rigid construction to extend work surface
Textured rubber bottom surface to prevent sliding

COLOR OPTIONS
The color possibilities for the GoSmart RestPad are endless so we mocked up some examples below. Depending on popularity and your feedback requests, we'll select and add to these color options so back us and let us know what you want.
ROOMY EXTRA WIDE KEYBOARD TRAY
While filming this video, we realized that most keyboard trays have small and cramped areas for the mouse. It seems that they are designed to hold the keyboard, but not so much attention to the space required for a mouse.  Yes, you can lift and reposition the mouse, but it is inefficient and annoying.  So, we are also offering a sturdy extra wide 30" keyboard tray to hold the keyboard with ample room for a mouse pad or even a small Wacom tablet.
SHARE THE SOOTHING COMFORT
We've been using these GoSmart RestPads for a few months and we can't imagine using anything else now.  We'd like to produce this GoSmart RestPad and share it with everyone.   Retail price for the GoSmart RestPad will be $29.95 for the micro-fiber and $39.95 for the leather version.  Please support us by pre-ordering. 
As a Kickstarter Backer, you'll get exclusive discounted prices of $25 and $35 respectively (includes shipping for US residents).
Spread the word to your friends and family by liking us on Facebook or following us on Twitter.  They will love you for it! 
Thanks and have a great day!
Sung-Hee and Jae Son
FAQ
Have a question? If the info above doesn't help, you can ask the project creator directly.
30
Backers
$2,271

pledged of $4,000 goal
Funding Unsuccessful This project reached the deadline without achieving its funding goal on April 6, 2012.
Funding period
Feb 21, 2012 - Apr 6, 2012 (45 days)
First created

·

1 backed

Has not connected Facebook
Pledge $25 or more

12 backers

One GoSmart RestPad with natural sheep skin wrist rest and micro-fiber cloth mouse pad area. Shipping included for US, add $10 for International

Estimated delivery: May 2012

Pledge $35 or more

7 backers

One GoSmart RestPad with natural sheep skin wrist rest and genuine leather mouse pad area. Shipping included for US, add $10 for International

Estimated delivery: May 2012

Pledge $50 or more

4 backers

Two GoSmart RestPads with natural sheep skin wrist rest and micro-fiber cloth mouse pad area. Shipping included for US, add $10 for International

Estimated delivery: May 2012

Pledge $70 or more

2 backers

Two GoSmart RestPads with natural sheep skin wrist rest and genuine leather mouse pad area. Shipping included for US, add $10 for International

Estimated delivery: May 2012

Pledge $90 or more

1 backer

Four GoSmart RestPads with natural sheep skin wrist rest and micro-fiber cloth mouse pad area. Shipping included for US, add $20 for International

Estimated delivery: May 2012

Pledge $130 or more

1 backer

Four GoSmart RestPads with natural sheep skin wrist rest and genuine leather mouse pad area. Shipping included for US, add $20 for International

Estimated delivery: May 2012

Pledge $140 or more

0 backers

One GoSmart RestPad with natural sheep skin wrist rest and micro-fiber cloth mouse pad area + extra wide 30" GoSmart Keyboard Tray. Requires a minimum of 10 backers. Shipping included for US and $80 for International

Estimated delivery: May 2012

Pledge $150 or more

1 backer

One GoSmart RestPad with natural sheep skin wrist rest and genuine leather mouse pad area + extra wide 30" GoSmart Keyboard Tray. Requires a minimum of 10 backers. Shipping included for US and $80 for International

Estimated delivery: May 2012

Pledge $220 or more

1 backer

Ten GoSmart RestPads with natural sheep skin wrist rest and micro-fiber cloth mouse pad area. Shipping included for US, add $40 for International

Estimated delivery: May 2012

Pledge $320 or more

1 backer

Ten GoSmart RestPads with natural sheep skin wrist rest and genuine leather mouse pad area. Shipping included for US, add $40 for International

Estimated delivery: May 2012
View in Video Mode