Off Your Rocker Giveaway
Help your friends learn about Off Your Rocker! We have started up a giveaway to help spread the word about the campaign. We would very much appreciate it if you would share the link on Facebook, Twitter, and other social media. If you're feeling extra helpful, you can also embed the giveaway widget on your own blog! Just copy and paste the embed code into any blog post, and people can enter the giveaway without having to leave your site. How cool is that?
Thank you for your continued support!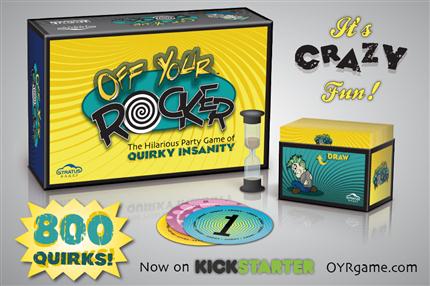 182
Backers
$10,415

pledged of $10,000 goal
Funding period
Apr 6, 2012 - May 21, 2012
Pledge $5 or more

3 backers

WEIRD - A heart-felt thank-you from Stratus Games! All backers at this level and above will receive a PDF of 10 Quirk Cards to get started playing the game right after the project funds!

Estimated delivery: May 2012

Pledge $20 or more

101 backers

LOONY - One copy of Off Your Rocker. Add $20 for a T-shirt of your choice. Free shipping within the USA or Canada (+$15 worldwide).

Estimated delivery: Jul 2012

Pledge $30 or more

12 backers

BIZARRE - New! One copy of Off Your Rocker and 20 blank Quirk Cards! These double-sided cards have enough space for 80 custom quirks and match the artwork and style of the rest of the cards. Add $20 for a T-shirt of your choice. Free shipping within the USA or Canada (+$15 worldwide).

Estimated delivery: Jul 2012

Pledge $35 or more

10 backers

BATTY - New! 2 copies of Off Your Rocker! Add $10 for 20 blank Quirk Cards. Add $20 for a T-shirt of your choice. Free shipping within the USA or Canada (+$15 worldwide).

Estimated delivery: Jul 2012

Pledge $45 or more

14 backers

NUTS - One copy of Off Your Rocker and your choice of one other game from Stratus Games (Gold Mine, Launch Pad, Eruption, or DiceAFARI). Add $20 for a T-shirt of your choice. Free shipping within the USA or Canada (+$15 worldwide).

Estimated delivery: Jul 2012

Pledge $60 or more

11 backers

BONKERS - 6 copies of Off Your Rocker! Save 60% off of the retail price. Add $20 for a T-shirt of your choice. Free shipping within the USA or Canada (+$15 worldwide).

Estimated delivery: Jul 2012

Pledge $70 or more

3 backers

DOTTY - New! One copy of Off Your Rocker and TWO other games from Stratus Games (Gold Mine, Launch Pad, Eruption, or DiceAFARI). Add $20 for a T-shirt of your choice. Free shipping within the USA or Canada (+$15 worldwide).

Estimated delivery: Jul 2012

Pledge $75 or more

1 backer

BANANAS - One copy of Off Your Rocker and one custom-printed Quirk Card featuring four quirks of your choice and custom caricature illustrations. You will be the only person in the world with this card! Add $20 for a T-shirt of your choice. Free shipping within the USA or Canada (+$15 worldwide).

Estimated delivery: Jul 2012

Pledge $100 or more

2 backers

CRACKED - 12 copies of Off Your Rocker! Save 67% off of the retail price. Perfect for resellers! Sell 4 to cover your costs, earn $200 profit! Add $20 for a T-shirt of your choice. Free shipping within the USA (+$10 for Canada, +$30 worldwide).

Estimated delivery: Jul 2012

Pledge $100 or more

18 backers

CRAZY - Stratus Games mega-bundle! One copy of Off Your Rocker and all other games published by Stratus Games to date (Gold Mine, Launch Pad, Eruption & DiceAFARI). Retail value: $153. Add $20 for a T-shirt of your choice. Free shipping within the USA (+$15 for Canada, +$30 worldwide).

Estimated delivery: Jul 2012

Pledge $125 or more

0 backers

CERTIFIABLE - Two copies of Off Your Rocker and a full adult-sized straightjacket costume (lunatic top and trousers) featuring the Off Your Rocker logo. Add $20 for a T-shirt of your choice. Free shipping within the USA or Canada (+$15 worldwide).

Estimated delivery: Jul 2012

Pledge $200 or more

1 backer

CUCKOO - 24 copies of Off Your Rocker! Save 67% off of the retail price. Perfect for resellers! Sell 8 to cover your costs, earn $400 profit! Add $20 for a T-shirt of your choice. Free shipping within the USA (+$20 for Canada, +$40 worldwide).

Estimated delivery: Jul 2012

Pledge $400 or more

1 backer

INSANE - 48 copies of Off Your Rocker! Save 67% off of the retail price. Perfect for resellers! Sell 16 to cover your costs, earn $800 profit! Add $20 for a T-shirt of your choice. Free shipping within the USA (+$25 for Canada, +$50 worldwide).

Estimated delivery: Jul 2012

Pledge $3,000 or more

0 backers

OFF YOUR ROCKER - Two copies of Off Your Rocker and a 2-hour game session with a REAL PSYCHIATRIST to diagnose your quirks! We will train the psychiatrist in how to play the game and arrange for him or her to visit you in the location of your choice (subject to approval) for a 2-hour session. Add $20 for a T-shirt of your choice. Free shipping of the games within the USA or Canada (+$15 worldwide).

Estimated delivery: Jul 2012