Stretch Goals
Hi Guys
Just a quick update to say that I'm tweaking the stretch goals a bit!
Campaign
A lot of backers have said that they really want the full campaign, so I'm moving that lower on the list. If we don't hit that tier, the game will still have a few story missions, but achieving the goal will let us write something really gripping, bring in extra voice work and script some very interesting missions to test your mettle.
Super high-resolution graphics
The super high-resolution graphics mode is getting moved up, and I'll be changing the description because it wasn't very clear before. This tier is to create extra high quality assets of all our art to allow the game to hold up way above standard resolutions. In the next year or so, many PC Gamers are going to be jumping beyond HD resolution. There is a glut of big 27" monitors coming out, not to mention "Retina" displays that are now becoming standard for all of Apple's magical and revolutionary laptops, so we can soon expect other manufacturers to follow suit. It would be fantastic to be the first game built to support them.
Robot creator
I'm not changing this, I'm just mentioning it because it will be awesome. The plan is to create something easy to use like Spore's designing tools, but where the changes you make have functionality and direct game-play applications. It will have chassis, weapons, tools, sensors, legs, wheels, tracks and AI personality cores for you to build your own workers, soldiers, turrets or perhaps just a door with an irritatingly cheerful and sunny disposition.
Avatar
If you want to show support for the game in your Kickstarter profile or on your favourite forums, I've put together a custom avatar that you can use: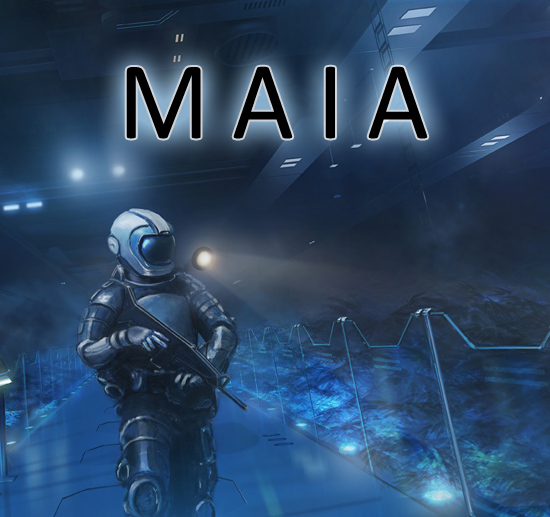 Do let me know if you still have any questions. If there's anything else you really want to see, just drop us a comment below!
8,115
Backers
£140,481

pledged of £100,042 goal
Funding period
Oct 31, 2012 - Nov 28, 2012 (28 days)
Pledge £5 or more

42 backers All gone!

I.M.P tier: Alpha access, digital download of game on completion.

Estimated delivery: Jun 2013

Pledge £7 or more

500 backers All gone!

Huey, Dewie, Lewie tier: Alpha access, digital download of game on completion.

Estimated delivery: Jun 2013

Pledge £10 or more

4954 backers

Daneel Olivaw tier: Alpha access, digital download of game on completion.

Estimated delivery: Jun 2013

Pledge £15 or more

973 backers

Polokov tier: High res digital wallpapers, a thank you in the credits and on MaiaGame.com (+all previous tiers)

Estimated delivery: Mar 2013

Pledge £20 or more

258 backers

A digital book following the development of the game: Full of concepts, 3D art and behind the scenes development screen shots and photos. (+all previous tiers)

Estimated delivery: Jun 2013

Pledge £25 or more

675 backers

Ash tier: Full game soundtrack in mp3 and Flac. (+all previous tiers)

Estimated delivery: Mar 2013

Pledge £42 or more

332 backers

Rachel Rosen tier: Your name added to the character generation list. (+all previous tiers)

Estimated delivery: Jan 2013

Pledge £56 or more

100 backers All gone!

GLaDOS Tier: (The Indie Hug Bundle). The amazing indie games: Death Ray Manta, Project Zomboid, VVVVVV, Revenge of the Titans and Battle Cave! Plus an extra copy of Maia! (+all previous tiers)

Estimated delivery: Mar 2013

Pledge £58 or more

17 backers Limited (73 of 90 left)

AL-76: Printed sci-fi poster art, invite to the UK launch party. (+all previous tiers *excluding* the bundle tier below. We ran out of keys!)

Estimated delivery: Mar 2013

Add £4 to ship outside the UK

Pledge £60 or more

106 backers Limited (4 of 110 left)

Hal 9000 tier: Printed sci-fi poster art, invite to the UK launch party. (+all previous tiers)

Estimated delivery: Mar 2013

Add £4 to ship outside the UK

Pledge £80 or more

27 backers Limited (23 of 50 left)

SHODAN tier: Have your poster from #7 signed. (+all previous tiers)

Estimated delivery: Mar 2013

Pledge £100 or more

7 backers Limited (18 of 25 left)

Helios tier: A second poster print. Signed. (+all previous tiers)

Estimated delivery: Mar 2013

Pledge £150 or more

34 backers

Bomb #20 tier: A credit in the games opening, a signed boxed dvd copy. (+all previous tiers)

Estimated delivery: Aug 2013

Pledge £200 or more

22 backers All gone!

Marvin tier: Our art team will accurately digitise your face and add you as 3d character in the game. (+all previous tiers)

Estimated delivery: Feb 2013

Pledge £303 or more

6 backers Limited (3 of 9 left)

Preston tier: Our art team will digitise your cat or dog and add them as 3d character in the game. (+all previous tiers)

Estimated delivery: Jun 2014

Pledge £420 or more

1 backer Limited (9 of 10 left)

Deep thought tier: 10 copies of the game to share with your friends, five signed posters and two digitised faces on characters in the game.

Estimated delivery: Jun 2013

Pledge £750 or more

2 backers Limited (6 of 8 left)

StarGlider tier: A limited edition 3d printed figurine of the IMP bot. (+all previous tiers up to Marvin)

Estimated delivery: Mar 2013

Add £6 to ship outside the UK

Pledge £1,000 or more

1 backer

Multivac tier: A pint with Simon in your local pub. (+all previous tiers up to Marvin)

Estimated delivery: Jan 2013

Pledge £5,000 or more

1 backer

MULTIPASS tier: A pint with Simon in your local pub anywhere in Europe! (+all previous tiers up to Marvin)

Estimated delivery: Jan 2013