Win Free Original Art
With only nine days left till our Grandine il Vento Kickstarter campaign ends we're going to further spice things up. Everyone who has made a pledge at any level will be eligible to own the original 8x11 sketch for the layout of our  Live In Concert Tour 2011 double CD/DVD package, created and signed by your's truly, Annie.  
If you haven't pledged to advance order the new album... now's the time to do it, or forever hold your chip butty's (french fries in a sandwich... yum) ...  
Annie xxx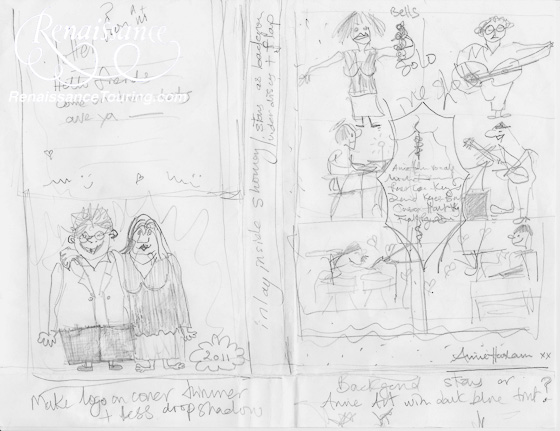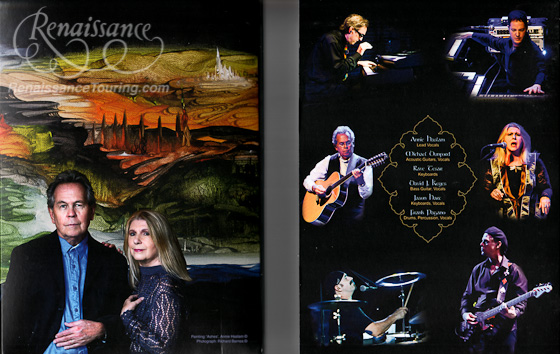 860
Backers
$92,531

pledged of $44,000 goal
Funding period
Mar 30, 2012 - May 29, 2012 (60 days)
Pledge $5 or more

10 backers

Estimated delivery: Sep 2012

Pledge $15 or more

36 backers

You get an advance MP3 download of the new album to enjoy weeks before the commercial release date

Estimated delivery: Sep 2012

Pledge $25 or more

199 backers

An eco-friendly digipak CD (with fab artwork) will be mailed to you several weeks in advance of the commercial release PLUS the advance digital download

Estimated delivery: Sep 2012

Pledge $50 or more

208 backers

AUTOGRAPHED CD WITH BONUS DISC! The entire band will hand autograph your CD package + an MP3 download of the album several weeks in advance of the commercial release date.

Estimated delivery: Sep 2012

Pledge $75 or more

153 backers

YOUR NAME IN ALBUM CREDITS! Your name listed in album credits AND on the Renaissance web site + Autographed photo of the band + CD autographed by entire band + bonus disc + Advance MP3 download weeks in advance of the commercial release date

Estimated delivery: Sep 2012

Pledge $100 or more

160 backers

HAND SIGNED SHEET MUSIC OF THE ALBUM TITLE SONG and a HAND WRITTEN PERSONALIZED THANK YOU NOTE + a silver plated and enamel Renaissance pin + your name listed in album credits and on the Renaissance web site + an autographed photo of the band + the CD autographed by entire band + bonus disc + the MP3 download of the album several weeks in advance of the commercial release date

Estimated delivery: Sep 2012

Pledge $150 or more

54 backers Limited (46 of 100 left)

A PERSONALIZED (yes, with YOUR NAME inserted) acapella rendition of a RINGTONE or VM greeting with Annie singing it to the melody of 'Carpet Of The Sun' + handwritten personalized Thank You note + hand signed sheet music of the album title song + a silver plated and enamel Renaissance pin + YOUR NAME listed in album credits and on the Renaissance web site + an autographed photo of the band + the CD autographed by entire band + bonus disc + the MP3 download of the album several weeks in advance of the commercial release date

Estimated delivery: Sep 2012

Pledge $350 or more

9 backers Limited (31 of 40 left)

SIGNED GiCLEE PRINT ON CANVAS of Annie's interpretation of the album Prologue (unframed) OR the new album Grandine il Vento cover art (unframed) + your name listed in album credits and on the Renaissance web site + an autographed photo of the band + the CD autographed by entire band + bonus disc + the MP3 download of the album several weeks in advance of the commercial release date. (We'll write to you to find out which Giclee print you want.)

Estimated delivery: Sep 2012

Pledge $500 or more

5 backers Limited (35 of 40 left)

SIGNED GiCLEE PRINT ON CANVAS of the new album Grandine il Vento cover art by Annie OR Annie's interpretation of Prologue + your name listed in album credits and on the Renaissance web site + an autographed photo of the band + the CD autographed by entire band + bonus disc + the MP3 download of the album several weeks in advance of the commercial release date. (We'll write to you to find out which Giclee print you want.)

Estimated delivery: Sep 2012

Pledge $1,000 or more

11 backers Limited (89 of 100 left)

VIP TREATMENT! 2 VIP SEATS AND 2 PERSONALIZED VIP BACKSTAGE AFTER SHOW PASSES + A SPOTLIGHT STAND-UP THANK YOU FROM THE STAGE AT THE SHOW WITH YOUR NAME LISTED IN THE GOLDEN BENEFACTORS PAGE OF THE CD BOOKLET AND ON THE WEBSITE + YOUR PICTURE TAKEN WITH THE BAND AND SIGNED BY THEM + A PERSONALIZED (yes, with your name inserted) acapella rendition of a ringtone or VM greeting with Annie singing it to the melody of 'Carpet Of The Sun' + a handwritten personalized Thank You note + hand signed sheet music of the album title song + a silver plated and enamel Renaissance pin + your name listed in album credits and on the Renaissance web site + an autographed photo of the band + the CD autographed by entire band + bonus disc + the MP3 download of the album several weeks in advance of the commercial release date. NOTE: Tour will be October/November

Estimated delivery: Nov 2012

Pledge $1,250 or more

3 backers Limited (17 of 20 left)

VIP TREATMENT AND EXCLUSIVE ART: LIMITED EDITION SIGNED AND FRAMED GiCLEE PRINT OF THE ALBUM COVER ART + 2 VIP SEATS AND 2 PERSONALIZED VIP BACKSTAGE AFTER SHOW PASSES + A SPOTLIGHT STAND-UP THANK YOU FROM THE STAGE AT THE SHOW WITH YOUR NAME LISTED IN THE GOLDEN BENEFACTORS PAGE OF THE CD BOOKLET AND ON THE WEBSITE + YOUR PICTURE TAKEN WITH THE BAND AND SIGNED BY THEM + a personalized (yes, with your name inserted) acapella rendition of a ringtone or VM greeting with Annie singing it to the melody of 'Carpet Of The Sun' + a handwritten personalized Thank You note + hand signed sheet music of the album title song + a silver plated and enamel Renaissance pin + YOUR NAME listed in album credits and on the Renaissance web site + an autographed photo of the band + the CD autographed by entire band + bonus disc + the MP3 download of the album several weeks in advance of the commercial release date. NOTE: Tour will be October/November

Estimated delivery: Sep 2012

Pledge $1,500 or more

1 backer All gone!

AMAZING MEMORABILIA ARTIFACTS FROM MICHAEL DUNFORD'S PRIVATE COLLECTION: Ticket stub from THE ROYAL ALBERT HALL show October 14, 1977 - An EVENING WITH RENAISSANCE AND THE ROYAL PHILHARMONIC ORCHESTRA + TWO UNUSED TICKETS from the VERY FIRST SHOW in the USA October, 27th 1973 + TURN OF THE CARDS PROMO STICKER + a PROGRAM from ACADEMY OF MUSIC, New York City – accompanied by a 24 piece orchestra (very first show with orchestra) + FRAMED AD from Academy Of Music New York + Program from UK tour 1975 + Program from US Tour + ROCKBILL CONCERT PROGRAM – 1978 + Letter from SIRE RECORDS with an invite to a reception to celebrate A SONG FOR ALL SEASONS at THE FOUR SEASONS RESTAURANT - March 23, 1978 + Tour Itinerary - Japanese Tour - March, 2001 + Itinerary from US Tour 1979 + Itinerary US Tour 1982-1983 +++++ + 2 VIP SEATS AND 2 PERSONALIZED VIP BACKSTAGE AFTER SHOW PASSES + A SPOTLIGHT STAND-UP THANK YOU FROM THE STAGE AT THE SHOW WITH YOUR NAME LISTED IN THE GOLDEN BENEFACTORS PAGE OF THE CD BOOKLET AND ON THE WEBSITE + YOUR PICTURE TAKEN WITH THE BAND AND SIGNED BY THEM + A PERSONALIZED (yes, with YOUR NAME inserted) acapella rendition of a ringtone or VM greeting with Annie singing it to the melody of 'Carpet Of The Sun' + A handwritten personalized Thank You note + hand signed sheet music of the album title song + a silver plated and enamel Renaissance pin + your name listed in album credits and on the Renaissance web site + an autographed photo of the band + the CD autographed by entire band + bonus disc + the MP3 download of the album several weeks in advance of the commercial release date. NOTE: Tour will be October/November

Estimated delivery: Sep 2012

Pledge $2,000 or more

0 backers Limited (1 of 1 left)

ANNIE'S COLLECTOR LP RECORDS! Renaissance self-titled first album (first lineup) - bought by Annie to learn the band's music. In generic white cover with Annie's doodle artwork - original cover lost. Vinyl condition poor *** AND *** Prologue - rough mix! An acetate test pressing owned by Annie. Acetates are made for special purposes, almost never for sale to the general public. They can be played on any normal phonograph but will be degraded by wear much more quickly than vinyl. Some acetates are highly prized for their rarity, especially when they contain unpublished material. AND Novella LP - US Pressing - sealed - owned by Annie + A PERSONALIZED (with YOUR NAME inserted) acapella rendition of a ringtone or VM greeting with Annie singing it to the melody of 'Carpet Of The Sun' + A handwritten personalized Thank You note + hand signed sheet music of the album title song + a silver plated and enamel Renaissance pin + your name listed in album credits and on the Renaissance web site + an autographed photo of the band + the CD autographed by entire band + bonus disc + the MP3 download of the album several weeks in advance of the commercial release date. NOTE: Tour will be October/November

Estimated delivery: Sep 2012

Pledge $2,500 or more

0 backers Limited (1 of 1 left)

ANNIE'S CUSTOM MADE VELVET DRESS worn on BBC's Top Of The Pops (a very exciting time for the band) + ANNIE'S OWN PROMOTIONAL SCARF (dog not included) made for the Song for All Seasons album + 2 VIP seats and 2 VIP backstage aftershow passes, a spotlight stand-up thank you from stage, your name in Golden Benefactors page of the CD booklet and on the website, your photo taken with the band and signed by them + a PERSONALIZED (yes, with YOUR NAME inserted) acapella rendition of a ringtone or VM greeting with Annie singing it to the melody of 'Carpet Of The Sun' + a handwritten personalized Thank You note + hand signed sheet music of the album title song + a silver plated and enamel Renaissance pin + YOUR NAME listed in album credits and on the Renaissance web site + an autographed photo of the band + the CD autographed by entire band + bonus disc + the MP3 download of the album several weeks in advance of the commercial release date. NOTE: Tour will be October/November

Estimated delivery: Sep 2012

Pledge $3,000 or more

1 backer Limited (1 of 2 left)

ANNIE WILL CREATE A BEAUTIFUL HAND PAINTED GUITAR FOR YOU + 2 VIP seats and 2 VIP backstage aftershow passes, a spotlight stand-up thank you from stage, your name in Golden Benefactors page of the CD booklet and on the website, your photo taken with the band and signed by them + a PERSONALIZED (yes, with YOUR NAME inserted) acapella rendition of a ringtone or VM greeting with Annie singing it to the melody of 'Carpet Of The Sun' + a handwritten personalized Thank You note + hand signed sheet music of the album title song + a silver plated and enamel Renaissance pin + your name listed in album credits and on the Renaissance web site + an autographed photo of the band + the CD autographed by entire band + bonus disc + the MP3 download of the album several weeks in advance of the commercial release date. NOTE: Tour will be October/November

Estimated delivery: Dec 2012

Pledge $5,000 or more

1 backer Limited (3 of 4 left)

YOU PROMOTED TO EXECUTIVE PRODUCER, AND DINNER AND A SHOW FOR FOUR: An intimate dinner for you and three friends with Annie & Michael within 5 days of end of 2012 fall tour tour + EXECUTIVE PRODUCER CREDIT ON THE ALBUM + YOUR PHOTO IN THE ALBUM BOOKLET + 4 VIP tickets (center orchestra) to show of choice + spotlight stand-up thank you from stage + framed signed giclee + toast with band after show + A personalized (yes, with your name inserted) acapella rendition of a ringtone or VM greeting with Annie singing it to the melody of 'Carpet Of The Sun' + A handwritten personalized Thank You note + hand signed sheet music of the album title song + a silver plated and enamel Renaissance pin + YOUR NAME listed in album credits and on the Renaissance web site + an autographed photo of the band + the CD autographed by entire band + bonus disc + the MP3 download of the album several weeks in advance of the commercial release date. NOTE: Tour will be October/November

Estimated delivery: Oct 2012

Pledge $5,000 or more

1 backer All gone!

THE GUITAR WHICH RECORDED THE CLASSICS: Michael Dunford's Yamaha 12-string guitar featured on all studio albums + 2 VIP seats and 2 VIP backstage aftershow passes, a spotlight stand-up thank you from stage, your name in Golden Benefactors page of the CD booklet and on the website,your picture taken with the band and signed by them + A PERSONALIZED (yes, with YOUR NAME inserted) acapella rendition of a ringtone or VM greeting with Annie singing it to the melody of 'Carpet Of The Sun' + A handwritten personalized Thank You note + hand signed sheet music of the album title song + a silver plated and enamel Renaissance pin + your name listed in album credits and on the Renaissance web site + an autographed photo of the band + the CD autographed by entire band + bonus disc + the MP3 download of the album several weeks in advance of the commercial release date. NOTE: Tour will be October/November

Estimated delivery: Sep 2012

Pledge $5,000 or more

1 backer All gone!

STANDING OVATION: MICHAEL DUNFORD'S OWN OVATION ADAMAS 12-STRING GUITAR PLAYED BY MICHAEL ON EVERY RENAISSANCE TOUR SINCE NOVELLA + 2 VIP seats and 2 VIP backstage aftershow passes, a spotlight stand-up thank you from stage, your name in Golden Benefactors page of the CD booklet and on the website,your picture taken with the band and signed by them + A PERSONALIZED (yes, with YOUR NAME inserted) acapella rendition of a ringtone or VM greeting with Annie singing it to the melody of 'Carpet Of The Sun' + a handwritten personalized Thank You note + hand signed sheet music of the album title song + a silver plated and enamel Renaissance pin + Your name listed in album credits and on the Renaissance web site + an autographed photo of the band + the CD autographed by entire band + bonus disc + the MP3 download of the album several weeks in advance of the commercial release date. NOTE: Tour will be October/November

Estimated delivery: Sep 2012

Pledge $7,500 or more

0 backers Limited (2 of 2 left)

RENAISSANCE IN YOUR HOME: PRIVATE UNPLUGGED PERFORMANCE / ACOUSTIC QUARTET + 4 VIP seats and 4 VIP backstage aftershow passes, a spotlight stand-up thank you from stage, your name in Golden Benefactors page of the CD booklet and on the website, your photo taken with the band and signed by them + a personalized (yes, with your name inserted) acapella rendition of a ringtone or VM greeting with Annie singing it to the melody of 'Carpet Of The Sun' + A handwritten personalized Thank You note + hand signed sheet music of the album title song + a silver plated and enamel Renaissance pin + your name listed in album credits and on the Renaissance web site + an autographed photo of the band + the CD autographed by entire band + bonus disc + the MP3 download of the album several weeks in advance of the commercial release date. NOTE: Tour will be October/November. If beyond 300 miles from Philadelphia metro area, backer will cover travel and lodging expenses.

Estimated delivery: Nov 2012