Roller Derby in card game form. Collect real skaters from around the world, build your fantasy team, and dominate the flat track!
DOWNLOAD THE SIMPLE RULES HERE
Roller Derby Trading Card Game is a roller derby community movement. Since it's conception, the trading card game has been designed with the people of the sport in mind. Roller Derby TCG offers its gamers simplicity, strategy, collectible cards and foremost the gamer will learn how to play real flat track Roller Derby. The game involves two Coaches who pit their teams against each other in races called Jams. The jams consists of rounds in which both Coaches try to score the most points while keeping the other Coach's Jammer (Scorer) at bay.
Each Starter Set comes with enough material for 2 Players to have a wonderful gaming experience. A single player can however take all of the materials and customize and maximize his Action Deck out to play on a much more competitive level.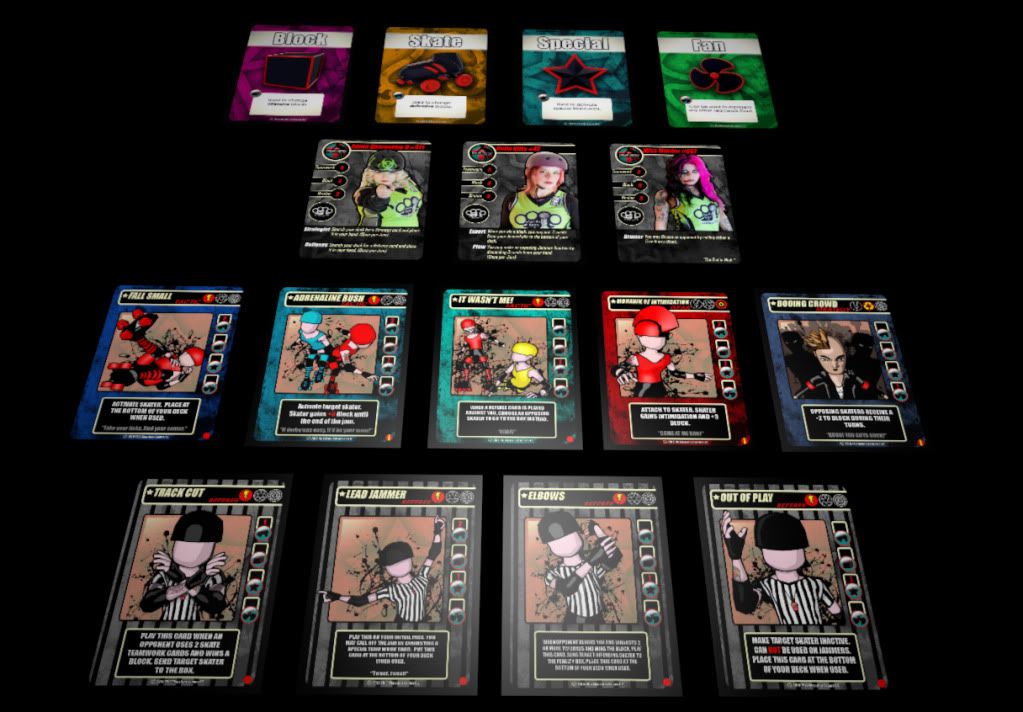 RDTCG employs a skater Special Maneuver system with true to life statistics to emulate the individual skater's real world abilities. Coaches will also devise Schemes with their Action Decks, creating special effects during Boutplay and our personal favorite, sending an opposing skater to the Penalty Box with a Referee action card. The game itself is broken into different levels of Boutplay and has different rules based on your free time, so even a busy mom can get in a Bout or two!

RDTCG provides the collector the highest end printed trading card that can be signed by the real skater themselves! This feature legitimizes the sport aspect by catapulting Derby into the modern sport generation with custom collectable playing cards. As the product is expanded on, more skaters will have the opportunity to Be Their Own Hero and become a Skater Card themselves!

On the other side of the collector portion of the Skater card, you have the game card. This features a unique photo and statistics in which you can play RDTCG. Create your own fantasy team with your favorite skaters or recreate past bouts or even have fantasy predictions by pitting two RDTCG real teams against each other before their real Bout. The possibilities are nearly endless as we also have rules for forming your own league with it's own unique logo!
Build your team's strategy with Action cards! It's all about customization in RDTCG and Action cards are where it's at. Boost your skaters with Tactic and Strategy cards, penalize them and send them to the penalty box with Referee cards and even customize and upgrade them with unique Gear cards!
Another unique portion of the game is the use of real world sponsors and businesses in game. Let's say you have a new skate boot you would like to market to the derby world, what better way than putting it in RDTCG?  Players can slowly learn about what is available in the real world of Roller Derby simply by collecting cards. We offer a host of other advertising opportunities from card creation for your product to website sponsor opportunities.  Creating a complete Roller Derby experience is RDTCG's goal.
We want to give back to a community that has given so much to us. We want the average Jane and Joe to be famous and collectable. We want to see derby businesses thrive! We want to see gamers provided with the most accurate and open strategy card game on the market! We want to see skaters around the world pull a deck box from their derby bag and play a few jams right before a real bout! We need your help! To the right side of the screen you will notice multiple Kick starter rewards. We NEED Pre-orders!
A minimum amount of units is required to get our venture off the ground and we need your help. We want to be able to provide this games by May to early April. We also want to begin working on the first Season of booster releases in order to meet the demand for Skater cards. By pre-ordering you will allow us to meet our minimum order, pay for graphic artists, advertising, staffing and establish distribution. The first run of starter sets will be First Editions!
By Pre-ordering you also allow us to implement our league system. This system is primarily for non-profit leagues and allows us to sell you a minimum quantity at near cost! Purchase our game for near cost and sell them at your bouts! Help your league raise money by having a high return and spreading derby understanding in your city! 
We use a highly skilled team of people to create the best image for Roller Derby TCG. Using 3D imaging techniques, sound mixing and video editing we are bringing a large scale product to you made by small town derby folk. We work day and night to bring you the highest quality in gaming possible.
This is not a one shot deal! Our top priority is to put every roller derby girl and guy in this game. We want to help create a gaming face for our sport in the most unique and creative way possible.So please, invest in us by Pre-ordering.
For 2 years I have developed this game and I need your help to accomplish it. By purchasing you pay a $1 a day to further our sport, start up a small business and help create jobs within the organization. It's a win for our sport, for you, and all involved. Help us by Pre-Ordering!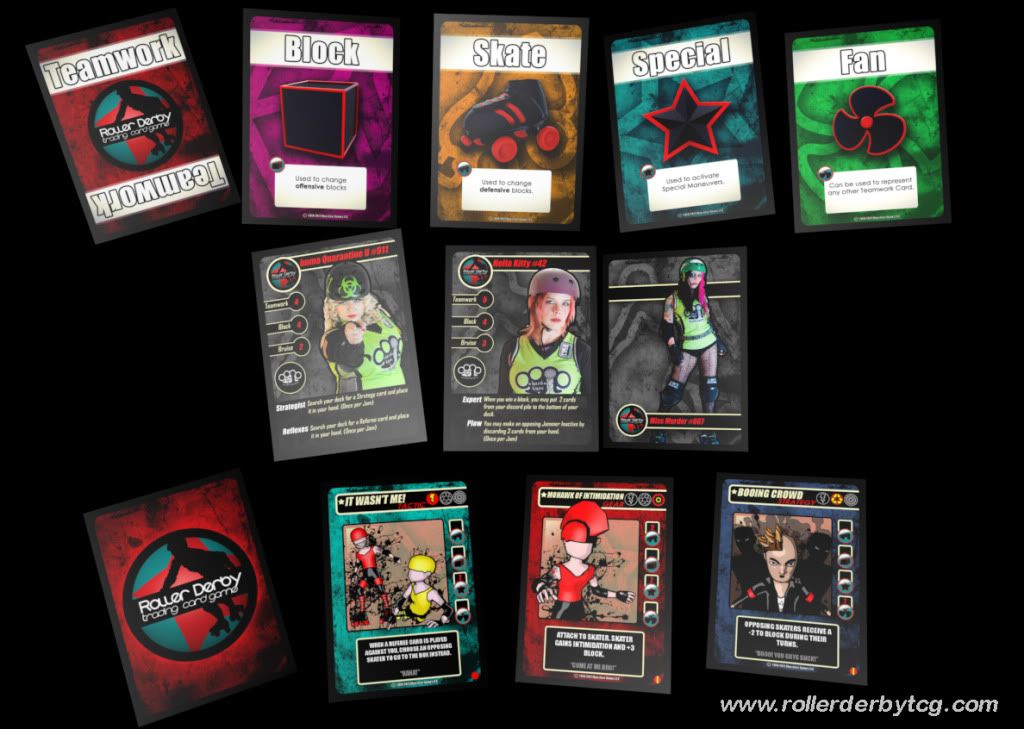 Thank you for reading and supporting our kick starter with your Pre-order! Bout Hard!
Chaz Hall, President Chazztizer Games LLC
 What does the game come with?
40 Unique Skater Cards
x2 30 Card Action Decks
A 60 Card Teamwork Deck (this never changes)
x6 Dice (3 red, 3 white)
A small cutout of cardboard tokens
Rulebook
FAQ
No, you are not charged. The project simply sits until another option becomes available.

Yes, from day 1 we have considered this. Any team or skater who submits photography must provide documentation stating that RDTCG has full rights to use the image commercially to further the product. We do give photographer credits on our website (soon to come) but not on the card itself. There simply isn't enough room to suit it.

The next expansion will feature the ability to use real Coaches and Referees in the game. However, we cannot reveal much at this time. 

Absolutely! If you know of any please have them email us at rollerderbytcg@gmail.com!

We have ambitions to include other languages, but at this time it will only be available in English.

The simple answer is no. We cannot afford to pay every photography for their photos, considering it is the teams job to obtain a photographer to take photos for the game. We do give credits on the website along with the card they took a picture of. We are going to post photographer credits on the Collector Side of the card, however. 

Great question from our Facebook page (www.facebook.com/rdtcg). RDTCG Starter Set will come with 40 Skater Cards, TWO 40 card Action Decks, a static 60 Card Teamwork Deck (Always the same) and 6 dice. You can play with two people without any issues. You can play without Action Decks and 4 Coaches can have their own teams. There aren't enough Action Cards in 1 Starter Set for 4 Coaches to play real Bouts, UNLESS you just share the Action Deckst. You -can- play the game without Action Cards, which we encourage in your first 2 runs through the game anyways.

Absolutely! If our Kickstarter is successful we will automatically begin work on the Season 1 Booster Set. All Boosters are set as Bout Themes and will contain a collection of over 100 new cards not including 80 additional skater cards.The next expansion will create a few need angles to Boutplay including, Assistant Coaches, Head Referees, Cheat Cards, Stadium Cards, Training and much more! The first expansion will also introduce our online League system where you can record bouts and talk to other Coaches around the world about strategy!
88
Backers
$4,138

pledged of $8,000 goal
Funding Unsuccessful This project reached the deadline without achieving its funding goal on March 7, 2012.
Funding period
Feb 5, 2012 - Mar 7, 2012 (31 days)
Pledge $5 or more

1 backer

Receive a personal email from the creator thanking you for their contribution and listed as a contributor to the start of the best sports card game in history!

Estimated delivery: May 2012

Pledge $15 or more

2 backers

Economy got you down? Still want to support us and reserve a copy of Roller Derby TCG? Choose this option and also receive 1st Edition Founder status on our website and a personal thank you letter mailed to you! Pay the remainder by June 10th + shipping and we'll hold a copy for you!

Estimated delivery: Jun 2012

Pledge $30 or more

51 backers Limited (216 of 267 left)

Receive a first edition copy of Roller Derby Trading Card game. You will receive a letter of authenticity and thank you letter for your purchase. Also receive 1st edition founder status. Includes shipping to Canada and USA. For international shipping, please add an additional $10 to your pledge!

Estimated delivery: Jun 2012

Pledge $50 or more

17 backers Limited (133 of 150 left)

A 1st Edition copy of Roller Derby TCG! You also can choose a derby girl or guy or your choice to be represented as a skater card in our first booster release, Season 1- Execute! Your favorite girl or guy will be hand designed by myself and be featured in this 300+ card booster series! Season 1- Execute is scheduled to be released late 2012,

Estimated delivery: Jun 2012

Pledge $60 or more

3 backers

Receive a -TWO- First Edition copies of Roller Derby Trading Card game. You will receive a letter of authenticity and thank you letter for your purchase. Also receive 1st edition founder status. Includes shipping to Canada and USA. For international shipping, please add an additional $15 to your pledge!

Estimated delivery: Jun 2012

Pledge $90 or more

8 backers Limited (80 of 88 left)

Choose this reward and receive TWO First Edition copies of Roller Derby Trading Card game, all of the rewards from the previous Rewards as well as a custom Roller Derby TCG poster rendered for your hanging pleasure. You could give a copy to your derby wife or husband as a gift! Also receive a limited edition patch featuring the Roller Derby TCG logo to place on your uniform or referee jersey! Includes shipping to Canada and USA. For international shipping, please add an additional $15 to your pledge!

Estimated delivery: Jun 2012

Pledge $105 or more

2 backers

RETAILER LEVEL 1: You receive 5 copies of Roller Derby TCG at $18 per unit. This includes shipping anywhere in the United States. International Inquiries, please email us first before pledging at rollerderbytcg@gmail.com.

Estimated delivery: Jun 2012

Pledge $135 or more

1 backer Limited (19 of 20 left)

A 1st Edition copy of Roller Derby TCG! Our rulebook is designed to look like a Bout Program! Own a Roller Derby business and want to advertise your website, store or product? This cheap and easy PERMANENT advertising allows you to place a 2.25 x1.5 ad in our Starter Rulebook. Permanent advertising in our starter set for only $105! Includes shipping to Canada and USA. For international shipping, please add an additional $10 to your pledge!

Estimated delivery: Jun 2012

Pledge $165 or more

0 backers

RETAILER LEVEL 2: You receive 10 copies of Roller Derby TCG at $16.50 per unit. This includes shipping anywhere in the United States. International Inquiries, please email us first before pledging at rollerderbytcg@gmail.com.

Estimated delivery: Jun 2012

Pledge $210 or more

1 backer Limited (4 of 5 left)

A 1st Edition copy of Roller Derby TCG! Our rulebook is designed to look like a Bout Program! Own a Roller Derby business and want to advertise your website, store or product? This cheap and easy PERMANENT advertising allows you to place a 4.5x7.5 ad in our Starter Rulebook. Highlight your product or business to the gaming world at large! Permanent advertising in our starter set for only $180! Includes shipping to Canada and USA. For international shipping, please add an additional $10 to your pledge!

Estimated delivery: Jun 2012
View in Video Mode