I hope this note finds you with a smile in your heart!
We're down to single digits with our Kickstarter campaign - we've got five days to get this bad girl fully funded so we can bring Positive Panties into the world.
And we really want to bring 'em into the world.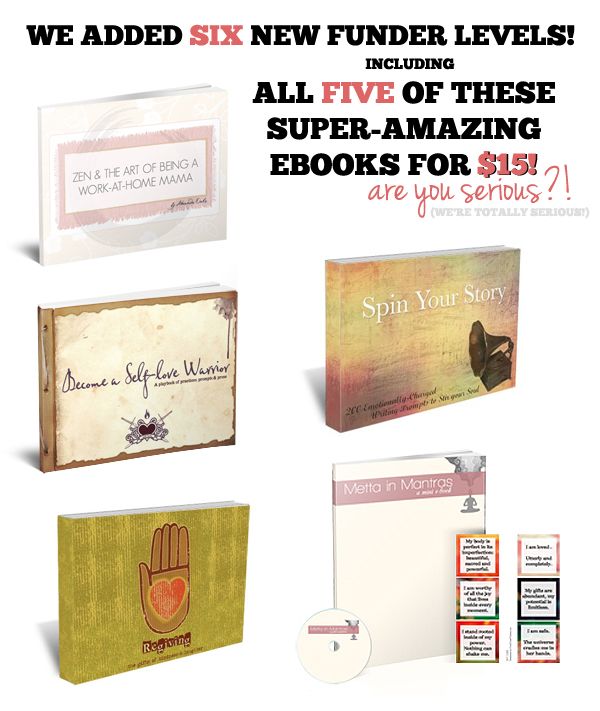 Each of those six new levels include a way for you to get five of our e-books: Become a Self-love Warrior, Metta in Mantras, Regiving, Spin Your Story and Zen and the Art of Being a Work at Home Mama.
You can check out the new levels (starting at $15!) by looking over to your right on the sidebar here or if you are viewing this via email, by clicking here!

Just to be clear, all of these are digital books, you will receive them via email after we are funded! They read beautifully on your desktop computer, phone or digital tablet!
If you are a backer already you can edit/change your pledge so it includes the updated pledge levels if you wish! For example, if you pledged $25 you can up your pledge to $35 to include the eBooks!
Below you will find a bit about these eBooks + Meditation kit!  There are also links that you can click to learn more about them and how much they are loved!

Starting at the top & going from left to right:

Zen & The Art Of Being A Work-At-Home Mama
- 12 WAHMs share their wisdom
- My journey as a work-at-home mom
- Inspiration & Plans of Action out the Yin & Yang!
- Not just for Mamas!
In this book, I am sharing my story. I am sharing systems, encouragement & ways of thinking that totally shifted the way I move in Mamahood, my business & in life. It's honest, hopeful & helpful. It's full of love, for you, for me, for our businesses, our children & the world. 140 pages of my know-how divided into 22 sections of sage, poetic + practical advice wrapped up in a zentastic bow because I believe in your freedom just as much as I do mine : CLICK HERE TO LEARN MORE.

______________________
85-page playbook designed for all you gorgeous souls who are just beginning your journey into self-care and self-love.
Let me tell you, it took me years to create the self-care practice I have today. When I was just beginning, I didn't know what to do or what was considered self-care. It was a foreign language, and I was searching for a teacher.
This e-book shares:
- Practices you can rely on when you need to recharge.
- In-depth journal prompts designed to guide you to designing your self-love practice.
- Courageous stories of self-care and self-love written by members my tribe.
- You take care of everyone else. Now, it's time to take care of you.

CLICK HERE TO LEARN MORE
______________________
Spin Your Story : 200 Emotionally-Charged Writing Prompts to Stir Your Soul
- 108 Heartfelt Questions
- 42 Jumping Points
- 50 Questions for Artists
Ever felt stuck, sitting in front of a blank screen not knowing what to write &/or blog? Need a gentle hand to help you find your authentic voice? Are you an Artist that blogs? I created 200 juicy, poetic, summon your muse-type prompts just for you! : CLICK HERE TO LEARN MORE.

______________________
Regiving : The Gifts of Kindness & Laughter
-- 30 rock star contributors
-- 60 heartwarming & hilarious stories
-- 5 inspirational printable art prints
-- a place for you to share your stories!
CLICK HERE TO LEARN MORE.

______________________
a guided meditation kit is your starting point for introducing meditation into your self-care practice.
This kit evolved from a need to share my soul-deep belief that we are never alone and transformed into a powerful and self-affirming lovefest that centers on honoring not only your enoughness and worth but also your connections with others.
With this kit, you'll receive:
- A 20 minute guided meditation that focuses on acknowledging your intrinsic worth, value and beauty
- A 15 page mini e-book to give you hints and tips for getting started and
- A set of six printable affirmations based on the meditation
- The time to let go of the beliefs that have never served you is now.

CLICK HERE TO LEARN MORE

______________________

Don't hesitate to contact us if you have any questions!  

Feel free to share these new funder levels with your people!

Thank you for your support, really, you are amazing & we appreciate you endlessly, xox,
Amanda + Jenn
Comment