New interrupter, piano demo, & first parts
Dear Backers, 
Check out the new interrupter design, now with standalone mode!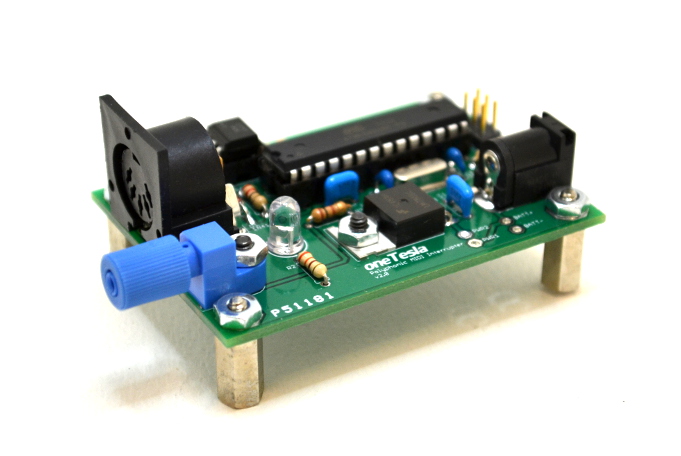 We ordered expedited shipments of the latest revision of the main board to test it before placing a bulk order. Don't worry-- yours will be black. The manufacturer doesn't offer black silkscreen for small quantities.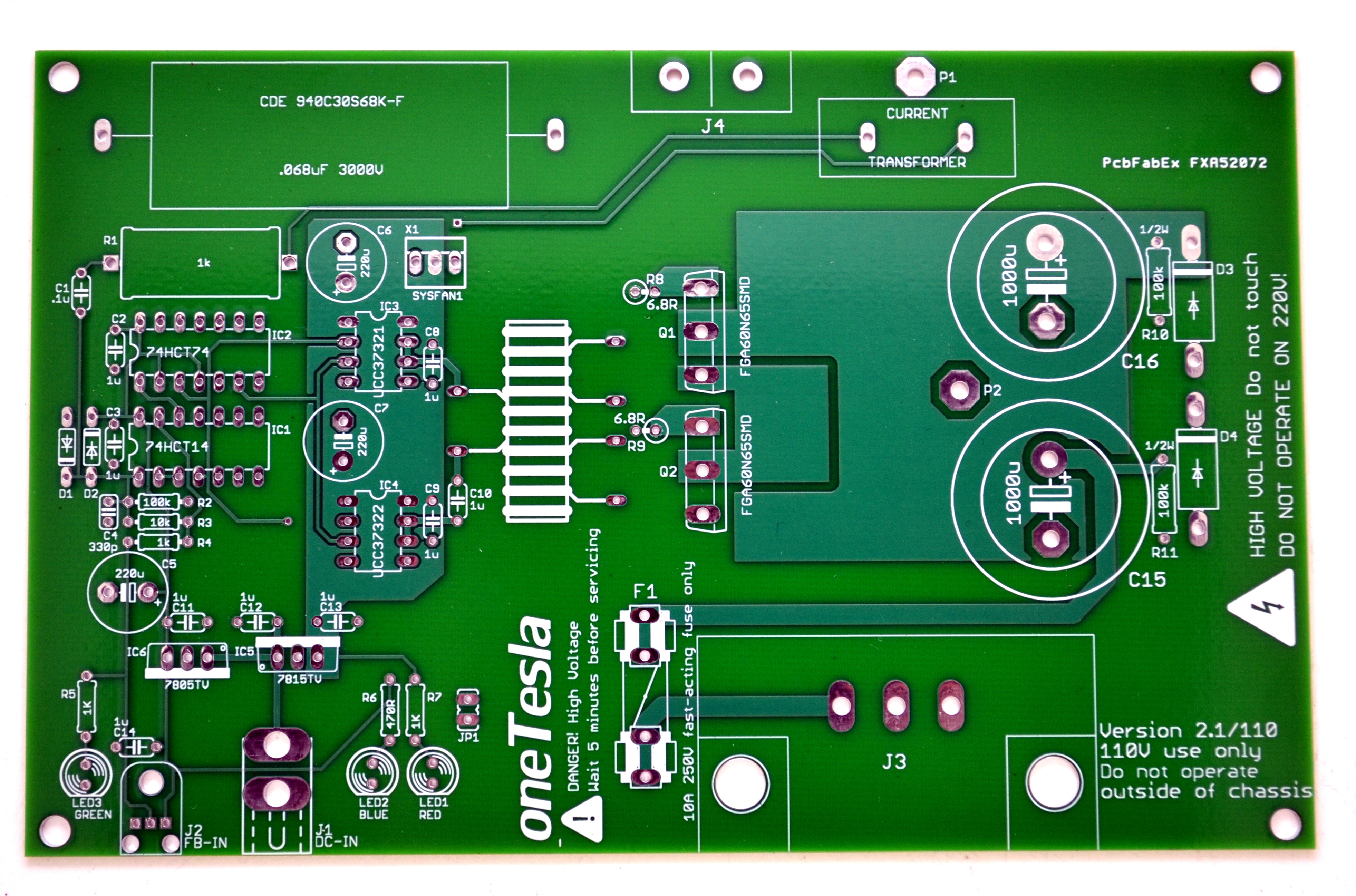 And here's the very first bulk shipment we've received: 800 batteries for the interrupter-- on the floor of Heidi's dorm room at the moment.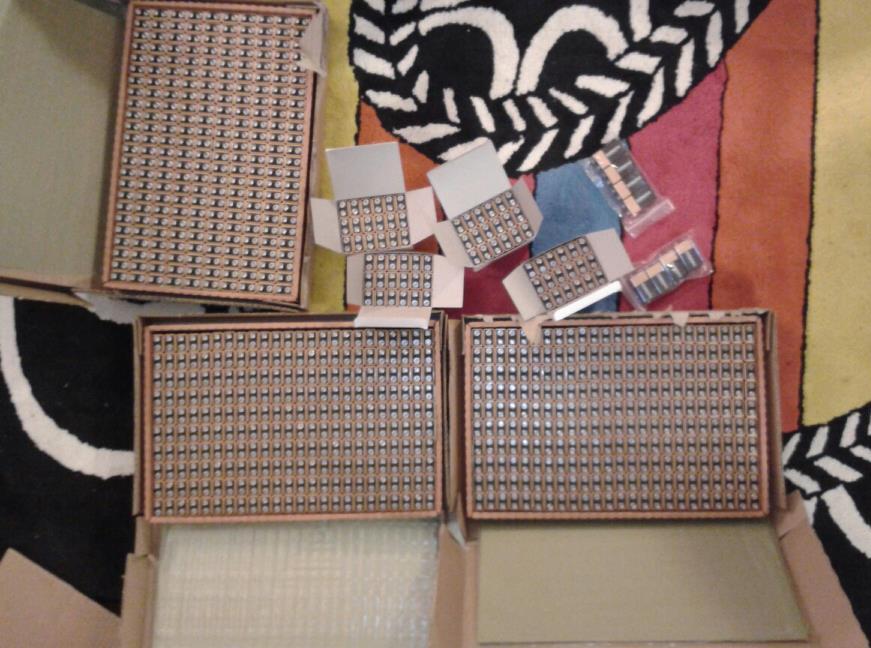 We're moving into Artisan's Asylum, a nearby hackerspace that has space for rent. We'll actually be located right next to where Stompy, a rideable hexapod also funded by Kickstarter, is being assembled. We're excited to have a real space of our own!
Nearly everything else has already been ordered and is on the way. We've run into a small setback with our primary capacitors: they have been globally sold out for the past week. We've contacted the manufacturer, however, and a bulk shipment of capacitors is scheduled to be shipped to us direct from the factory at the beginning of March. So, our February kits will unfortunately be delayed by a few weeks. In the meantime, join the forum and stay tuned for further updates.
Lastly-- one more silly thing we've been up to at MITERS:
928
Backers
$169,155

pledged of $20,000 goal
Funding period
Dec 28, 2012 - Jan 24, 2013 (27 days)
Pledge $10 or more

66 backers

Thanks for supporting oneTesla and the maker movement! To show our appreciation, we'll mail you a "Danger High Voltage" sticker, and we'll publish your name in our user manual and website (if you so desire!).

Estimated delivery: Jan 2013

Add $3 to ship outside the US

Pledge $30 or more

113 backers

Get a sexy oneTesla board! It's sleek and shiny black, and as much a work of art as a powerful Tesla coil driver. Use this board to build a Tesla coil with your own components, or keep it as a token of our gratitude for your support.

Estimated delivery: Feb 2013

Add $3 to ship outside the US

Pledge $50 or more

49 backers Limited (1 of 50 left)

Get a oneTesla driver board and an interrupter board! Great as a starter for building your own Tesla coil (components not included).

Estimated delivery: Mar 2013

Add $5 to ship outside the US

Pledge $209 or more

50 backers All gone!

220V version of the oneTesla kit for use outside the US. Everything that's in the original kit is also included.

Estimated delivery: Feb 2013

Add $20 to ship outside the US

Pledge $209 or more

100 backers All gone!

Get a oneTesla kit: everything you need to make beautiful singing sparks by yourself! You'll get printed circuit boards for the main controller and interrupter, all electronic components, laser-cut chasses for the controller and interrupter, wound & varnished secondary coil, toroid, printed & bound user manual, and power supplies. All you need is soldering equipment, common hand tools, glue, and a multimeter.

Estimated delivery: Feb 2013

Add $20 to ship outside the US

Pledge $249 or more

100 backers All gone!

More oneTesla kits, round 2: LATE WORM SPECIAL. Whoa, so much demand! We're scrambling to rearrange our lives around producing more oneTeslas. As an unfortunate result, these will arrive later and cost a bit more. (This contains everything that's in the $209 kit.)

Estimated delivery: Mar 2013

Add $20 to ship outside the US

Pledge $249 or more

50 backers All gone!

More 220V oneTesla kits, round 2: LATE WORM SPECIAL. This contains everything that's in the 220V $209 reward.

Estimated delivery: Mar 2013

Add $20 to ship outside the US

Pledge $250 or more

100 backers All gone!

The full Tesla coil kit, round three. Due to high demand, we'll fulfill these by April.

Estimated delivery: Apr 2013

Add $20 to ship outside the US

Pledge $250 or more

50 backers All gone!

The full 220V Tesla coil kit, round three. Due to high demand, we'll fulfill these by April.

Estimated delivery: Apr 2013

Add $20 to ship outside the US

Pledge $299 or more

99 backers Limited (1 of 100 left)

Round 4 of the 110V kits! These will fulfill in May, and cost a bit more because of the massive demand for previous rounds.

Estimated delivery: May 2013

Add $20 to ship outside the US

Pledge $299 or more

50 backers All gone!

Round 4 of the 220V kits! These will fulfill in May as well.

Estimated delivery: May 2013

Add $20 to ship outside the US

Pledge $599 or more

8 backers All gone!

Completed and tested oneTesla Musical 10" Coil. We will send these to you built and tested. Just hook 'em up to a MIDI source and watch the sparks fly!

Estimated delivery: Mar 2013