A few exciting updates
Dear Backers, 
 A lot is happening on our end as we work with suppliers to source our unexpectedly large number of orders. Here are recent major updates: 
Metal toroids for everyone! We're going to include a stamped aluminum toroid in every kit, rather than a foam toroid and aluminum tape, as was the original plan. To put this in perspective, a spun toroid costs upwards of $50 elsewhere.The volume of orders we have allowed us to get a great deal on metal toroids, and we're excited to offer everyone who backed us nicer hardware than originally expected. 
The interrupter now has standalone capability! In one mode it takes a MIDI input, and in the other it lets you control the pitch and volume of the coil. This is great if you don't have a MIDI source or if you want to do a quick demonstration. The interrupter board will be slightly larger, and will have two potentiometers and two switches. The prototype board will arrive soon, so we verify there are no kinks.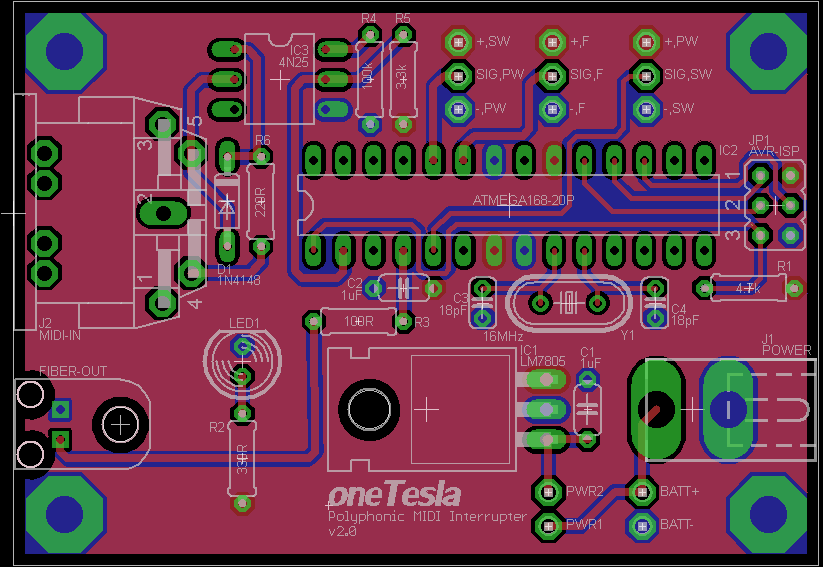 The oneTesla forum is up at http://onetesla.com/forum! Sign up, introduce yourself, post project ideas, grill us with questions. If you're one of our backers who sent us a message about a cool art project you want to use a Tesla coil in, post your idea on the forum, and you might be able to find someone local to help you out. 
More to come soon.
928
Backers
$169,155

pledged of $20,000 goal
Funding period
Dec 28, 2012 - Jan 24, 2013 (27 days)
Pledge $10 or more

66 backers

Thanks for supporting oneTesla and the maker movement! To show our appreciation, we'll mail you a "Danger High Voltage" sticker, and we'll publish your name in our user manual and website (if you so desire!).

Estimated delivery: Jan 2013

Add $3 to ship outside the US

Pledge $30 or more

113 backers

Get a sexy oneTesla board! It's sleek and shiny black, and as much a work of art as a powerful Tesla coil driver. Use this board to build a Tesla coil with your own components, or keep it as a token of our gratitude for your support.

Estimated delivery: Feb 2013

Add $3 to ship outside the US

Pledge $50 or more

49 backers Limited (1 of 50 left)

Get a oneTesla driver board and an interrupter board! Great as a starter for building your own Tesla coil (components not included).

Estimated delivery: Mar 2013

Add $5 to ship outside the US

Pledge $209 or more

50 backers All gone!

220V version of the oneTesla kit for use outside the US. Everything that's in the original kit is also included.

Estimated delivery: Feb 2013

Add $20 to ship outside the US

Pledge $209 or more

100 backers All gone!

Get a oneTesla kit: everything you need to make beautiful singing sparks by yourself! You'll get printed circuit boards for the main controller and interrupter, all electronic components, laser-cut chasses for the controller and interrupter, wound & varnished secondary coil, toroid, printed & bound user manual, and power supplies. All you need is soldering equipment, common hand tools, glue, and a multimeter.

Estimated delivery: Feb 2013

Add $20 to ship outside the US

Pledge $249 or more

100 backers All gone!

More oneTesla kits, round 2: LATE WORM SPECIAL. Whoa, so much demand! We're scrambling to rearrange our lives around producing more oneTeslas. As an unfortunate result, these will arrive later and cost a bit more. (This contains everything that's in the $209 kit.)

Estimated delivery: Mar 2013

Add $20 to ship outside the US

Pledge $249 or more

50 backers All gone!

More 220V oneTesla kits, round 2: LATE WORM SPECIAL. This contains everything that's in the 220V $209 reward.

Estimated delivery: Mar 2013

Add $20 to ship outside the US

Pledge $250 or more

100 backers All gone!

The full Tesla coil kit, round three. Due to high demand, we'll fulfill these by April.

Estimated delivery: Apr 2013

Add $20 to ship outside the US

Pledge $250 or more

50 backers All gone!

The full 220V Tesla coil kit, round three. Due to high demand, we'll fulfill these by April.

Estimated delivery: Apr 2013

Add $20 to ship outside the US

Pledge $299 or more

99 backers Limited (1 of 100 left)

Round 4 of the 110V kits! These will fulfill in May, and cost a bit more because of the massive demand for previous rounds.

Estimated delivery: May 2013

Add $20 to ship outside the US

Pledge $299 or more

50 backers All gone!

Round 4 of the 220V kits! These will fulfill in May as well.

Estimated delivery: May 2013

Add $20 to ship outside the US

Pledge $599 or more

8 backers All gone!

Completed and tested oneTesla Musical 10" Coil. We will send these to you built and tested. Just hook 'em up to a MIDI source and watch the sparks fly!

Estimated delivery: Mar 2013