Help us reach our goal!
Hey Kickstarterers:
We're in the final stretch of our intergalactic barber shop's Kickstarter drive, and while we've made some impressive progress (we <3 our backers!) we've still got a ways to go before reaching our goal.
As we approach the final few days, we'll keep our fingers crossed that we reach our funding goal, and get that much closer to giving over 300 haircuts at Burning Man 2012!
If you haven't backed us yet, please consider doing so! Barber Ella touched a lot of hearts (and heads) in 2011, and we're keen on sharing this fun, intimate experience with more burners than ever.
If you remain on the fence (or have donated already!), then please consider sharing our humble Kickstarter with any hair-or-playa-loving friends in your life. Everyone looks good in a Barber Ella bandana. It's a fact*.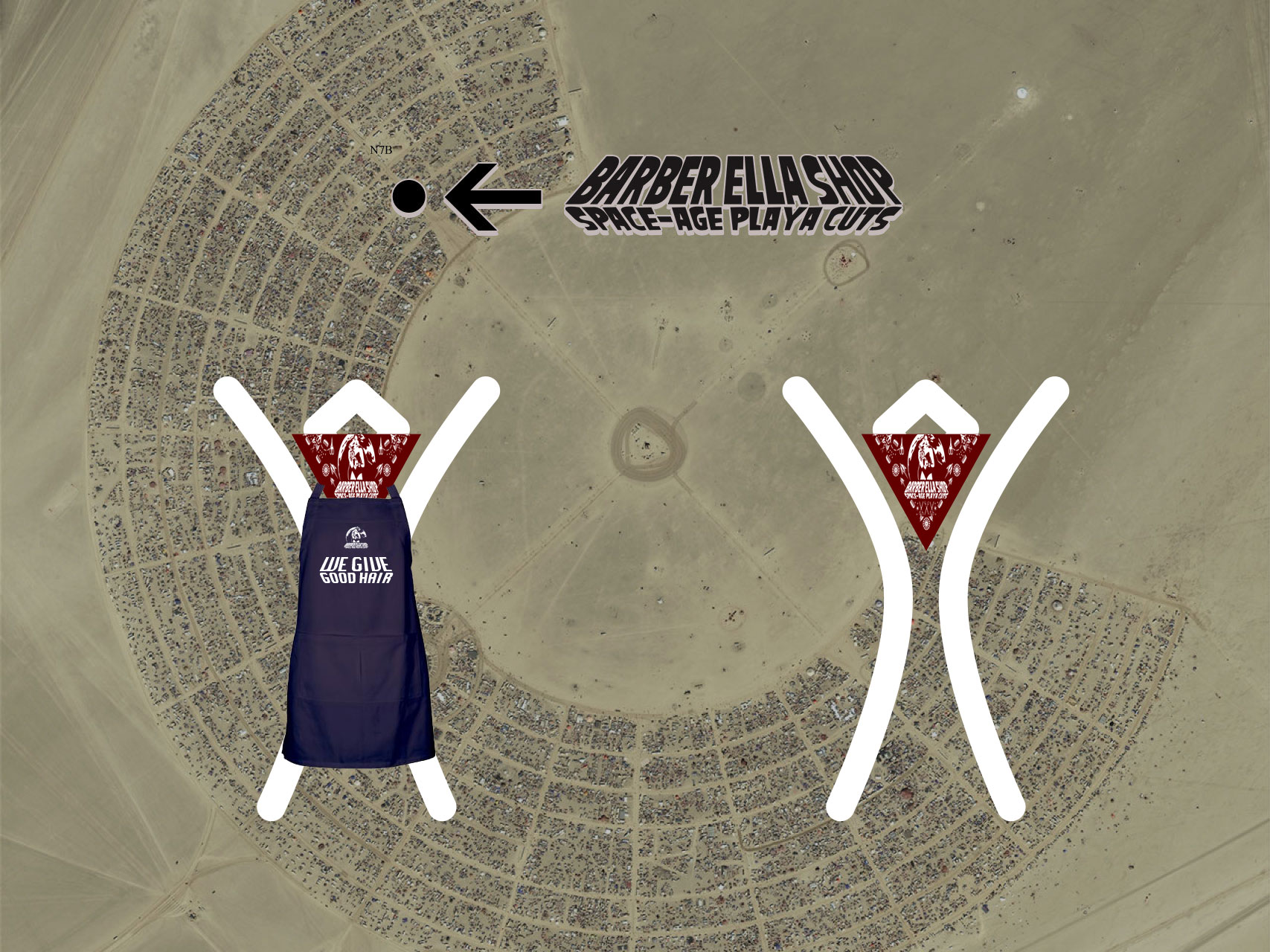 Here's to the home stretch!
xoxo
Barber Ella
* okay this is probably not a fact, but it's at least a theory!
33
Backers
$1,356

pledged of $2,000 goal
Funding Unsuccessful This project reached the deadline without achieving its funding goal on May 25, 2012.
Funding period
Apr 25, 2012 - May 25, 2012 (30 days)
Pledge $1 or more

2 backers

We'll send you our dusty, sun burnt, eternal GRATITUDE!

Estimated delivery: May 2012

Pledge $5 or more

7 backers

We'll PAINT YOUR NAME on our mascot Silvia. She's the naked silver mannequin who welcomes "customers" into our shop.

Estimated delivery: Aug 2012

Pledge $10 or more

9 backers

We'll send you a big Barber Ella STICKER with our playa-fied Jane Fonda logo, plus we'll put your name on Silvia.

Estimated delivery: Jul 2012

Pledge $25 or more

3 backers

We'll invite you to our special, BACKERS-ONLY DAY on the playa. Each day, hundreds of Burners line up at our shop. Now you can get the haircut of your dreams, with NONE OF THE WAIT! Plus, you'll get the sticker and your name on Silvia.

Estimated delivery: Aug 2012

Pledge $50 or more

3 backers

We'll have a Barber Ella Shop BANDANA waiting for you when you come get your hair did at the backers-only event. They look awesome, and they're super useful! Plus, you'll get the sticker and your name on Silvia. (Not picking up on the playa? Please add $5 for domestic shipping, $10 for international.)

Estimated delivery: Aug 2012

Pledge $75 or more

1 backer

We'll let you BRING A FRIEND to the backers-only event. You can both get your hair done by our stylists, and you'll both get awesome bandanas! Plus, you'll get the sticker and your name on Silvia. (Not picking up on the playa? Please add $5 for domestic shipping, $10 for international.)

Estimated delivery: Aug 2012

Pledge $100 or more

5 backers

We'll have a Barber Ella APRON with the motto: "WE GIVE GOOD HAIR" waiting for you at the backers-only event. We wear these when we cut your hair; take the fun home. You and a friend still get haircuts and bandanas. Plus, you'll get the sticker and your name on Silvia. (Not picking up on the playa? Please add $5 for domestic shipping, $10 for international.)

Estimated delivery: Aug 2012