NEW INCENTIVE ADDED TO $75.00 AND ABOVE!!!
My good friend, sculptor and fellow animator Mike Fleming Jr. Has sculpted this miniature bust of my character Grimm from Curse Of The Wolfs Heart. 
He's producing a limited edition run of unpainted resin casts and is donating them to support this project!
I'm adding them as a bonus incentives to the $75 level! Everyone who donates $75 or above will get one of these awesome little heads by Mike jr!
Thank you Mike!
Here's Mike's site if you would like to check out more of his work - http://www.mflemjr.com/index.html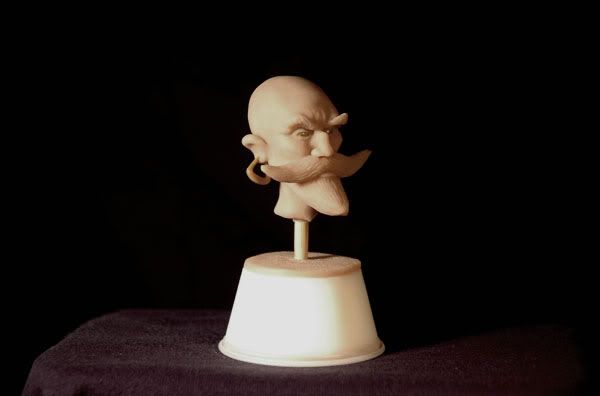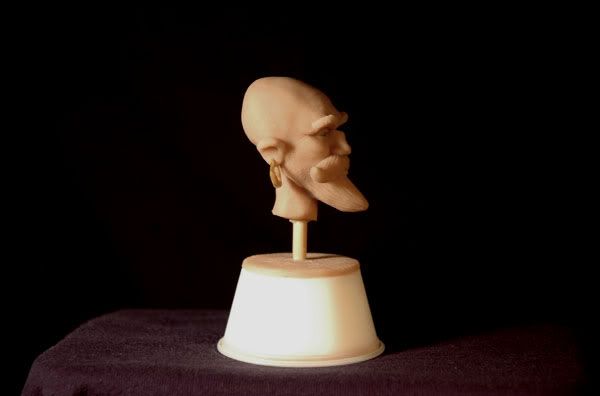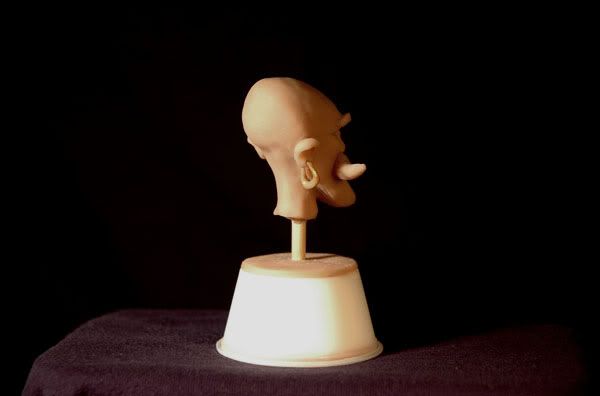 48
Backers
$2,521

pledged of $8,000 goal
Funding Unsuccessful This project reached the deadline without achieving its funding goal on February 23, 2012.
Funding period
Jan 24, 2012 - Feb 23, 2012 (30 days)
Pledge $5 or more

9 backers

CONTRIBUTING PRODUCERS CREDIT: A producers credit at the end of the film and on the website

Estimated delivery: May 2012

Pledge $10 or more

7 backers

HD DIGITAL DOWNLOADS: High-definition digital downloads of the first four episodes + CONTRIBUTING PRODUCERS CREDIT

Estimated delivery: May 2012

Pledge $15 or more

4 backers

MINI-CARD SET: A set of five 2" x 3 1/2" inch mini-cards that feature, artwork and photography from the movie. The cards will be signed by the filmmakers + HD DIGITAL DOWNLOADS + CONTRIBUTING PRODUCERS CREDIT - Foreign orders add $5

Estimated delivery: May 2012

Pledge $25 or more

8 backers

LOBBY CARD SET: A set of three 5" x 8" inch lobby cards that feature artwork and photography from the movie. The cards will be signed by the filmmakers + MINI-CARD SET + HD DIGITAL DOWNLOADS + CONTRIBUTING PRODUCERS CREDIT - Foreign orders add $5

Estimated delivery: May 2012

Pledge $50 or more

9 backers

SIGNED DVD: The first four episodes on DVD. Included will be extras like an in-depth 'making of', and directors commentary + LOBBY CARD SET + MINI-CARD SET + HD DIGITAL DOWNLOADS + CONTRIBUTING PRODUCERS CREDIT - Foreign orders add $5 (DVDs will not ship till the end of 2012)

Estimated delivery: May 2012

Pledge $75 or more

4 backers

SIGNED BLU-RAY DISC: The first four episodes on High-Definition Blu-Ray Disc. Included will be extras like an in-depth 'making of', and directors commentary + LOBBY CARD SET + MINI-CARD SET + HD DIGITAL DOWNLOADS + CONTRIBUTING PRODUCERS CREDIT - Foreign orders add $5 (DVDs will not ship till the end of 2012)

Estimated delivery: May 2012

Pledge $100 or more

3 backers

SIGNED MOVIE POSTER: A 20"x30" inch one sheet movie poster. "I paint movie art for a living and this is my movie, so you can bet I'm going to paint an awesome movie poster!" + DVD OR BLU-RAY DISC + LOBBY CARD SET + MINI-CARD SET + HD DIGITAL DOWNLOADS + CONTRIBUTING PRODUCERS CREDIT - Foreign orders add $10 (DVDs and posters will not ship till the end of 2012)

Estimated delivery: May 2012

Pledge $150 or more

0 backers

ORIGINAL CONCEPT ART: An original piece of concept art created by Jeff Lafferty ... All the artwork produced to design the film will be posted on the website, CurseOfTheWolfsHeart.com ... when you find one you want, email us and we'll send it to you! + MOVIE POSTER + DVD OR BLU-RAY DISC + LOBBY CARD SET + MINI-CARD SET + HD DIGITAL DOWNLOADS + CONTRIBUTING PRODUCERS CREDIT (Original art will ship as it is made available - DVDs and posters will not ship till the end of 2012)

Estimated delivery: May 2012

Pledge $200 or more

0 backers

MOVIE PROP: A movie prop from the film, this could be anything used in the film from miniature castle builds to costumes, swords, helmets, replacement faces. As these props become available, they will be posted on the website, CurseOfTheWolfsHeart.com ... when you find one you want, email us to reserve it. Once we're finished using it, we'll send it to you!! + ORIGINAL CONCEPT ART + MOVIE POSTER + DVD OR BLU-RAY DISC + LOBBY CARD SET + MINI-CARD SET + HD DIGITAL DOWNLOADS + CONTRIBUTING PRODUCERS CREDIT (Movie props and original art will ship as they are made available - DVDs and posters will not ship till the end of 2012)

Estimated delivery: May 2012

Pledge $500 or more

0 backers

PRODUCERS CREDIT: A producers credit at the the beginning of the film + FIVE MOVIE PROPS + TWO PIECES OF ORIGINAL CONCEPT ART + MOVIE POSTER + DVD OR BLU-RAY DISC + LOBBY CARD SET + MINI-CARD SET + HD DIGITAL DOWNLOADS (Movie props and original art will ship as they are made available - DVDs and posters will not ship till the end of 2012)

Estimated delivery: May 2012

Pledge $500 or more

0 backers Limited (1 of 1 left)

MOVIE POSTER ORIGINAL ART: The original painting by Jeff Lafferty that will be used for the poster and DVD box art + PRODUCERS CREDIT + FIVE MOVIE PROPS + TWO PIECES OF ORIGINAL CONCEPT ART + MOVIE POSTER + DVD OR BLU-RAY DISC + LOBBY CARD SET + MINI-CARD SET + HD DIGITAL DOWNLOADS (Movie props and original art will ship as they are made available - DVDs and posters will not ship till the end of 2012)

Estimated delivery: May 2012

Pledge $1,000 or more

1 backer Limited (7 of 8 left)

A FULL PUPPET: One of the full character puppets used in the movie ... As the puppets become available, they will be posted on the website, CurseOfTheWolfsHeart.com ... when you find one you want, email us to reserve it. Once we're finished using it, we'll send it to you! + PRODUCERS CREDIT + FIVE MOVIE PROPS + TWO PIECES OF ORIGINAL CONCEPT ART + MOVIE POSTER + DVD OR BLU-RAY DISC + LOBBY CARD SET + MINI-CARD SET + HD DIGITAL DOWNLOADS (Puppets, movie props and original art will ship as they are made available - DVDs and posters will not ship till the end of 2012)

Estimated delivery: May 2012

Pledge $8,000 or more

0 backers Limited (1 of 1 left)

ASSOCIATE PRODUCER'S CREDIT: You've just funded a significant portion of the film and made our lives a lot easier, for that your name goes on the screen first as associate producer! We'll also fly you from anywhere in the continental USA to come visit the set and spend a day with the filmakers! + TWO FULL PUPPETS + TEN MOVIE PROPS + TEN PIECES OF ORIGINAL CONCEPT ART + MOVIE POSTER + DVD OR BLU-RAY DISC + LOBBY CARD SET + MINI-CARD SET + HD DIGITAL DOWNLOADS (Puppets, movie props and original art will ship as they are made available - DVDs and posters will not ship till the end of 2012)

Estimated delivery: May 2012