Sticker and Buttons are in!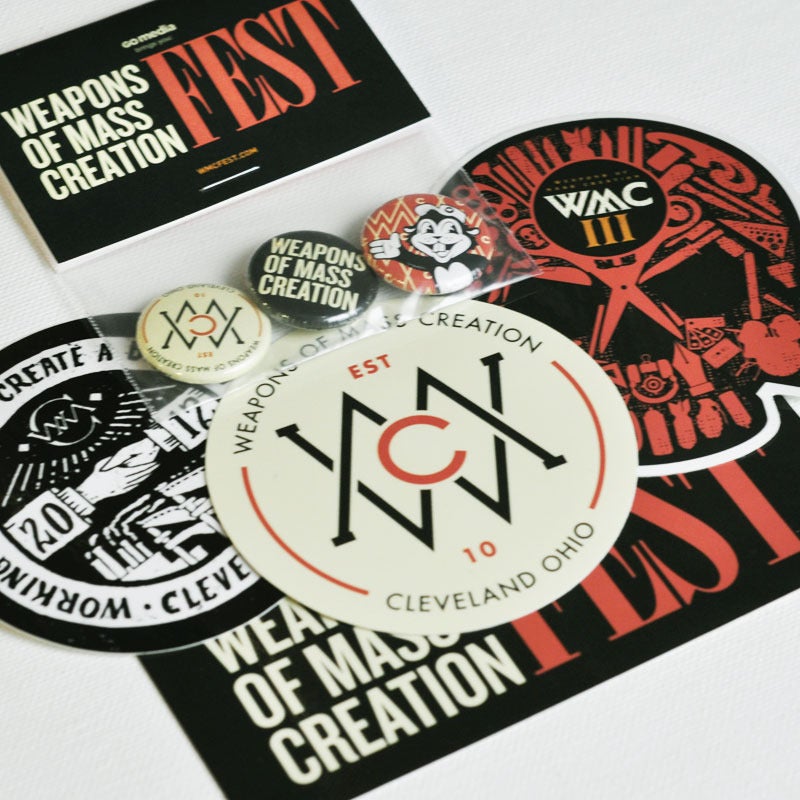 Just got our stickers and buttons in for WMC Fest 2012! Lots of you backers will be receiving these for your generous donations. We love them! Our friends at StandOut Stickers and Busy Beaver Button Co. made them for us. The skull design was by Brandon Rike, the handshake one is by Jon Contino, the monogram/emblem is by Go Media's own Chris Comella. 
These are also for sale in our WMC Merch store and will be on sale at the fest too. 
Thanks again everyone, we just broke the $8,200 mark with over 100 backers today. Wow you are amazing. 
Still the best way to buy your ticket
If you have any friends who haven't bought their ticket to WMC Fest, tell them that they can get them at their lowest price via our Kickstarter. This of course is only valid until May 4th after our Kickstarter campaign is over. Then the price will be it's normal $60 which can be purchased on our site. 
Rewards are coming
So after the campaign ends here in the next few days, I'll start redeeming all of the rewards. You might get an email from me asking your t-shirt size or something like that. But you'll be getting all that cool stuff you signed up for when you pledged.
We're already funded, but if you want to keep pledging or promoting, that's totally cool. We want to make sure everyone has a chance to get the perks we've outlined in our reward tiers, so the more the merrier. It's just great to have your support. We love you!
-- Jeff Finley
151
Backers
$10,465

pledged of $7,000 goal
Funding period
Apr 4, 2012 - May 4, 2012 (30 days)
Pledge $5 or more

11 backers

Join the WMC Fest High Five Club! Kick in a mere $5 and we'll put your name on a hand graphic and add it to the Wall of Fame at WMC Fest. All our attendees will see it, not to mention pose in front of it for photo ops — while giving each other high fives, of course! (Note: Reward is limited only to High Five-specific donors.)

Estimated delivery: May 2012

Pledge $25 or more

10 backers

Show your support by actively helping out a worthwhile cause. Your name will be listed on wmcfest.com and our mobile app.

Estimated delivery: May 2012

Pledge $35 or more

10 backers

Get the Tri-Blend T-Shirt Mockup Templates from Go Media's Arsenal and one vector pack at random. (a $45 value!) Your name will also be listed as a supporter of WMC Fest on our website and mobile app.

Estimated delivery: May 2012

Pledge $50 or more

64 backers

BRONZE BACKER: Everything above plus one All-Access 3-Day Pass to WMC Fest, as well as WMC Fest stickers and buttons. You'll be labeled a Bronze Backer.

Estimated delivery: May 2012

Pledge $100 or more

35 backers

SILVER BACKER: Everything above plus an ADDITIONAL All-Access 3-Day Pass to WMC Fest for a friend, a WMC Fest T-Shirt, and a digital copy of WMC Fest founder Jeff Finley's book "Thread's Not Dead" (a $50 value). We'll also publicly thank you to our Facebook and Twitter followers. You'll be labeled a Silver Backer.

Estimated delivery: May 2012

Pledge $250 or more

3 backers

GOLD BACKER: Everything above plus a special tweet from one of our speakers! Plus, YOUR NAME will be in the credits of the official WMC Fest 2012 video! You'll also get a signed hardcopy of "Thread's Not Dead." You'll be labeled a Gold Backer.

Estimated delivery: May 2012

Pledge $500 or more

0 backers

PLATINUM BACKER: Everything above plus YOUR NAME & PHOTO in the sidebar of wmcfest.com! Plus, you'll get a special Dribbble shot by Jeff Finley with YOUR NAME on it as a very public thank you. You'll be labeled a Platinum Backer.

Estimated delivery: May 2012

Pledge $1,000 or more

1 backer

VIP BACKER: Everything above plus access to the VIP Lounge at Spice Kitchen & Bar so you can hang out with the speakers and other VIPs! You'll be labeled a VIP Backer.

Estimated delivery: May 2012

Pledge $2,500 or more

0 backers

SUPERSTAR BACKER: Everything above, plus you'll get to spend a full day at Go Media studios in Cleveland as a VIP! Founder Jeff Finley will show you how business is run at Go Media and what goes into putting on WMC Fest. Hang out, ask questions, drink and snack, and kick your feet up! Enjoy that VIP treatment! You'll be labeled a Superstar Backer.

Estimated delivery: May 2012