100+ pages of sacred blasphemy and short stories. 20+ original illustrations by the author.
Hey - Some of you may know me from tumblr blog or some of ya just might know the human being called Jade Bos. This October I am celebrating 2 years of creating, writing, and drawing on HookersorCake.com with the release of my second book; Hookers or Cake volume II. I wanted to call it Van Halen II, but I was told that there would be confusion and perhaps legal action, so while I realize Hookers or Cake volume II is not the most exciting of book titles, trust me when I say I have saved all the originality for illustration and stories. 
As some of you know I made Hookers or Cake volume I right here on kickstarter over a year ago and it was a smashing success. To date I have sold over 350 copies! I know that might not sound like a lot to some, but those sales along with my original kickstarter money have allowed me to only need a couple hundred bucks to not only pay for the release of vol 2, but to pay for some fun rewards, and to hire the marvelous talented and funny, Josh Allen of Fireland.com to be my editor.
As always please don't feel obligated. I don't do this to make money! Just to make enough to somewhat cover my costs and to keep me from getting into too much trouble. This book will always be available for sale on Amazon as is vol 1, but if you want a signed copy with some fun extras this is the place.
Thanks for your time and support - Love - Jade
FAQ
Have a question? If the info above doesn't help, you can ask the project creator directly.
26
Backers
$645

pledged of

$250

goal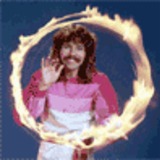 Pledge

$10

or more

You selected

10 backers

1 signed copy of Hookers or Cake II with an original bookmark & postcard. Shipping included to US lower 48

Estimated delivery:

Pledge

$15

or more

You selected

1 backer

1 signed copy of Hookers or Cake II - original bookmark and postcard, shipped anywhere in the world.

Estimated delivery:

Pledge

$20

or more

You selected

11 backers

2 signed books. Vol 1 & vol 2 or 2 copies of volume II if you already have Vol. 1 plus a set of 12 postcards. If you want just 12 copies of one particular postcard please specify otherwise you will receive 3 of each of the 4 king varieties.

Estimated delivery:

Pledge

$50

or more

You selected

4 backers

All the signed books and postcards you can eat, plus a signed 16x20 poster of the 4 kings of literature. Or any 2 smaller posters of your choice of any of my illustration from the book.

Estimated delivery:
Funding period
- (37 days)