50k All the Way!
Whoa. We hit $50k. All crew report to battlestations! Guess I should start scripting for some of these guest comics. Thank you all for helping to make it happen.
In other exciting news:
The prototype Red Robot thumb drive arrived today! It's almost perfect. (Great shape, eyes and works fine.) I just need to find a Pantone book and get the body color fixed.
I took a few photos and color corrected them so I could share them with you all in the meantime. This is not exactly the right red, but close! This is why we pay (a lot) for prototypes.
I will not be ordering these until this fund drive ends, so there will be enough for anyone who wants one.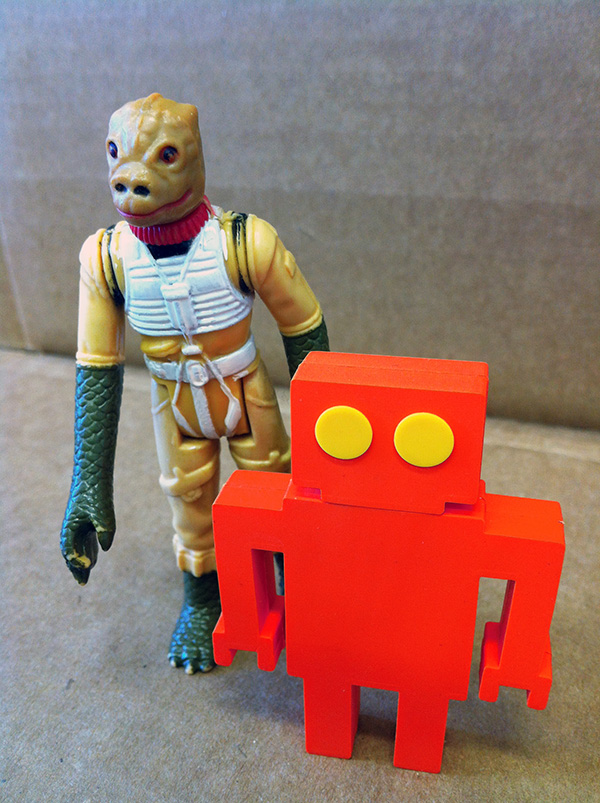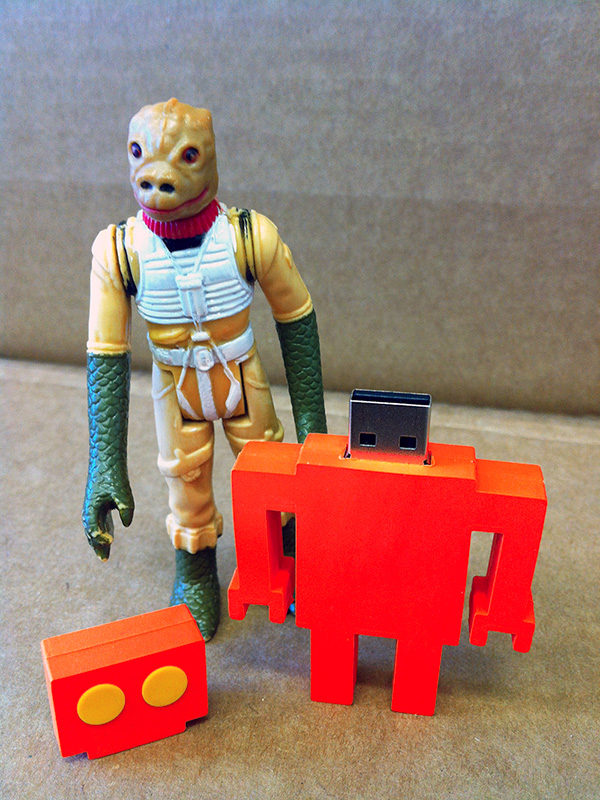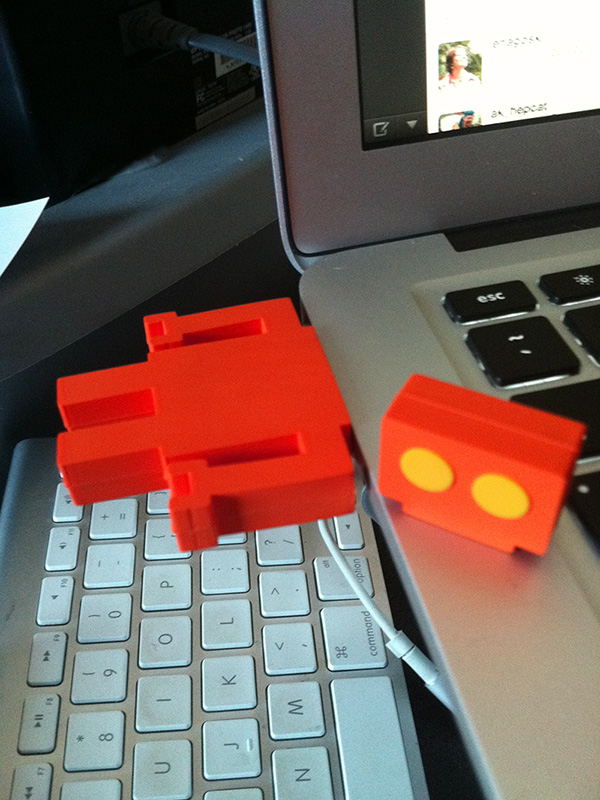 1,520
Backers
$60,209

pledged of $3,000 goal
Funding period
Feb 8, 2012 - Mar 9, 2012 (30 days)
Pledge $8 or more

490 backers

Months of Bathroom Reading: You'll get a digital download of a special donors version of the entire ebook collection before the general public. Low-cost reward or not, you get 3,000+ pages of comics. Score!

Estimated delivery: Jun 2012

Pledge $16 or more

109 backers

The Tinkerer's Delight: You'll get a digital download of the donors edition of the entire collection, plus the source files to remix your own versions. (A .zip of all the comics in PNG format + metadata.)

Estimated delivery: Jun 2012

Pledge $32 or more

458 backers

The Archivist: All of the above, plus a PHYSICAL copy of the entire project on a signed thumb drive. I'm counting on you to hoard this drive just in case the internet becomes sentient and turns on us. (please add $5 outside the USA)

Estimated delivery: Jul 2012

Pledge $46 or more

108 backers

The Archivist +1: The archivist package plus a second blank, unsigned 4gig Red Robot thumb drive.

Estimated delivery: Jul 2012

Pledge $48 or more

110 backers

The Producer's Credit: You get all the digital downloads, plus the signed thumb drive PLUS I will make you a custom ebook with "This book belongs to…" embedded in the cover just like in grade school. You'll be listed in the credits and on my site along with your favorite comic. (please add $5 outside the USA)

Estimated delivery: Jul 2012

Pledge $62 or more

30 backers

The Producer's Credit +1: The Producer's Credit package plus a second blank, unsigned 4gig Red Robot thumb drive.

Estimated delivery: Jul 2012

Pledge $68 or more

12 backers All gone!

Are You A Repli-Can or a Repli-Can't?: You get the full signed thumb drive package, plus a signed print of the art from my Electric Sheep shirt. Yes, I picked '68 because that's when the book was published.

Estimated delivery: Aug 2012

Pledge $69 or more

49 backers

The In-Canon Slash-Fic: You get the full signed thumb drive package, plus a signed print of any two Diesel Sweeties characters you'd like to see in bed together. Fictional characters only, we are not creeps. (please add $5 outside the USA)

Estimated delivery: Jul 2012

Pledge $73 or more

12 backers All gone!

Coffee, You're My One and Only: You get the full signed thumb drive package, plus a 12" x 12" record album sized signed print of my coffee love Twitter icon.

Estimated delivery: Aug 2012

Pledge $74 or more

9 backers Limited (3 of 12 left)

Breakfast Battle! You get the full signed thumb drive package, plus a sized signed print of The Most Important Grudge Match of the Day.

Estimated delivery: Aug 2012

Pledge $77 or more

7 backers All gone!

The Sandcrawler: You get the full signed thumb drive package, plus a Class of '77 limited run signed print of my favorite droids from the original Star Wars. The Jawas selling robots scarred me for life and that's why I draw machines with feelings. (please add $5 outside the USA)

Estimated delivery: Jul 2012

Pledge $81 or more

8 backers All gone!

The B.F.F. (Bespin Friends Forever): You get the full signed thumb drive package, plus a limited run signed print of the 1981 Solo Hunting Varsity Team, AKA my favorite bounty hunters from The Empire Strikes Back. As fellow Scum outside of the Empire, I feel a kinship with those self-employed dudes.

Estimated delivery: Jul 2012

Pledge $82 or more

15 backers Limited (3 of 18 left)

Robot Rock: You get the full signed thumb drive package, PLUS a signed print of the glowing, pixel heads of heroes Daft Punk. (See update #15!)

Estimated delivery: Aug 2012

Pledge $83 or more

8 backers All gone!

'83 RED LUFTBALLOONS: Do not ever talk smack about the Ewoks in my presence. This print depicts the galaxy's finest metaphor for "the little guy fighting back against the entrenched technocracy" this side of Zuccotti park. There will be Ewoks and they will be celebrating with balloons, as you do. Also includes the "Producer's Credit" package. (please add $5 outside the USA)

Estimated delivery: Jul 2012

Pledge $96 or more

35 backers

The Tree-Killer: All of the above, plus a signed print of any comic (or single panel) from my archives except for $1310 because that sucker is 54 panels long. I'll even help you find the comic if you don't have a link. (please add $5 outside the USA)

Estimated delivery: Jul 2012

Pledge $124 or more

6 backers All gone!

The Lover Who As Yet Is Still Not A Fighter: You get the full signed thumb drive package, PLUS I will build you a red, pinky purple and white Pixel Heart out of Lego. (Perma-glued and signed, approx 100 pieces.)

Estimated delivery: Jul 2012

Pledge $128 or more

3 backers All gone!

The Death's Head: You get the full signed thumb drive package, PLUS I will build you Metal Steve's Pixel Skull out of Lego AKA Nerd Gold Bullion. (Perma-glued and signed, approx 121 pieces.)

Estimated delivery: Jul 2012

Pledge $129 or more

3 backers All gone!

The Death's Head REDUX: You get the full signed thumb drive package, PLUS I will build you Metal Steve's Pixel Skull out of Lego AKA Nerd Gold Bullion. (Perma-glued and signed, approx 121 pieces.) I had no idea this would sell out before I even posted to my site.

Estimated delivery: Jul 2012

Pledge $131 or more

6 backers All gone!

The Death's Head Re-Redux: You get the full signed thumb drive package, PLUS I will build you Metal Steve's Pixel Skull out of Lego AKA Nerd Gold Bullion. (Perma-glued and signed, approx 121 pieces.) These KEEP selling out. This is the last round.

Estimated delivery: Aug 2012

Pledge $132 or more

6 backers All gone!

The Virtual Pet: You get the full signed thumb drive package, PLUS I will make you a life-size pixel cut out of any kitty, computer or appliance character from my comic. (If s/he sits on a countertop, it counts.)

Estimated delivery: Jul 2012

Pledge $137 or more

3 backers All gone!

Leg-Oh, Canada! You get the full signed thumb drive package, PLUS I will build you a red and white Canadian maple leaf just like in my Pixel Canada shirt.

Estimated delivery: Aug 2012

Pledge $250 or more

6 backers All gone!

The Trilogy: You get the full signed thumb drive package, plus the Sandcrawler, Bespin Friends Forever and '83 Red Luftballoons prints. Droids, Ewoks and Bounty Hunters, oh my! These are the last six.

Estimated delivery: Jul 2012

Pledge $256 or more

3 backers All gone!

The Mr. Mostly-Toasty: You get the full signed thumb drive package, PLUS I will build you a Johnny Toaster out of Lego. (Perma-glued and signed, approx 250 pieces.) He is smaller than actual size, but will have removable toast and pixel flames.

Estimated delivery: Jul 2012

Pledge $384 or more

1 backer Limited (2 of 3 left)

T-SHIRT TIME MACHINE! You get the full signed thumb drive package, plus I will bring back any t-shirt I have ever made for Diesel Sweeties that I have the rights to. I'll sell it on my site for two weeks and you can have a DOZEN of them in any sizes and styles that I can get. (colors permitting)

Estimated delivery: Jul 2012

Pledge $666 or more

2 backers Limited (664 of 666 left)

The Baco-Vegetarian: You get the full signed thumb drive package, plus I'll give up my almost unbroken 2-year stretch of vegetarianism to cook and EAT A POUND OF BACON. I will also make a video, cursing you for how sick this will make me. Bonus: I will hate myself. Double bonus: My ghost will haunt you.

Estimated delivery: Jun 2012

Pledge $1,024 or more

1 backer Limited (2 of 3 left)

The Puny Mortal: Crushed by Red Robot! You get the full signed thumb drive package, plus I'll draw you into a comic strip during 2012 where Red Robot will kill you on-screen. Comes with a signed print of your death. I choose the manner of death, but promise you'll suffer.

Estimated delivery: Jun 2012

Pledge $1,701 or more

1 backer All gone!

The Holodeck Romance: You get the full signed thumb drive package, plus I'll draw the cast of your favorite Star Trek crew and send you a signed print. This Star Trek crew will be declared The Best and anyone who disagrees with you will hereby be Wrong. (I cannot draw the 2009 movie actors for moral reasons.)

Estimated delivery: Aug 2012

Pledge $2,012 or more

0 backers

The Apocalyptical: You get the full signed thumb drive package, plus I will PERSONALLY prevent the end of all life on Earth if the Apocalypse occurs on December 21, 2012. No refunds if by some off chance a religious prophecy was misinterpreted and winds up being bullshit.

Estimated delivery: Dec 2012

Pledge $2,600 or more

1 backer

DON'T CALL IT A BOOK TOUR! All of the above, plus I'll come deliver up to ten of the signed thumb drive editions of the book in person. Need a day of icon consultations at work? Want to do an event at your local book or computer store? I'll bring coffee. (USA only)

Estimated delivery: Jul 2012

Pledge $9,999 or more

0 backers Limited (1 of 1 left)

THE WINDOWMAKER: I have never, ever, ever in my twenty years using Photoshop drawn a comic on a Windows computer. I have turned down jobs with benefits because they didn't have Macs. Choose this reward and I will draw my comic strip using a Windows computer every night for a month. THERE WILL BE SUCH CUSSING… unless you prove me wrong, Mr. Billsworth J. Gates.

Estimated delivery: Aug 2012

Pledge $10,000 or more

0 backers

I will give up coffee for one month. No Red Bulls or energy drinks, either. Tea and soft drinks stay in my diet.

Estimated delivery: Apr 2012