The book finally made it back from the printer, and I sent out all the backer copies last night. If you don't receive your book within about a week, please contact me and I will check up on it. 
Books will also be on sale this Sunday, July 8, at the grand opening of a new net-zero energy efficient cat shelter in Chicago run by Harmony House (2:00 pm until 6:00 pm, 2914 N Elston). Of course, all proceeds from the sales go to Harmony House so please come out to support a great cause.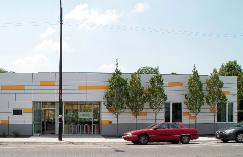 Above: The new Harmony House facility.
If you want to buy additional copies and can't make it to Harmony House, the books are available on Etsy. Or just send me a note though Kickstarter and I can arrange to have them shipped to you.
Thanks for all the help and have a great Fourth.
--Danielle
Comment