Creating stellar pantry items; preserves, biscotti, pickles, extracts, cereals, honey & supporting the local NC small family farmer!
**We're adding new products this year! Some delicious vanilla and herb flavored sugars will be making their way to our shop soon. This year we'd really love to change up some of our packaging but keep everything 100% eco friendly as we always have!**

About Fogl's Kitchen -

Starting out in 2008 just doing what we loved; preserving fresh foods, turned into a mission to get people to not only love their community farm food, but support their local farmer. 
Rummaging through our local big box grocery store, you aren't going to walk out with much produced near your neighborhood. They may have a small produce section with some local in season veggies... but once you go to get your pantry selections, you'll see most of that was produced out of state, and maybe even over seas. Jam from Nebraska, Honey from Texas, Cookies from Canada, extracts from Mexico. Now they warn you to stay away from those center aisles in the grocery store anyways. Chemicals, preservatives you can't pronounce, High Fructose Corn Syrup and natural (or not so natural) flavors... make up most of those pantry and shelf stable items. The days of fruit and sugar in your jam is pretty much over, or is it?
Fogl's kitchen offers these things without a hitch!
Local produce turned into simply made preservative free shelf stable goods and pantry items, produced in the community with the items that were grown in the community. Simple. Local. Food.

This is just the beginning though, as we currently produce these items. We offer them online, but by mail only. And we only have small amounts at a time. By this time of year, we're close to selling out.
Check out our shop, and what our customers say about us:
Fogl's Kitchen - by BiscottiQueen
Our brand has been highlighted on the GirlieGirlArmy website as a top pick for their 2011 Holiday Gift Guide:
GirlieGirlArmy Gift Guide 2011 :: Foodie
But that's not enough, we have come here to make it easier for the locals to buy local, we want to get our products to main street. We want to buy MORE produce in season from the farms, as having to buy 1 box of produce at a time and preserve them the best we can, quickly, isn't creating enough product. We have to sell down quickly to get our space back, to produce more. We're looking to expand our space, buy more jars in bulk up front (all "Made in America" jars by the way) and get in a good contract with the farms to buy up more produce at a fair price at the time it comes into season. Buying more upfront will significantly cut our costs too.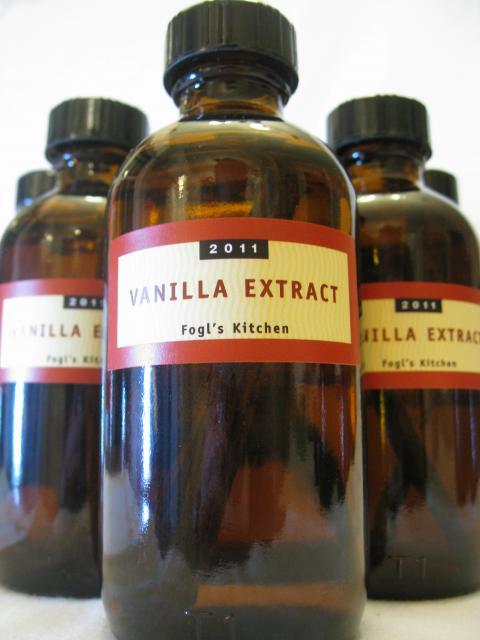 **Homemade Vanilla Extract**
We are looking at this venture as PHASE 2. We are using what you are so graciously donating to get the additional space and the increased produce from our neighboring farms so we can make the move to get our items on the shelves at many of the stores on Main St. This money will cover rental or expansion fees, the cost of buying a year's worth of jars in bulk and a year's worth of produce.
Though we found a couple locations we'd love to move to, the fees are too high for the location and space. We're hoping something else opens up soon, but if not we're going to be able to expand our current space instead. Nothing will stop us from getting the room we need.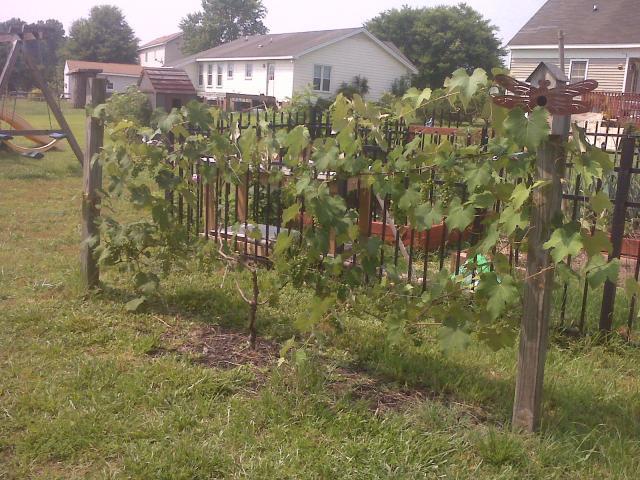 **1 Grape Vine produced 15 lbs of local grapes in 2011**
The most AMAZING part of this move is by using the money we're raising to get the added space we need, not only for storage/production purposes, but we'll have the space to teach our Jam and Preserving class to the general public. We have bee keepers who will come and teach individuals about bee keeping and general care for bees visiting their gardens, there will be room to teach about sustainable farming practices and homesteading on small lots taught by the same local farms we buy from. We're not just creating a product, but creating a bond in our community.
There is a lot of community interest and we are here asking you to help bring our community together to better themselves... one jar of jam or pickles at a time!
Spread the love and the jam...
Yummy Lavender jelly... no dyes, all natural!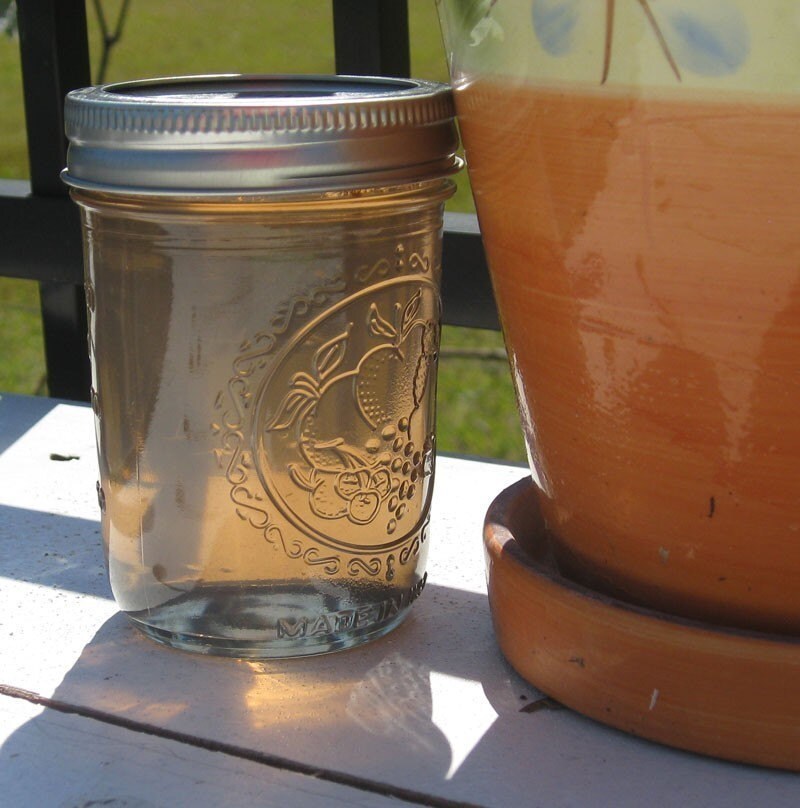 FAQ
Yes, we're not going to give up. We're reworking what we would like to accomplish and what it would cost. We have some of our own funds to help at this point, and we have some classes coming up where the fund will go back to the growth of the business in time to probably buy our first spring ingredients from the local farms. Strawberries are coming as early as April here! So watch out for us to be back, and we'll start with a smaller amount. 

We would prefer to come back late spring, early summer when the farms we use are all open to the public again. People I didn't see of the winter didn't know we were here doing this and I think we missed out on a LOT of attention to our goals because of it. So watch out for us... we'll be out around town and hopefully back here on kickstarter in no time!
16
Backers
$450

pledged of $18,000 goal
Funding Unsuccessful This project reached the deadline without achieving its funding goal on February 5, 2012.
Funding period
Dec 7, 2011 - Feb 5, 2012 (60 days)
Pledge $1 or more

0 backers

A personal Thank You and digital wallpaper for your computer of our personal gardens. Heck, I thank you for even reading our mission!

Estimated delivery: Feb 2012

Pledge $5 or more

2 backers

Same as above PLUS a packet of some seeds we collect from our personal garden. These are mainly Vegetable seeds, and perfect for the home gardener.

Estimated delivery: Feb 2012

Pledge $10 or more

6 backers

Same as both offers above plus a second packet of our heirloom seeds & a chicken decal sticker for use on your car or whatever you'd like to place it.

Estimated delivery: Feb 2012

Pledge $30 or more

4 backers

Everything from the first 3 tiers plus a t-shirt (you select your size) that says "Eat Local Fogl's Kitchen". Please add $5 for shipping with donation in the US. $8 for international.

Estimated delivery: Mar 2012

Pledge $80 or more

0 backers

Everything above plus a second t-shirt (you select your sizes) that says "Eat Local Fogl's Kitchen". Please add $5 for shipping with donation in the US. $8 for international.

Estimated delivery: Mar 2012

Pledge $150 or more

0 backers Limited (8 of 8 left)

Everything listed above plus a jam gift basket that will include 3 of our custom jams in a gorgeous natural woven basket. Please add $15 for US shipping. Can't ship basket international due to customs.

Estimated delivery: Mar 2012

Pledge $300 or more

0 backers Limited (8 of 8 left)

Everything above plus 2 Dz Biscotti with your basket! Please add $15 for US shipping. Can't ship basket and cookies international due to customs. We'll send you a copy of our Jam Class PDF by email instead which include recipes to try from home.

Estimated delivery: Mar 2012

Pledge $600 or more

0 backers

For this special spot we are offering you our Private Jam Class! If you live in Central or Eastern NC we will travel to you for this class when our proposal ends. You get to schedule the date between March and October of this year. This class covers up to 5 people so includes your friends. Or you can choose to take the class online via skype (For out of state & international donors). We also send you a written summary of the class with some of our personal recipes to try from home on a high quality printable PDF. This option also includes the Thank You, wallpaper, heirloom garden seeds & sticker.

Estimated delivery: Mar 2012

Pledge $1,500 or more

0 backers Limited (15 of 15 left)

For you very warm hearted individuals, we'll offer our Jam class as stated above + we'll include a printed copy of our book currently in the works. "Pretty Jam Good" a collection of Jam recipes & meal recipes (including desserts) using the jam you make from home. This is a professionally printed book. Please include $5 to your donation for shipping of the book in the US. Add $15 to your donation for international shipping rates.

Estimated delivery: Apr 2012
View in Video Mode