Quick update on next reach goal...
Due to everyone being closed on the weekend, I need to get some quotes before announcing our first reach goal and the goodies attached to that goal.  As such, check back on Monday night to see what we have in store.
Again, thanks to everyone for making this all happen for Mark and I here at Scrying Eye Games!
55
Backers
$3,456

pledged of $945 goal
Funding period
May 1, 2012 - May 21, 2012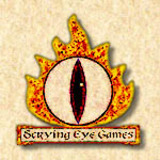 Pledge $5 or more

3 backers

THANK YOU! A big thanks to you and a listing in the Mortiston Telephone Directory, to be included in the first Extended Electronic Package. (No real phone numbers will be listed, its just for the game.)

Estimated delivery: May 2012

Pledge $10 or more

11 backers

A PDF copy of the book and the listing in the Mortiston Telephone Directory.

Estimated delivery: May 2012

Pledge $25 or more

7 backers

You get both the PDF and Softcover versions of the book, the tshirt by Keith Hill and the Telephone Directory Listing and a package of 10 Welcome to Mortiston postcards.

Estimated delivery: Jun 2012

Pledge $35 or more

5 backers

You get the PDF, softcover, the tshirt, the My First Apocalypse Coloring Book, and the first the first edition of the Extended Electronic Package (the EEP!) and a package of 10 Welcome to Mortiston postcards.

Estimated delivery: Jun 2012

Pledge $50 or more

7 backers

As above, but your softcover gets upgraded to a Kickstarter Special Edition in hardcover and a full year's worth of EEP! installments.

Estimated delivery: Jun 2012

Pledge $75 or more

2 backers

As above, but you get both a hard cover and soft cover copies of the book, along with a speical "Lord of the Burn" listing in the credits.

Estimated delivery: Jun 2012

Pledge $90 or more

0 backers Limited (16 of 16 left)

MINIS!!! As above, plus a pack of 9 pre-painted zombies, one of which is repainted to resemble our beloved 365ZED from the book...

Estimated delivery: Jun 2012

Pledge $100 or more

0 backers Limited (2 of 2 left)

These are not included in or with any other level. These are 2' x 5' vinyl banners of our "Mr Happy" himself, and will be signed by the artist. You'll be able to pick them up on Sunday at Origins 2012, or we'll ship them to you with any of your other rewards. You can see the image in Update #15. Again, these do not come with any other level, and nothing else comes with this level.

Estimated delivery: Jun 2012

Pledge $100 or more

9 backers Limited (11 of 20 left)

As above, but you also get all three of the current Roads-2-Nowhere map sets. This includes Urban Crawl (30 pages of roads and houses), The Bunker addtion (10 pages with a bunker, power station and garbage heap) and the no-longer-in-production Road Rage bonus set. (Extra road sections)

Estimated delivery: Jun 2012

Pledge $130 or more

2 backers

Stretch Goal addition: $100 level and a limited edition embroidered polo shirt with the Mortiston County Sheriff Department logo on the chest. You'll be asked for your choice of size and you your choice of Green or Black when the Kickstarter is over. (NOTE: This special shirt is not included in the $150 Level, but it is in the $170 Level.)

Estimated delivery: Jul 2012

Pledge $150 or more

3 backers Limited (7 of 10 left)

As above, but you also become a member of the Mortiston community. We'll work you in as a character, location, or business somewhere in Mortiston, USA in one of the upcoming EEP! installments. Since we'll be compiling these into printed products at the end of each year, this means that you get a permanent spot in Mortiston, USA. Contact us with your character or concept and we'll go from there.

Estimated delivery: Jun 2012

Pledge $170 or more

5 backers

You get everything from the $150 level AND one of the limited edition embroidered polo shirt with the Mortiston County Sheriff Department logo on the chest, as from the $130 Level.

Estimated delivery: Jul 2012