MORE Excitement Abounds!!
Our 2nd new class starting in the fall:
THE DEAF DANCER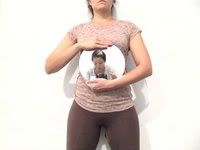 Taught by Alexandria Wailes
This Class was designed specifically for the development of the Deaf Dancer.
This ongoing class will work on body awareness, the exploration of the use of space, expanding spatial awareness, and increasing strength & flexibility.  Neophyte students will learn the disciplines of basic movements through Ballet-, Modern-, & Jazz-infused choreography, as well as how to apply the individual abilities and limitations of their bodies into their own works as performers.  More advanced students will increase their awareness, strength, & flexibility, work on more complicated footwork & choreography, and learn to better utilize contact improvisation.
5
Backers
$525

pledged of $500 goal
Funding period
Apr 27, 2011 - Jun 11, 2011 (45 days)
Pledge $25 or more

1 backer

A beautiful "Thank You' card from Ritual Theatre Company and instructor Alexandria Wailes!

Pledge $50 or more

1 backer

A personally-signed autographed headshot of our instructor, Alexandria Wailes!

Pledge $100 or more

1 backer

A special "Thank You" on ALL literature advertising & marketing the class, including a special mention on the Ritual Theatre Company website!

Pledge $150 or more

0 backers

A beautiful Ritual Theatre Company t-shirt!

Pledge $250 or more

1 backer

Attend and participate in a class session! Come experience the artistry and joy you've helped create (Must have some knowledge of ASL).