Teleportation, a demonic monkey, a clandestine military project and a giant eagle. This is the life of Moe Bullets; the Bear's Teeth.
HELP FINISH THE "RETURN of the BEAR's TEETH" SERIES!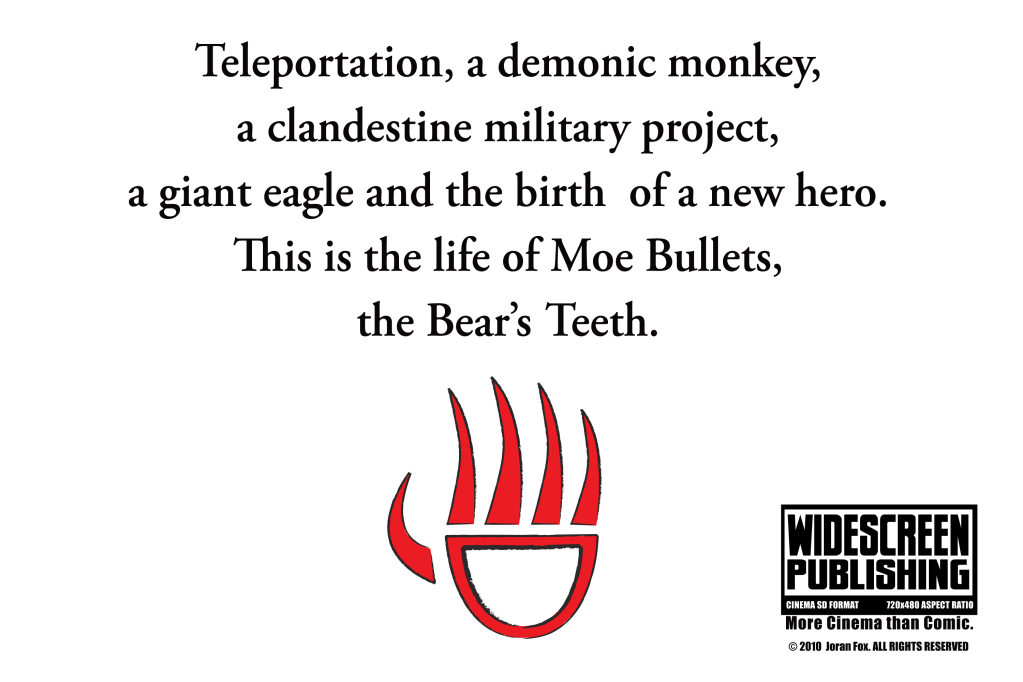 Return of the Bear's Teeth is a 4 issue mini series that follows the story of Maurice Bullets (Moe for short). A young man chosen by otherworldly forces to track and hunt down 666 demons that have escaped from the spirit realm. The only thing is Moe isn't really a demon hunting badass. So he will have to overcome his fears and get to saving the world before these malevolent dark spirits bring about the end of mankind! Fortunately for Moe he has been blessed with powers and abilities that will aid him in his quest... unfortunately these powers and abilities will take time to manifest completely. So until then Moe will have to rely on training and weapons provided by his friend and mentor Spider, a decorated field medic from the Vietnam war. Together they will wage war on the army of escaped demons, sending each back to the spirit world one by one. Witness the birth of a new hero, Moe Bullets - the Bear's Teeth.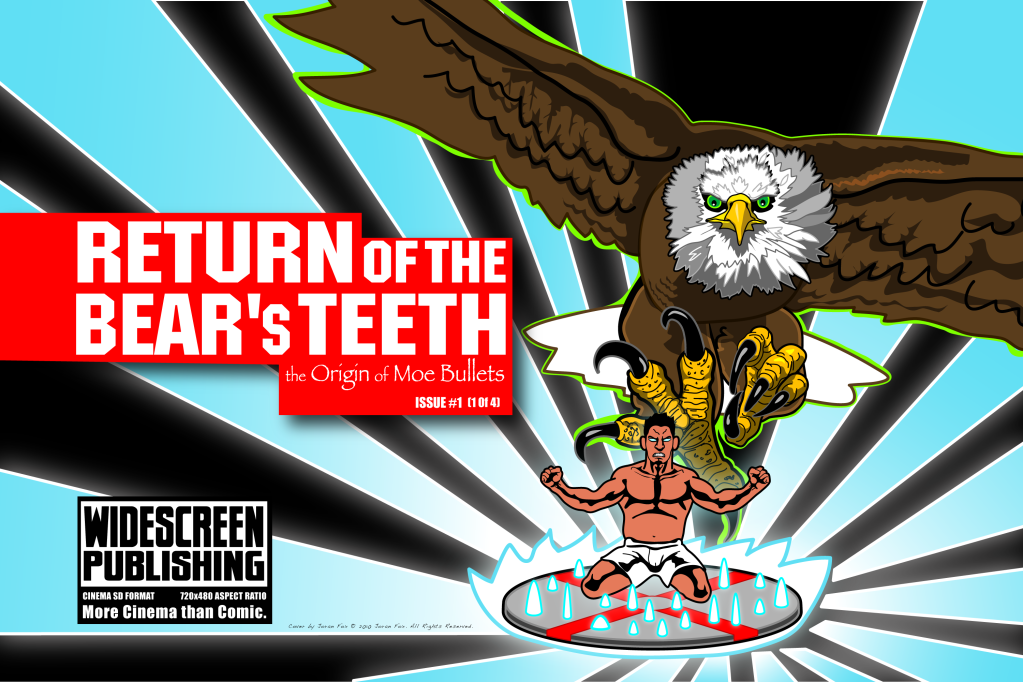 Return of the Bear's Teeth #1 (Completed)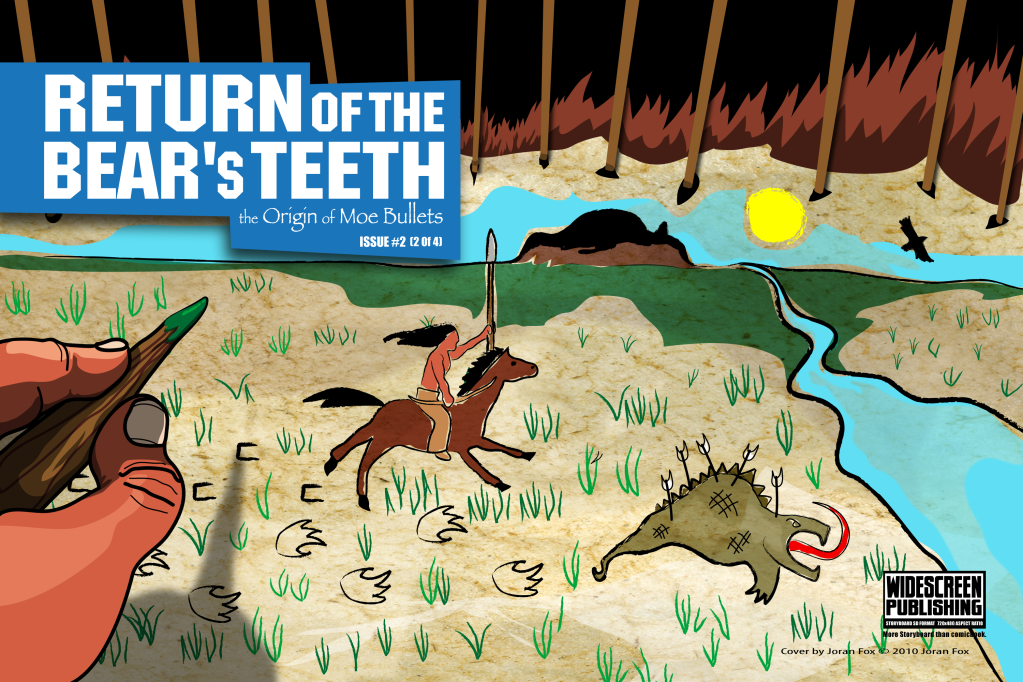 Return of the Bear's Teeth #2 (Completed)
Return of the Bear's Teeth #3 (Completed)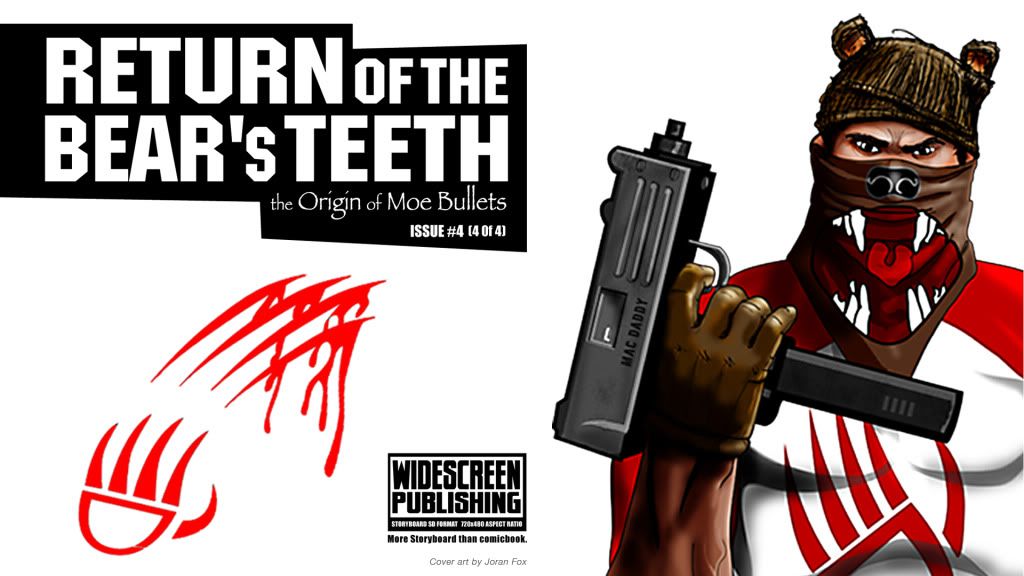 Return of the Bear's Teeth #4 (to be completed)
How will the money be spent?
All money gathered through the support of the Kickstarter community will go towards the production costs of completing the final issue of Return of the Bear's Teeth (the first 3 issues are complete) and production of a DVD graphic novel of the completed series.The plan is to sell at least 250 DVDs to reach our pledge goal.
Any additional money will go to producing my Flagship title Action Theater presents which will feature Moe Bullets and other excitng, unique characters and storylines. After introducing four characters and their storylines readers will then have the opportunity to vote on which story they would like to see a in a four issue series.
What is the Cinema Format?
Widescreen Publishing will produce future titles in a storyboard format (1920x1080 aspect ratio). These titles will be optimized for viewing on tvs and digital devices. Eventually these productions will feature sound and motion effects creating more of an animatic experience. Below is a panel sequence from from Return of the Bear's Teeth #1.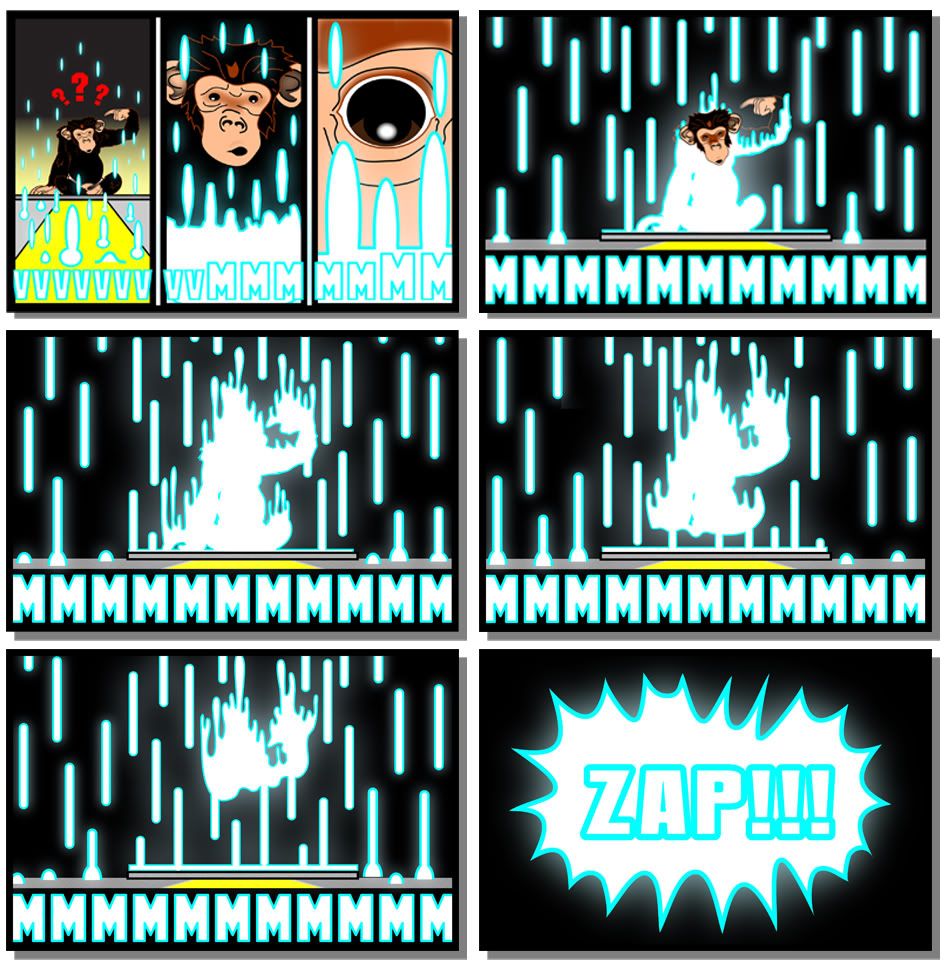 A little history behind the RETURN of the BEAR's TEETH series...
Return of the Bear's Teeth issues #1 & #2 are totally digital comics, created in Adobe Illustrator and drawn with a mouse. I originally intended this story to be an animation but there was no way I could accomplish this task being a stay at home dad and running my creative media service. I had put to much into this story to drop it completely so I continued to storyboard it and realized that I could still produce it as a comic series. After a friend asked to read my comic I set up a slideshow on a dvd, at this point this was the easiest way for me to show him. Once I saw it once his big screen tv it looked fantastic. So i decided to produce the comic to "widescreen" or 16:9 ratio. The Cinema Format was born. Fast forward to present day and I plan to produce the final issue in a 1920x1080 aspect ratio.
The ULTIMATE DEAL DVD Sample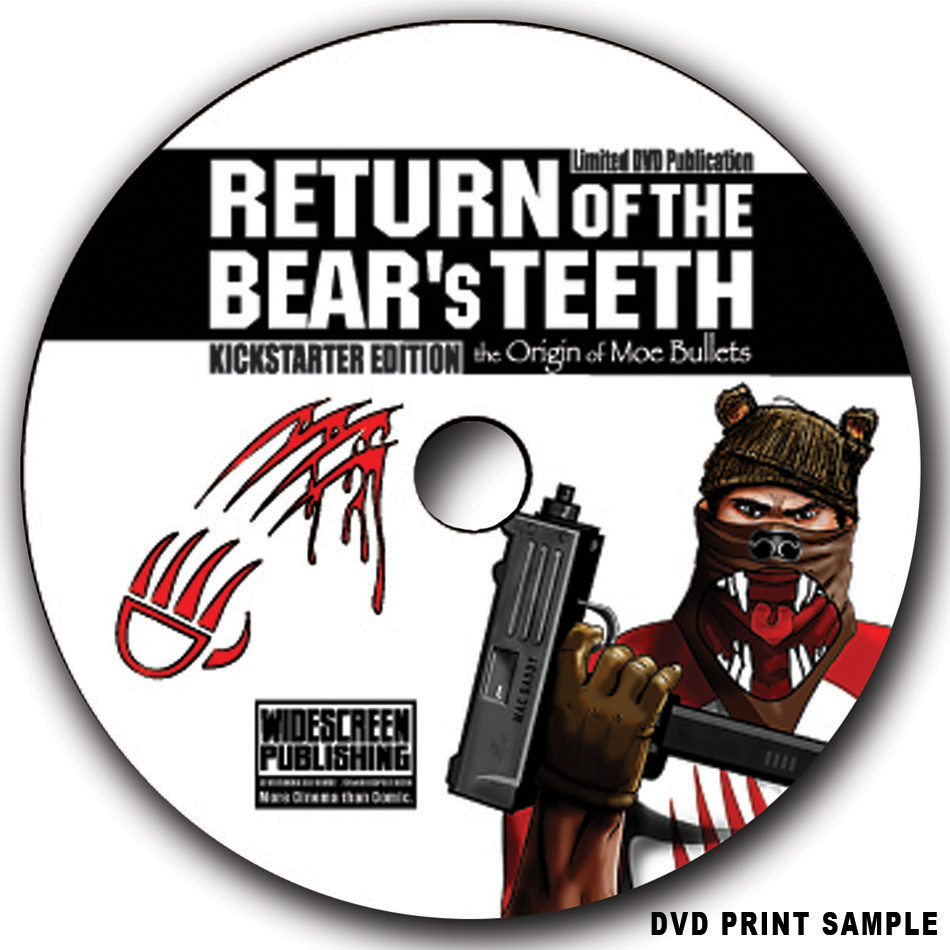 DVD Case Sample
FAQ
Have a question? If the info above doesn't help, you can ask the project creator directly.
2
Backers
$80.00

pledged of $7,500 goal
Funding Unsuccessful This project reached the deadline without achieving its funding goal on May 4, 2012.
Funding period
Apr 4, 2012 - May 4, 2012 (30 days)
First created

·

0 backed
Joran Fox

86 friends
Pledge $5 or more

0 backers

A special Thank You email and a signed 4x6 "Print yo Own" print. Print is a high quality PDF that you can get printed anywhere! Prints will be panels selected from the series.

Estimated delivery: May 2012

Pledge $10 or more

0 backers

Everything above PLUS an signed 11x17 "Print yo Own" poster! Poster is a high quality PDF that you can get printed anywhere! Posters will be one of the four covers from the series.

Estimated delivery: May 2012

Pledge $15 or more

0 backers

Everything above PLUS Return of the Bear's Teeth #1 Digital Edition. A high quality PDF that will be digitally signed and numbered and tagged with your name!

Estimated delivery: May 2012

Pledge $20 or more

0 backers

Everything above PLUS Return of the Bear's Teeth #2 Digital Edition. A high quality PDF that will be digitally signed and numbered and tagged with your name!

Estimated delivery: May 2012

Pledge $25 or more

0 backers

Everything above PLUS Return of the Bear's Teeth #3 Digital Edition. A high quality PDF that will be digitally signed and numbered and tagged with your name!

Estimated delivery: May 2012

Pledge $30 or more

0 backers

THE ULTIMATE DEAL! Show some love and HELP FINISH the Return of the Bear'sTeeth Series! You get everything above PLUS a DVD Publication of the first 3 issues of the Return of the Bear's Teeth series including Action Theater presents #0 and upcoming previews of additional titles. Goodies that are included within DVD are Action Theater presents #0 signed & numbered mini comic featuring the Bear's Teeth as well as, signed collectible 4x6 prints. Each DVD will be signed and numbered. ALSO upon completion of issue #4, you will receive the digital edition AND a new signed & numbered DVD Publication complete with the entire Return of the Bear's Teeth series and brand new goodies! Thank you for your support!

Estimated delivery: May 2012

Pledge $40 or more

2 backers

Sponsored by you! You get everything above PLUS your name will be featured in a "Thanks to our Sponsors" page within each digital comic, limited edition DVD and the website.

Estimated delivery: May 2012

Pledge $500 or more

0 backers Limited (10 of 10 left)

"Brought to you in part by..." YOU! You get everything above PLUS your name and photo will be featured on your very own page within each digital comic, limited edition AND commercial DVD and the website forever. This includes placement within any print comics that should be produced!

Estimated delivery: May 2012
View in Video Mode