I am creating new & fun art yarn for spring craft shows and need some new equipment and exceptional fibers to do so.
Hello,
My name is Elizabeth Ives.  I create hand spun and hand dyed yarns for weaving, knitting and crochet.  I also weave, knit, sew, embroider, bead, and paint textiles. Textiles are my passion. 
Currently my  yarns on Etsy and at local craft shows where I also demonstrate hand spinning with a drop spindle or a spinning wheel.  I enjoy sharing and teaching with anyone who is interested.  I get a lot of questions about spinning yarn….the best are from children.  My favorite is "Where did you find such colorful sheep?"
Spinning for me is a form of "moving meditation" because your mind enters a peaceful state. You cannot pay too much attention to what your hands are doing nor can you ignore them and think about what you're going to cook for dinner. Your mind needs to be calm to spin yarn well. The rhythm of the wheel helps to achieve this calm state.  As a result I find I want to spin yarn every day for the fun of it and for my peace of mind. 
I spin all kinds of yarns, some are art yarns like core spun, beaded, flowered or textured yarns and some are more traditional yarns.  I use the finest materials like merino, BFL, or polworth wools.  I also use silk, soysilk, bamboo, cashmere, mohair, alpaca, angora, and firestar because crafters deserve to work with the best.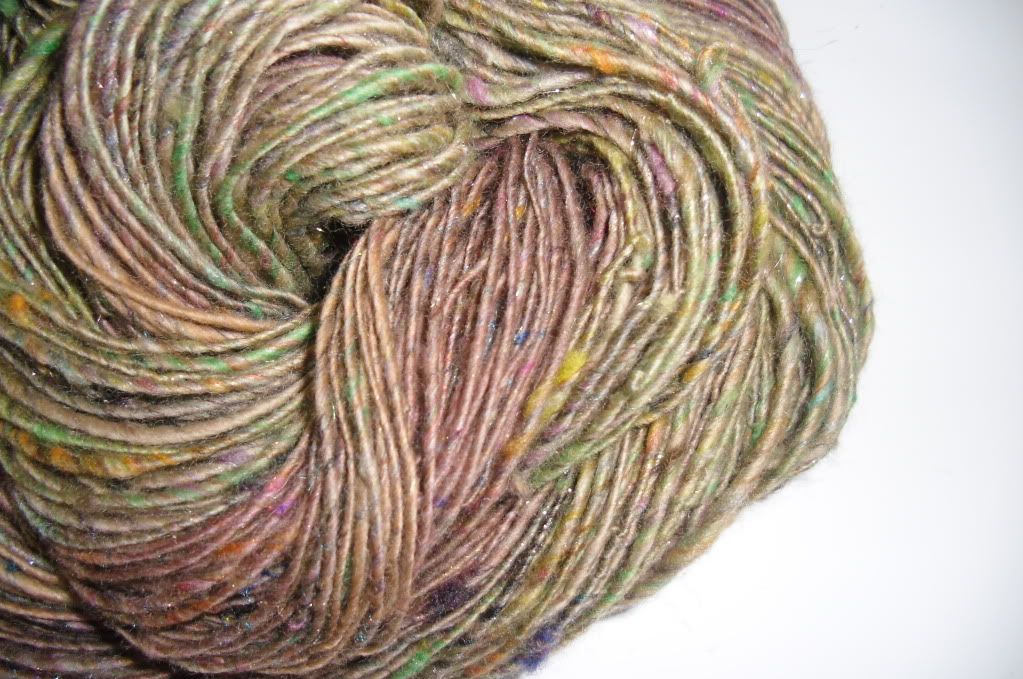 Currently, I buy my materials already processed and ready to spin.  I'd like more creative control over the blending of fibers so I can create new original yarns for my spring craft shows.  The blending of fibers is done on a machine called a drum carder.  A drum carder is an expensive piece of equipment that is out of my budget  without Kickstarter's help.
It creates a fiber batt which can be spun into yarn.  Fibers can be added to the drum carder in an even fashion to created a uniformly colored or heathered yarn or fibers can be added to created rainbow and variegated yarns.  Materials like wool locks and recycled sari silk can also be added to create fun textured yarns and batts.   As you can see the possibilities are endless.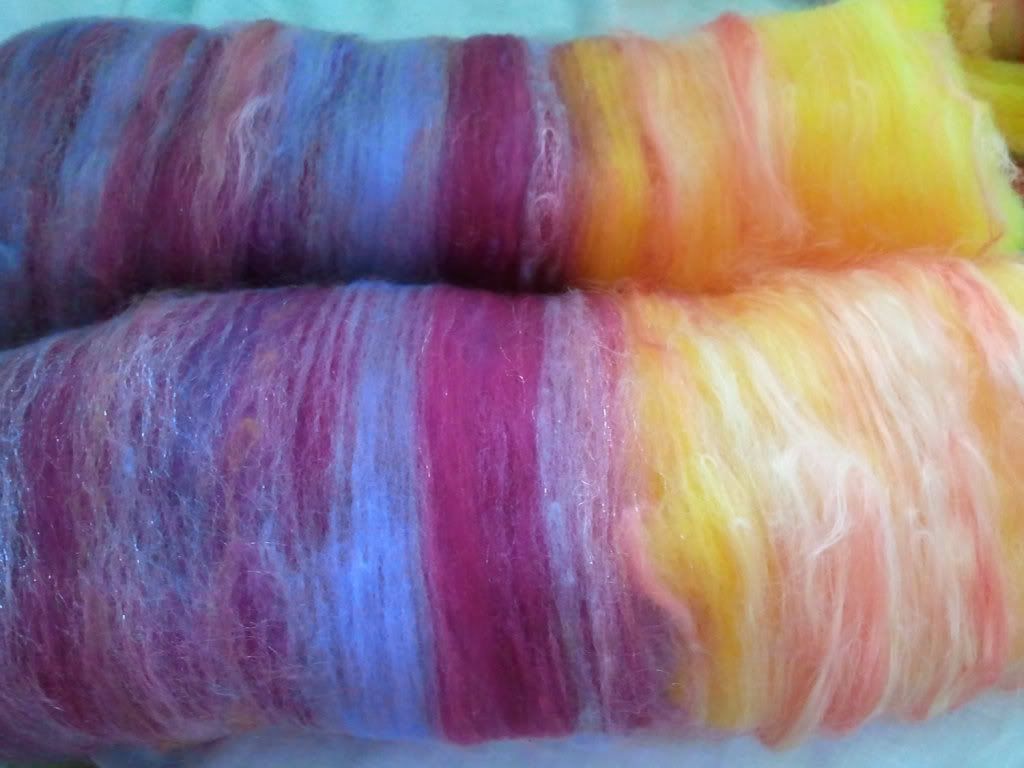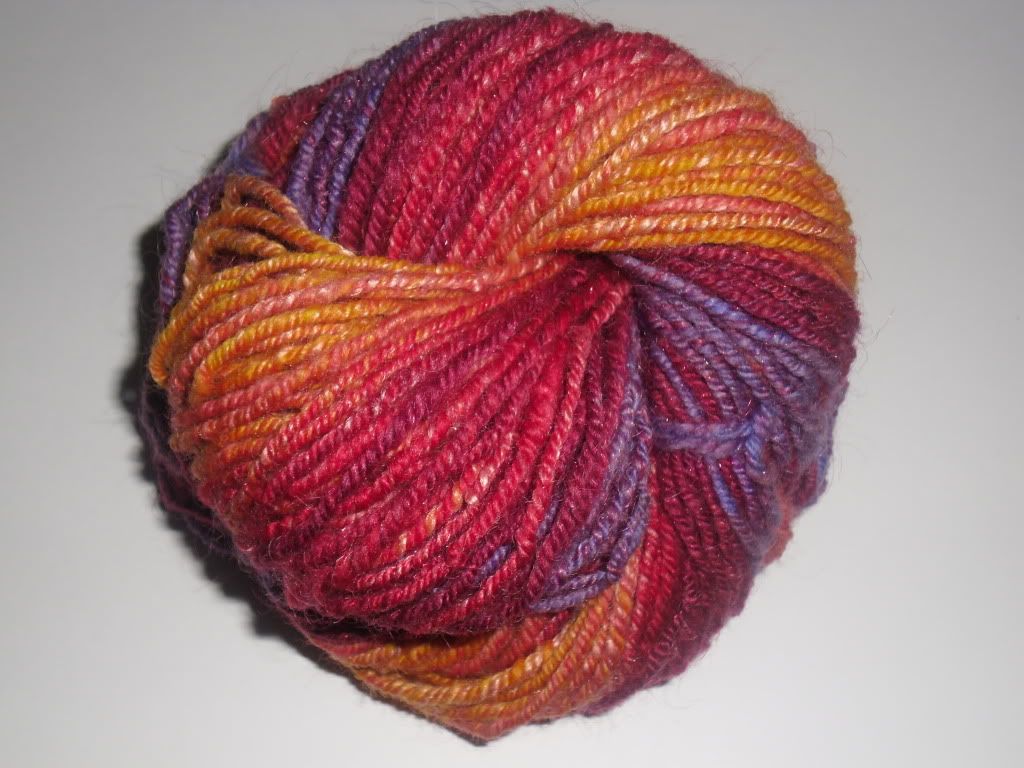 The funds from this project will be used to buy a drum carder and fibers so I can create new original yarns for craft fairs in April and May. This line will feature my own choice of colors and materials including new & fun art yarns.  I will also create a completely new line of fiber batts for other spinners to work with.  In the long run, the drum carder will also be used to teach and demonstrate fiber arts.  Children love to turn the crank and add colorful fibers.
In return for your help I will send you a gift of either hand spun yarn or a custom fiber batt for you to spin. 
Thank you for your time and creative consideration.
FAQ
Have a question? If the info above doesn't help, you can ask the project creator directly.
24
Backers
$1,295

pledged of $1,200 goal
Funding period
Feb 25, 2012 - Mar 26, 2012 (30 days)
Pledge $1 or more

2 backers

A hand written thank you note.

Estimated delivery: Apr 2012

Pledge $15 or more

2 backers

NEW Reward: A hand written thank you note and 1 oz min skeins of hand spun yarn perfect for bookmarks, headbands, or hexipuffs. I work with wool, bamboo, silk, soysilk, alpaca, llama, pygora, yak, angora rabbit, angora goat, and glitz. I will take allergies into account but the yarn design is up to me.

Estimated delivery: May 2012

Pledge $25 or more

5 backers

A hand written thank you note and a mini skein of hand spun yarn at least 2 oz in weight or a hand carded fiber batt for you to spin at least 3 oz in weight. While I can take allergies into account, colors and textures will be up to me. Coiled yarns, core spun, textured yarns, and luxury fibers are all possible. I work with wool, bamboo, silk, soysilk, alpaca, llama, pygora, yak, angora rabbit, angora goat, and glitz.

Estimated delivery: May 2012

Pledge $50 or more

4 backers

A hand written thank you note and a mini skein of hand spun yarn at least 4 oz in weight or a hand carded fiber batt for you to spin at least 5 oz in weight. While I can take allergies into account, colors and textures will be up to me. Coiled yarns, core spun, textured yarns, and luxury fibers are all possible. I work with wool, bamboo, silk, soysilk, alpaca, llama, pygora, yak, angora rabbit, angora goat, and glitz.

Estimated delivery: May 2012

Pledge $55 or more

1 backer

A hand written thank you note and a How-to-Spin-Yarn Set: this set will include a top whorl drop spindle (approximate retail value of $20), a set of instructions (not written by me) for how to spin with your new spindle, a gift box for storing your spindle, and a 2 oz custom fiber batt to get you started.

Estimated delivery: Apr 2012

Pledge $100 or more

2 backers

A hand written thank you note and a custom set of yarns or fiber batts that include the following: Yarn Set will include 4 skeins (2 oz each): a single ply yarn, a textured art yarn, a core spun yarn, and a beaded or flowered yarn. That is a total of 8 oz of yarn. Fiber Batts Set will include 4 batts (2 oz each): a textured spinning batt, a smooth spinning batt, a luxury fiber batt, and a second textured batt. That is a total of 8 oz of fiber batts. I work with wool, bamboo, silk, soysilk, alpaca, llama, pygora, yak, angora rabbit, angora goat, and glitz. Each selection will come in a gift box with other surprises...

Estimated delivery: May 2012

Pledge $200 or more

1 backer

A hand written thank you note and a custom set of yarns or fiber batts that include the following: Yarn Set will include 4 skeins (4 oz each): a single ply yarn, a textured art yarn, a core spun yarn, and a beaded or flowered yarn. That is a total of 16 oz of yarn. Fiber Batts Set will include 4 batts (4 oz each): a textured spinning batt, a smooth spinning batt, a luxury fiber batt, and a second textured batt. That is a total of 16 oz of fiber batts. I work with wool, bamboo, silk, soysilk, alpaca, llama, pygora, yak, angora rabbit, angora goat, and glitz. Each selection will come in a gift box with other surprises...

Estimated delivery: May 2012
View in Video Mode