Thank you
We did it!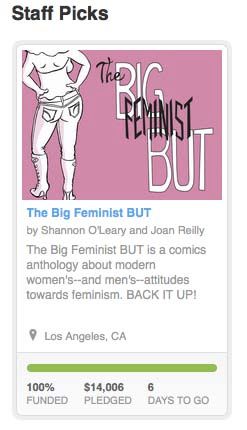 Backers Rebecca Jane Weinstein (who currently has a book funding on Kickstarter that I'm about to back) and Andrew Farago (who bleeds comics as Curator of The Cartoon Art Museum in San Francisco) pushed us over the top.
Thanks to you, after three plus years, we are now finally able to enjoy the moment of knowing that this book will be made. Our sincerest thanks to all 369 of you for making this possible. 
And we've still got 6 days to go!
We'll be back with more updates, art peeks and whatnot soon! But for now...
Thank you,
Joan & Shannon
444
Backers
$16,347

pledged of $13,995 goal
Funding period
Nov 26, 2012 - Dec 24, 2012 (28 days)
Pledge $1 or more

6 backers

A Friendly Pat on the BUT: Earns you our heartfelt appreciation for your show of support.

Estimated delivery: Feb 2013

Pledge $5 or more

14 backers

I Just Want to BACK IT UP!: Great! You get your name in the Acknowledgements.

Estimated delivery: Feb 2013

Pledge $10 or more

79 backers

The Virtual BUT: A PDF Copy of The Big Feminist BUT, plus the above.

Estimated delivery: Feb 2013

Add $10 to ship outside the US

Pledge $25 or more

211 backers

The Sexy Librarian: A special bookplate edition of The Big Feminist BUT signed personally to you from the editors, plus the above.

Estimated delivery: Feb 2013

Add $10 to ship outside the US

Pledge $30 or more

56 backers

The Femme Fatale: All of the above plus a sketched-in copy of Pet Noir: An Illustrated Anthology of Strange but True Pet Crimes (Manic D Press, 2007) by Shannon O'Leary featuring work by Joan Reilly, Trevor Alixopulos, MariNaomi and more Big Feminist BUT contributors

Estimated delivery: Feb 2013

Add $10 to ship outside the US

Pledge $35 or more

5 backers Limited (15 of 20 left)

RON REGE Print Special! All of the above plus a postcard sized handmade print by Big Feminist BUT contributor, Ron Rege Jr.

Estimated delivery: Feb 2013

Add $10 to ship outside the US

Pledge $40 or more

9 backers Limited (51 of 60 left)

Mini-Comics Mania: All the above plus a mini-comic from either Jen Wang, Corinne Mucha, Andrice Arp, Joan Reilly, or the original Henry & Glenn Forever mini-comic signed by all members of The Igloo Tornado: Tom Neely, Gin Stevens, Scot Nobles and Dino Fucker (we will try to accommodate requests but supplies are limited!)

Estimated delivery: Feb 2013

Add $10 to ship outside the US

Pledge $50 or more

21 backers

Art Collector: An art print by Angie Wang, Jen Wang, Andrice Arp or Minty Lewis (requests will try to be accomodated but supplies are limited) plus: a special bookplate edition of The Big Feminist BUT signed personally to you from the editors, a PDF of the book, and your name in the Acknowledgements.

Estimated delivery: Feb 2013

Add $10 to ship outside the US

Pledge $50 or more

3 backers All gone!

The Noir Special: The entire Reporter Series by Dylan Williams (Issues 1 - 6, minus Issue #2 + Reporter: Little Black) plus a sketched in copy of Pet Noir, a special bookplate edition of The Big Feminist BUT signed personally to you from the editors, a PDF of the book, and your name in the Acknowledgements.

Estimated delivery: Feb 2013

Add $10 to ship outside the US

Pledge $60 or more

2 backers All gone!

The Naughty BUT: An original NAUGHTY Big Feminist BUT by Tom Neely plus: a special bookplate edition of The Big Feminist BUT signed personally to you from the editors, a PDF of the book, and your name in the Acknowledgements.

Estimated delivery: Feb 2013

Pledge $60 or more

2 backers All gone!

Skype portrait by GABRIELLE BELL: Award winning cartoonist, Gabrielle Bell, will do a Skype portrait of you! Plus you get a special bookplate edition of The Big Feminist BUT signed personally to you from the editors, a PDF of the book, and your name in the Acknowledgements.

Estimated delivery: Feb 2013

Add $10 to ship outside the US

Pledge $60 or more

8 backers

The Fashionista Package: Your choice of adorable Big Feminist BUT boxer briefs, panties, or tote bag, plus a special bookplate edition of The Big Feminist BUT signed personally to you from the editors, a PDF of the book, and your name in the Acknowledgements.

Estimated delivery: Feb 2013

Add $10 to ship outside the US

Pledge $75 or more

1 backer All gone!

ADDITIONAL BOOK COLLECTOR REWARD! A sketched in copy of MariNaomi's Kiss & Tell (softcover) plus a special bookplate edition of The Big Feminist BUT signed personally to you from the editors, a PDF of the book, a sketched in copy of Pet Noir and your name in the Acknowledgements.

Estimated delivery: Feb 2013

Add $10 to ship outside the US

Pledge $75 or more

4 backers Limited (17 of 21 left)

The Book Collector: A signed and/or sketched-in copy of one of the following: 1) Funny Misshapen Body by Jeffrey Brown (paperback) 2) Chiggers by Hope Larson (hardcover) 3) A Wrinkle in Time by Hope Larson (hardcover) 4) Mercury by Hope Larson (paperback) 5) Hereville by Barry Deutsch (paperback) 6) Hereville 1 & 2 by Barry Deutsch (hardcover) 7) Ivy by Sarah Oleksyk (paperback) 8) Dolltopia by Abby Denson (paperback) 9) Tough Love by Abby Denson (paperback) 10) The Devious Book for Cats, illustrated by Emily Flake (paperback) (again, we will try to accommodate requests but supplies are LIMITED - ACT FAST!) plus a special bookplate edition of The Big Feminist BUT signed personally to you from the editors, a PDF of the book, a sketched in copy of Pet Noir and your name in the Acknowledgements.

Estimated delivery: Feb 2013

Add $10 to ship outside the US

Pledge $100 or more

0 backers Limited (2 of 2 left)

BONUS Art BUTs In: One piece of Big Feminist BUT themed original art from either - New art from Vanessa Davis (Make Me a Woman) and Trevor Alixopulos! - Plus a special bookplate edition of The Big Feminist BUT signed personally to you from the editors, a PDF of the book, and your name in the Acknowledgements.

Estimated delivery: Feb 2013

Add $10 to ship outside the US

Pledge $100 or more

3 backers

Big BUT Six-Pack: SIX special bookplate editions of The Big Feminist BUT signed by the editors, a PDF of the book, and your name in the Acknowledgements.

Estimated delivery: Feb 2013

Add $10 to ship outside the US

Pledge $100 or more

8 backers Limited (3 of 11 left)

Art BUTs In: One piece of Big Feminist BUT themed original art from either: 1) Justin Hall (No Straight Lines) 2) Hilary Florido (Regular Show) 3) Vanessa Davis (Make Me a Woman) 4) Tom Neely (The Wolf) 5) Sarah Oleksyk (Regular Show, Ivy) 6) Malachi Ward (Prophet) 7) Lauren Weinstein (Girl Stories) 8) Jon Vermilyea (Problem Solverz) 9) Jen Wang (Koko Be Good) 10) Ed Luce (Wuvable Oaf) or 11) Andy Ristaino (Adventure Time) (Again, we will try to accommodate requests but supplies are limited), a special bookplate edition of The Big Feminist BUT signed personally to you from the editors, a PDF of the book, and your name in the Acknowledgements.

Estimated delivery: Feb 2013

Add $10 to ship outside the US

Pledge $125 or more

2 backers

Art Collector: One piece of original comics art from either 1) Emily Flake 2) Justin Hall or 3) Shaenon Garrity, OR an original drawing or painting (of the artist's choice) by Andrice Arp (Only 5 pieces of Arp art are available, so act fast!). Plus a special bookplate edition of The Big Feminist BUT signed personally to you from the editors, a sketched-in copy of Pet Noir, a PDF of the book, and your name in the Acknowledgements. (Again, we will try to accommodate requests but supplies are limited)

Estimated delivery: Feb 2013

Add $10 to ship outside the US

Pledge $125 or more

1 backer All gone!

ADDITIONAL ART COLLECTOR AWARD! A piece of original comics art from Sari Wilson and Josh Neufeld's story, Playmate and Me, plus a special bookplate edition of The Big Feminist BUT signed personally to you from the editors, a sketched in copy of Pet Noir, a PDF of the book, and your name in the Acknowledgements (Check out Backer Update #4 to get a look at this page!)

Estimated delivery: Feb 2013

Add $10 to ship outside the US

Pledge $250 or more

3 backers

The Beastly BUT: Co-editor, Joan Reilly, an experienced portrait artist, will draw YOU as an animal, and send you the black-and-white 8x10 original! Or she'll send you a set of prints of famous feminists drawn as animals - you pick! Plus a special bookplate edition of The Big Feminist BUT signed personally to you from the editors, a sketched-in copy of Pet Noir, a PDF of the book, and your name in the Acknowledgements.

Estimated delivery: Feb 2013

Add $10 to ship outside the US

Pledge $500 or more

3 backers

Big BUT Night Out: Are you in the New York City or Los Angeles area? If you're not, can you get there? Either Joan, who lives in NYC, or Shannon, who lives in LA, will take YOU out for a nice platonic dinner and talk to you about feminism and comics! At that dinner, Joan or Shannon will GIVE you a special bookplate signed edition of The Big Feminist BUT signed personally to you from the editors, a sketched-in copy of Pet Noir (you also get the PDF and your name will be in Acknowledgements)

Estimated delivery: Feb 2013