Athletes from around the world compete for fame and glory in Laser Tag. Be amazed when you discover how much you have in common with them...
Last September, a friend invited me to visit Vegas for a weekend to watch him compete in the largest annual laser tag championship in the world. I brought 3 cameras.
Over the weekend, a dramatic plot unfolded in which Andrea (who goes by the nickname, Texas Chainsaw Massacre), helped her team capture its 2nd straight (3rd overall) championship, placing it in position to break the all-time record this year. The only defeat the North Richland Hills team suffered throughout the contest was delivered by Kyle-Fiesta's Virginia Beachers. Victimized by alleged cheating from their opponents, Kyle's team did not reach the finals, and NRH won the day.
Throw into this lurking perennial contenders from Chicago, Washington, Toronto, and Lincoln, and this upcoming national tournament promises to be rife with intrigue.
In addition, due to gradually declining enrollment and corporate-enforced rule changes, there exists the strong possibility that this will be the final year of the tournament, ending an institution that now spans three decades.
Within this world, there exists a group of people not just obsessed, enthralled, and in many ways defined by a children's laser game; they are also passionate, proud, skilled, dedicated athletes. To quote one, "Part of it's the people. Part of it is your daily life - going to work, going to school, just the grind - it's spring, it's summer, then fall and winter, it happens over and over, but going to the tournaments and having a season to compete, it breaks up the monotony of life. It gives peaks and valleys."
I asked the follow up question of what this player's job was. "I'm currently unemployed."
Cinema WILL ensue. And the cameras will roll.
------------
Crew:
Chris Pappavaselio - Latin and History teacher, based out of Boston. Previous jobs include sommelier, screenwriter, and strip club DJ.
Freddie Wong, internet celebrity, http://www.youtube.com/user/freddiew...
Kevin Klauber, editor of Cameron Crowe's upcoming documentary
Brian Firenzi, creator of 5 Second Films, http://5secondfilms.com/
Will Campos, mustachioed screenwriter
Max Geiger, star of Spike TV's The Deadliest Warrior, http://www.spike.com/show/31082
And many others, including Lauren Schneider, Alicia Martinez, Dalton Gaudin, Rob Falcione, and Chris "Stos" Constantine
FAQ
Have a question? If the info above doesn't help, you can ask the project creator directly.
6
Backers
$970

pledged of $12,000 goal
Funding Unsuccessful This project reached the deadline without achieving its funding goal on June 21, 2010.
Funding period
Apr 27, 2010 - Jun 21, 2010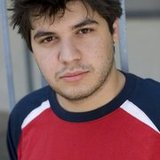 Pledge $10 or more

0 backers

Online Thank You card from the director, complete with laser tag limerick.

Pledge $20 or more

1 backer

Digital download of the complete film upon release, plus above.

Pledge $30 or more

0 backers

DVD with director and laser tag player commentaries, plus above.

Pledge $50 or more

2 backers

Access to video journal during this summer's filming, PLUS your choice of Kickstarter-only T-shirt or poster, plus above.

Pledge $75 or more

0 backers

Both the Kickstarter-only T-shirt AND poster, PLUS Thank You credit in film, plus above.

Pledge $100 or more

1 backer

Access to otherwise-restricted 1st cut of film, with ability to voice feedback and have a say in the final cut of the film, PLUS credit in film as Tester, plus above.

Pledge $250 or more

1 backer

Invitation to LA premier of the film and cast party, plus above (travel expenses not included).

Pledge $500 or more

0 backers Limited (4 of 4 left)

Lunch with director and member(s) of crew (number depending on availability), plus above (travel expenses not included).

Pledge $1,000 or more

0 backers

One day bootcamp at any of several available Laser Quest facilities, with personal training by members of the local team, plus above (travel expenses not included).
View in Video Mode