Schedule and art updates
You are in a small cylindrical room with very smooth walls and a flat floor and ceiling. There are no exits visible anywhere.
The Kickstarter campaign may be over, but don't worry, Colossal Cave: The Board Game continues to march toward production. We're aiming to have everything packaged up and ready for the printer by the end of June, and then have the game rolling off the production line sometime in Q4 — in time for Christmas!
Art update
Katy continues to do good work on the board art, too. All of the rooms are now in pretty much their final forms, except that the mazes need to get mazier. Here are some highlights from Katy's latest sketch: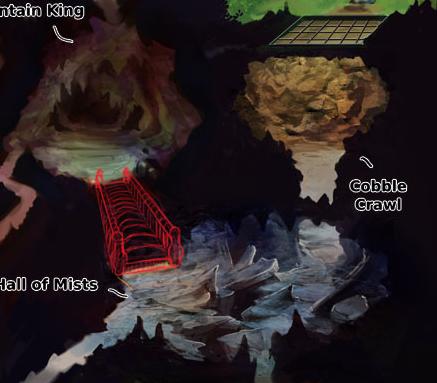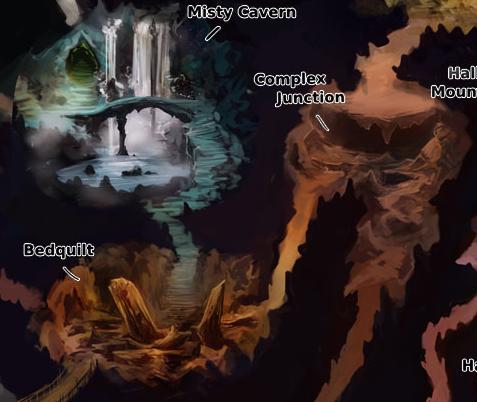 The room names will be handled differently in the final board art, of course; I'm not really sure yet whether they'll be slapped on top of the room art, or off to the side kind of like you see here, or perhaps a lot smaller and unobtrusive, if we can figure out a way to make the room names less critical to understanding the cards. For example, we could associate each room with an icon (Bedquilt's slabs, the Misty Cavern's bridge, etc.), and then insert those icons into the card texts that talk about those rooms.
On the other hand, even with such great artwork, I don't want to completely minimize the actual names of the rooms. Just seeing those names on the board is a big part of the theme, at least for me. So, we'll see what happens.
Game Salute is going to have a booth at Origins; if you're there, stop by and say hi! (Not to me — I won't be there — but to Dan and/or Chris.) We're going to try to have a playable prototype of CC:TBG at Origins. There's not enough time to order one of my prototypes from TheGameCrafter, but I'm pretty sure Game Salute has access to a color printer and some cardstock. :)
Administrivia
If you've gotten messages from Kickstarter saying that your credit card payment hasn't gone through yet, please send me a private message using the "Ask a Question" button on the front page. I think Kickstarter will stop trying to charge your card after seven days; but if you send us your pledge payment via PayPal, we'll keep you on the backer list.
Just five minutes ago I sent out messages to all the backers at the $40 reward level and higher, asking you all to PM me if (and only if, please!) you'd like your name to appear in the credits as something other than your Kickstarter public profile name. I'm hoping to get page 2 of the rulebook into its final form by June 1.
I won't be sending out the actual backer surveys (to collect your mailing addresses) until we're a lot closer to October.
357
Backers
$14,815

pledged of $8,000 goal
Funding period
Apr 14, 2012 - May 20, 2012
Pledge $5 or more

1 backer

Rank Amateur: Receive a single Item, Action, or Reaction card autographed with a personal thank-you from the designer.

Estimated delivery: Oct 2012

Pledge $17 or more

15 backers All gone!

Novice Class Adventurer: The first 15 backers at this level will receive their copy of the game and an EXCLUSIVE Kickstarter promo card for only $17 — a $5 savings!

Estimated delivery: Oct 2012

Pledge $20 or more

35 backers

Novice Class Adventurer: Receive one copy of "Colossal Cave: The Board Game". (Please add $15 for international shipping.)

Estimated delivery: Oct 2012

Pledge $22 or more

56 backers

Experienced Adventurer: Receive one copy of the game, plus an EXCLUSIVE Kickstarter promo card!

Estimated delivery: Oct 2012

Pledge $30 or more

131 backers

Seasoned Adventurer: Along with your copy of the game, you'll receive five MORE promo cards (not guaranteed to be Kickstarter-exclusive), such as the Red Rod, the Breathtaking View, and Fresh Batteries. Of course you'll also receive the Kickstarter EXCLUSIVE promo card!

Estimated delivery: Oct 2012

Pledge $40 or more

5 backers

Junior Master: Receive TWO copies of "Colossal Cave: The Board Game", each with its own Kickstarter promo card. Backers at this level and higher will also be listed as "Master Adventurers" in the rulebook distributed with every copy of the game!

Estimated delivery: Oct 2012

Pledge $55 or more

94 backers

Master Adventurer Class C: Receive two copies of the game, plus five promo cards and a Kickstarter promo card apiece. Also, receive a pre-release copy of the ADV550 expansion, currently in playtesting! (Please add $20 for international shipping.)

Estimated delivery: Oct 2012

Pledge $100 or more

8 backers Limited (27 of 35 left)

Master Adventurer Class B: Receive three copies of the game, promo cards, and the ADV550 expansion; plus an UNCUT SHEET of 54 of the cards in the game. Ideal for handling those pesky gamers who always want a cheat sheet! (Add $20 for each additional uncut sheet.)

Estimated delivery: Oct 2012

Pledge $200 or more

1 backer Limited (14 of 15 left)

Master Adventurer Class A: Receive seven copies of the game, seven copies of each promo card including the Kickstarter EXCLUSIVE card, seven copies of the ADV550 expansion, and one of fifteen LIMITED EDITION 8"x10" art prints from the game's artist Katy "Kovah" Grierson, depicting one of the fifteen treasures of Colossal Cave. (Please add $30 for international shipping.)

Estimated delivery: Oct 2012

Pledge $350 or more

3 backers Limited (4 of 7 left)

Receive everything at the $200 level, except that YOUR limited edition art print will depict ALL FIFTEEN treasures safely deposited in the Well House. All of Adventuredom gives tribute to you, Adventurer Grandmaster!

Estimated delivery: Oct 2012

Pledge $1,000 or more

0 backers

Implementor: Receive everything at the $350 level, plus... I don't know. 100 copies of the game? Invitation to an elite playtest session with the designer? Your likeness on the box cover? Limited edition art print of all 25 treasures in the expansion? Suggest something! If it's doable, I'll make it happen.

Estimated delivery: Oct 2012