MeshUp progresses forward! See the below graph and change log for details.
Let me take a moment to thank all our supporters for your patience and support. Yes, it is taking us longer to release the beta than anticipated, but as you can see by the graph and videos, we are not that far. Please be patent with us as our small team is highly focused (in fact some of us need to step outside to confirm that indeed there is a sky) on imbuing MeshUp with a solid foundation of advanced functionality and an elegant simple UI.
At this time there are no major roadblocks or bugs to overcome. Our remaining development and focus for the beta release is now largely around completing cross platform support (if possible we would like to release the beta across all 3 platforms) and building out the first pass of our intuitive and painless interface for novice and advanced users alike.
Stay tuned for more videos and updates!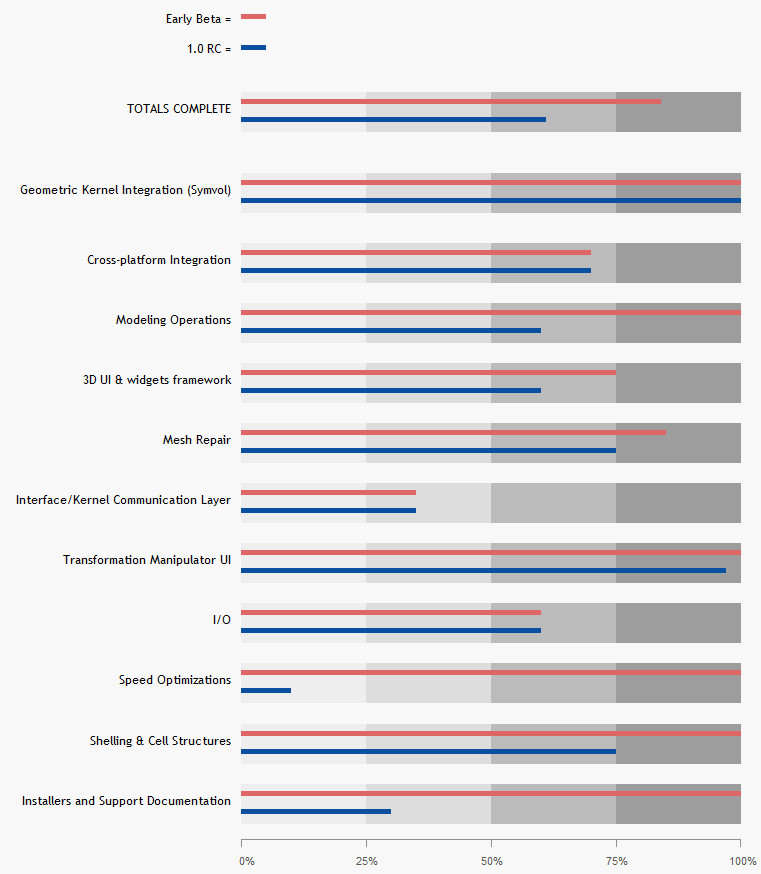 CHANGE LOG
May 21, 2013
Basic mesh repair interface w/ highlighting of all errors added
Major refactoring of all core developmental UI code towards a clean abstraction layer
Proper name dynamic space handling added
New back end UI command entries added (mostly for mesh repair)
Major progress on UI event handling
Join operator and functionality added to system
Boolean operator elements added
Progress on history tracking and undo/redo
Progress made on local reconstruction for mesh merging
QA has started and a series of bug fixes are in progress
Shelling*
Check out the Shelling feature in this video. More dramatic shelling examples to follow soon.
Mesh Repair*
Watch 2 basic examples showing automatic Mesh Repair. The user options associated with this command are in process and will be demoed in a future video.
*Thanks to Joo for the Totoro model and Ultimaker for the use of their mascot robot.
(Almost) midnight sun
The view from my office, 2:30am in Norway - Cherie
2 Comments