Our foam case protects your iPad2 as it transitions seamlessly between the playroom and the boardroom.
Hello Kickstarters! Thank you for your interest in our project. We're hoping you'll share our excitement and be a part of it!
UPDATE!  Check out the updates section to see our iPad2 drop tests. Most recorded in first person from the Fomation-covered tablet!

UPDATE!  Due to an overwhelming amount of requests, we are happy to announce that our iPad2 and iPhone 4/4S cases will be available in a variety of awesome colors!  Check 'em out: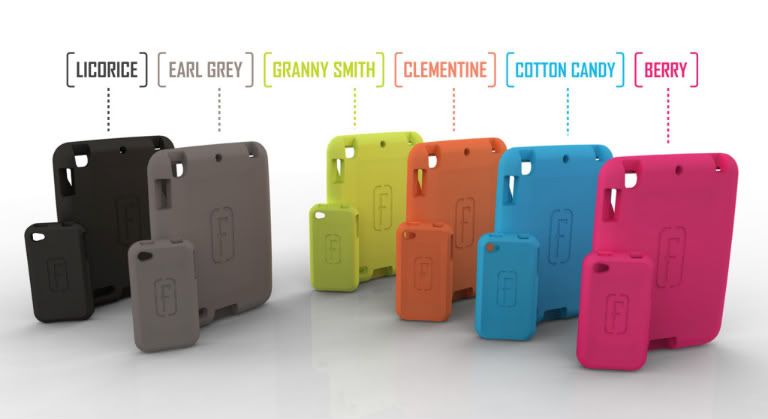 Here's the story:
With so many iPad2 cases available, you may be asking yourselves whether or not the world needs yet another one. We asked ourselves the same question, and the answer was a resounding 'YES'!

As designers, we are always on the lookout for unmet consumer needs. Most of the time, we help our clients identify these opportunities. The Fomation iPad2 Case is a solution to a need we uncovered in our own lives.
As we all know, the iPad2 is a versatile device. In addition to the multitude of apps for business, learning, and entertainment for grown-ups, there are a growing number for children as well. Apple did an amazing job on the design of the iPad2, but let's face it, it's not very durable… especially in the hands of a child.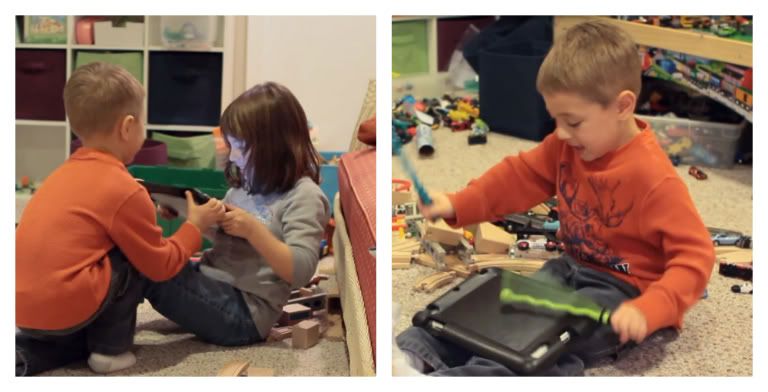 There are a few, whimsically-designed cases on the market that offer a decent amount of protection, but none we would feel comfortable pulling out of a briefcase in a client meeting. Sure, you can always remove your iPad2 from one of these cases and place it into your 'professional' case, but who wants to do that every morning?

Enter the Fomation iPad2 Case. Our iPad2 case is made from durable, polyurethane foam (the same material used on rollercoaster pads, airline armrests, etc.) and holds the iPad2 firmly in place while providing an added level of protection. This foam is professional-grade protective foam unlike that which you would find in popular toy footballs.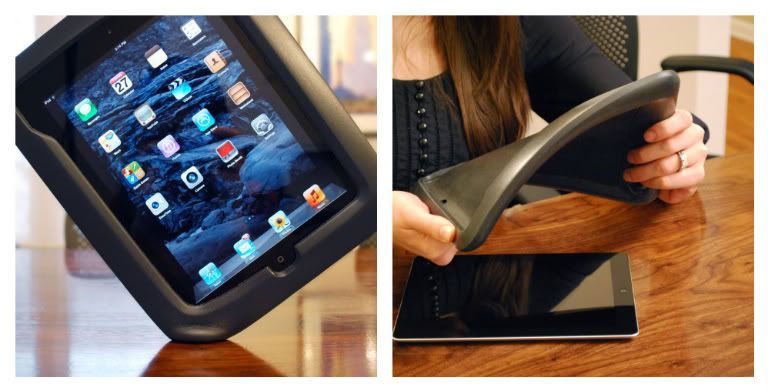 After working through our development process, we were able to land on a design language that is appropriate for both children and adults alike. The design provides excellent perimeter protection to guard against accidental drops, and a raised edge to keep the screen away from the floor in case it ends up laying face-down. The edge is easy to grab, and fits comfortably in your hands. We've allowed easy access for all the features of your iPad2 such as headphones, volume control, camera, etc. One of the best features of our case is the ease with which you'll be able to slide your iPad2 into place. We've designed the opening to receive the device without your having to stress all the corners--and your fingers. Once in place, your iPad2 will be snugly and securely at home.


Although designing a better case was paramount, it was important to us that we find a U.S. manufacturer to produce it. We didn't have to look far for a company that made foam products domestically. We are fortunate to have a well-established manufacturer right here in Cleveland, Ohio… in our own backyard.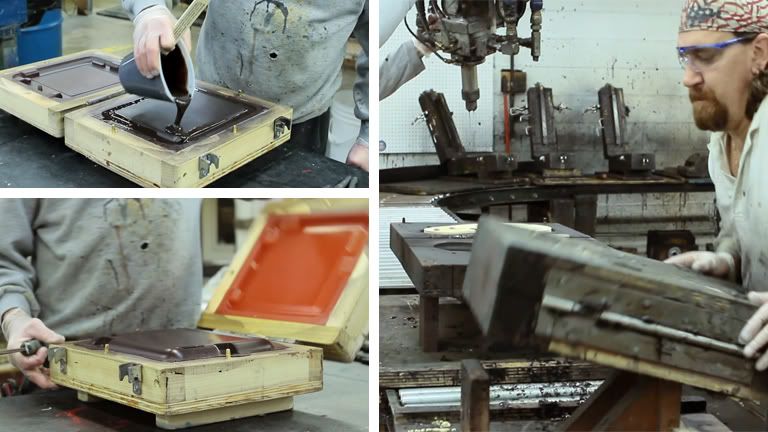 In addition to geographic convenience, we learned that their process was free from the questionable chemicals used in foam manufacturing outside of the U.S. Their products are freon-free, FAA approved, and they meet California Technical Bulletin 117, Section D, Part II. Their foaming equipment is even cleaned with hot soap and water, and we know mother nature likes that.
UPDATE! Got an iPhone4/4S? We've got you covered! Get the same level of protection provided by our iPad2 case! Here's an image of our new iPhone 4/4S case (currently in development):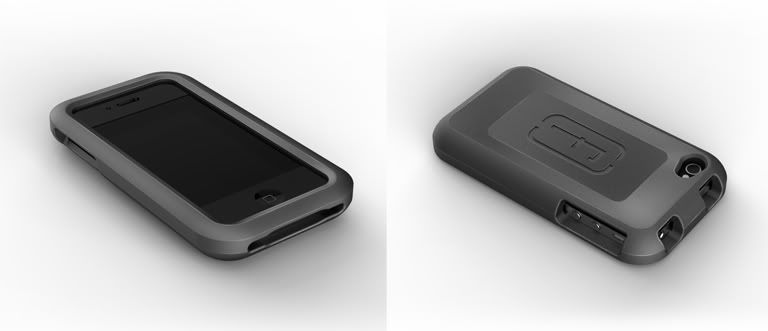 With your support, we will be able fund the production molds and bring the iPad2 and iPhone4/4S cases to the market six-eight weeks after we are funded. Please feel free to pass the word and share our Kickstarter campaign with your friends!
-----------------------------------------------------------****Fomation Facebook Comment:                     " I was considering the 'whimsical' case for the protection, but that seems like admitting to your kid that the iPad is for them"
-----------------------------------------------------------****Fomation Facebook Comment:

"If you ONLY knew how I have looked FAR and WIDE for this so that [my son] can safely bring his iPad to school to use as his communication device. SO excited to see this succeed!"

Fomation: Designed in Cleveland, Made in Cleveland!
First generation iPad note: Due to the fact that we designed this case to fit your iPad2 like a glove, it won't fit the first iPad model properly.   

iPad,iPhone, Apple logo, and Apple are registered trademarks of Apple, Inc.
The music in the video was provided by DanoSongs.com
FAQ
We developed our iPad2 case to fit your tablet like a glove and provide the maximum protection. The original iPad is slightly thicker than the iPad2, and can slide into our case, but not be held securely.

We don't have enough information about the soon-to-be-announced iPad3, so we're not quite sure yet. As soon as it's available, we'll get our hands on one to find out. We're definitely happy to create a new cover for the latest model when it's available.

While we haven't done any truly scientific studies on our level of protection, we can assure you that we've dropped our personal iPads from table tops onto hard floors and even rolled them down flights of stairs without damage. For you tech-types out there, the foam is measured at a durometer of 40, so it's just flexible enough to get the tablet in/out, but tough enough to stand up to almost anything a normal day has in store.
In case you're interested in learning about 'shore durometer': http://en.wikipedia.org/wiki/Shore_durometer

Since we're a small start-up at the moment, we're not able to offer a warranty, nor can we afford to replace your iPad/iPhone should it perish. Our cases don't have any physical cover for your screens, so of course, if something should slam your screen directly, we don't currently protect that.
We're counting on you to use some good old common sense while using your iProducts and rely on Fomation to cushion against some unexpected drops. We don't recommend performing any daring stunts of any kind with your iProducts.
We're not weather proof, completely indestructible, and can't protect against the crushing blows of, say, your automobile…
Thanks for your consideration on this issue.

We have not found any interference issue with our covers. We've been using them around the office and at home, and don't find any noticeable change in WIFI quality. *We haven't done any scientific measurement of this, and this information is based solely on our team's in-use findings on our foam prototypes.

Once our project is funded (fingers crossed), we will follow up and you can let us know which color you want.

We are projecting a retail price of $34.99 for the iPad2 case and $19.99 for the iPhone 4/4s case. We're getting our website up and running as I write, and you'll be able to purchase them directly from our site.
www.fomation.com
We are working on special pricing, as well, for corporate and educational organizations. This special pricing will include customization (molded-in logos and special-order colors) with a minimum quantity TBD.

Because it isn't covered by a Fomation case yet!
95
Backers
$3,868

pledged of $12,000 goal
Funding Unsuccessful This project reached the deadline without achieving its funding goal on February 9, 2012.
Funding period
Jan 10, 2012 - Feb 9, 2012 (30 days)
Pledge $1 or more

3 backers

Get a cool Fomation sticker, your name on our website (coming soon), and the warm feeling that you are supporting independent design and manufacturing.

Estimated delivery: Feb 2012

Pledge $15 or more

18 backers

Get a cool Fomation sticker, your name on our website (coming soon), and our new iPhone4/4S case (well below future retail price). Free shipping within the USA. (Please add $5 for shipping to Canada, $10 for international).

Estimated delivery: Apr 2012

Pledge $25 or more

27 backers

Get a cool Fomation sticker, your name on our website (coming soon), and our new iPad2 case OR choose to receive two iPhone4/4S cases instead (well below future retail price). Free shipping within the USA. (Please add $10 for shipping to Canada, $15 for international).

Estimated delivery: Apr 2012

Pledge $35 or more

16 backers

Get a cool Fomation sticker, your name on our website (coming soon), our new iPad2 case, and our iPhone4/4S case (well below future retail price). Free shipping within the USA. (Please add $10 for shipping to Canada, $15 for international).

Estimated delivery: Apr 2012

Pledge $45 or more

9 backers

Double down! Get a cool Fomation sticker, your name on our website (coming soon), and two of our new iPad2 cases (well below future retail price). Free shipping within the USA. (Please add $10 for shipping to Canada, $15 for international).

Estimated delivery: Apr 2012

Pledge $65 or more

16 backers

Double down X2! Get a cool Fomation sticker, your name on our website (coming soon), two of our new iPad2 cases, and two of our iPhone4/4S cases (well below future retail price). Free shipping within the USA. (Please add $10 for shipping to Canada, $15 for international).

Estimated delivery: Apr 2012

Pledge $150 or more

1 backer Limited (7 of 8 left)

One-of-a Kind Package: Get a cool Fomation sticker, your name and logo on our website (coming soon), and one iPad2 case with your name or logo molded into the back!*** Free shipping within the USA. (Please add $10 for shipping to Canada, $15 for international).-----------------------------------------------------------------------------------------------------------------------------*** Due to the manufacturing process, logos with fine detail may not be possible. Artwork must be in vector format. Please contact us ahead of time before pledging!

Estimated delivery: Apr 2012

Pledge $750 or more

0 backers Limited (6 of 6 left)

Founder's Package: Get a cool Fomation sticker, your name and logo on our website (coming soon), and twenty four iPad2 cases with your school/company/store/etc. logo molded into the back!*** Free shipping within the USA. (Please add $30 for shipping to Canada, $50 for international).-----------------------------------------------------------------------------------------------------------------------------*** Due to the manufacturing process, logos with fine detail may not be possible. Artwork must be in vector format. Please contact us ahead of time before pledging!

Estimated delivery: Apr 2012
View in Video Mode