To my Knowledge this is the first time EVP/ ghostly voices were ever recorded live on the radio.
Thomas Edison appeared in a Science magazine in the 1920's stating that he believed that with enough power and with the right frequency humans could use radio waves as a way to communicate with the dead. "If our personality survives, then it is strictly logical or scientific to assume it retains memory, intellect, other faculties and knowledge we acquire on Earth. Therefore, if we can evolve an instrument so delicate as to be affected by our personality as it survives in the next life, such an
Instrument, when made available, ought to record something." ~Thomas Alva Edison
Inspired by Edison's theories radio Talk show host Clyde Lewis, Reverse Speech Analyst David John Oates, linguistics analyst and illusionist Reed McClintock and inventor Dr. Jonathan Burgess teamed up to put Edison's theories to the test.
With the aid of a transistor radio modified by Burgess and the use of a 150,000 watt FM radio transmitter, Clyde Lewis and his colleagues conducted what could be the first on air séance in radio history. Videographer Mike Smith and a crew consisting of filmmaker David Levine and Sean Paul documented the event which included the movement of objects in the studio and the voices of spirits that spoke on the air to an audience of an estimated 150,000 people worldwide. The documentation does not end with the spirit voices. Smith and crew documented the phone calls of listeners who all claimed to have heard the voices of their dead loved ones speaking to them over the air as well. There were many listeners that night who were also sharing the same vision of man who committed suicide. These events and more are what need to be shown to the world in this historic moment.
If you had proof that the dead can speak and have thousands of witnesses wouldn't it be worth presenting and allowing the rest of the world to hear and see it? All that is needed is seed money to get the project started. People paid all sorts of money for projects that show hoaxed or staged ghostly encounters. Don't you feel it is time to show the real thing?
We want to share this with the world. Please help us share with the world an experience that may change the way we all see the afterlife. For more info check out this link. http://www.groundzeromedia.org/post-mortem-your-emails-concerning-the-edison-enigma/ Here is a link to info for one of Thomas Edison's Original paranormal Experiments http://blog.modernmechanix.com/2006/08/14/edisons-own-secret-spirit-experiments/...
Thanks Mike Smith
FAQ
Have a question? If the info above doesn't help, you can ask the project creator directly.
4
Backers
$85.00

pledged of

$10,000

goal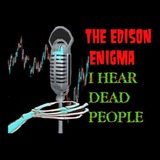 Pledge

$10

or more

You selected

1 backer

Everyone who helps our project with $10 or more gets a link to an exclusive sneak preview of the film before the DVD is available to the public. You will also be given a password that will allow you to watch the THE EDISON ENIGMA as many times as you like! It will be like you have Netflix set up to watch only one film.

Pledge

$25

or more

You selected

3 backers

People who help out with $25 or more get a DVD of THE EDISON ENIGMA sent to them in the mail. You will also receive the first reward.

Pledge

$40

or more

You selected

0 backers

Help us out with $40 and you get an EDISON ENIGMA or an OPERATION FRIENDLY GHOST T-SHIRT. You will also receive the first reward. Here are links to see the shirt designs. http://rlv.zcache.com/operation_friendly_ghost_t_shirt-d235803476395433202azgw0_325.jpg http://rlv.zcache.com/the_i_heard_dead_people_t_shirt-d235426472899709415azgw0_325.jpg

Pledge

$100

or more

You selected

0 backers

If you decide to back us with $100 or more, you will get a DVD of the Edison Enigma sent to you as well as your name in the credits of our film. You will also be getting the first reward.
Funding period
- (60 days)
View in Video Mode