New B.CALLA footwear collection w/ Jeffrey Campbell's The Damned!!!
Hey everyone!  One of Brad's shoes for Fall just came out on Solestruck!  This is part of a very exciting collaboration with The Damned, Jeffrey Campbell's men's line.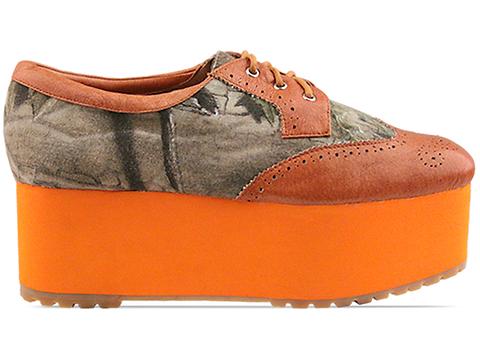 This one is called The Kline!  Imagine what "THE SALLY" could look like...
64
Backers
$2,560

pledged of $2,500 goal
Funding period
Jul 25, 2012 - Aug 24, 2012 (30 days)
Pledge $1 or more

2 backers

Thank You! You will receive a *tweet* and a "Thank You" in the credits for the project.

Estimated delivery: Dec 2012

Pledge $10 or more

12 backers Limited (8 of 20 left)

Digital Download of the "A Alternatives" soundtrack + a PDF look book. Featuring: Samuel Consiglio of ADULT. and Tamion 12 Inch & Colin Self of HD Boyz, SSION and Chez Deep!!! *BONUS* You will also receive a 20 x 20 inch Ke$ha/Crass logo POSTER + a limited edition zine in the MAIL!

Estimated delivery: Dec 2012

Pledge $25 or more

24 backers Limited (26 of 50 left)

LIMITED EDITION Ke$ha/Crass T-Shirt featuring Gentileschi's "Judith Beheading Holoferenes" WHAT?!?!

Estimated delivery: Oct 2012

Pledge $30 or more

4 backers Limited (6 of 10 left)

A suite of 3 signed and editioned photo prints from "A Alternatives" !!!

Estimated delivery: Dec 2012

Pledge $40 or more

8 backers

Soundtrack download + Ke$ha/Crass T-Shirt + a HAND WRITTEN thank you letter from Sally + B.CALLA. It will be perfumed and adorned with stickers and kisses.

Estimated delivery: Oct 2012

Pledge $60 or more

4 backers Limited (2 of 6 left)

An original collage by Sally Johnson. SUPER limited + featured in the filming of "A Alternatives" *AND* a soundtrack and a t-shirt!!

Estimated delivery: Dec 2012

Pledge $80 or more

3 backers Limited (7 of 10 left)

Digital Download + T-Shirt + Suite of 3 signed + editioned photos + An original drawing by Sally Johnson and sketch by B.CALLA!!!

Estimated delivery: Dec 2012

Pledge $100 or more

0 backers Limited (5 of 5 left)

B.CALLA and Sally will provide Skype styling advice to you! We will help clean up your wardrobe and spice up your life! Also includes the Ke$ha/Crass tee and a personalized "DO's and DON'Ts" tailored to your reference point!

Estimated delivery: Oct 2012

Pledge $200 or more

1 backer Limited (4 of 5 left)

The same package from $100 AND Sally will personally write a song and send you a customized mp3 that you can play at every house party you have from now on, or when you're like, shopping at the mall, or on the train, or just, you know, emotional?

Estimated delivery: Dec 2012

Pledge $500 or more

1 backer Limited (4 of 5 left)

AN ENTIRE B.CALLA LQQK!!! Be the first to pull from the SS13 collection with a full 3-piece outfit of your choosing!

Estimated delivery: Dec 2012