Hi everyone. Just wanted to post a final update to the campaign. Right now as some of you are aware, we're running a campaign for our first expansion The 90 Proof Seas. Which you can check out HERE!
But I wanted to make sure everyone knew that they had an opportunity to receive a bunch of extras for a very discounted rate. With the currently unlocked Stretch Goals this is what you as Previous Backers would get for helping us cover the cost of shipping out your FREE expansion!
Basically there is a teir called PREVIOUS BACKERS that you would pledge either $8 or $16 into and above is the rewards you would get for that pledge. Alternatively, a lot of you mentioned in emails and social media posts that you wish you would have had the funds to get into the Founders tier during the last campaign. So we've given Previous Backers a discount on getting into the Platinum tier (which is the same as Founders) for this new campaign and here is what's included in that tier as of now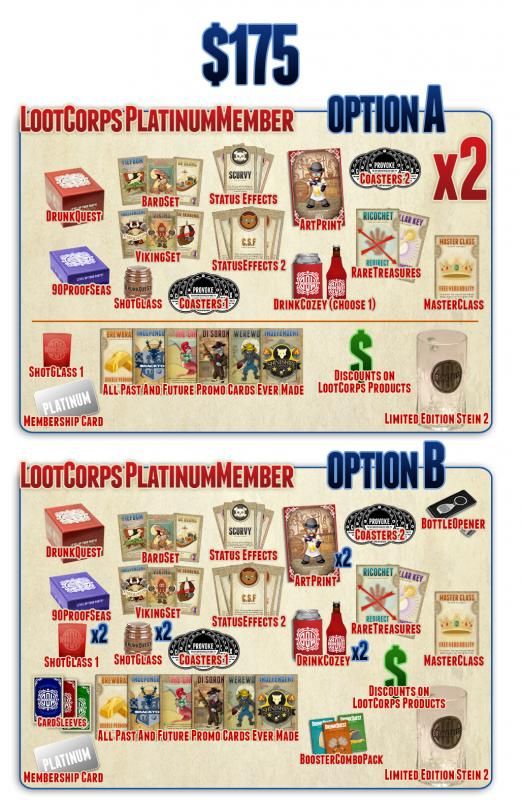 … As you can see, there are 2 options here. This is for those of you who don't want "duplicates" of the same stuff. When the survey goes out after the campaign, you'll be able to choose which option you'd like. Anyway, thanks again for helping us make DrunkQuest a reality and we're just a few months away from sending out everyone's expansion! SIDE 
NOTE: If you still haven't received your original copy its because you have not paid shipping. Though we've tried getting ahold of you a few different ways I have a feeling a lot of them went straight to spam :P (I apologize for the delay and trouble with having to add shipping. It was our first Kickstarter and we were learning.)  anyway, you can still cover the cost of your shipping by sending the funds to drunkwizard@drunkquest.com but at this point we will be waiting to add your expansion with your package and sending them both out at once.
So once again thanks for the support!
12 Comments