WE DID IT !
Thank you all for making this possible.
We reached our initial goal of 9800 $. But we have another 24 days to go. The next step is to raise money for a trip to Peshawar in Pakistan. In the last 30 years many refugees from Afghanistan have lived in this city. It has not only strong ties to Afghanistan it also has its own unique Afghan culture. We have interviewed photographers who have worked there in the past and have still family members living there. And we want to follow these threads.
Again sincere thanks and keep spreading the word.
Lukas & Sean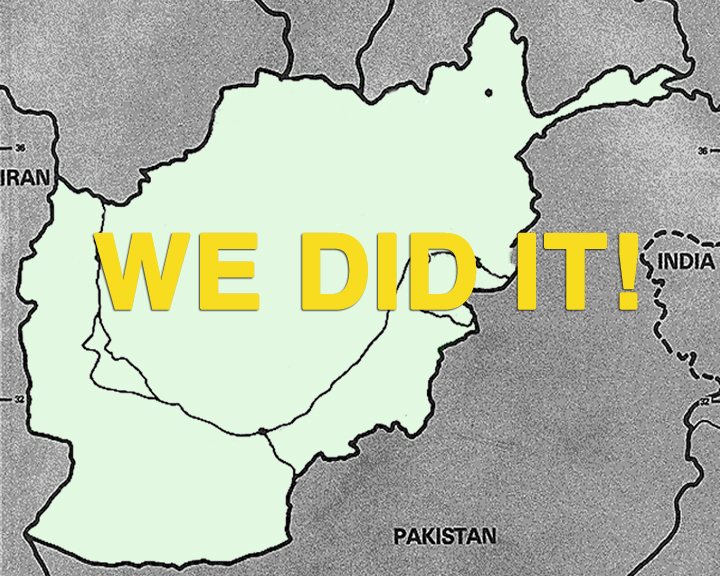 122
Backers
$11,280

pledged of $9,800 goal
Funding period
Jan 31, 2012 - Mar 31, 2012 (60 days)
Pledge $10 or more

13 backers

You'll get a heartfelt thanks on our website and blog updates from Afghanistan while we're there as well as updates on the progress of the project. (This applies to all other rewards too.)

Estimated delivery: May 2012

Pledge $25 or more

23 backers

Our heartfelt thanks on the website and a postcard from all the way from Afghanistan!

Estimated delivery: Jul 2012

Pledge $50 or more

32 backers

We'll post you an original box camera photograph from Afghanistan.

Estimated delivery: Jul 2012

Pledge $75 or more

4 backers

You'll receive a copy of your own photograph from an Afghan box camera photographer! (You email us a digital photo of you and we post the box camera versions back. Check out the sample down below.)

Estimated delivery: Jul 2012

Pledge $100 or more

8 backers

Receive a copy of your photograph from an Afghan box camera photographer and a specially designed Afghan Box Camera Project t-shirt by us! Check out the sample rewards down below.

Estimated delivery: Jul 2012

Pledge $125 or more

5 backers

Get a signed copy of the book when it comes out.

Estimated delivery: Sep 2013

Pledge $200 or more

8 backers

You'll get a signed copy of the book, an original box camera photograph and a specially designed Afghan Box Camera Project t-shirt! Check out the t-shirt below. (Photograph and t-shirt will be shipped by July 2012.)

Estimated delivery: Sep 2013

Pledge $350 or more

0 backers

We'll personally acknowledge you in the book and send you a signed copy, as well as an original box camera photograph! (Photograph will be shipped by July 2012.)

Estimated delivery: Sep 2013

Pledge $500 or more

0 backers

You'll get an original hand coloured photograph from an Afghan photographer, and a signed copy of the book in which you'll be thanked. Check out the sample rewards below. (Photograph will be shipped by July 2012.)

Estimated delivery: Sep 2012

Pledge $1,000 or more

0 backers

We'll give you a personal acknowledgment in the book and send you two signed copies, a hand coloured photograph, two box camera photographs and a specially designed Afghan Box Camera Project t-shirt. Check out the sample rewards below. (Photographs and t-shirt will be shipped by July 2012.)

Estimated delivery: Jul 2012

Pledge $2,500 or more

0 backers Limited (3 of 3 left)

Pledge $2,500 or more and we'll source an original Afghan box camera for you! Along with the camera comes a video instruction guide and manual on how to use it, two signed copies of the book where you will find a personal acknowledgment, two box camera photographs and an Afghan box camera t-shirt. Check out the sample rewards below. (Camera set, photographs & t-shirt will be shipped by August 2012.)

Estimated delivery: Sep 2013

Pledge $5,000 or more

1 backer Limited (1 of 2 left)

Pledge $5000 or more and you'll get everything in the previous reward PLUS Lukas will come to your doorstep anywhere in the USA, UK, Europe, China or Australia (these are the places he travels to most for work) and personally deliver an original Afghan box camera! He'll give a private workshop where he'll teach you and guests how to use the camera as well as take portraits! He'll also deliver a presentation on the project and show you original materials from Afghanistan that we've collected. (The delivery date of the workshop as well of other locations can be discussed with us beforehand, the book comes out in September 2013)

Estimated delivery: Sep 2013