We want to bring the Duke Nukem Mobile games to iOS/Android - become part of a gaming legend!
Become part of a Legend!
3D Realms and Machineworks to reboot the two original Duke Nukem Mobile Games on
iPhone and Android phones.
In 2003, Machineworks and 3D Realms teamed up to create two best selling cell phone games, Duke Nukem Mobile, and Duke Nukem Bikini Project.
Duke Nukem Mobile was the second highest rated Duke game of all-time (of over 15 original Duke games across numerous platforms), only behind Duke
Nukem 3D!
See screenshot from Game Rankings below: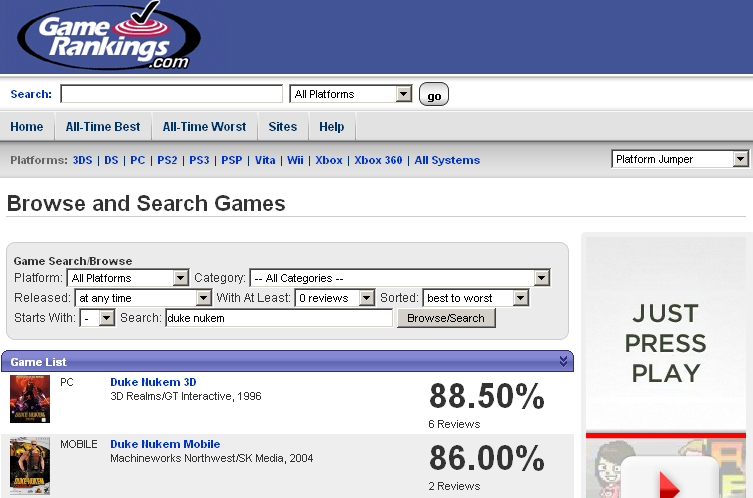 Here is the 8.7 review and the IGN Editor's choice review:
http://wireless.ign.com/articles/472/472639p1.html
But, get this! Back then phones pretty much sucked for playing games, with small screens and having to use the chiclet numeric buttons for input. It's only a few years ago, but it seems so barbaric in hindsight. And although we did the best we could, we know that on today's phones we can do these games the justice they deserve.
What made Duke Mobile fun!
A few quotes from the Gamespot review:
o "Nukem looks and sounds absolutely fantastic. The level graphics are bright and beautiful, the slavering hordes of invaders are appropriately monstrous, and
Duke looks as hard-bitten and grizzled as ever."
o "A truly fantastic mobile action game [with] stellar core gameplay."
And from IGN, reviewing the sequel, Duke Nukem Bikini Project:
o "Action gamers will likely get a lot of mileage out of Duke Nukem Bikini Project. The presentation is rock solid, such as the improved sprites and the digitized
speech. While the game offers no radical departure from previous editions, Duke Nukem has never really been about anything more than shooting up alien
scumbags and looking good for the ladies. And in that respect, Duke Nukem Bikini Project succeeds."
Let's talk about the games
Duke Nukem Mobile and Duke Nukem Bikini Project are both original side-scrolling shooters, with original stories driving the action forward. Each game features Duke's signature one-liners while Duke gladly kicks serious alien ass with his steel-toed boots when he's attacked by alien pigcops, and other nasty aliens. These fall easily but soon give way to more annoying baddies, like octabrains, recon patrol vehicles, and some outrageous bosses, and eventually no match to Duke's groundbreaking arsenal of unique alien-blasting weapons.
Duke Nukem Mobile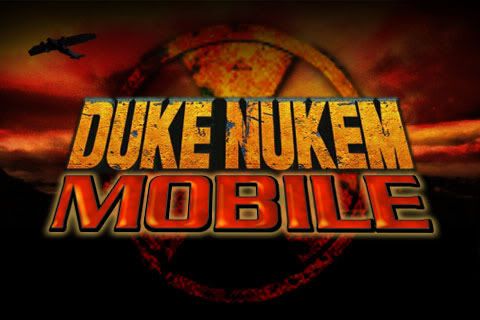 Duke Nukem Mobile was the first of the Duke Nukem Mobile universe, Duke Nukem Bikini Project was the second one. Both were hugely successful and played great on "dumb phones", with very easy controls: Walk left, walk right, walk up, walk down, shoot. They delivered plenty of firepower and will rock even more on an iPhone.
Here is some data to give you an idea of what it took to squeeze 15 Levels of game play into these archaic phones:
- the smallest version of Duke Mobile was 64k in size and and had five levels, including sounds in it.
- the Sprint 128k version had all 10 levels in it.
- the european version of game was even marketed via TV commercials!
- the Verizon version had dynamic difficulty - the more pigcops you killed, the tougher they became to get rid of!
Any game screenshot on your iPhone is larger than the size of the WHOLE GAME!
Here are some art examples: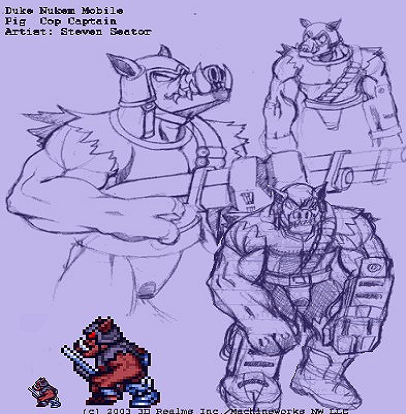 Here is some info on the second one:
Duke Nukem Mobile II (aka Bikini Project)
Duke Nukem Bikini Project added Duke's jet pack and a flamethrower!
Duke Bikini Projects had improved graphics, more animation frames, more weapons and looked overall better and ran faster as the phones continued to improve!
THESE GAMES ROCK AND DUKE SAYS:
I WANT THESE GAMES ON MY IPHONE!
If we succeed at our funding goal of $45,000, here's our plan:
We will bring both games to the iPhone platform--and sell them both as a Double Duke Deal, where you get both games as one download!
If we raise a lot more, we will improve the graphics!!
Now, let's check out a mock-up to see how the improved graphics could look on the iPhone:

Note: The images above are artist renderings and might change!
Both games will be free in the App store
ALL CONTRIBUTORS to the funding of these games, via Kickstarter, will be rewarded with ample Duke Cash! For example, if you donate $10 (the minimum funding level), you will get $10 worth of in-game Duke Cash. Likewise, if you donate $50, you will get $50 worth of in-game Duke Cash to spend as you want.
We will add an economy to both games, so that you can use Duke Cash to upgrade weapons. That's right, for the first time ever in a Duke game, weapons
will be upgradeable.
We plan to release new upgrades over time for both games that can be purchased with Duke Cash, such as these possibilities: new weapons, new weapon upgrades, special ammo, new levels, new voice packs, and so on. So Duke Cash will always be valuable and spendable.
What is a freemium game?
The game is free and comes with a certain amounts of weapons, levels and items. You use in-game currency to purchase and upgrade your weapons and
additional levels.
How long will it take to make the game?
4-6 months
How can I get it once it's done?
From the app store on your iPhone or iPad and potentially on Google Play.
How much are we raising?
$45,000
What happens if we raise more?
We will bring the game Android and if the budget allows it, make specific high-end versions for smartphones and tablets and improve the graphics (see mockup above)
If we raise a lot more, we will add additional levels.
If we raise A LOT more, we will add a previously unreleased, but conceptualized add-on pack:
Duke Nukem Crush Depth, a level-pack that adds underwater levels.
We might even include a lot more Duke one-liners in both games. Who doesn't want more one-liners!

.
###########################################################
Special $15,000 Pledge! BECOME IMMORTAL!


For $15,000 we will put a complete a single screen right after the title and dedicate the game to you - in Duke fashion - of course!
Plus you get a two foot tall, hand painted Duke Nukem Radioactive Symbol Plaque with your name engraved at the base!
Contact us at info@machineworksnorthwest.com
###########################################################
Attention all Backers:
You will receive regular updates on development progress, including behind-the-scenes screenshots and info!
Here is what Paul Trowe, of recent Kickstarter Leisure Suit Larry Fame, had to say about this project:
"Duke Nukem Mobile was a huge milestone in mobile gaming back in 2003 when it was published for Brew/Java based phones.  Machineworks has been making mobile games before mobile games were even in color, and the phenomenal job they've done with Duke is just jaw dropping!!  I can't wait to play this game on my iPhone because I know the Andreas and the gang at Machineworks is going to kill it!!!"
Thanks Paul, you rock!
FAQ
Have a question? If the info above doesn't help, you can ask the project creator directly.
15
Backers
$163

pledged of $45,000 goal
Funding Unsuccessful This project reached the deadline without achieving its funding goal on October 10, 2012.
Funding period
Sep 19, 2012 - Oct 10, 2012 (21 days)
Pledge $10 or more

8 backers

Get the game and $10 worth of in-game Duke Cash.

Estimated delivery: Jan 2013

Pledge $20 or more

4 backers

Get the game and $20 worth of in-game Duke Cash. Get two Duke Ringtones: one based on the Duke theme song, the other using Duke's voice!

Estimated delivery: Jan 2013

Pledge $30 or more

0 backers

Get the game and $30 worth of in-game Duke Cash, and your name in the credits via a link in the game to the official online credit page. Get two Duke Ringtones: one based on the Duke theme song, the other using Duke's voice!

Estimated delivery: Jan 2013

Pledge $40 or more

0 backers

Get the game and $40 worth of in-game Duke Cash, and your name in the credits via a link in the game to the official online credit page. Get two Duke Ringtones: one based on the Duke theme song, the other using Duke's voice!

Estimated delivery: Jan 2013

Pledge $100 or more

0 backers

Get the game and $50 worth of in-game Duke Cash, and your name within the digitally distributed game itself, in the credit section so you can show off to your friends! Get two Duke Ringtones: one based on the Duke theme song, the other using Duke's voice! And a poster of the title screen! Get regular development updates including art previews.

Estimated delivery: Jan 2013

Pledge $200 or more

0 backers

Get the game and $50 worth of in-game Duke Cash, and your name within the digitally distributed game itself in the credit section so you can show off to your friends! And a printed MOVIE-SIZED poster of the Title Screen suitable for framing. Get two Duke Ringtones: one based on the Duke theme song, the other using Duke's voice! Get regular development updates including art previews.

Estimated delivery: Jan 2013

Pledge $2,000 or more

0 backers Limited (10 of 10 left)

Get the game and $50 worth of in-game Duke Cash, and your name within the digitally distributed game itself in the credit section so you can show off to your friends! A printed movie-sized poster of the Title Screen suitable for framing. PLUS, we will put a billboard in a level with an approved picture that you send us of yourself, in form of a wanted criminal. Get two Duke Ringtones: one based on the Duke theme song, the other using Duke's voice! Get regular development updates including art previews.

Estimated delivery: Jan 2013

Pledge $5,000 or more

0 backers Limited (5 of 5 left)

For $5,000 we will create a monster and name it after you! (We might have to creatively adjust your name to fit the game:)) You will also get all the 2000$ Price Tier rewards, of course! Get regular development updates including art previews.

Estimated delivery: Jan 2013

Pledge $10,000 or more

0 backers Limited (3 of 3 left)

For $10,000 we will create a monster and a GAME LEVEL and name both after you --- (We might have to creatively adjust your name to fit the game:)) You will also get all the $2000 Price Tier rewards, of course! Get regular development updates including art previews.

Estimated delivery: Jan 2013