Update on Rewards & Final Trading Tortoise Event: SF!
Hello friends, family & backers! 
We are back in California and going full-force producing our rewards and planning our final event in San Francisco for this coming Monday, 11/12! You should all have received shipping info surveys by now... as soon as we receive your responses, we can start our t-shirt order and get things going. We can't wait!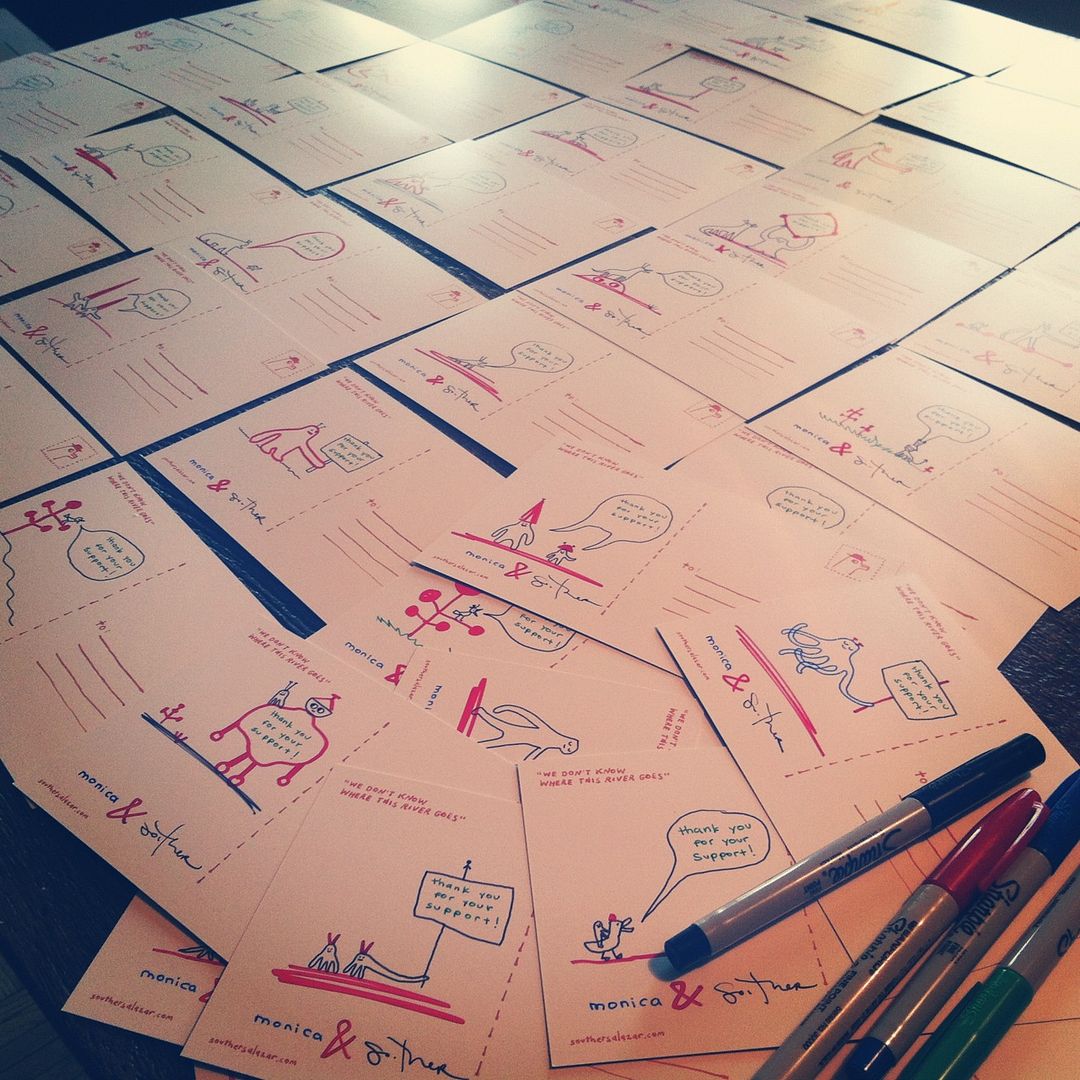 The postcards, stickers, and CDs are in. Waiting for the buttons and still working away on the zines. Once we get the first tiers of rewards out, we can start on the choybots, Scrappers, one-of-a-kind prints & originals!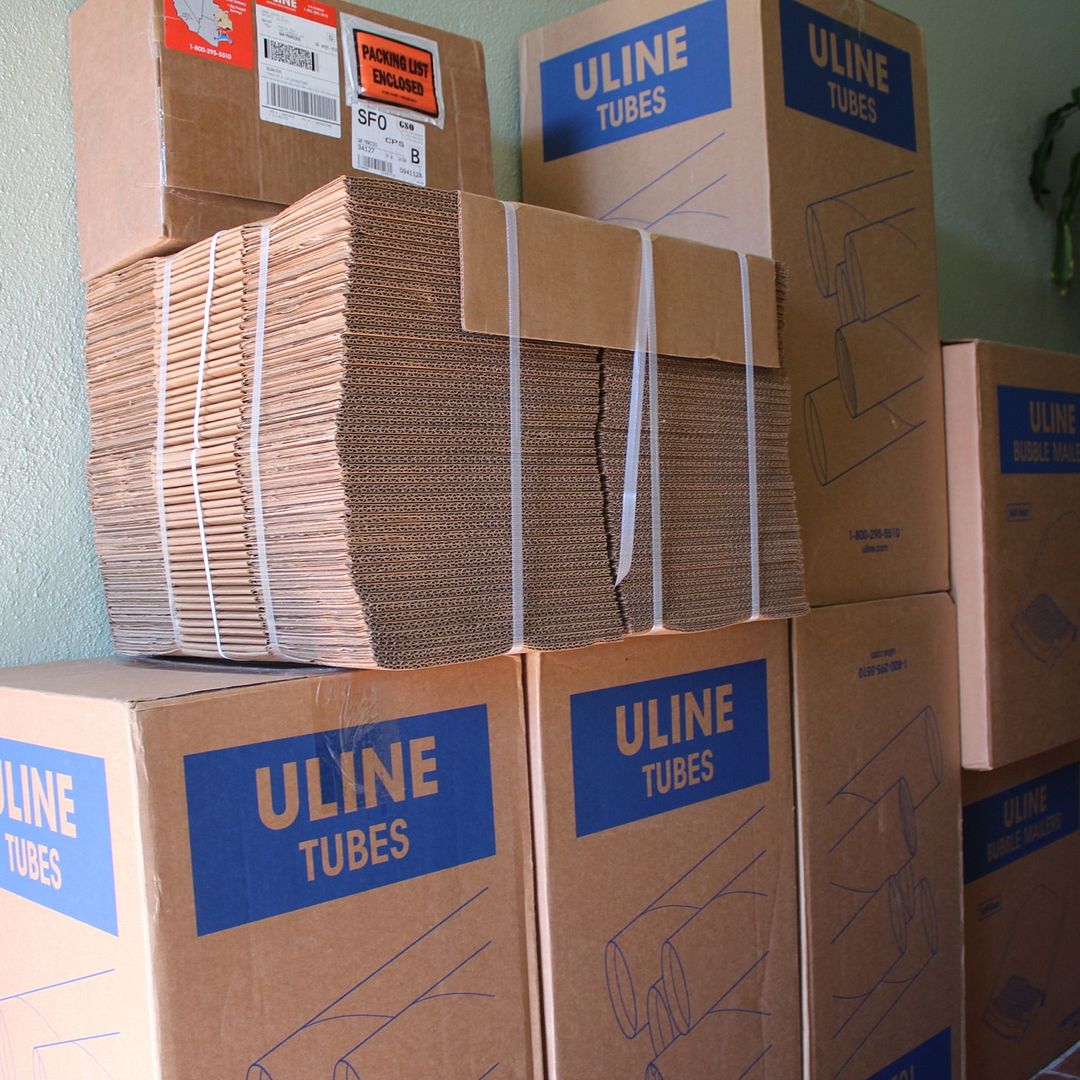 We ordered all our shipping materials last week and they arrived... at the neighbor's house down the street. Monica's dad was kind enough to go retrieve them all for us because we were out of town. This is what 100 tubes, 50 boxes, and 600+ envelopes look like. Thanks Dad! You're the best. We're sure it was quite the workout!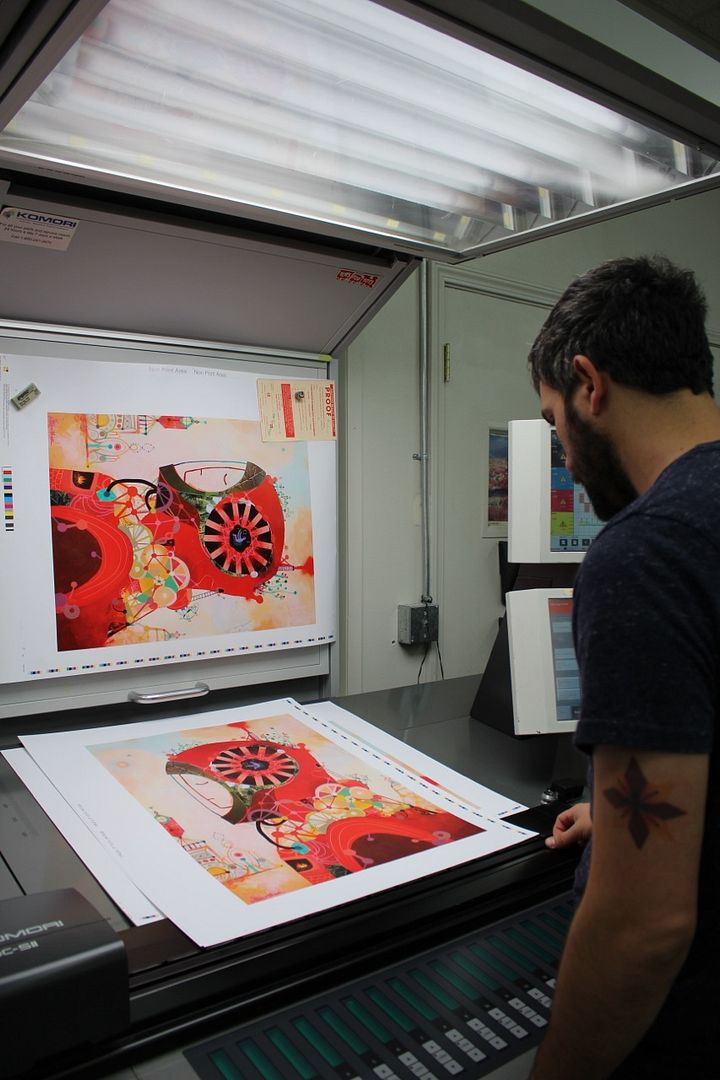 We also started production on the "Crashlander" print. We approved the proof yesterday and had a press check this morning. The prints are looking great and they should all be printed and cut by the end of this week!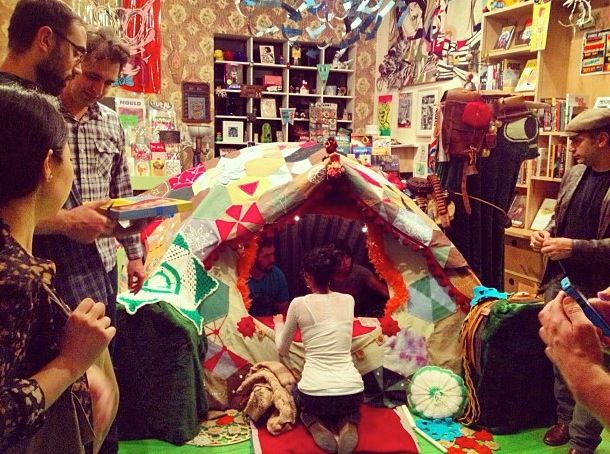 photo by: Malena Seldin
Most urgently, we wanted to let you all know that we are having our Closing Event this coming Monday, 11/12 from 7pm-11pm and are celebrating with a potluck & raffle at The Luggage Store Gallery in San Francisco! 
We will be displaying the remaining 120+ unique items from our project, and finding new homes for them via raffle throughout the evening. We still have so many wonderful items and stories to share. Please come and take a part of our project home with you!
Ways to trade for extra raffle tickets (the more you have, the more chances you'll have to win your favorite items):
Bring some food or drink to share! 
Bring a donation of an unopened toy or unused hygiene kit item (socks, soap, shampoo, deodorant, toothpaste, toothbrushes, shaving cream, razors, feminine hygiene products). We will accept these as donations for Glide Memorial.
This event is free and all-ages friendly. We hope to see all you Bay Area folks there! Many thanks to the folks at Yerdle for hosting this event. 
Here is the event info one more time: 
Trading Tortoise Closing Party, Potluck & Raffle
The Luggage Store Gallery
1007 Market Street (at 6th), San Francisco 94103
Monday, November 12
7pm - 11pm

Thank you all for your support and kindness. This has been an amazing journey and we couldn't have done it without you!
Best wishes, 
Monica & Souther

395
Backers
$26,881

pledged of $13,325 goal
Funding period
Apr 16, 2012 - May 6, 2012
Pledge $1 or more

32 backers

Our sincere thanks for contributing to our project! Every dollar helps.

Estimated delivery: May 2012

Pledge $10 or more

67 backers

A postcard of one of Souther's paintings with a handwritten 'Thank You' note and 2 stickers with artwork by Souther & Monica. (International pledges: please add $2 shipping)

Estimated delivery: Jul 2012

Pledge $15 or more

36 backers

All of $10 rewards and a button 4-pack with artwork by Souther & Monica. (International pledges: please add $2 shipping)

Estimated delivery: Jul 2012

Pledge $25 or more

57 backers

All of $15 rewards and a travel-themed mix CD exclusive to this Kickstarter project with cover art by Souther. (International pledges: please add $2 shipping)

Estimated delivery: Jul 2012

Pledge $40 or more

74 backers

All of $25 rewards and subscription to 5 monthly travel zines (June - Oct 2012) that we'll make and mail while on the road. (International pledges: please add $5 shipping)

Estimated delivery: Jul 2012

Pledge $55 or more

38 backers

All of $40 rewards and 1-color silkscreened t-shirt with Souther's artwork. (International pledges: please add $5 shipping)

Estimated delivery: Aug 2012

Pledge $100 or more

36 backers

All of $55 rewards and 20"x28" print of Souther's painting "Crashlander". (International pledges: please add $5 shipping)

Estimated delivery: Aug 2012

Pledge $150 or more

14 backers Limited (6 of 20 left)

All of $100 rewards and a custom Choybot plush friend handmade especially for you; created while on the road. Pledgers in this category can customize their Choybot's color & species. (International pledges: please add $5 shipping)

Estimated delivery: Nov 2012

Pledge $200 or more

4 backers Limited (6 of 10 left)

All of $100 rewards and a one-of-a-kind Scrapper by Souther (a hand bound mini-book with original doodles, misc. zine pages/outtakes, xerox mishaps, cutout leftovers, pen tests, notes from beyond, pieces of prints, sketches, etc.) (International pledges: please add $5 shipping)

Estimated delivery: Nov 2012

Pledge $300 or more

6 backers Limited (16 of 22 left)

All of $100 rewards and a one-of-a-kind framed print with hand-embellished details by Souther. (International pledges: please add $10 shipping)

Estimated delivery: Nov 2012

Pledge $550 or more

2 backers Limited (4 of 6 left)

An original one-color ink drawing by Souther; created while on the road (professionally framed). -- When drawings are completed, pledgers in this category will be contacted to select pieces in the order their pledges were received. (International pledges: please add $40 shipping)

Estimated delivery: Dec 2012

Pledge $850 or more

3 backers Limited (3 of 6 left)

An original mixed media drawing by Souther; created while on the road (professionally framed). -- When drawings are completed, pledgers in this category will be contacted to select pieces in the order their pledges were received. (International pledges: please add $40 shipping)

Estimated delivery: Dec 2012

Pledge $1,500 or more

4 backers All gone!

An original 10"x20" mixed media painting on wood panel by Souther; inspired by our travels. -- When paintings are completed, pledgers in this category will be contacted to select pieces in the order their pledges were received. (International pledges: please add $40 shipping)

Estimated delivery: Dec 2012