Thank You! First parts and the SDK
Hi Kickstarters!
First of all thank you so much for your incredible 702% support!!! You are amazing. We've been extremely hard at work since the end of the campaign getting all the pieces in place for production. This week we received the first sample parts from the injection molds and metal stamping tools and the parts are looking really great! We even had a few clear parts made to help us see any potential problems. Very cool looking!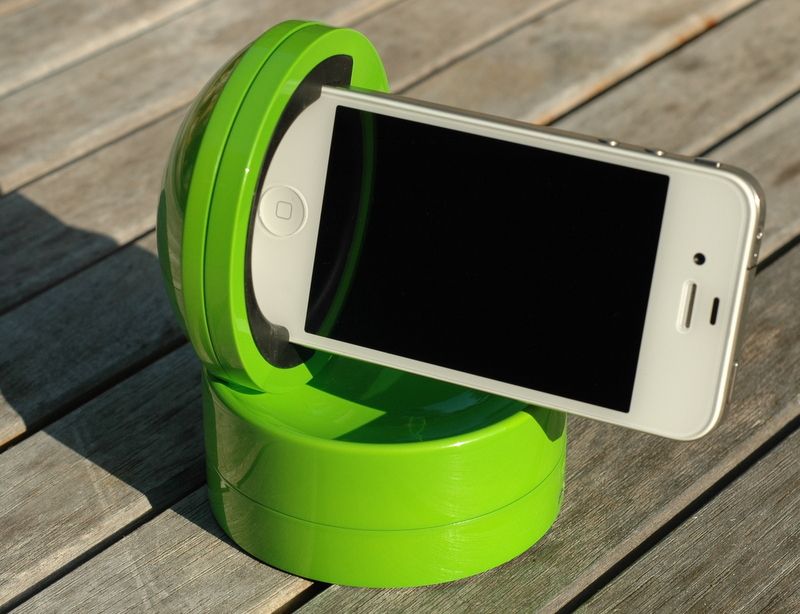 We also had a beautiful Kickstarter Green prototype made up. 
The SDK will be released for testing to a small number of app developers next week. We expect the testing period to be quite short and then the SDK will be released to all 120+ developers who have requested the SDK.
We also wanted to thank Max and his crew at Maximizevideo.com for producing our Kickstarter video. With so many possible applications Galileo is a difficult product to explain in 2 minutes and 34 seconds. We think Max and his crew were able to beautifully convey how vast the possibilities are for Galileo. Thank you Max!
Thank you again Kickstarters! We will post more as parts come in, the SDK goes out and Galileo moves ever closer to being released into the wild.
Very Best,
Team Motrr
5,227
Backers
$702,427

pledged of $100,000 goal
Funding period
Mar 22, 2012 - Apr 21, 2012 (30 days)
Pledge $5 or more

47 backers

A very big thank you from us and your name listed on our website as a supporter.

Estimated delivery: Jun 2012

Pledge $25 or more

21 backers

One fantastic Galileo T-shirt.

Estimated delivery: Jun 2012

Pledge $85 or more

3415 backers

One Galileo in your choice of black or white. Compatible with iPhone 4, iPhone 4S, and iPod Touch 4th generation and up. The retail value is $129.95. Free US shipping; add $20 for International shipping.

Estimated delivery: Jun 2012

Pledge $95 or more

638 backers

One Galileo in limited edition Kickstarter Green. This color will only be available to Kickstarter supporters. Free US shipping; add $20 for International shipping.

Estimated delivery: Jun 2012

Pledge $160 or more

642 backers

Two Galileos in your choice of black or white. Compatible with iPhone 4, iPhone 4S, and iPod Touch 4th generation and up. The retail value is $259.90. Free US shipping, add $20 for International shipping.

Estimated delivery: Jun 2012

Pledge $175 or more

177 backers

Two Galileos. One in Kickstarter Green and one in your choice of black or white. Compatible with iPhone 4, iPhone 4S, and iPod Touch 4th generation and up. Free US shipping, add $20 for International shipping.

Estimated delivery: Jun 2012

Pledge $190 or more

47 backers

Two Galileos in limited edition Kickstarter Green. This color will only be available to Kickstarter supporters. Free US shipping; add $20 for International shipping.

Estimated delivery: Jun 2012

Pledge $285 or more

25 backers

Galileo Gift Pack! One Galileo in your choice of black or white, plus one 8GB iPod Touch in your choice of black or white. Free US shipping, add $20 for International shipping.

Estimated delivery: Jun 2012

Pledge $300 or more

20 backers Limited (80 of 100 left)

Pre-Release for Developers - At this level developers will receive one pre-release Galileo approximately one month before the first mass production units ship and one production Galileo as part of the general Kickstarter shipment. Your choice of color for both Galileos. Free US shipping, add $40 for International shipping.

Estimated delivery: May 2012

Pledge $375 or more

67 backers

NEW - Galileo Retail Pack (single color) - five black or five white Galileos. Compatible with iPhone 4, iPhone 4S, and iPod Touch 4th generation. The retail value is $649.75. Free US shipping; add $40 for International shipping.

Estimated delivery: Jun 2012

Pledge $400 or more

6 backers

NEW - 4 + 1 Galileo Retail Pack (4 single color plus 1 Green) - four black or four white Galileos plus one Kickstarter Green Galileo. Compatible with iPhone 4, iPhone 4S, and iPod Touch 4th generation. Free US shipping; add $40 for International shipping.

Estimated delivery: Jun 2012

Pledge $700 or more

23 backers

NEW - Galileo Retail Pack - five black and five white Galileos. Compatible with iPhone 4, iPhone 4S, and iPod Touch 4th generation. The retail value is $1,299.50. Free US shipping; add $60 for International shipping.

Estimated delivery: Jun 2012

Pledge $1,300 or more

22 backers

NEW - Galileo Distributor Pack - 10 black and 10 white Galileos. Compatible with iPhone 4, iPhone 4S, and iPod Touch 4th generation. The retail value is $2,599.00. Free US shipping; add $100 for International shipping.

Estimated delivery: Jun 2012

Pledge $3,200 or more

4 backers

NEW by request - Galileo 50 Pack - 50 Galileos in your choice of color. Compatible with iPhone 4, iPhone 4S, and iPod Touch 4th generation. Free US shipping; add $250 for International shipping.

Estimated delivery: Jun 2012

Pledge $3,969 or more

3 backers

NEW by request - Galileo 63 Pack - 63 Galileos in your choice of color. Compatible with iPhone 4, iPhone 4S, and iPod Touch 4th generation. Free US shipping; add $300 for International shipping.

Estimated delivery: Jun 2012

Pledge $6,200 or more

3 backers

NEW by request - Galileo 100 Pack - 100 Galileos in your choice of color. Compatible with iPhone 4, iPhone 4S, and iPod Touch 4th generation. Free US shipping; add $400 for International shipping.

Estimated delivery: Jun 2012

Pledge $10,000 or more

5 backers

NEW by request - Galileo 170 Pack - 170 Galileos in your choice of color. Compatible with iPhone 4, iPhone 4S, and iPod Touch 4th generation. Free US shipping; add $650 for International shipping.

Estimated delivery: Jun 2012