Early Daisy
Hey all!  So we're on the home stretch for the Daisy Kutter book production (and concurrent app development!).  Jason has finished updating, formatting, and digitally restoring all the page files, and I am currently putting together the extra materials.  Here are a couple of pages from the back of the book, where you will see full color extras...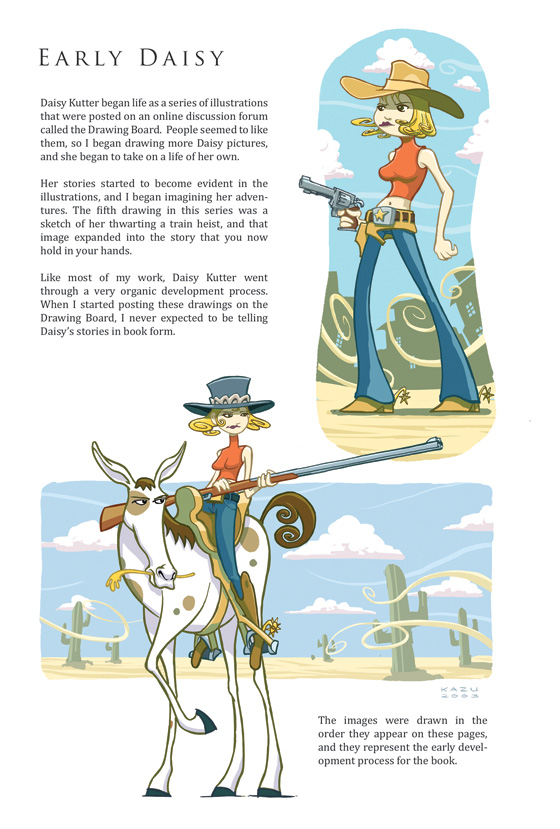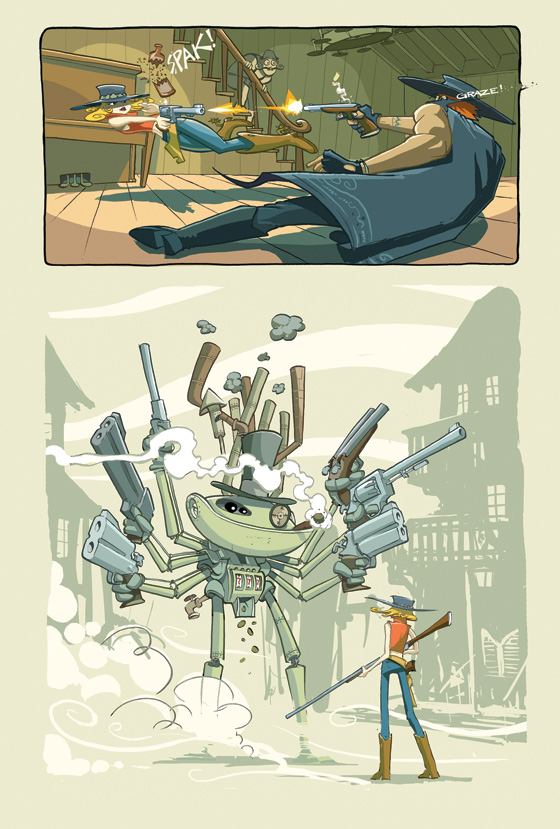 High res versions here and here.
I told our printer that the final book files will be delivered on Thursday morning no matter what, and I mean to keep that deadline!  So you can expect to see this book going to press at the end of this week or the beginning of next week.  Once the files are off to the printer, I'll be posting updates with original art done for the generous backers of this campaign.  Thank you all for your patience.  More updates very soon!
-Kazu
1,791
Backers
$51,955

pledged of $2,000 goal
Funding period
May 8, 2012 - Jun 7, 2012 (30 days)
Pledge $15 or more

497 backers

One copy of the book. Add $5 for international orders. Add $12 for each additional book.

Estimated delivery: Aug 2012

Pledge $25 or more

93 backers

U.K., EUROPE, ASIA, AUSTRALIA - I made an error in my initial post for International orders. This is the ACTUAL pledge amount for a single unsigned copy of Daisy Kutter, w/ international shipping. For multiple copies, just double, triple, etc. the full pledge amount. For Canada, the previous post (domestic +$5) still applies.

Estimated delivery: Sep 2012

Pledge $25 or more

850 backers

A copy of the book, signed by Kazu, including a small sketch of Daisy on first interior page. Add $5 for international orders.

Estimated delivery: Aug 2012

Pledge $35 or more

217 backers

U.K., EUROPE, ASIA, AUSTRALIA - I made an error in my initial post for International orders. This is the ACTUAL pledge amount for a single signed and sketched copy of Daisy Kutter, w/ international shipping. For multiple copies, just double, triple, etc. the full pledge amount. For Canada, the previous post (domestic +$5) still applies.

Estimated delivery: Sep 2012

Pledge $45 or more

54 backers

Two copies of Daisy Kutter, signed by Kazu, w/ a small sketch of Daisy on the first interior page. Add $10 for international orders.

Estimated delivery: Aug 2012

Pledge $55 or more

6 backers

5 copies of Daisy Kutter: The Last Train, to share with friends. Add $10 for international orders.

Estimated delivery: Aug 2012

Pledge $56 or more

0 backers Limited (1 of 1 left)

Regular 5-PACK not available for INTERNATIONAL ORDERS other than Canada. Just posting this here as an addendum to the post above. If you are in international territories other than Canada, and would like multiple copies, please use proper international order tiers above.

Estimated delivery: Sep 2012

Pledge $60 or more

26 backers

FOR US RETAILERS ONLY - 10 copies of Daisy Kutter: The Last Train.

Estimated delivery: Aug 2012

Pledge $65 or more

11 backers

INTERNATIONAL 2-PACK - For international territories other than Canada, please choose this reward tier for the correct pledge amount, and NOT the one above. This is for 2 signed and sketched copies of Daisy Kutter.

Estimated delivery: Sep 2012

Pledge $75 or more

9 backers

5 copies of Daisy Kutter. The first two copies will be signed w/ a sketch. Add $10 for international orders.

Estimated delivery: Aug 2012

Pledge $76 or more

0 backers Limited (1 of 1 left)

Above 5 copy pack with two signed copies NOT AVAILABLE for INTERNATIONAL territories outside of North America. Posting this here as an addendum to the post above.

Estimated delivery: Sep 2012

Pledge $150 or more

12 backers Limited (38 of 50 left)

CHARACTER DUOS + SIGNED/SKETCHED BOOK - 5.5 x 8.5 inch piece of Original Art featuring any two of my characters (from any of my books), slipped inside of a signed and sketched copy of Daisy Kutter. Just send me a message indicating which two you want, or I will choose two at random. I don't do commissioned drawings, so this a chance to get one. Add $5 for Canada, or $10 for other International orders. The premium ORIGINAL ART reward below ($500 pledge) is 11 x 14 inches, on better paper stock, and I am spending a lot more time on those images (equivalent to drawing a cover for Amulet). Also, ORIGINAL ART backers will receive a CHARACTER DUOS piece along with their main reward. See update posts for more details.

Estimated delivery: Sep 2012

Pledge $250 or more

0 backers Limited (10 of 10 left)

SKYPE VISIT - We (myself and the rest of the studio) will do a 30-minute Skype visit for you and your friends, or students, or family. Plus a signed/sketched copy of Daisy Kutter, personalized to you or your group. Note that the delivery of this reward coincides with the release of Amulet 5: Prince of the Elves. See update #10 for more details.

Estimated delivery: Sep 2012

Pledge $500 or more

6 backers Limited (4 of 10 left)

ORIGINAL ART - Original drawing of Daisy Kutter, plus a copy of the book, signed w/ a sketch by Kazu. Add $5 for international orders.

Estimated delivery: Aug 2012

Pledge $777 or more

1 backer Limited (6 of 7 left)

ORIGINAL PAGE FROM THE BOOK - You can choose the page (first come, first served, limited based on availability), or take a chance and let me choose one for you. The original art will include a nice large print of the finished page w/ grey tones and a signed/sketched copy of the book. LUCKY 7 BONUS: One of the seven backers will also receive a new work of original art ($500 reward).

Estimated delivery: Sep 2012