Yet another great idea
Dear Backers,
Joe  Cook, one of our slowly but steadily growing numbers of Backers, suggested to include smaller holes - as illustrated by him below. As he says: "These are 1/2 stud off the grid system, but a lot of the best innovations come from oddball connections."
What do you think? Is it a good idea?
Further, he drew our attention to the fact that LEGO actually makes a base plate with (a modest!) 15x15 holes (source: http://www.flickr.com/photos/dp3/4870404803/in/set-72157624552013017).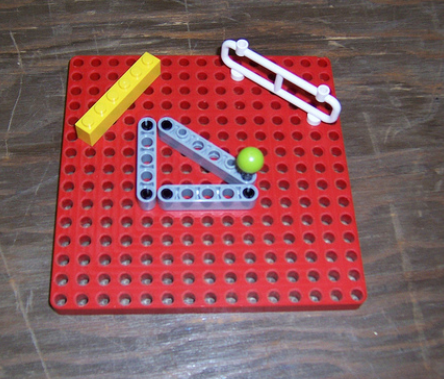 It does not seem to be in mass production... Perhaps some of you know the full story?
Please keep spreading the news on our project!
The MinuteBot Team
169
Backers
$13,743

pledged of $11,000 goal
Funding period
Mar 22, 2012 - May 21, 2012 (60 days)
Pledge $1 or more

10 backers

You are now an official MinuteBot supporter. Thank you!

Estimated delivery: May 2012

Pledge $10 or more

3 backers

You will your name on the official Kickstarter supporter page on our MinuteBot site.

Estimated delivery: May 2012

Pledge $25 or more

10 backers All gone!

For the early birds: If you back us before Sunday 15 April 2012, you will receive one MinuteBot Base. We ship worldwide, and the cost of shipping is included.

Estimated delivery: Jun 2012

Pledge $30 or more

50 backers

You will receive one (1) MinuteBot Base. We ship worldwide, and the cost of shipping is included.

Estimated delivery: Jul 2012

Pledge $45 or more

14 backers All gone!

For the early birds: If you back us before Sunday 15 April 2012, you will receive two (2) MinuteBot Bases. We ship worldwide, and the cost of shipping is included.

Estimated delivery: Jun 2012

Pledge $55 or more

27 backers

You will receive two (2) MinuteBot Bases. We ship worldwide, and the cost of shipping is included.

Estimated delivery: Jul 2012

Pledge $90 or more

36 backers

You will receive four (4) MinuteBot Bases. We ship worldwide, and the cost of shipping is included.

Estimated delivery: Jul 2012

Pledge $200 or more

13 backers

You will receive ten (10) MinuteBot Bases. We ship worldwide, and the cost of shipping is included.

Estimated delivery: Jul 2012

Pledge $400 or more

2 backers

You will receive twenty five (25) MinuteBot Bases. We ship worldwide, and the cost of shipping is included.

Estimated delivery: Jul 2012

Pledge $1,500 or more

1 backer

You will receive one hundred (100) MinuteBot Bases. That's more than 13 kg of Base Plate! We ship worldwide, and the cost of shipping is included.

Estimated delivery: Jul 2012