DREAMS is a pop/rock musical adventure! (Think Tommy meets The Wizard of Oz) An abused boy haunted by dreams finds love and life in SF.
Dear Friends and Supporters,
This project has been my dream for over a decade! Our goal is now to take it to the next level by producing a workshop production here in LA before taking it all the way to Broadway! This music and story needs to be realized on a large stage. The show demands it, and we want to do this right. If you are reading this, you probably know what it takes to get this far, and now it's time to really move forward. We plan on using the sponsored funds to mount a scaled down FULL production and run of the show in LA/Hollywood. YOU will be invited (as part of your donation) to the opening week, and we encourage your feedback so that the show may grow and mature. We will employ a full band and cast, as well as build sets and costumes that suit the size of the stage. We will also record a full cast album (CD) that will be used for promotion. (You also get one of these for your sponsorship - $25). We will invite as many theatre professionals and critics as possible to write and talk about the show in every way.
Brief Synopsis: Since its inception, DREAMS has been worked and reworked with new music and writing to tell the story of a teenage boy who, on his 18th birthday, finds out that his parents are not his real parents at all. He is kicked out and sent into the adventurous city of San Francisco to search for his real mother, dead or alive, with only a few old photos to go on. In his quest, he learns about the real world and befriends an unlikely trio of similarly dysfunctional and emotionally challenged individuals who teach each other that love is possible, life is worth the journey, and dreams are meant to be sought, no matter what the outcome. The musical style is Broadway pop/rock. (Think The Who's TOMMY meets The Wizard of Oz!) It is a coming of age musical adventure, filled with heart-wrenching ballads, Les Mis style anthems, and pop/rock music meant for all the theatrics live stage has to offer. I am pulling out all the stops with this show, and the rewards in the end for all the hard work will be worth every minute and every dollar. 
Please know how much you are appreciated and how much this means to me and my life long dream of having a show on the big stage! I promise to use every dollar wisely and only for the production of DREAMS. Everyone who has become a part of this journey has touched my life and encouraged me to make this show better and better! I am blessed with the talent and energy that has come to be a part of this wonderful show, and each and every comment has helped to shape it into an awesome production with heart & soul, thus far. With your help and support, we can give DREAMS the life it deserves. Let's go all the way, baby!!   THANK YOU!!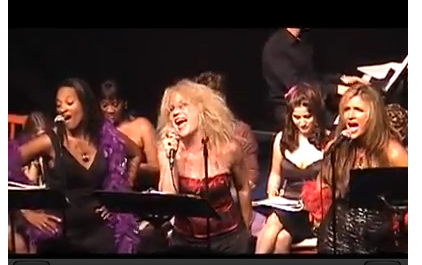 FAQ
Have a question? If the info above doesn't help, you can ask the project creator directly.
13
Backers
$875

pledged of $18,000 goal
Funding Unsuccessful This project reached the deadline without achieving its funding goal on July 19, 2011.
Funding period
May 5, 2011 - Jul 19, 2011 (75 days)
Pledge $10 or more

1 backer

Special Thanks - with your name in the DREAMS program.

Pledge $25 or more

3 backers

DREAMS Cast Album CD, Special Thanks - with your name in the DREAMS program.

Pledge $50 or more

4 backers

2 Opening week tickets to DREAMS, Special Thanks - with your name in the DREAMS program.

Pledge $100 or more

2 backers

2 Opening week tickets to DREAMS, 2 DREAMS CD cast Albums, and Special Thanks - with your name in the DREAMS program.

Pledge $150 or more

0 backers

Invites to Opening night Cast Party. 2 Opening week tickets to DREAMS, 2 DREAMS CD cast Albums, 2 - 11" x 17" posters signed by cast, and Special Thanks - with your name in the DREAMS program.

Pledge $250 or more

0 backers

Invites to Opening night Cast Party. 4 Opening week tickets to DREAMS, 4 DREAMS CD cast Albums, 4 - 11" x 17" posters signed by cast, and Special Thanks - with your name in the DREAMS program.

Pledge $500 or more

0 backers

Invites to Opening night Cast Party. 8 Opening week tickets to DREAMS, 8 DREAMS CD cast Albums, 8 - 11" x 17" posters signed by cast, and Producers Credit - with your name in the DREAMS program as a Producer.

Pledge $750 or more

0 backers

Invites to Opening night Cast Party. 10 Opening week tickets to DREAMS, 10 DREAMS CD cast Albums, 10 - 11" x 17" posters signed by cast, and Producers Credit - with your name in the DREAMS program as a Producer.

Pledge $1,000 or more

0 backers

Private Concert in your home by DREAMS Cast & Musicians! VIP Gift Bag valued at over $400. Invites to Opening night Cast Party. 10 Opening week tickets to DREAMS, 10 DREAMS CD cast Albums, 10 - 11" x 17" posters signed by cast, and Executive Producers Credit - with your name in the DREAMS program as a Executive Producer.

Pledge $1,500 or more

0 backers

All of the above, and we will provide food & drinks for your private event! If you are interested in being an Executive Producer for this workshop production and future productions of DREAMS, please contact Paul directly as well. 323-679-4465
View in Video Mode