Hello Boys & Girls... Let's Party
You may have heard the news? Skip's back in town. That's right, he's taking a moment of reprieve from saving tiger cubs in Southeast Asia and gracing us with his presence. Right here in San Diego. 
So we're celebrating. Come to Bar West in Pacific Beach, San Diego, Thursday, June 21st at 9:00 and join Skip and the JackHawk 9000 crew for some good old fashion fun that you won't tell your co-workers about on Monday...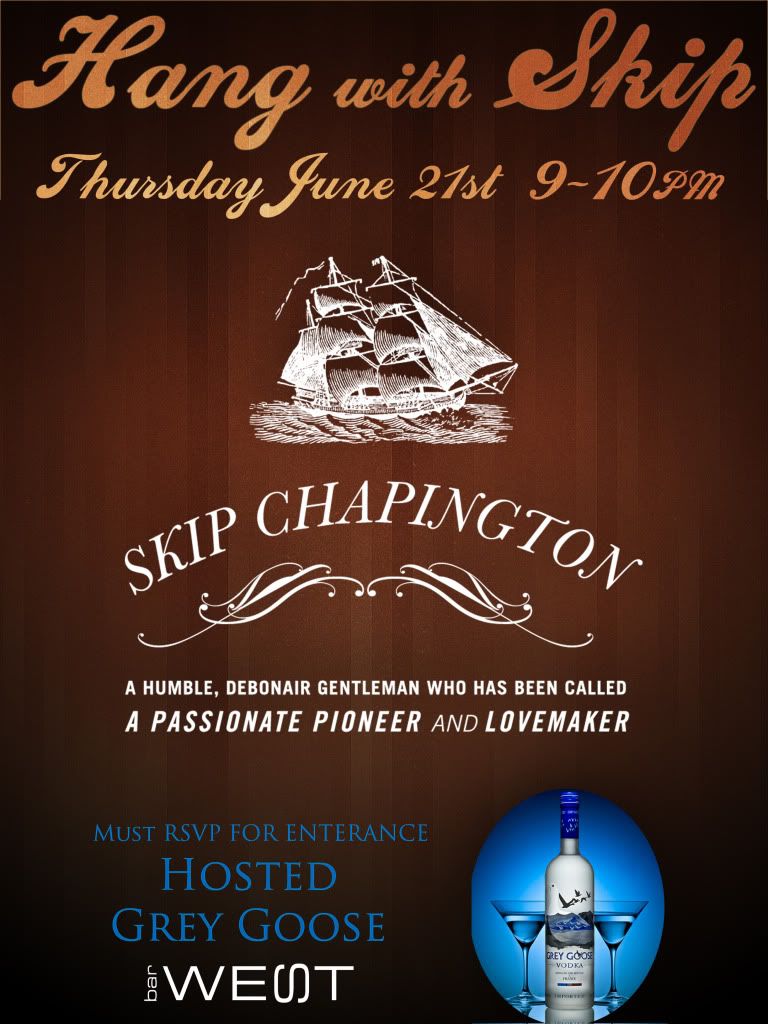 273
Backers
$26,783

pledged of $15,000 goal
Funding period
May 24, 2012 - Jul 5, 2012 (42 days)
Pledge $5 or more

14 backers

Skip Chapington will personally thank YOU for your undying devotion in the form of a video compliment. Find yours posted in the updates section and on YouTube so you can tell everyone Skip's got your back.

Estimated delivery: Aug 2012

Pledge $25 or more

15 backers

Sweet, sweet powder coated steel beer keys with JackHawk 9000 boldly emblazoned on the face. Open your bottles like a champion. Because you are one. (Add $15 for International Shipping)

Estimated delivery: Jul 2012

Pledge $90 or more

169 backers

A pair of Jackhawk 9000's. Warning: You may experience awesome moments such as (but not limited to)..... - random applause as you enter rooms - unexpected limo service - a pelt of fine wool chest hair - overall improved likability (Will retail for $120 and up) (Add $15 for International Shipping)

Estimated delivery: Sep 2012

Pledge $120 or more

58 backers Limited (92 of 150 left)

Prove you were first! Limited edition powder coated Jackhawk 9000's with the Kickstarter logo boldly stamped on the arm. (Add $15 for International Shipping)

Estimated delivery: Sep 2012

Pledge $600 or more

3 backers

Alright surf shops/skate shops/church groups. You know you want a pair for yourself and you want a bunch to sell out. So here, you go, 10 pairs. And a sweet in window display. Just call us when you want more.

Estimated delivery: Sep 2012

Pledge $2,000 or more

0 backers

You're in California you say? And you like to party you say? Done. You're invited to our Downtown San Diego rooftop party. We'll provide 5 JH-9000s sunglasses and VIP treatment at one of the hottest clubs in the Gaslamp District.

Estimated delivery: Sep 2012

Pledge $10,000 or more

0 backers

Party with Skip! In Vegas! You read right, the man, the myth, the legend, Skip Chapington will fly you to Las Vegas for the weekend of your life. 5 JackHawk 9000's, hotel suites, VIP treatment, and all of the youthful bravado you can handle. (US Residents Only)

Estimated delivery: Sep 2012