Total Success! And Many many thanks to everyone!
June 7

Well, WE did it! And I do mean 'WE' because this Kickstarter thing depends on the kindness, and the confidence, of so many people.  You fine people out there have shared this vision all through this intense pledging period, and thanks to you, the project has reached and even exceeded its goal.  
So first of all, I owe a profound and humble thanks to everyone who pledged their support - even if it was just good wishes, because that's important too - for this project.  It could not have happened without your support, and I am amazed, dumbfounded, and extremely pleased and grateful not only for the financial support (but thanks for that too!) but also for the sense I get, from this community, of the love that exists out there among you for Terence, and me too I guess. I really feel it and I really appreciate it. I have been hearing for years from occasional individuals who contact me, students, and others, about the deep personal connection they feel to Terence and to the ideas that Terence & I share.  Those ideas still resonate across cyberspace even though Terry has been gone for more than 10 years; a remarkable testimony to how very much he was ahead of his time. Much of what he articulated in the late 80's and throughout the 90's seems as fresh as though it was uttered yesterday.  I will miss Terence's insights and entertaining stories as will everyone in our community. Fortunately they are still out there in cyberspace for all to enjoy. 
But it's one thing to hear from individuals; it's quite another to plunge into the realm of social media, and to realize that for every one person I may hear from, there are dozens to hundreds who share the sentiments but don't contact me (out of respect for my time I presume and of course, I appreciate that!).  Well, I have gotten a real crash education in social media over the last two months!  It's a very interesting space; and it's good to know, reassuring somehow, to know that virtually our entire community of interest can be linked in this way, and to many other communities as well.  So we can continue to use these tools to stay connected, and I want to do that. I will need your continued encouragement and support as I work on this project over the next months. You have put your hard-earned moola on the line to make it possible. And I want to make a special thanks to those of you for whom it was a financial sacrifice to make a pledge. Times are tough, I know, for many people; so if you stretched your budget to make a pledge, and I know many of you did, then I want acknowledge that and give you a very special thanks.
Now, the ball's in my court. Now, I have to deliver, and I will give it my very best effort. 
So what happens next? Well, first of all now that the pledge window has closed I can use the Kickstarter tools to keep track of the pledges, and what rewards are due to those who pledged.  In most cases these won't be available until the book is finished, and the projected deadline for that is fall 2012 sometime (and even that is uncertain but it seems realistic from the perspective of June 2011). But there are a few promised incentives, like the CDs that were promised at the $90 level, that can be sent right away. I will be collecting the names of those backers who signed up for those perks and will try to get them sent off by the end of the month. 
And now that the pledge period is over and the project is funded, as a survival strategy I'm going to step back somewhat from the social media swirl so I can create the time needed to actually write the book!  Don't worry, I'm not turning into a Luddite, but you might see my Facebook activity go down for a while. I will continue to stay in touch by posting occasional updates here on Kickstarter, and also on the BSA group site on Facebook.  Anyone wanting to reach me can post messages here and via Facebook, but I may not get to them immediately.  If you don't see a lot of activity or recent posts, no worries; it means I'm 'in seclusion' and working hard on the book. And lest you're wondering, 'seclusion' does not mean sitting on some beach in some romantic locale, slurping Mai Tais at your expense! Maybe a little of that...but mostly, I will be secluded in my basement which is actually not a very romantic place, trust me! But it is secluded and quiet, which is the main thing. 
All my best wishes to everyone who helped make this a success. 
874
Backers
$85,750

pledged of

$80,000

goal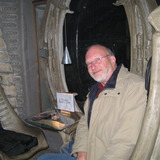 Pledge

$1

or more

You selected

5 backers

No specific reward, but thank you!

Pledge

$5

or more

You selected

41 backers

My eternal gratitude and your name added to my mailing list where you can track progress on the book and read occasional items of interest.

Pledge

$20

or more

You selected

49 backers

Everything in the one above, plus a PDF copy of the book when completed

Pledge

$35

or more

You selected

452 backers

Everything above, plus an autographed, hard copy of the book when completed

Pledge

$70

or more

You selected

46 backers

Everything above, plus 2 autographed copies of the book with a personal message; OR -- 1 autographed copy, plus an autographed DVD of selected audio/video talks by Terence and Dennis McKenna.

Pledge

$90

or more

You selected

17 backers Limited (33 left of 50)

This is a new incentive at the $90 level, thanks to friends Richard Meech, creator of the incredible documentary Vine of the Souls, and Mitch Schultz,creator of another incredible documentary DMT: The Spirit Molecule, already known to many in our community. Thanks to their support, I can now offer up to 50 backers a dual set of both DVDs, autographed by the creators, and me (I am a talking head in both films). These are one of a kind documentaries on the topics of ayahuasca and DMT, respectively. And, an added benefit of opting for this incentive: immediate gratification! You won't have to wait for the book to be finishes to collect your reward; these DVDs can go out within a week (or so) of the end of the pledge period.

Pledge

$90

or more

You selected

13 backers Limited (12 left of 25)

All incentives offered at the $35 and lower levels, including one autographed hard copy of the book. In addition, backers at this level will receive an autographed copy of Journey Through the Spheres, a CD of Terence's talks interspersed with musical pieces. This CD was lovingly put together to honor Terence's passing by the Novelty Group. There are only 25 copies in existence. One of them can be yours in return for a $90 pledge.

Pledge

$100

or more

You selected

196 backers

All items above, plus your name included as a "patron" in the Acknowledgements section of the book.

Pledge

$130

or more

You selected

30 backers All gone!

Backers at this level will receive everything included in the $100 level, plus a free pass to the EvolverIntensives.com webinar series, coming up in June and July. There are only 10 passes available at this incentive level.

Pledge

$500

or more

You selected

5 backers

All items above, plus an advance peek at one of the chapters (PDF).

Pledge

$510

or more

You selected

5 backers Limited (25 left of 30)

Backers at this level will receive everything promised at the $500 level, plus a copy of a limited edition poster of the iconic photograph that has been posted as the 'theme' for this Kickstarter project, namely Terry and Denny gazing into the abyss. I intend to make a number of high-resolution copies of this image; 30 of them will be offered as incentives at this new level.

Pledge

$1,000

or more

You selected

2 backers

All items above, plus a two-hour Skype video conference call with the donor and a selected group of friends.

Pledge

$1,010

or more

You selected

2 backers Limited (8 left of 10)

At some point soon after the book is complete I intend to create an audiobook version of the book, that will be read in my voice. Backers who choose this level will receive everything promised at the lower levels (except for those that are limited), an iconic poster, a PDF of the chapter, and a copy of the audio book at least six months in advance of its release to the open market. This incentive is limited to the first 10 backers who choose it.

Pledge

$2,500

or more

You selected

0 backers Limited (1 left of 1)

There's a new incentive at the $2500 level that is kind of unique. For one thing, it's an auction, available to only one backer. Please consult update #15 for details about this incentive

Pledge

$5,000

or more

You selected

1 backer

After the book is complete, I will travel to your city and present a one-day workshop to the patron and a selected group of friends (I will request an additional contribution to cover 50% of airfare and accommodation expenses). This reward level will also include 2 autographed hard cover copies of the book, or one autographed copy + one autographed DVD collection as you prefer.

Pledge

$5,000

or more

You selected

1 backer All gone!

This is another unique item that I'm auctioning to the highest bidder, starting at the incentive level of $5000. When Terence & I first wrote the Invisible Landscape, several years before it was published, we gave it another name: Shamanic Investigations. There are only four copies of this book in existence. I own two of them. I will give an autographed copy of one of them to the highest bidder, starting at a minimum bid of $5000. This incentive is available to only one backer. Please consult update #15 for details about this incentive
Funding period
- (60 days)