A 70 page full color book filled with both digital and traditional art pieces that show a journey through brain cancer.
Hello All,
My project is to create an art book about my battle with brain cancer told through artwork. It is titled The Art of Fighting Cancer.  After trying with my other book (Jetty's Brain Book) and hitting all dead ends, I now know I will have to self publish if I ever want these books to see the light of day, as agents will not give me the time of day. I have found a place to print my book and now I need the funding to push it through. The amount includes both the publishing costs and the upgrade to allow the Pro features. It will consist of several different styles of art as I have (as my friend once described herself) art ADHD. I just can't focus on one piece. I plan on making a total of 70 full color pages worth of a variety of art. Currently I have around 25 pieces and I plan on making many, many more for this project. There are many cancer books out there but none dealing with the world of art and cancer specifically.  It will be a fun book with unique ways of looking at this journey. I have already begun major work on this project and I know it will turn out beautifully but I can't do it without you but I have not forgotten to give it back to you either. I have several rewards for those who back this project.  I currently run a contract art studio and many of the rewards are custom pieces of art work of your choice.
Here are some examples of the baby sized quilts. These make a wonderful present and are painted with medium that makes them washable. The backing is fleece and matches the themes picked.
You can see more and examples of paintings I have created here: http://www.lagomorphstudios.com/Painting.html
Here are some examples of the large quilts; these quilts as well are washable with a soft fleece backing.
You can see more and examples of paintings I have created here: http://www.lagomorphstudios.com/Painting.html
You may be wondering what in the world a chemo pet is. Well, a Chemo Pet is my project fundraiser for my website, but now, one can be yours for backing this project. A Chemo pet is a button eyed, bean bottomed, stuffed friend with a pouch on the back to hold helpful items. The items that I normally put in are items that are helpful for someone going through Chemotherapy, but many of the pets I have created were for people who do not have cancer. They can be made in standard chemo pet style or the recently broadened animal styles. This would be a custom project that could be your favorite animal or favorite color, fabric style, the list of customizable options is very, very long. Here are some examples here:
You can see even more here: http://www.lagomorphstudios.com/chemopets.html
Also everyone who donates over $5 will get an online drawing of themselves listed next to their name on the thank you page. This will be either a digital or pencil drawing which will be scanned and posted online from a photo that you will need to provide to me. It does not necessarily need to be of you but just what you would like next to your name.
The book is being accompanied by a full art community website which is where donor's names will be listed with their photo drawings.  It is still under the construction phase but when everything is complete it will be located at: www.endingcancerinourgeneration.org.
Here is hoping that you find these rewards suitable and fun enough to help me with my project. I want to thank everyone who came to this page, who watched the video and who made it down this far in this posting. Thank you!! Love Love Jettychan
FAQ
Have a question? If the info above doesn't help, you can ask the project creator directly.
10
Backers
$399

pledged of $373 goal
Funding period
Mar 19, 2011 - Apr 19, 2011 (30 days)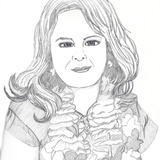 Pledge $1 or more

1 backer

Access to email updates on progress of full project, and a heartfelt thank you from me (this comes with all the donations! :-) ).

Pledge $5 or more

3 backers

Your name listed on the donors page on the website for all to see (accompanied by a drawing from a photo you must supply), and access to email updates on progress of full project

Pledge $25 or more

3 backers

A signed copy of the book, your name listed on the donors page on the website for all to see (accompanied by a drawing next to your name, from a photo you must supply), and access to email updates on progress of full project **Int backers must pay for shipping (flat rate boxes), sorry! **

Pledge $50 or more

1 backer

One painting of your choice in subject matter- size 16"X20" or a large chemo pet creation, A signed copy of the book, your name listed on the donors page on the website for all to see (accompanied by a drawing next to your name, from a photo you must supply), and access to email updates on progress of full project **Int backers must pay for shipping (flat rate boxes, except if painting is chosen as it will be too large), sorry! **

Pledge $100 or more

2 backers

One baby sized hand painted quilt (2ftX2ft) in your choice of subject matter (Makes and excellent baby shower present or heirloom!), A signed copy of the book for you and whomever you choose, your name listed on the donors page on the website for all to see (accompanied by a drawing next to your name, from a photo you must supply), and access to email updates on progress of full project **Int backers must pay for shipping (flat rate boxes), sorry! **

Pledge $250 or more

0 backers

One large sized hand painted quilt (4ftX4ft) in your choice of subject matter (makes and excellent present for yourself or others), A signed copy of the book for you and whomever you choose, your name listed on the donors page on the website for all to see (accompanied by a drawing next to your name, from a photo you must supply), and access to email updates on progress of full project **Int backers must pay for shipping (flat rate boxes), sorry! **

Pledge $350 or more

0 backers

One extra large sized hand painted quilt (6ftX6ft) in your choice of subject matter (makes and excellent present for yourself or others), A signed copy of the book for you and whomever you choose, your name listed on the donors page on the website for all to see (accompanied by a drawing next to your name, from a photo you must supply), and access to email updates on progress of full project **Int backers must pay for shipping (flat rate boxes), sorry! **
View in Video Mode