In the future the world is threatened by out of control female androids! If only I had a nickle for every time that happens!
My name is Don Austin and I am an independent comic artist trying to finish my first graphic novel LENZ. My basic concept is an Sci-fi adventure that takes place in the year 2120. The book will be a homage to classic Sci-fi and manga clichés.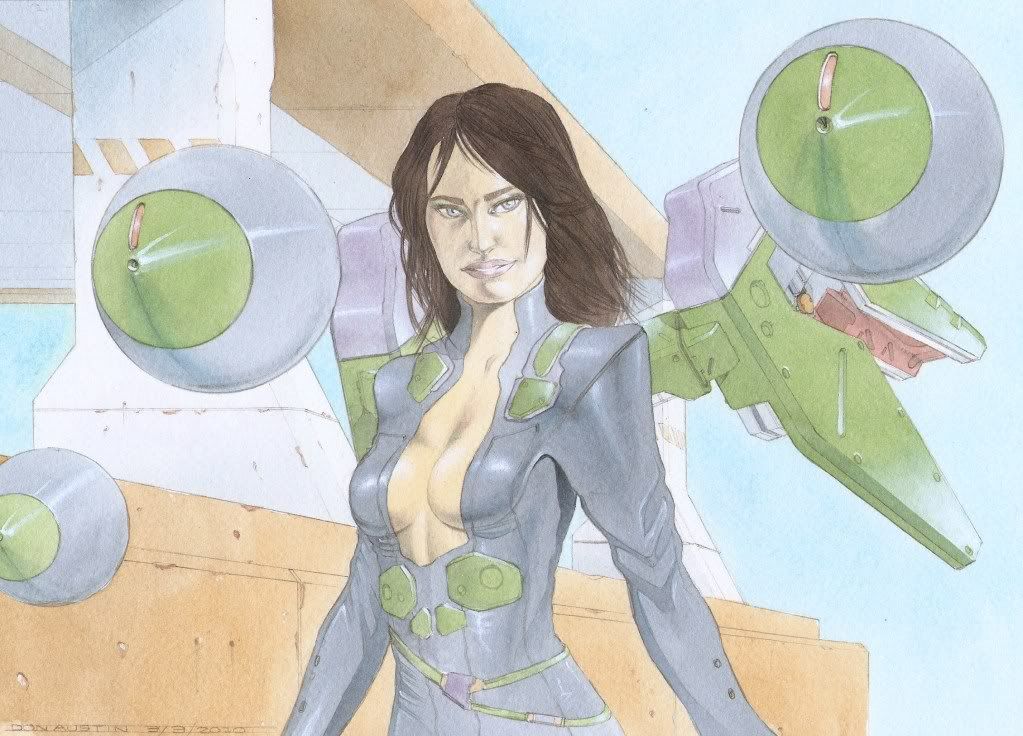 *please scroll down to see examples of the pages and artwork done so far!* 
What's LENZ about?
The "LENZ" is the most destructive weapon ever created.  A sub orbital weapons platform that is commissioned, designed, and constructed by the infamous Dr. Van to destroy a Texas sized asteroid that threatens to crash into the Earth. It's completion in the year 2110 was met with awe and shock as with a flick of a switch the LENZ completely obliterates the world ending asteroid. A complete success! The world has been saved by the LENZ! Now Dr. Van finds himself in the real dilemma…The powers that be have seen the power that is the LENZ, triggering the splintering of a once unified world into factions of super powers clamoring to be the sole benefactor of this destructive new force. Rather than handing this doomsday weapon over to a world whose military industrial complex is out of control Dr. Van instead puts the various computer encryption keys that activate and operate the LENZ weapon into 8 different female combat androids and dispatches them to separate parts of the world. The story begins ten years later in 2120....
What is the secret to the "LENZ" weapon? 
Why does Dr. Van create the androids? 
Why are they wearing these ridiculous costumes?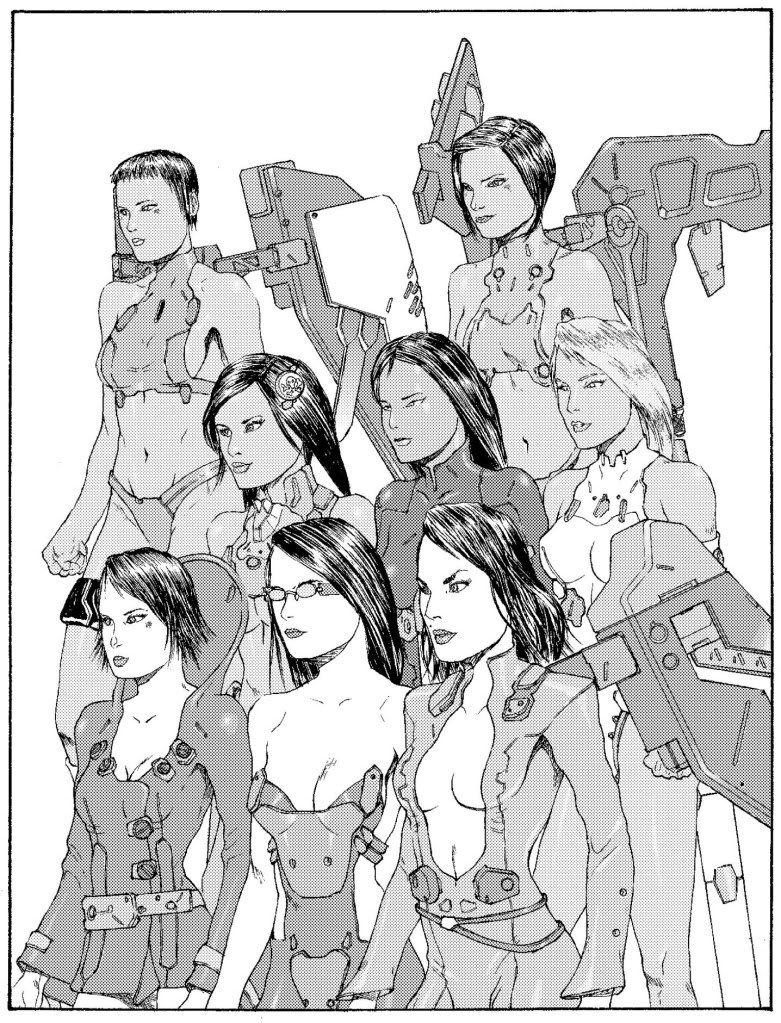 Book Format
The book will be black & white with grey tones giving a heavy manga look that I have examples of lower on this page. Also I plan to have 8 or so special pages that will be full color hand painted watercolors. The novel itself will be for an adult audience as it is made in the style of a "Seinen" manga that is traditionally targeted at 18-30 year old readers. I'm looking to have the completed page count for the book to be around 300 pages and printed at a manga pocket book size of 6" X 9" (or slightly smaller).  
As of now I am finished with the overall story and have 34 pages of sequential art already done! 
This will be a complete story from start to finish, not a serial or a first episode to a larger series. Just a one shot deal, and hopefully one hell of a ride!  
*please scroll down to see examples of the pages and artwork done so far!* 
The Look
Some random examples of the inked line art from the first 34 pages of sequential art for LENZ that I have completed to date.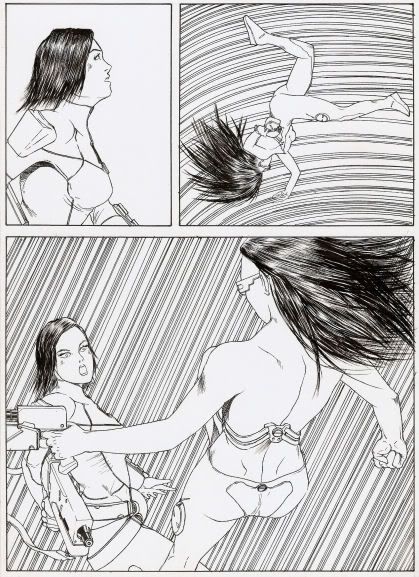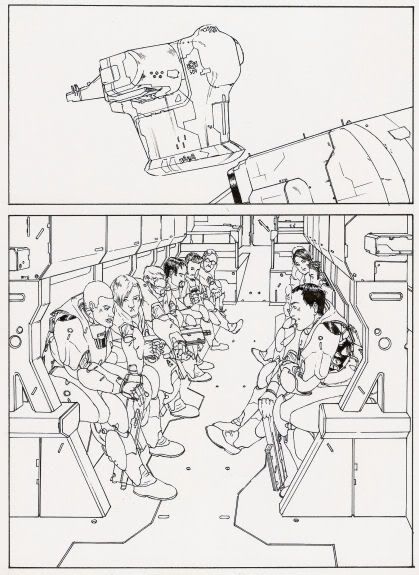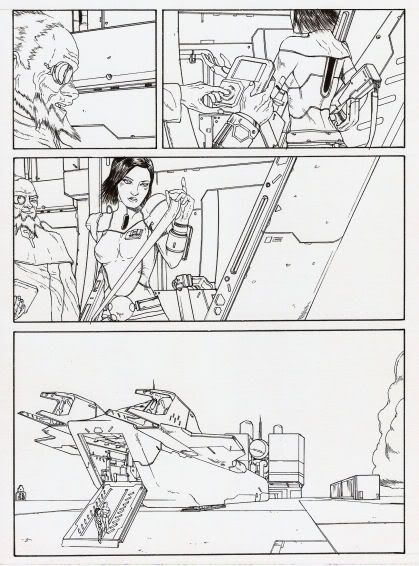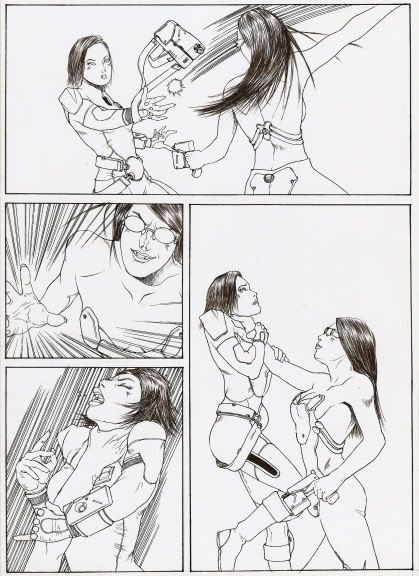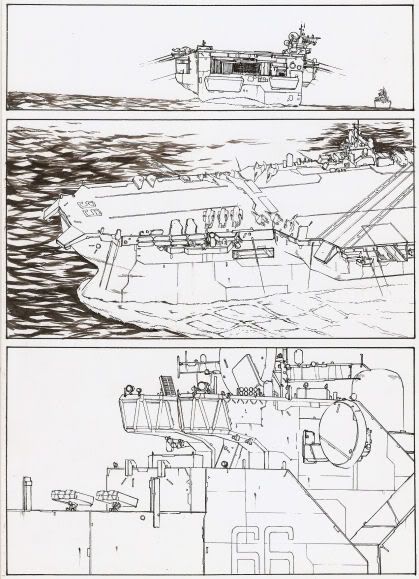 Below are some examples of the pages fully grey toned in Manga Studio. *note* These pages were printed and scanned so there might be a slight  Moiré (optical illusion pattern) to them depending on your monitor, there in no such effect when the pages are actually printed. These examples are only here to give an approximation of how the pages will look when completed in the printed book.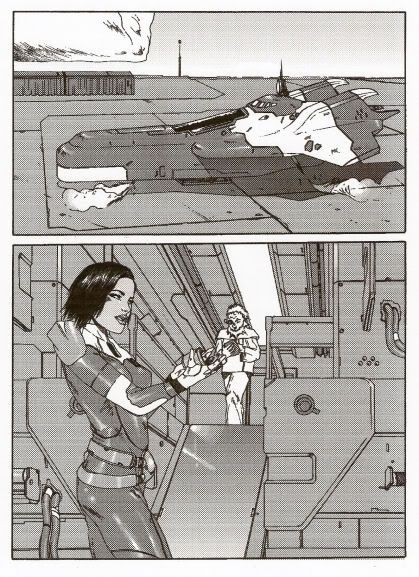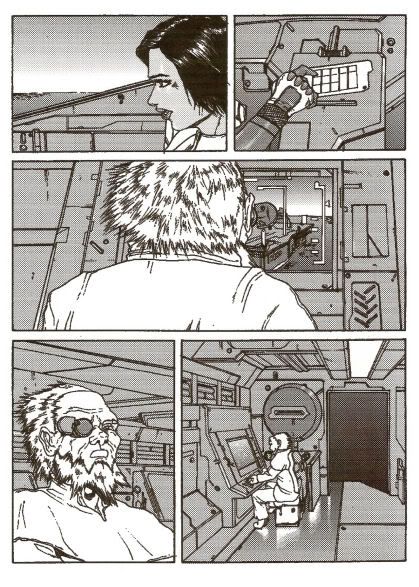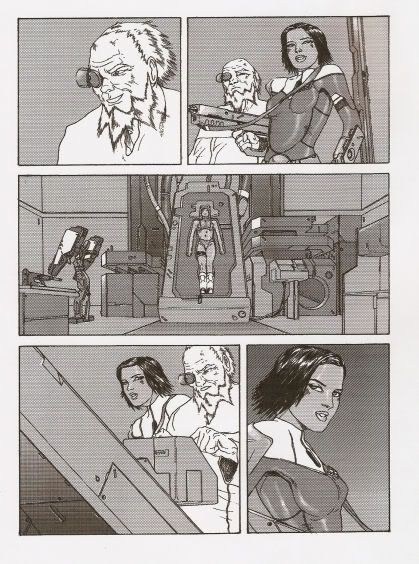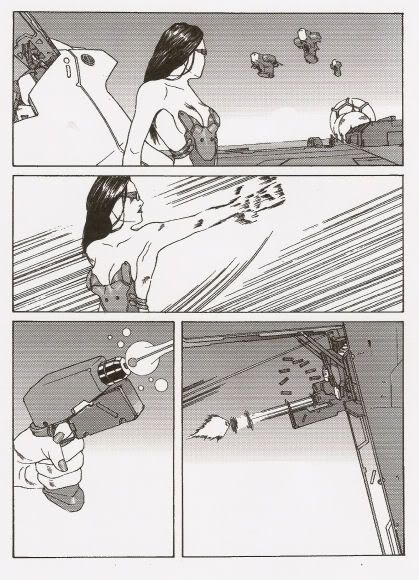 *please scroll down to see examples of the artwork done so far!* 
Watercolor inserts
Examples of the watercolor inserts, both works are the 8 1/2" X 11 1/2" (the size of the painting you will receive as one of the incentive perks for the $150 pledge amount)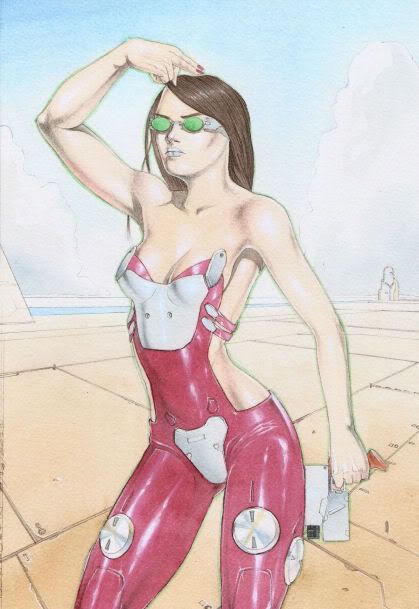 The Design 
Random examples of the design work I do to create the various characters and vehicles that inhabit the LENZ world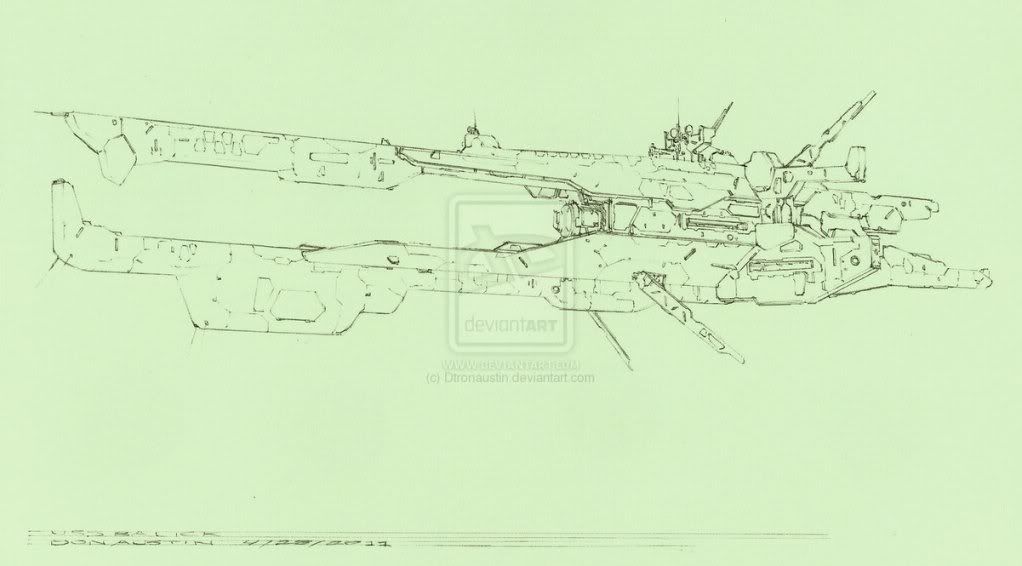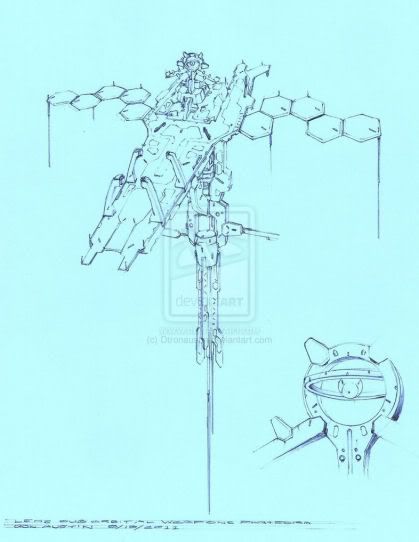 The Goal 
The funds if met would go towards the completion of the graphic novel and then getting it printed.The book is going to be around 300 pages, all illustrated and toned by myself. Certainly that is no small task for one man, but if this works and I can devote to this project full time. I believe that I will have this book completed and printed by early 2013. With your help we can make this book happen! 
If this project goes through I will create a blog completely dedicated to the production that would be updated every week! You can see sneak peaks of pages and conceptual work, the actual page count to date as well as other LENZ related news so that everyone has an idea of how things are going. 
Feel free to contact me on here with a message if you have any questions and I will certainly answer them! 
Thank you for taking the time to look at my project! 
~Don Austin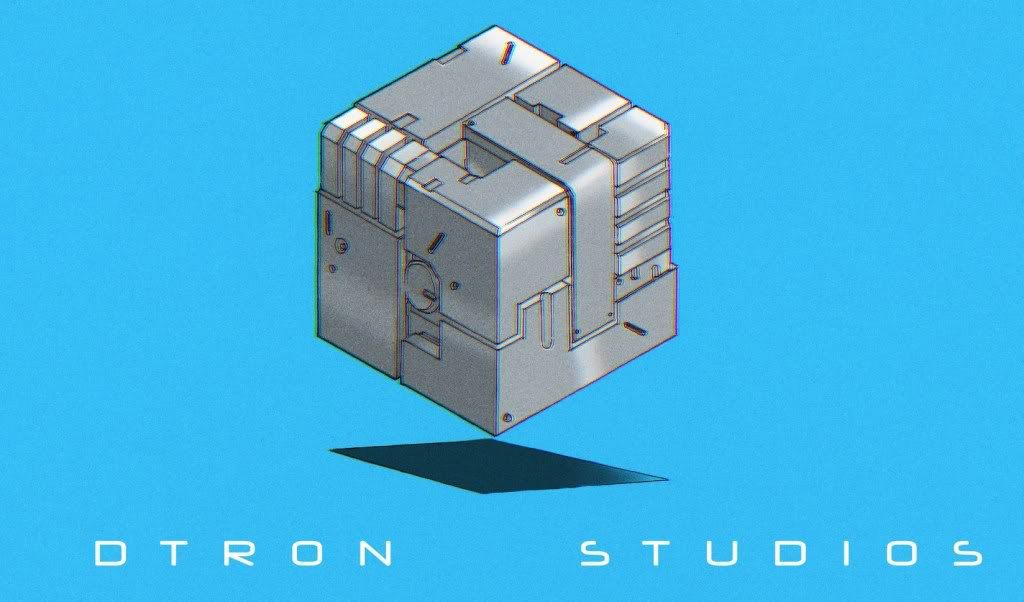 FAQ
Have a question? If the info above doesn't help, you can ask the project creator directly.
31
Backers
$1,951

pledged of $4,000 goal
Funding Unsuccessful This project reached the deadline without achieving its funding goal on April 27, 2012.
Funding period
Mar 28, 2012 - Apr 27, 2012 (30 days)
Pledge $1 or more

1 backer

Every person who contributes to this project will have their name on a backers page in the actual book when it's completed and printed. I want to show my appreciation to everyone who contributes to helping this project happen! =^.^=

Estimated delivery: Apr 2013

Pledge $5 or more

2 backers

For this pledge as a show of my appreciation for your support I will send you a signed black and white print of LENZ art that will be exclusive to all Kickstarter backers of this project at this pledge level! This will be the only time I use this artprint to promote the book; only the backers of this project will have this onetime exclusive print. Plus your name will appear on a special Kickestarter contributors page in the actual 1st printing of the graphic novel LENZ.

Estimated delivery: Jun 2012

Pledge $15 or more

10 backers

With this pledge you get everything that comes with the $5 pledge plus a signed copy of the first edition printing of the LENZ graphic novel!

Estimated delivery: Apr 2013

Pledge $25 or more

9 backers

For this pledge amount you will receive the exclusive Kickstarter LENZ illustration print, a signed copy of the 1st printing of LENZ, and a unique 4" x 3" black and white sketch card hand drawn by me the artist/creator of LENZ.

Estimated delivery: Apr 2013

Pledge $60 or more

4 backers Limited (66 of 70 left)

For this pledge amount you will receive the exclusive Kickstarter LENZ illustration print, a signed copy of the 1st printing of LENZ, the 4" x 3" black and white sketch card, and In addition you will get an 8 1/2" x 11 1/2" hand drawn inked illustration by me the artist/creator of LENZ.

Estimated delivery: Apr 2013

Pledge $150 or more

0 backers Limited (25 of 25 left)

For this pledge amount you will receive the exclusive Kickstarter LENZ illustration print, a signed copy of the 1st printing of LENZ, the 4" x 3" black and white sketch card, the 8 1/2" x 11 1/2" inked illustration, and in addition you will get an 8 1/2" x 11 1/2" watercolor illustration done by me the artist/creator of LENZ.

Estimated delivery: Apr 2013

Pledge $300 or more

2 backers Limited (18 of 20 left)

For this pledge you will receive everything that is in the $150 pledge plus 3 actual pages from the LENZ production! Three pages of the actual line art, hand drawn and inked by me; you will literally own pieces of the book!

Estimated delivery: Apr 2013

Pledge $1,000 or more

0 backers

You get all of the previous perks, plus I will design a character based off of you and create a small cameo appearance for your character in the LENZ graphic novel! Now that would be some bragging rights!

Estimated delivery: Apr 2013
View in Video Mode