Reap! is a 3D arena arcade action game where the goal is to "Reap" souls from enemies, trying to get the highest souls scored.
The game of Reap! is a fast-paced Arena Arcade Action game (well that's a mouthful) about reapers who have opposed Death's idea of 'stealing' souls from victims, in development for iOS/PC/Mac. So Death, being the classy guy he is, pits the main character named Merik on a challenge to try and take back the souls from him in the form of an arena game full of his minions. The story is a play on the saying "Reap what you sow", although as I put it "Reap what HE sowed" (great marketing material, eh? Right? Right?......).  Okay, done with that story stuff, now onto the actual game! If you like Arena games or Arcade games or Action games or any combination of the 3, this game is for you.
Meet Merik!...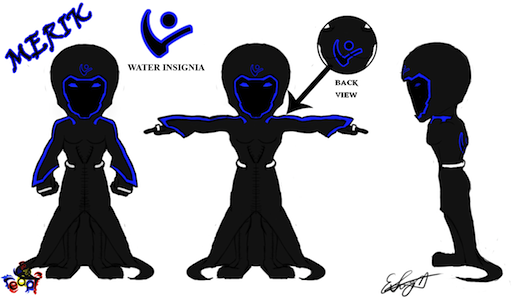 ...and his weapon...
....in the Dead Plane arena (iOS Version screenshot)...
3D Cartoon Style Graphics - The game will be built on cartoon elements with solid shading style graphics and effects, and outlines to make the characters pop; all textures hand-painted!
Dynamic Attack Combo System (DAC System [or DACS]) - That acronym works right? - Players have a combo meter that builds by successfully attacking enemies without taking hits. What is different about this system is that the player characters' attacks change based on the number of hits achieve to create a dynamic feel and a fun way to diversify attacks.
Arcade Style Scoring System - This is called "Soul Linking". Players are rewarded with soul multipliers that increase the amount of soul points gained from souls. These multipliers are going to give the game added depth when you feel inclined to link specific souls to create the best multipliers.
RPG Lite Character Upgrades - Who doesn't like a good ol' RPG character building system in their action game? Upgrade Health, Attack Strength and gain new "Relinquish" (Ultimate attacks) skills.
Rea-Perks (Clever name, eh?) - Extra gameplay or item modifiers given to the player during gameplay after meeting certain criteria. These generally last for a few seconds, so the player must move fast to take advantage of them.
Mini Mission Based System for Each Arena - Missions provide goals and variety in the game that when completed unlocks more level arenas.

As you can see in the video, the game is underway with assets and most of the core gameplay in place, but there is a lot more that goes into this. So what the pledges are going to help with are:
------------$3000 - A better version of the engine I am using (namely Unity Pro version for Mac/iOS); get those extra optimizations into the game.
------------$1000+ - Did you hear music or sound effects in that video (while I was babbling with my alter ego)? Neither did I and that's where some funding is going to help.
-------------The Rest? - Legal Fees, other middleware. Oh, I shouldn't forget, helping to market this a little. Yea, can't forget that...
-------------Anything extra will go to porting to other viable platforms and get those extra features or updates in place before the game launches. Maybe I can get some voice overs in there if funding permits to spice up the game a little. Production values ahoy!
Yes, like Rea-Perks from the game that you get for performing certain tasks; all you great backers will get physical Rea-Perks to thank you for the contributions in addition to the digital stuff you will receive.
Reap! Insignia Crest Keychains
Reap! Merik Hoodies
Posters (COMING SOON)
Soundtrack Discs (COMING SOON)
Bobblehead Merik Replicas (COMING SOON)
Other Digital Rea-Perks...
Insignia Crest Designing Tier - The custom insignia crest that the backers design will be placed in these positions. You will be able to see these when the player taunts.
I will update with what the other rewards will look like in later posts.
You can spread the word about Reap! through Twitter @Reapthegame
Thank You and Happy Reaping (and Pledging)!!
FAQ
Have a question? If the info above doesn't help, you can ask the project creator directly.
4
Backers
$165

pledged of $6,000 goal
Funding Unsuccessful This project reached the deadline without achieving its funding goal on June 18, 2012.
Funding period
May 18, 2012 - Jun 18, 2012 (31 days)
Pledge $1 or more

0 backers

Rea-Perk #1 - Thank you for your contribution to help making this project a possibility. I'll send a personalized E-CARD to your email thanking you!

Estimated delivery: Dec 2012

Pledge $3 or more

0 backers

Rea-Perk # 2 Option 1 - You get the REAP! GAME for download (choose the platform you want - iOS/Android) and previous reward tier. Your NAME will also be IMMORTALIZED on the official Reap! website when it launches, and I have a really cool way I am going to show off my backers. Stay tuned!!

Estimated delivery: Dec 2012

Pledge $5 or more

0 backers

Rea-Perk #2 Option 2 - You get the REAP! GAME for download (choose a platform you want - PC/Mac) and previous reward tier (Excludes the iOS Version tier). Your NAME will also be IMMORTALIZED on the official Reap! website when it launches, and I have a really cool way I am going to show off my backers. Stay tuned!!

Estimated delivery: Dec 2012

Pledge $7 or more

0 backers

Rea-Perk #3 - This is your chance to be fully be A PART (atleast your soul will :D) of the game and a choice of either iOS, Android, PC, or Mac version of the game and reward tier 1. Your NAME will be linked to a rare SILVER SOUL that the player collects. The more backers, the more rare silver souls to find and be the ultimate soul saver!!

Estimated delivery: Dec 2012

Pledge $10 or more

0 backers Limited (50 of 50 left)

Rea-Perk #4 - Get access to the BETA on the iOS or Android version of the game and previous reward tiers (Excludes the PC/Mac Version tier). First 50 backers get this!

Estimated delivery: Dec 2012

Pledge $15 or more

1 backer

Rea-Perk #5 - Get early access to the BETA VERSION of the game on any platform of your choice (PC, Mac) plus 1 EXTRA COPY of any platform of the game to share and all previous reward tiers(Excludes the iOS Version tier). Note: Must pick the platform you want the full version in.

Estimated delivery: Dec 2012

Pledge $25 or more

2 backers

Rea-Perk #6 - You will get 1 VERSION of the game for ALL PLATFORMS and all previous reward tiers.

Estimated delivery: Dec 2012

Pledge $35 or more

0 backers

Rea-Perk #7 - The full SOUNDTRACK for the game when it is finished on CD, with COVER ART signed by me (and the unknown sound designer if deemed possible). Note: if you want a digital download only of the soundtrack, let me know.

Estimated delivery: Dec 2012

Pledge $60 or more

0 backers Limited (60 of 60 left)

Rea-Perk #8 - You will get a REAP! CREST KEYCHAIN replica that is on the main characters weapon (see on the left) and all previous reward tiers.

Estimated delivery: Dec 2012

Pledge $80 or more

0 backers

Reap-Perk #9 - You will get 4 EXTRA VERSIONS of the game on any platform of your choice (mix and match any platforms) to share with friends and spread the 'Reapings'. Plus all previous reward tiers. PS: This perk is not included in the limits that are posted below, it will be an addition.

Estimated delivery: Dec 2012

Pledge $100 or more

1 backer

Rea-Perk #10 - Wow, you really are passionate. You get a SPECIAL THANK YOU in the Reap! game credits. Plus a LIMITED EDITION POSTER for the game signed by me, which will be perfect for framing. I will also throw in a free version of the game if it gets to any other platforms too. PS: This perk is not included in the limits that are posted below, it will be an addition.

Estimated delivery: Dec 2012

Pledge $150 or more

0 backers Limited (6 of 6 left)

Rea-Perk #11 - A chance to DESIGN a REAP! INSIGNIA CREST to appear in the game on the character's back and hood and all previous reward tiers. Look to the left to see where it goes on the character. All creations will be IMMORTALIZED in the game in a collage format so everyone who has the game can see your designs! Also your designs will become UNLOCKABLES that other players can use which provides SPECIAL EXCLUSIVE ABILITIES (we will discuss this). Note: Design must not infringe upon any copyrights and is to my discretion if appropriate. Add $15 for international shipping please. PS: This perk is not included in the limits that are posted below, it will be an addition.

Estimated delivery: Dec 2012

Pledge $250 or more

0 backers Limited (4 of 4 left)

Rea-Perk #12 - A REAP! HOODY with the Reap Logo on the front and Merik's Crest that is shown on his back and all previous reward tiers. PS: This perk is not included in the limits that are posted below, it will be an addition.

Estimated delivery: Dec 2012

Pledge $400 or more

0 backers Limited (5 of 5 left)

Rea-Perk #13 - My "undying" gratefulness!! Get a 6 in. NUMBERED MERIK CHARACTER BOBBLE HEAD FIGURE and all previous reward tiers. This includes USA shipping costs. PS: This perk is not included in the limits that are posted below, it will be an addition.

Estimated delivery: Dec 2012
View in Video Mode