Hey everyone,
Holy cow, sorry it's been so long!
We wanted to make sure we had something concrete to tell you before we posted anything, and finally, we do.
Over the past few months we've been engaging in the long process of working with Panda to make sure everything is perfect for the final product. This has been a huge learning experience for us. Unlike making a video game where you can deploy quickly and update frequently, with board games you only get one shot. This process took a lot longer than we expected, but the good news is that the components we've closed in on are phenomenal. Really! From the box to the player tokens to the cards (especially the cards, but more on that later), everything is going to look and feel amazing.
This will be a long post, so in the interest of putting the important stuff first, here are the bullet points:
- The Chew Tokens and Player Tokens look great
- The Box is more compact and more convenient
- The Cards we're going with are incredible. Sure they're costing us twice as much, but they're of even better quality than the ones we had planned to get as a stretch goal if we reached $65,000 on Kickstarter. They are so good, you won't even need to sleeve them!
And the bad news..
- The ship date has slipped 4 months. We are beyond sorry about this. Turnarounds on custom manufactured components were longer than we expected. Also, we were blindsided by the effect that Chinese New Year has on production facilities (even though everyone warned us about this). Really though, there is no such thing as a good excuse, so if this poses an intractable problem for you, please email or message us and we will do our best to make things right. But everything is in to Panda, the contracts are signed, and we're all good to go. 
We have also spent some time sorting out the art rewards and will be sending out a survey closer to the ship date for those of you who pledged higher amounts.
And now, on to the details:
Custom Components
Custom components were probably the number one cause of delay on the project. We did not realize how much turnaround would be required for the necessary changes, but we are really excited about where we're at. 
For comparison, our original chew tokens were 13 mm, which turned out to be too small, both for play and accurate reproduction.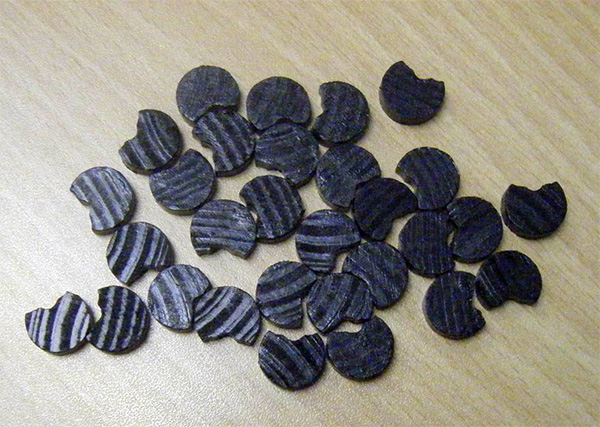 We have since upgraded to 16 mm chips, which look and play great.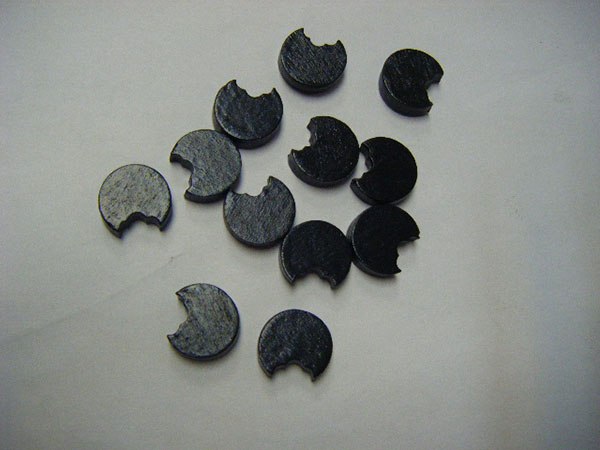 As for the player tokens, we went through a number of design iterations to make sure that they would be sturdy and stand up properly. We are not 100% done with this process, but we are happy with two of the four player tokens. Here is the most recent photo:
The two problematic ones are the purple token, which looks a bit too much like a banjo, and the yellow token, the legs of which posed some cutting issues. We have revised both of them and are waiting on new reproductions, which we expect to be the finals.
The Box
We switched the size of the box to be more compact for travel and storage. Now it is of a convenient size, similar to Munchkin and many other games. We also spent some time designing a plastic inset for the box, which is not particularly thrilling, but we thought we would show it to you anyway.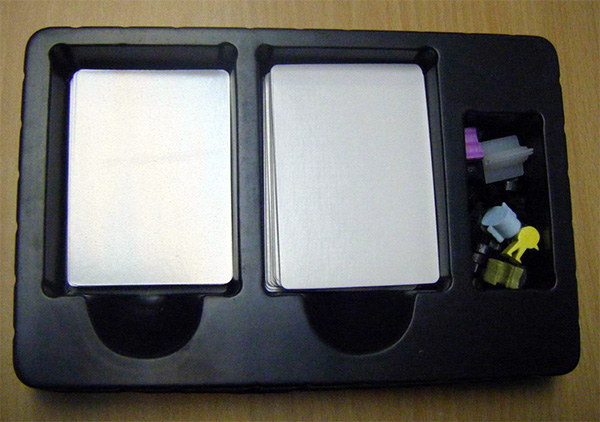 And here's a photo of some of the board and box materials we tested. We're going with a nice and sturdy thickness for the box (the sample on the right) which should entirely prevent dishing (when the top of crappy cardboard game boxes get crushed inwards)!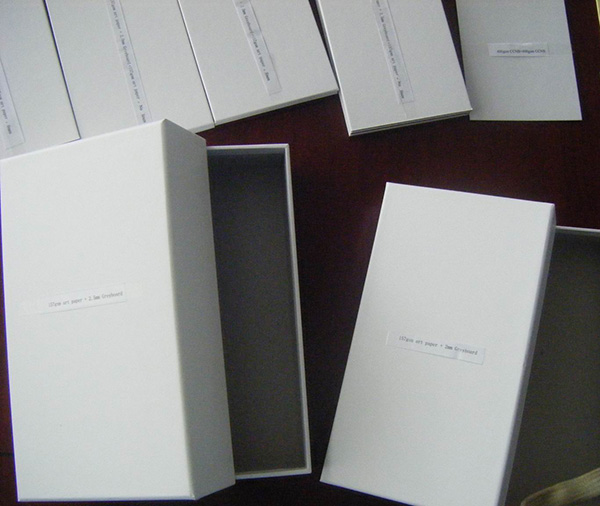 Awesome!
The Cards
Oh, the cards. We are so proud of this one, guys. If we could afford accountants, however, they would not be quite so thrilled. Originally, we were hoping to raise $65,000 so that we could afford bluecore cards, which are very nice and similar to those of Pandemic or most other board games you may have played. When we did not hit this goal, we begrudgingly adjusted our plans to use greycore, which is not great, but totally reasonable for normal gameplay.
Upon receiving card samples from Panda, however, we found ourselves disappointed not only in the greycore, but in the bluecore stock as well. While the bluecore felt good in the hand, it shuffled and snapped back to shape poorly. We investigated a number of other card suppliers, including those that did the original print run of Guts, but were eventually won over by Panda's blackcore cards. Panda does not normally send out blackcore cards, because nobody up until now has wanted to spend the money. We understand this sentiment, as they really are quite expensive. But we were in love, and love makes you do crazy things. These cards are un-freakin-believable. Jesse even remarked that they felt better than Bicycle cards, his long-time gold standard. So we did a blindfold test, and it turned out he was right. We even ran the cards by Quinns from the Shut Up And Sit Down Podcast and he was suitably impressed. 
We are confident that you will find these to be the best cards you have ever seen in a board game. And we are willing to put our no-money where our mouths are to prove it.
Here is a photo!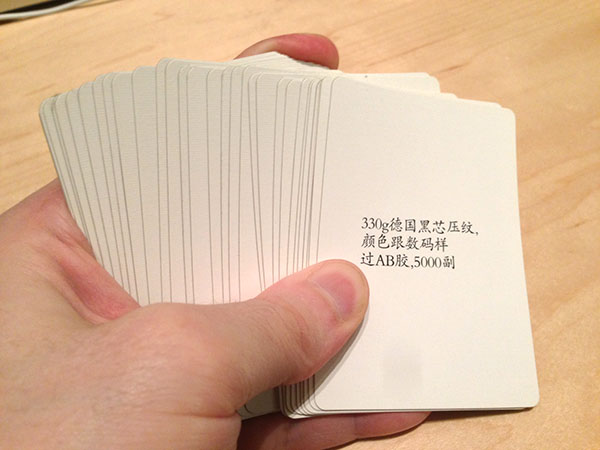 -- tiny edit --
I just realized words aren't really doing justice to these cards. So Here's a video of the cards standing up to the most aggressive and ugly shuffle I could muster.
--
So now you're caught up. We are so sorry about the bad news and so happy about the good news. As always, feel free to reach out to us with any concerns or statements of jubilation.
Yours,
Zach (+Jess +Jesse)
15 Comments