Update on 'Fox Moon' printing - another batch is done!
[This is Dave posting ...]
In one of these updates a while back [Introducing two of our printers] I included the scene where I first showed printer Shinkichi Numabe the Fox Moon design. Well, things have really been moving along well since then: his first batch of 120+ copies was shipped over to Jed a couple of weeks ago, and we're already starting to see 'Got it!' reports from backers. Just this afternoon, I received the second batch, and this time I have a few minutes to spare to take a few photos before sending them over to Jed first thing tomorrow morning.
Here's the stack: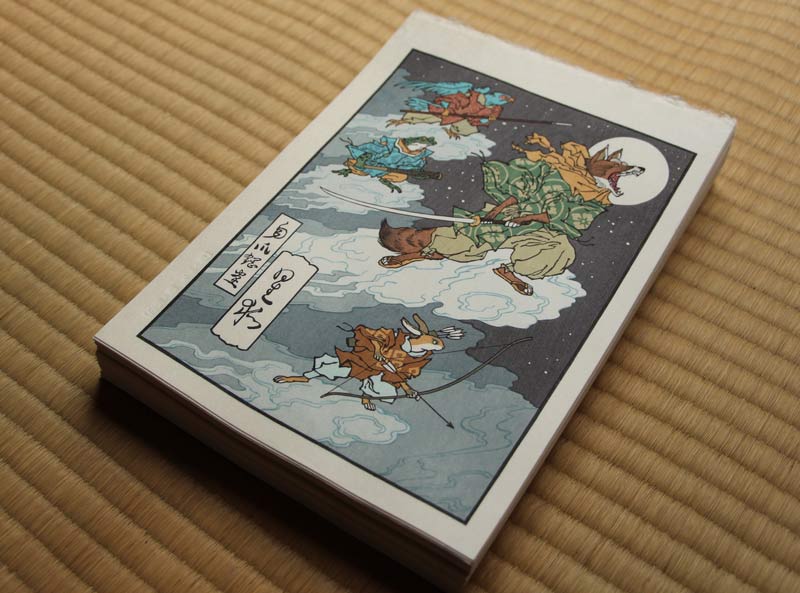 Let's fan them a bit to get a sense of the quantity: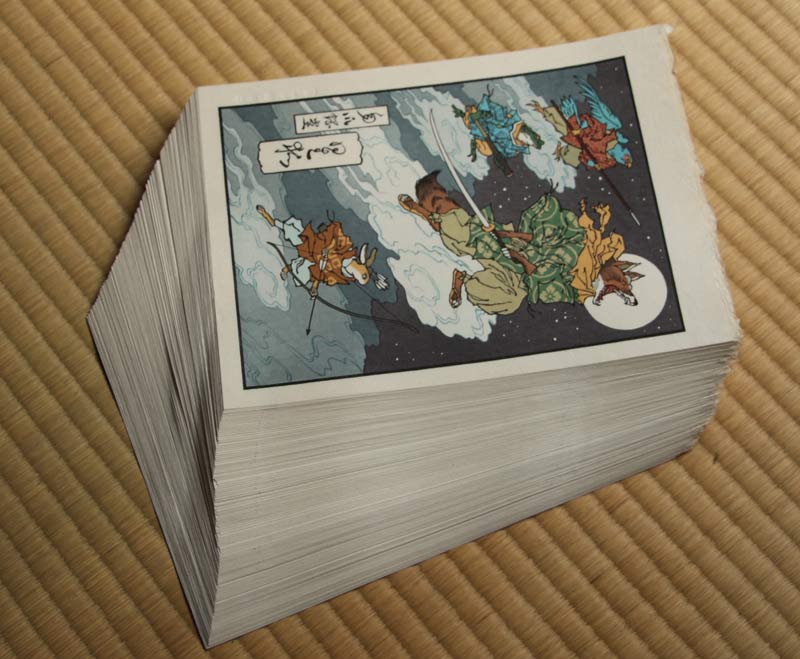 This washi is such beautiful stuff! I don't remember if I've mentioned it before, but the type we are using is known as Echizen Hosho, and we order it from the workshop of Mr. Ichibei Iwano, who some years back was awarded the Living National Treasure designation by the government.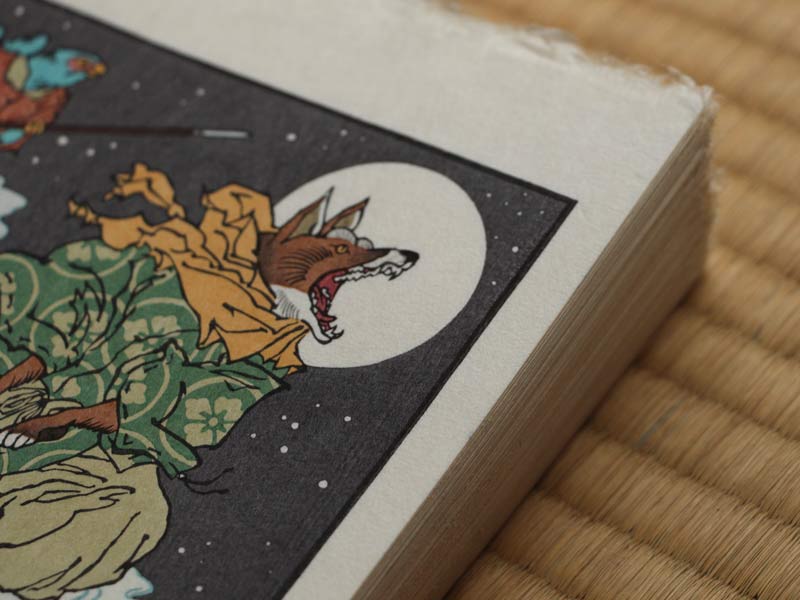 It provides a perfect background for the Fox!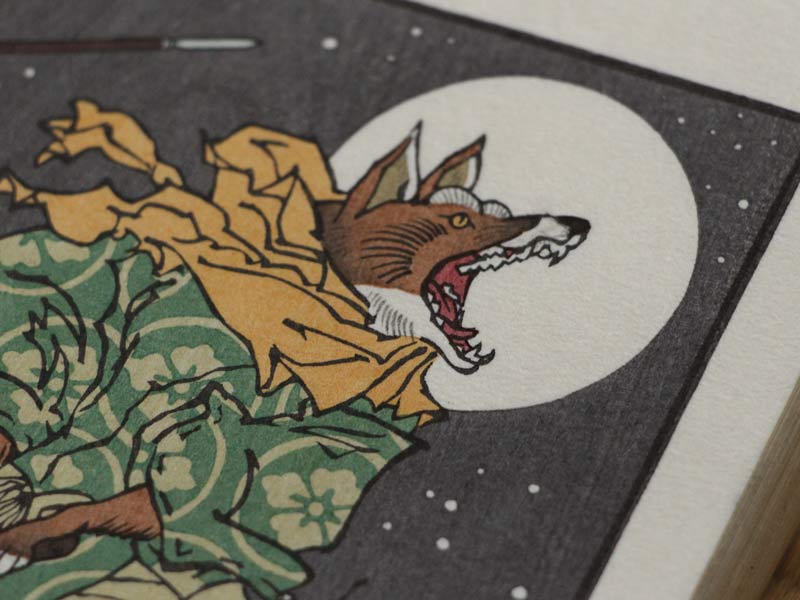 Let's have a look at the rest of the squadron. The rabbit character ...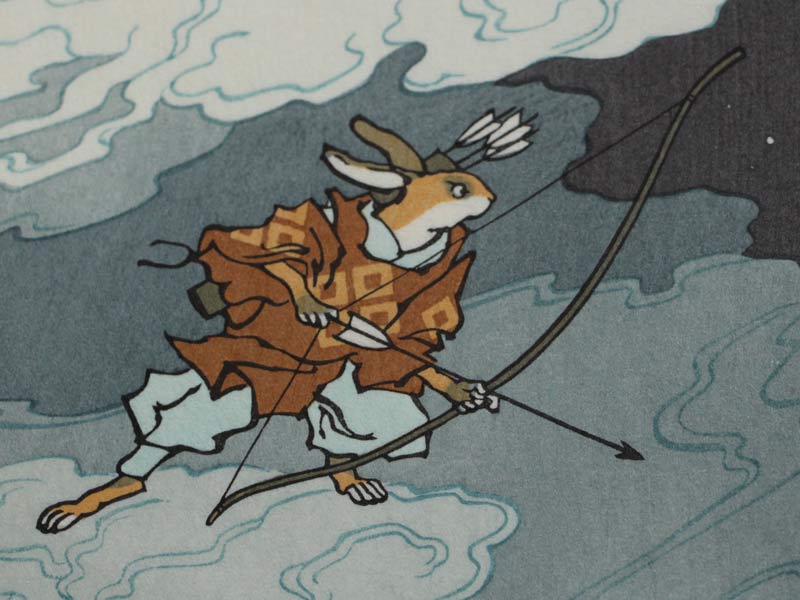 The frog ...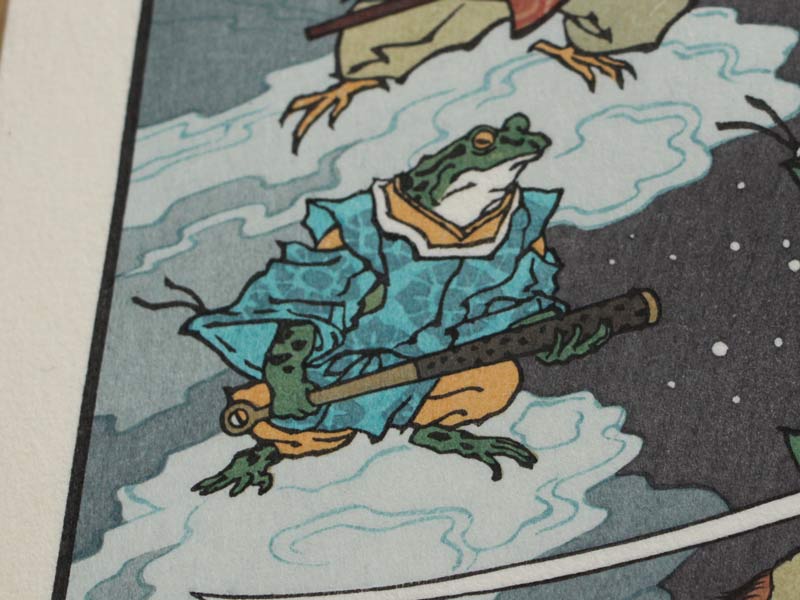 And the falcon ...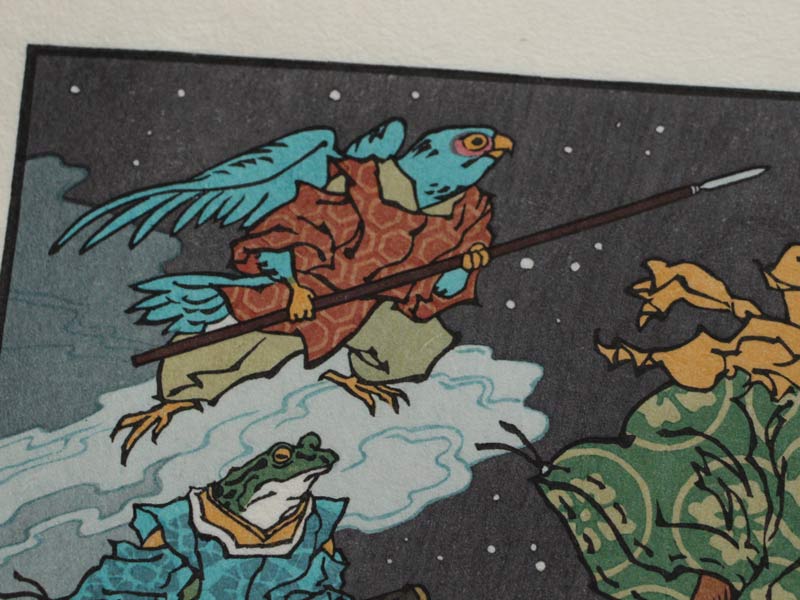 And the calligraphy - even to those who can't read it - adds a perfect touch to this design!
So as I said, these will be off to Jed in the morning, and the blocks are now being rested for a short time before we start the next batch. We have about 220 copies left to print to fulfill the Kickstarter commitments, and I'm not sure whether we should print them all in one go, or split it into two batches. It would be better for the blocks to be able to get a rest again, but we'll see how it goes once we start.
To those who are waiting for these, thank you very much for your patience. We knew back at the beginning that we would be able to make pretty good-looking prints from Jed's designs, but both this one and the Rickshaw Cart have turned out so well that even I myself am surprised at it. I think in years to come, our series (how many Ukiyoe Heroes designs we will end up making we're still unable to tell ...) will be recognized as a pretty special event in printmaking history. We are very very proud to be part of this ...
Thank you again for your support!
2,422
Backers
$313,341

pledged of $10,400 goal
Funding period
Jul 31, 2012 - Aug 30, 2012 (30 days)
Pledge $10 or more

324 backers

COLORING BOOK – Ukiyo-e Heroes Coloring Book PDF. Every design in the series, in black and white lines.

Estimated delivery: Sep 2012

Pledge $40 or more

408 backers

ONE GICLÉE – 1 digital giclée print of your choice. SHIPS FREE IN USA. For international orders, please add $15 for shipping. *Note: You can choose your specific designs soon after Sept 1, when we send the order survey.

Estimated delivery: Nov 2012

Pledge $50 or more

106 backers

ONE GICLÉE + CHIBI – 1 digital giclée print of your choice, plus one Chibi Heroes handmade print, either 'Hammer' or 'Bow'. SHIPS FREE IN USA. For international orders, please add $15 for shipping.

Estimated delivery: Nov 2012

Pledge $75 or more

237 backers

TWO GICLÉES – 2 digital giclée prints of your choice. SHIPS FREE IN USA. For international orders, please add $15 for shipping. *Note: You can choose your specific designs soon after Sept 1, when we send the order survey.

Estimated delivery: Nov 2012

Pledge $85 or more

51 backers

TWO GICLÉES + CHIBI - 2 digital giclée prints of your choice, plus one Chibi Heroes handmade print, either 'Hammer' or 'Bow'. SHIPS FREE IN USA. For international orders, please add $15 for shipping. *Note: You can choose your specific designs soon after Sept 1, when we send the order survey.

Estimated delivery: Nov 2012

Pledge $110 or more

139 backers

THREE GICLÉES – 3 digital giclée prints of your choice. SHIPS FREE IN USA. For international orders, please add $15 for shipping.

Estimated delivery: Nov 2012

Pledge $130 or more

30 backers

THREE GICLÉES + DOUBLE CHIBI - 3 digital giclée prints of your choice, plus both Chibi Heroes handmade prints. SHIPS FREE IN USA. For international orders, please add $15 for shipping.

Estimated delivery: Nov 2012

Pledge $135 or more

27 backers

** T H E _ M A I N _ E V E N T _ 4 ** One authentic, hand-made Japanese woodblock print of the 'Infestation' design. SHIPS FREE IN USA. For international orders, please add $15 for shipping.

Estimated delivery: Apr 2013

Pledge $135 or more

5 backers

** T H E _ M A I N _ E V E N T _ 5 ** One authentic, hand-made Japanese woodblock print of the 'Soul Eater' design. SHIPS FREE IN USA. For international orders, please add $15 for shipping.

Estimated delivery: Jun 2013

Pledge $135 or more

152 backers

** T H E _ M A I N _ E V E N T _ 2 ** One authentic, hand-made Japanese woodblock print of the 'Fox Moon' design. SHIPS FREE IN USA. For international orders, please add $15 for shipping.

Estimated delivery: Dec 2012

Pledge $135 or more

7 backers

** T H E _ M A I N _ E V E N T _ 6 ** One authentic, hand-made Japanese woodblock print of the 'Yokai Dracul' design. SHIPS FREE IN USA. For international orders, please add $15 for shipping.

Estimated delivery: Aug 2013

Pledge $135 or more

149 backers

** T H E _ M A I N _ E V E N T ** One authentic, hand-made Japanese woodblock print of the 'Rickshaw Cart' design. SHIPS FREE IN USA. For international orders, please add $15 for shipping.

Estimated delivery: Nov 2012

Pledge $135 or more

19 backers

** T H E _ M A I N _ E V E N T _ 7 ** One authentic, hand-made Japanese woodblock print of the 'I Choose You!' design. SHIPS FREE IN USA. For international orders, please add $15 for shipping.

Estimated delivery: Oct 2013

Pledge $135 or more

53 backers

** T H E _ M A I N _ E V E N T _ 3 ** One authentic, hand-made Japanese woodblock print of 'The Hero Rests' design. SHIPS FREE IN USA. For international orders, please add $15 for shipping.

Estimated delivery: Feb 2013

Pledge $145 or more

60 backers

FOUR GICLÉES – 4 digital giclée prints of your choice. SHIPS FREE IN USA. For international orders, please add $15 for shipping.

Estimated delivery: Nov 2012

Pledge $155 or more

29 backers

** WOODBLOCK PACK ** – One authentic, hand-made Japanese woodblock print of the 'Rickshaw Cart' design, plus both Chibi Heroes handmade prints. SHIPS FREE IN USA. For international orders, please add $15 for shipping.

Estimated delivery: Nov 2012

Pledge $165 or more

13 backers

FOUR GICLÉES + DOUBLE CHIBI - 4 digital giclée prints of your choice, plus BOTH Chibi Heroes handmade prints. SHIPS FREE IN USA. For international orders, please add $15 for shipping.

Estimated delivery: Nov 2012

Pledge $180 or more

39 backers

FIVE GICLÉES – 5 digital giclée prints of your choice. SHIPS FREE IN USA. For international orders, please add $15 for shipping.

Estimated delivery: Nov 2012

Pledge $180 or more

179 backers

BENTO BOX – A little bit of everything. 1 handmade woodblock. 1 giclée print. 1 Chibi Hero print. SHIPS FREE IN USA. For international orders, please add $20 for shipping.

Estimated delivery: Nov 2012

Pledge $200 or more

12 backers All gone!

PRINT PARTY! – Visit David Bull's studio and get a lesson in printmaking! Plus, you receive 1 of our main woodblock prints, and both Chibi Heroes prints. (Transportation to Ome City, Tokyo, not included.) Various dates available.

Estimated delivery: Nov 2012

Pledge $200 or more

11 backers

FIVE GICLÉES + DOUBLE CHIBI - 5 digital giclée prints of your choice, plus BOTH Chibi Heroes handmade prints. SHIPS FREE IN USA. For international orders, please add $15 for shipping.

Estimated delivery: Nov 2012

Pledge $215 or more

25 backers

SIX GICLÉES – 6 digital giclée prints of your choice. SHIPS FREE IN USA. For international orders, please add $15 for shipping.

Estimated delivery: Nov 2012

Pledge $235 or more

7 backers

SIX GICLÉES + DOUBLE CHIBI - 6 digital giclée prints of your choice, plus BOTH Chibi Heroes handmade prints. SHIPS FREE IN USA. For international orders, please add $15 for shipping.

Estimated delivery: Nov 2012

Pledge $250 or more

9 backers

SEVEN GICLÉES – 7 digital giclée prints of your choice. SHIPS FREE IN USA. For international orders, please add $15 for shipping.

Estimated delivery: Nov 2012

Pledge $270 or more

0 backers

SEVEN GICLÉES + DOUBLE CHIBI - 7 digital giclée prints of your choice, plus BOTH Chibi Heroes handmade prints. SHIPS FREE IN USA. For international orders, please add $15 for shipping.

Estimated delivery: Nov 2012

Pledge $270 or more

106 backers

DOUBLE WOODBLOCK! – 2 handmade woodblock prints. You can specify design choices in our September 1 survey. Double up on one design, or get one of each.

Estimated delivery: Dec 2012

Pledge $285 or more

4 backers

EIGHT GICLÉES – 8 digital giclée prints of your choice. SHIPS FREE IN USA. For international orders, please add $15 for shipping.

Estimated delivery: Nov 2012

Pledge $305 or more

1 backer

EIGHT GICLÉES + DOUBLE CHIBI - 8 digital giclée prints of your choice, plus BOTH Chibi Heroes handmade prints. SHIPS FREE IN USA. For international orders, please add $15 for shipping.

Estimated delivery: Nov 2012

Pledge $320 or more

5 backers

NINE GICLÉES – 9 digital giclée prints of your choice. SHIPS FREE IN USA. For international orders, please add $15 for shipping.

Estimated delivery: Nov 2012

Pledge $340 or more

1 backer

NINE GICLÉES + DOUBLE CHIBI - 9 digital giclée prints of your choice, plus BOTH Chibi Heroes handmade prints. SHIPS FREE IN USA. For international orders, please add $15 for shipping.

Estimated delivery: Nov 2012

Pledge $355 or more

2 backers

TEN GICLÉES – 10 digital giclée prints of your choice. SHIPS FREE IN USA. For international orders, please add $15 for shipping.

Estimated delivery: Nov 2012

Pledge $375 or more

3 backers

TEN GICLÉES + DOUBLE CHIBI - 10 digital giclée prints of your choice, plus BOTH Chibi Heroes handmade prints. SHIPS FREE IN USA. For international orders, please add $15 for shipping.

Estimated delivery: Nov 2012

Pledge $405 or more

35 backers

TRIPLE WOODBLOCK! – 3 handmade woodblock prints. You can specify design choices in our September 1 survey. Get multiples of one design, or mix and match. *note: Delivery dates will vary based on what designs you order.

Estimated delivery: Dec 2012

Pledge $445 or more

14 backers

THE COMPLETE GICLÉE SET – Giclée prints of every design in the Ukiyo-e Heroes collection! $50 off the usual price! SHIPS FREE IN USA. For international orders, please add $15 for shipping.

Estimated delivery: Nov 2012

Pledge $465 or more

5 backers

THE COMPLETE GICLÉE SET + DOUBLE CHIBI - Giclée prints of every design in the Ukiyo-e Heroes collection, plus BOTH Chibi Heroes handmade prints. $50 off the usual price! SHIPS FREE IN USA. For international orders, please add $15 for shipping.

Estimated delivery: Nov 2012

Pledge $540 or more

19 backers

FOUR WOODBLOCKS! – 4 handmade woodblock prints. You can specify design choices in our September 1 survey. Get multiples of one design, or mix and match. *Note: Delivery dates may be be later than December, based on what designs you order.

Estimated delivery: Dec 2012

Pledge $600 or more

19 backers

THE RONIN RAID: THE COMPLETE GICLÉE SET + DOUBLE CHIBI + ONE WOODBLOCK PRINT – Giclée prints of every design in the Ukiyo-e Heroes collection, plus BOTH Chibi Heroes handmade prints, and one woodblock. $50 off the usual price! SHIPS FREE IN USA. For international orders, please add $15 for shipping.

Estimated delivery: Nov 2012

Pledge $675 or more

3 backers

FIVE WOODBLOCKS! – 5 handmade woodblock prints. You can specify design choices in our September 1 survey. Get multiples of one design, or mix and match. SHIPS FREE IN THE USA. For international orders, please add $15. *Note: Delivery dates may be later than December, based on what designs you order.

Estimated delivery: Dec 2012

Pledge $800 or more

0 backers

WHOLESALE PACK A – 25 giclée prints of your choice, for resale at your own shop. SHIPS FREE IN USA. For international orders, please add $50 for shipping.

Estimated delivery: Nov 2012

Pledge $810 or more

3 backers

SIX WOODBLOCKS! – 6 handmade woodblock prints. You can specify design choices in our September 1 survey. Get multiples of one design, or mix and match. SHIPS FREE IN THE USA. For international orders, please add $15. *Note: Delivery dates may be later than December, based on what designs you order.

Estimated delivery: Dec 2012

Pledge $945 or more

4 backers

SEVEN WOODBLOCKS! – 7 handmade woodblock prints. You can specify design choices in our September 1 survey. Get multiples of one design, or mix and match. SHIPS FREE IN THE USA. For international orders, please add $15. *Note: Delivery dates may be later than December, based on what designs you order.

Estimated delivery: Dec 2012

Pledge $1,150 or more

9 backers

WHOLESALE PACK B – 10 of our handmade woodblock prints. SHIPS FREE IN USA. For international orders, please add $50 for shipping.

Estimated delivery: Nov 2012