Stretch Goals, Visual Components, $15 Pledge

Hello
Today after recalculation of our budget, accounting quantity of our own resources and time which we are able to invest into M.O.R.E. we have very good news for our supporters! We are able to discount our stretch goals and take this game to where it should be from the beggining! What does it mean? We are able to create almost all our stretch goals at lower prices!
You will ask - how it's possible? It's all because of passionate people willing to join our cause, and with a little help of our great community (you!). For example we've already had a series of consultation about creating this game with experienced developers who are willing to help us. If our community will help us in translating our game content from English to other languages (and we are sure you will), we won't need to pay translators. And we have found another talented person who are eager to take part of this project. That's why our new stretch goals table now looks like this: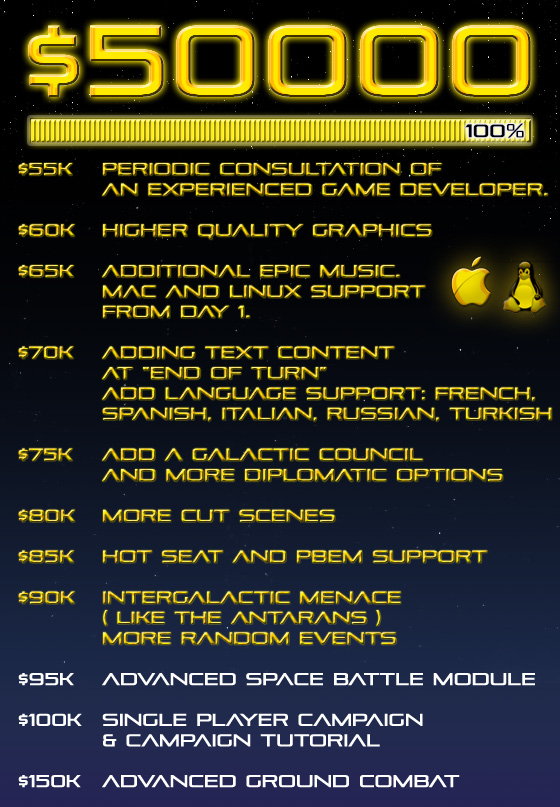 As you see after our stretch goals table reductions, we've already reached our 1st stretch goal! Thank you! As now as those stretch goals are easier to achieve, we hope that you help us reach $100.000 which will allows us to create M.O.R.E. with all these additional great features!
The second thing about which we want to inform you about are 1st and 2nd visual elements pack. Those packs will have only a little different textures on few spaceship elements, so this additions won't affect gameplay in any way. You can check on example below how this will look.
Those visual packs will stay unique forever and they won't be accessible later for other gamers. It's our way to say "thank you" for those who will pledge more. And to "thank you" all of you, we want to announce that every Kickstarter supporter, who will pledge $10 or more, will get "Kickstarter visual pack", which won't be available to other gamers later! So even if you can't afford this visiual elements pack's you can still feel rewarded as we are adding those unique elements for almost everyone here! Please note, this is a sampler pack, and the $70 and $300 will still have additional, unique elements protected under the same unique forever promise.
The third news for today about which we want to inform you is to explain how our Kickstarter forum will look like, and what you can achieve increasing your pledge from $10 to $15. If you subscribe to our game forum (www.morethegame.com) you will be able to read all "Kickstarter" part of it, but you won't be able to vote there. And all what will be there will be polls in which people who pledge $15 or more will be able to vote. For example - we will create our next alien race, and we will show you those 3 artworks... and we will ask you. Which one should be the one, who represents our new race. Other example, we will create building in our game. We will explain it purpose, and you will choose it's name. etc. In this way if you pledge $15 or more, you will have big impact on shaping the M.O.R.E. universe.
And below you can see our new aquatic race ( Olagarroans ) logo: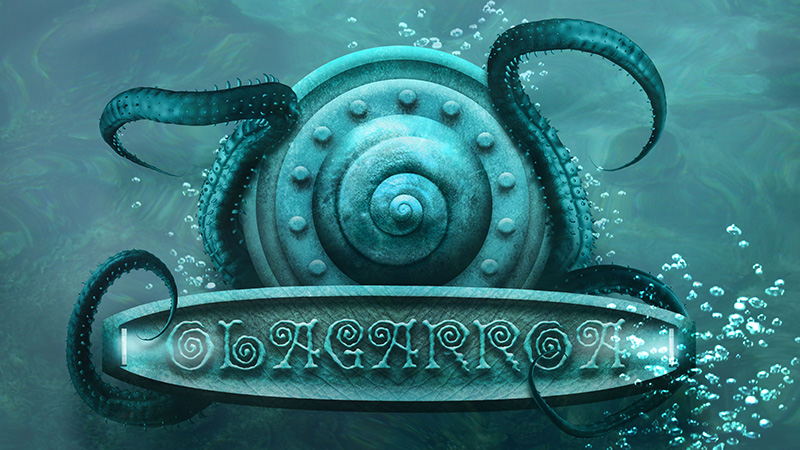 and our newest spaceship artworks.

Lithodoros spaceship: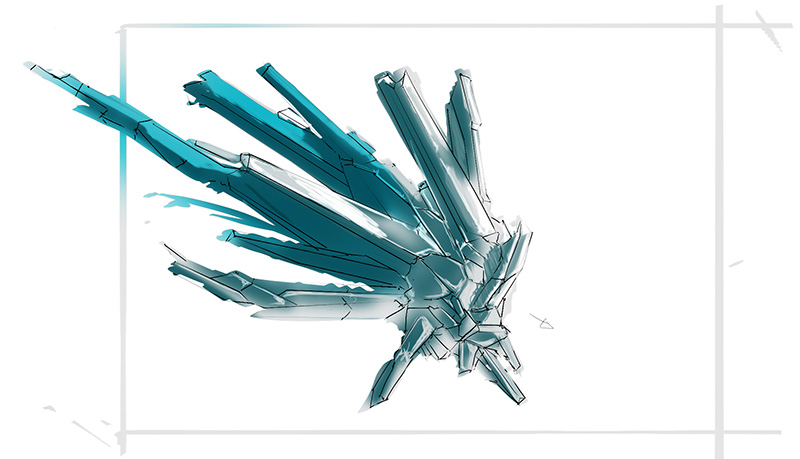 and Ma-aar spaceship:
We hope that those informations, will help us reach $100.000, and will allow us to create M.O.R.E. with all those great features.
IdeaLcenter Team
3,270
Backers
$90,925

pledged of $50,000 goal
Funding period
Sep 1, 2012 - Oct 28, 2012
Pledge $5 or more

8 backers

A chance to have a star system named in your honor, which will be included in our game. (names cannot be offensive and must be acceptable)

Estimated delivery: Dec 2013

Pledge $10 or more

17 backers All gone!

A copy of MORE game, distributed digitally on PC (via Steam) and previous reward tier.

Estimated delivery: Dec 2013

Pledge $10 or more

1796 backers

A copy of MORE game, distributed digitally on PC (via Steam, other digital channel or by direct download) and previous reward tier.

Estimated delivery: Dec 2013

Pledge $15 or more

51 backers

Access to the private discussion community, which will allow you to actively participate in providing input during the game creation process and all previous reward tiers.



Estimated delivery: Dec 2013

Pledge $20 or more

476 backers

Exclusive access to the Beta and all previous reward tiers.



Estimated delivery: Dec 2013

Pledge $30 or more

82 backers

Digital copy of the game soundtrack (over 10 hours of music!) and all previous reward tiers.

Estimated delivery: Dec 2013

Pledge $40 or more

40 backers

PDF version of MORE game book (filled with 100+ color pages with artworks, graphics, developer bios, history of all races, technology tree schemes, weapon charts, short MORE novel written by one of our team member) and all previous reward tiers.



Estimated delivery: Dec 2013

Pledge $50 or more

539 backers

All future downloadable content (DLC) which will be made for MORE, special online "Backer" badge visible in your online game account and all previous reward tiers.



Estimated delivery: Dec 2013

Pledge $70 or more

89 backers

An extra game & Beta Key for You or Your friend. Access to the first special set of visual elements (special spaceship design elements), an acknowledgement in the game credits and all previous reward tiers.

Estimated delivery: Dec 2013

Pledge $100 or more

5 backers

$100 alternative wersion - DIGITAL ONLY. You will get all $70 tier rewards + a PDF version of the 2014 M.O.R.E. large calendar featuring our two Ameslarians friends.

Estimated delivery: Dec 2013

Pledge $100 or more

103 backers

SPECIAL EDITION BOX which contains game DVD, soundtrack DVD, MORE T-shirt, MORE poster (16x23"), special online " Special Box Edition" badge visible in your online game account, and all previous reward tiers. Shipping to US and Poland is free. Please add an additional $15 to your pledge for Europe. For other countries, please contact us.



Estimated delivery: Dec 2013

Pledge $150 or more

7 backers

ver 1 - DIGITAL ONLY. It will contain $100 digital reward + Alpha game version access - for those who want to play MORE earlier and want to help us testing this game.

Estimated delivery: Dec 2013

Pledge $150 or more

2 backers

ver 2 - Physical. It will contain $100 physical reward + printed version of our calendar signed by our Ameslarians friends featured in the calendar.

Estimated delivery: Dec 2013

Pledge $200 or more

14 backers

Access to the Alpha game version, big poster (27" x 39") signed by main developer team members, and all previous reward tiers.



Estimated delivery: Dec 2013

Pledge $200 or more

1 backer

This reward is alternative for other 200$ reward. 16GB MORE-version of flash drive USB 3.0 and all previous reward tiers.

Estimated delivery: Dec 2013

Pledge $300 or more

5 backers

Propose a name for a leader in our game (names cannot be offensive and must be acceptable). Access to the second special set of visual elements, both $200 rewards and all previous reward tiers.



Estimated delivery: Dec 2013

Pledge $500 or more

7 backers

KICKSTARTER EDITION BOX, containing MORE Hoodie, 64GB MORE-version flash drive USB 3.0, special online "Kickstarter Box Edition" badge visible in your online game account, a chance to have your image along with a brief history to be used for one of the game's leaders. 3 additional game keys for You or Your friends (the total number of keys is 5), and all previous reward tiers.

Estimated delivery: Dec 2013

Pledge $1,000 or more

2 backers

Special Edition T-shirt and Hoodie, which contain inscriptions "Sponsor". Hardcover MORE game book signed by main developer team, special online "MORE Sponsor" badge visible in your online game account, a special acknowledgement in the game credits, game book, and game website. 5 additional game keys for You or Your friends (the total number of keys is 10), and all previous reward tiers.

Estimated delivery: Dec 2013

Pledge $2,000 or more

0 backers

Once every two weeks you will get to participate in a meeting on Skype/TeamSpeak with the developers. It will be an opportunity to talk about our plans, ideas and to give input into the process of creating M.O.R.E. Original artwork painted by our 2D graphic artist, a chance to have your image drawn by our graphic team and placed in art book next to your name in the Sponsor acknowledgement sections of the game and game book, provide input for creating a special space event or space monster, and all previous reward tiers.

Estimated delivery: Dec 2013

Pledge $4,000 or more

0 backers Limited (12 of 12 left)

One month of banner advertisement placed on our M.O.R.E. website, 30 additional game keys for You or Your friends (the total number of keys is 40), and all previous reward tiers.

Estimated delivery: Dec 2013

Pledge $7,000 or more

0 backers Limited (3 of 3 left)

The opportunity to work with us on the development of a race based on your input and all previous reward tiers.



Estimated delivery: Dec 2013

Pledge $10,000 or more

0 backers Limited (2 of 2 left)

A large (39" x 27") oil painting related to M.O.R.E. or the cosmos, additional language in game - chosen by You (by prior arrangement with us). A special acknowledgement in the game credits and game book and all previous reward tiers.

Estimated delivery: Dec 2013