Help fund a second edition of my book, "Drawing Detroit: east by southwest. A book of colorful possibilities"!!!
I am trying to raise money to fund a second edition of this book that I created. It consists of over 30 line drawings depicting my Detroit, starting at my near-East side home ("Poletown"), meandering through Detroit's downtown and ending up in nearby Southwest ("Mexicantown"). The first edition (of 100 books) I printed and handbound, but sold out in just a few months and there was still more interest! So now I'd like to pay a professional to print and bind the books in larger quantities than I would ever have time for. Please, your help is appreciated!
FAQ
Have a question? If the info above doesn't help, you can ask the project creator directly.
39
Backers
$2,246

pledged of $2,000 goal
Funding period
Apr 12, 2011 - May 31, 2011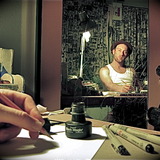 Pledge $1 or more

0 backers

The satisfaction that you have helped an artist make meeting ends closer.

Pledge $10 or more

3 backers

For only $10, receive a packet of 10 postcards from selected drawings from the book, ready for mailing!

Pledge $15 or more

3 backers

For $15, receive a small poster-sized print of selected drawings from the book! There are 5 to choose from! Collect all five! (Choose from: "The "Back 40": Farmed land on Moran at Theodore", "Warren at McDougal", "Eastern Market", "Under the People Mover: Gratiot, nearing Woodward", and "Abandoned Hotel by Michigan Central Station")

Pledge $25 or more

20 backers Limited (80 of 100 left)

For $25, receive your own copy of Drawing Detroit!!!!

Pledge $50 or more

5 backers Limited (45 of 50 left)

For $50, receive a customized Drawing Detroit book (signed by the artist and with 1 hand-colored page to start you off!) and a packet of 10 postcards, FREE!

Pledge $100 or more

7 backers Limited (28 of 35 left)

For $100, you can be the proud owner of one of the original drawings (selected and signed by artist)!