The Art Cube is an interactive digital touch screen display, in the shape of a cube, that stands at eye level and shows artist works
The Concept
  Art Cube is a concept that developed after going around to different artist studios and galleries. We came across amazing art that would take our breath away. We then realized that we had never heard of the artist. Also, the beautiful work is not being seen unless others happen to stumble into their shop.  My favorite response came from an older woman who had created some amazing art pieces. I asked how she got her name out; she chuckled underneath her breath and said, "I just haven't gotten that far yet." She has been creating art for 12 years now and just hasn't made it that far.
    It is our goal to create an avenue that can bring these artist works out of their studios and into the public eye, and we need your help to do it.  The concept that we have is a four sided cube with digital touchscreens on each side that sits at eye level that will be able to not only show people's works of art, but also allow people the ability to interact with the art.
    The art cube will then be placed in high traffic areas like museums, theater companies, and opera houses where people interested in art will have the ability to interact with the screens. It is our vision to create the software so that not only will we be able to offer an interactive experience in showing people works of art, but also an interactive new media for artist to develop and work with.
    Our enthusiasm and passion for art and technology will drive us into the future as art and technology collide on the Art Cube through our specialized software. Our vision is to allow people the experience of approaching a touch screen and interact with art that is not limited to two dimensions, but three dimensional works of art. We also would like our Art Cube to usher in a new medium for artists to use. This medium will allow the artists to express themselves while providing them the ability to create art that can be changed when the viewer interacts with the art at the cube.  Our Art Cube will also allow digital art that can be digitally changed and viewed on the screen in real time. Since we are creating the software ourselves, the possibilities are going to be endless considering the capabilities of our interactive Art Cube.

The Construction of the Cube
    The shell of Lecasso's Art cube will be comprised of a base, column, and a cube.
Base - Will support the weight of the cube.
Column - Will rest upon the base and house the equipment to run the cube.
Cube - will rest on top of the column.
Mounts - Attached to four sides of the cube.
Screens - Multi-touch digital display screens attached to each mount.
    Here is an idea of what Lecasso's Art Cube will look like:
   Now you may be asking yourself, how this is all going to happen as we are only asking for your help in building the software. We will use private funding for the building of the cube itself. In the event that we are over funded on Kickstarter, extra funds would be invested into the cost of building the cube.
Here is a Timeline of what we plan on accomplishing once we are funded:
1 Day - The beginning of assembling the book. Most of it will have already been written.
7 Days - Order Legos and create schematics for all Lego mosaic rewards.
7 Days - Discovery meeting with our strategic partners at SoftWay Solutions to begin the process of creating the software.
21 Days - Prints of cover art and books will be ordered.
30 Days - Website up and functioning.
30 Days - Construction of the shell of the cube begins.
30 Days - Order touch screens to be placed in the Cube shell.
60 Days - Lego Mosaics completed
90 Days - Cube will be fully constructed and delivered to Softway Solutions to integrate software.
90 Days - Will start focusing efforts on gathering more artist by utilizing the website and social media.
3  months - will start preparations for the premier party.
6 Months - Software will be completed.
7 months - Will have Lecasso's Art Cube Premier Party.
The First Twenty-Five
    The First Twenty-Five will be an exclusive book created specifically for Kickstarter that will take an intimate look into the creation of Lecasso that leads to the creation of Lecasso's Art Cube. We will share our ideas, thoughts and concepts that took place on our journey. The book will also feature The First Twenty-Five artist that will appear on the Art Cube itself. The artist represented will be a wide variety of skill level and different medias used in their artistic works.
   The cover art for the book will be a compilation of all artists. Each artist will design a small square that will then go onto the cover of the book itself. 
Elvis The Mosaic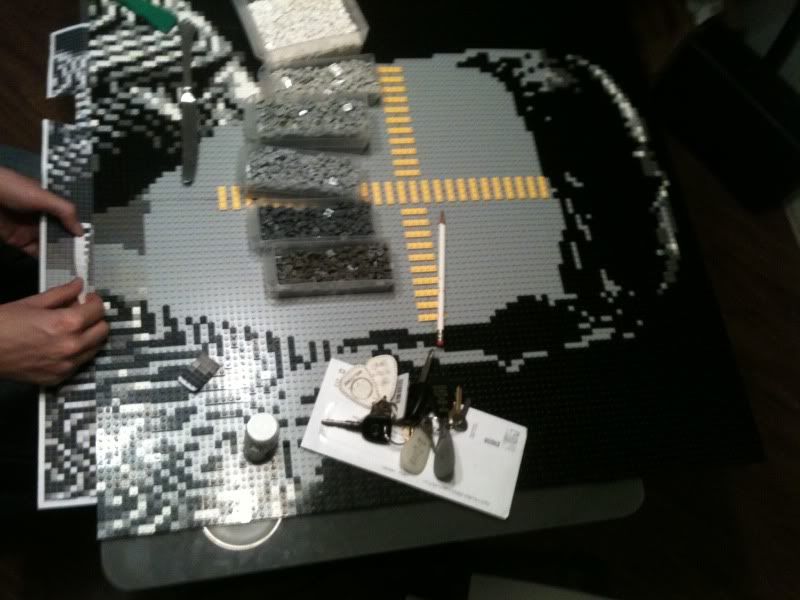 This is the very first piece done by Lecasso: an Elvis portrait comprised of 9,216 individual Lego's. While creating the Mosaic, Lecasso wanted to add the spirit of Elvis to the piece. After extensive research he came up with many different things to harness the spirit of Elvis.  He used a piece of art paper and added a dab of of peanut butter and banana because that was one of Elvis's favorite, Brut aftershave, a picture of a small rifle that Elvis wanted as a child, and he also stenciled in the names of his parents, birthplace, Lisa Marie, and many other things close to Elvis. It was added to the back board before the piece was glued on top. This is the final piece:


Mosaic Schematic Examples
   Here are a few examples of some schematics that will allow you to see our capabilities with our Lego Mosaics.  They all start out as a schematic that shows how to put the Lego's down. If you would like to send your very own picture to have a schematic prepared please send it to TheRealLecasso@gmail.com
Here are a few that have been created.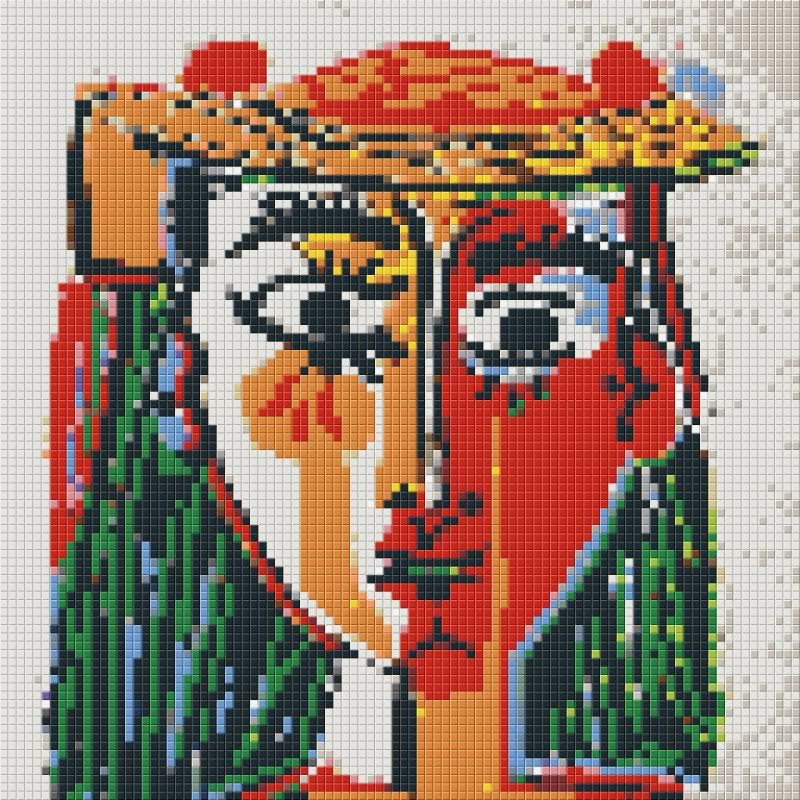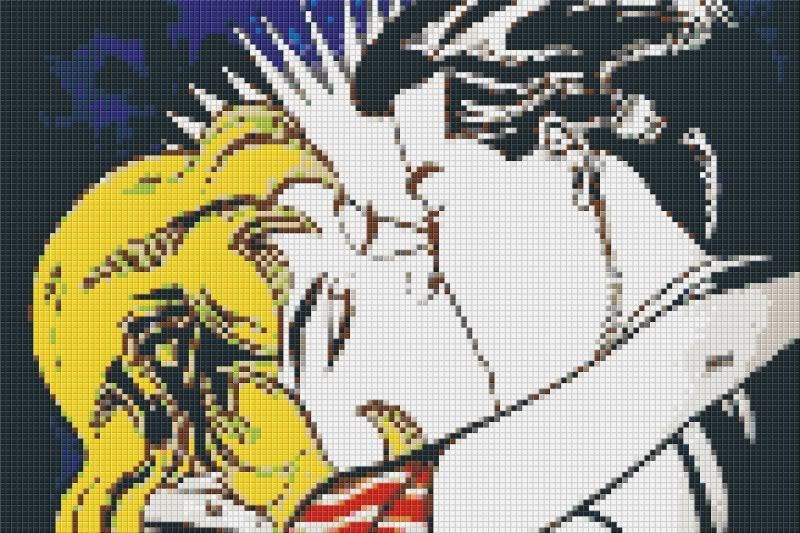 FAQ
Yes! There are currently still spots available for people to become one of The First Twenty Five. To be Considered all you have to do is send an e-mail containing your name, a short bio, and some samples of your art work. You can send your email to TheRealLecasso@gmail.com

You will recieve a reply from us within a day or two. We look forward to working with you on being one of The First Twenty Five!
29
Backers
$3,663

pledged of $50,000 goal
Funding Unsuccessful This project reached the deadline without achieving its funding goal on July 2, 2012.
Funding period
May 8, 2012 - Jul 2, 2012
Pledge $5 or more

2 backers

You will receive a fifteen minute art show on our website. You will be provided a link, and the ability to choose a date, and time so you can share the link and others can view your show.

Estimated delivery: Aug 2012

Pledge $25 or more

3 backers

You will receive a print of the artwork used for the cover of the book titled "The First Twenty-Five." "The First Twenty Five" is an exciting look into the creation of Lecasso's art cube that will also feature the first twenty five artist that will appear on the art cube. The print will only be printed for backers on Kickstarter.

Estimated delivery: Sep 2012

Pledge $30 or more

3 backers

You will receive a Kickstarter exclusive download of a lite version of the software that we are creating. It will allow you the ability to interact with Lecasso, and the art cube itself. Some of the current ideas for the lite software is an exclusive art piece that will appear on the screen that is ever evolving as people change it from our software, gaining exclusive access to our current approved selection of art, and many many more possibilities.

Estimated delivery: Dec 2012

Pledge $35 or more

9 backers Limited (991 of 1000 left)

You will receive a soft back copy of the book titled "The First Twenty Five" This book is a Kickstarter exclusive and will not be printed again.

Estimated delivery: Sep 2012

Pledge $250 or more

2 backers

You will receive a hard back copy of the book, "The First Twenty Five." This book is a Kickstarter exclusive and will not be printed again.

Estimated delivery: Sep 2012

Pledge $350 or more

1 backer

You will have a seat at our VIP premiere party in Houston. This will be the debut of Lecasso's Art Cube. The first twenty five will be there, and many other guest that are affluent in the art community. This will no doubt be the Art Party of the year, and it will shake and shape the foundation of the art world for years to come. how exciting would it be to say that you were in attendance.

Estimated delivery: Jan 2013

Pledge $500 or more

2 backers Limited (23 of 25 left)

You will get a signed copy of the Kickstarter, exclusive book, "The First Twenty Five" that will be signed by Lecasso, Jason, Ronnie, and all twenty-five of the artist. This prize will be limited to only 25 books.

Estimated delivery: Sep 2012

Pledge $750 or more

0 backers Limited (25 of 25 left)

You will receive a copy of the autographed, exclusive, book, and an invitation to the premiere party for Lecasso's Art Cube in January of 2013.

Estimated delivery: Sep 2012

Pledge $3,000 or more

0 backers

You have the opportunity to obtain your very own customized Lego Mosaic created by Lecasso himself. If you are interested in receiving a Lego mosaic you can receive a proof to see what the finished mosaic will look like by sending your photograph to: Thereallecasso@gmail.com. We have a few examples of some proofs that we have created and shown.

Estimated delivery: Aug 2012

Pledge $5,000 or more

0 backers Limited (1 of 1 left)

This is a one of a kind, never to be reproduced again Lego mosaic of Elvis. This is Lecasso's very first piece of art ever created. It consist of 9,216 individually placed Legos. It is glued to a back board and can be framed, or hang as is. It also contains a special piece of Elvis's Spirit. While creating the piece Lecasso researched Elvis's life and put many things into the piece of art to make it come alive. For Pictures and more info check out our paragraph about Elvis the Mosaic

Estimated delivery: Jul 2012

Pledge $10,000 or more

0 backers Limited (5 of 5 left)

wow! You believe in this project and will be greatly rewarded!! You will receive a 2 day art show on our web site, to use for yourself or gift to an artist friend! A print of the artwork used for the cover of "the first 25." A signed copy of "The first 25" (signed by Jason, Lecasso, Ronnie and all 25 artists) Six V.I.P. passes to the debut party for Lecasso's art cube. You will be named as an executive producer of the project on our website, in the book and all other printed materials for Lecasso's art cube. You will receive an original painting by Lecasso. Lastly you will sit on the creative planning committee and be involved in the creation of the software for Lecasso's art cube.

Estimated delivery: Aug 2013
View in Video Mode